Wrestling Veteran in the latest episode of his show illustrates an interesting story behind his relations with Hulk Hogan. As everyone knows, in the beginning, Angle and Hogan were not on good terms. Kurt Angle regrets his initial impression and thoughts on The Hulkster.
While talking about Hulk Hogan, Kurt recalls that Hogan once remarked, I'm not working with Kurt Angle on a big program. The problem Hulk Hogan highlighted was Kurt Angle is stiffer. Kurt Angle reveals an intriguing exchange between Hulk Hogan and Vince McMahon, with Hulk pointing out that Considering how stiff these Olympic boys are, I don't want to work with Angle on the main program. Kurt Angle then talks about his time working with Hulk Hogan and discloses that I gave him a fairly good stiff.
Angle recalls when Hulk Hogan joined WWE recently after leaving WCW. He says we were rehearsing for a six-man tag team battle at Madison Square Garden, which we had to get to at one. But when Hogan showed up there at seven o'clock, it infuriated the other guys. Now that we have decided on our roles, Kurt Angle asks Hulk Hogan to complete his position in the match. Kurt Angle gives Hogan instructions to fill in his part in the match.
Also read: Kurt Angle Applauds Matt Striker's Role as WWE Commentator and Host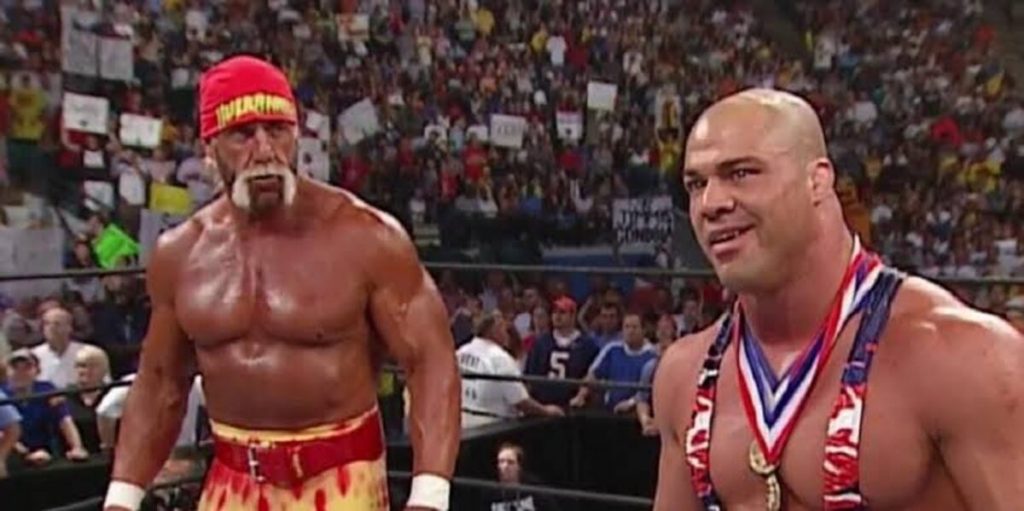 Legendary wrestler Kurt Angle talks about his six-man tag battle at Madison Square Garden, in which he had to knock out Hulk Hogan before executing the Frog finish. Though it was intended for Hulk Hogan to fall when Kurt knocked, he held the rope and remained upright, upsetting the plans. Then, with Hogan still standing, Kurt Angle was compelled to perform Frog's finish, although this was not the intended outcome.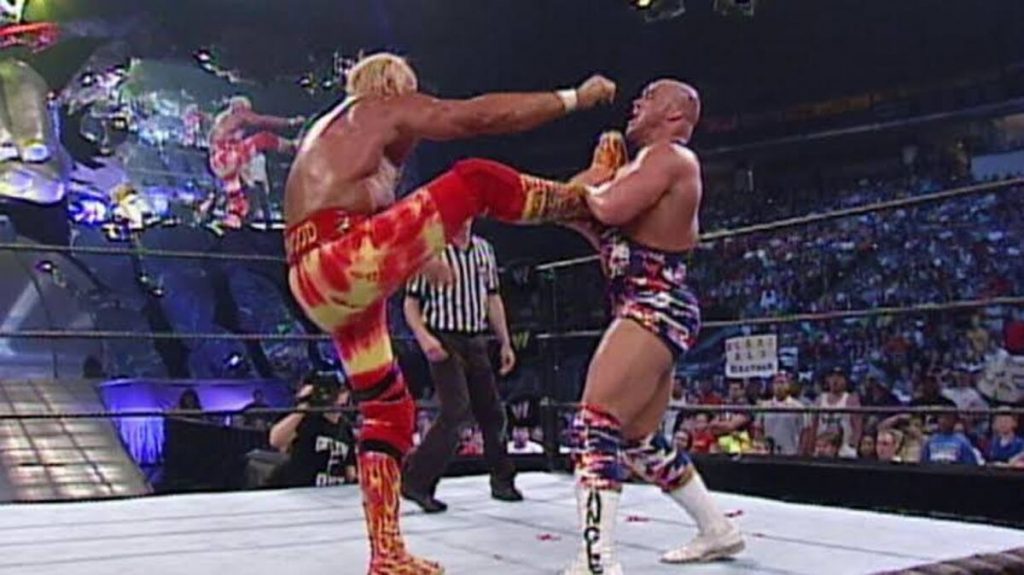 Kurt Angle continues by saying that for the second time when he had to punch Hulk Hogan. Kurt Angle hit him for real, and Hogan still managed to keep him from falling off. This was Hulk Hogan's second time doing it. This scenario led to misunderstandings between the two renowned wrestlers.
Also read: "He deserves all 3.5 stars" Kurt Angle acknowledges Shawn Michaels Overselling showcase at SummerSlam 2005
Kurt Angle acknowledges that when Hulk Hogan initially started, he didn't give him much of a chance. However, later on, after learning more about him, he declared, "He's actually really a great guy." The wrestling veteran, Kurt Angle regrets his thoughts and actions on The Hulkster..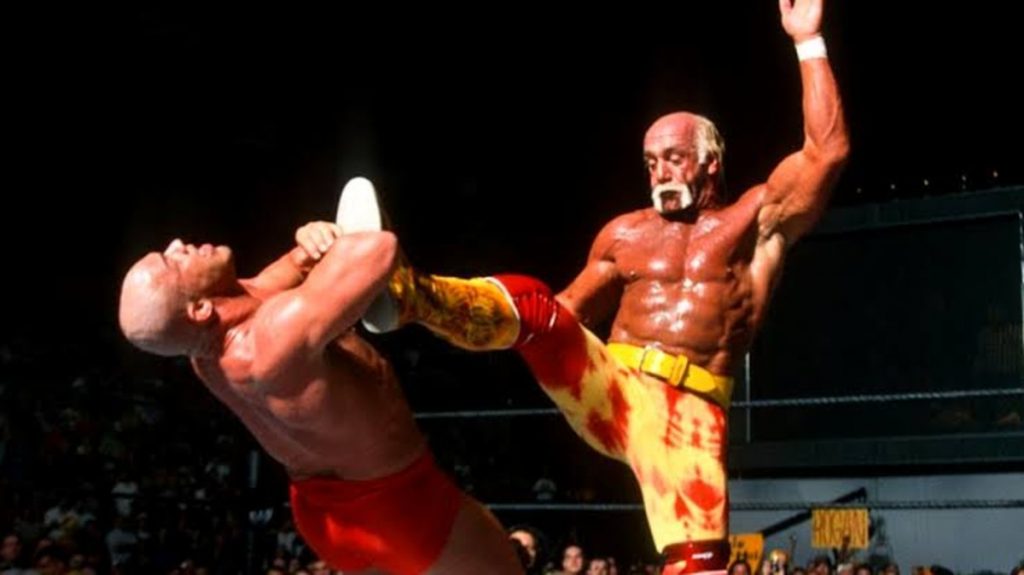 To Kurt Angle, other wrestlers were also crucial in turning Hulk Hogan into a villain. Wrestlers used to believe that Hulk Hogan was a self-centered person who always thinks for himself and is active in politics. Wrestlers use to say "Watch out, Hulk Hogan is coming; he's going to Politicize." These things gave Kurt Angle the opportunity to go after Hulk Hogan.
Kurt Angle disputes this and asserts that Sterling Golden wasn't. Hulk was never a part of political activity for his benefit. To establish his reputation and work hard, Hogan joined WWE. Angle felt terrible for him because of his initial impression of Hulk Hogan.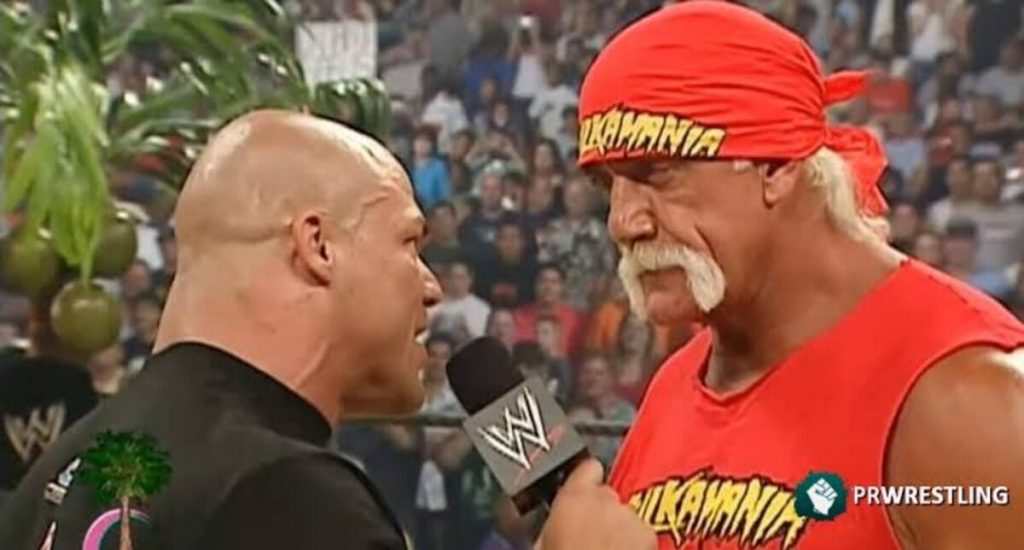 Kurt Angle shares Hulk Hogan recently celebrated his 70th birthday, and he wished him a happy birthday. Hogan replied, "Thank you, brother."
Add Howdy Sports to your Google News feed.