WWE RAW, also known as Monday Night RAW, is scheduled for August 28, 2023, to air live from FedExForum in Memphis, TN. Let us learn more about it by having WWE RAW Recap of WWE RAW Results, Highlights and Grades – August 28, 2023.
WWE RAW Results, Highlights and Grades – August 28, 2023: Match Card:
| | | |
| --- | --- | --- |
| Matches | Winners | Grades |
| Damian Priest vs. Sami Zayn | Sami Zayn | B |
| The New Day vs. Viking Raiders | Viking Raiders | B- |
| Chad Gable vs. Ludwig Kaiser | Chad Gable | B |
| Bronson Reed vs. Tommaso Ciampa | Tommaso Ciampa | B |
| Falls Count Anywhere Match: Becky Lynch vs. Zoey Stark | Becky Lynch | A |
WWE RAW Results, Highlights and Grades – August 28, 2023: Damian Priest vs. Sami Zayn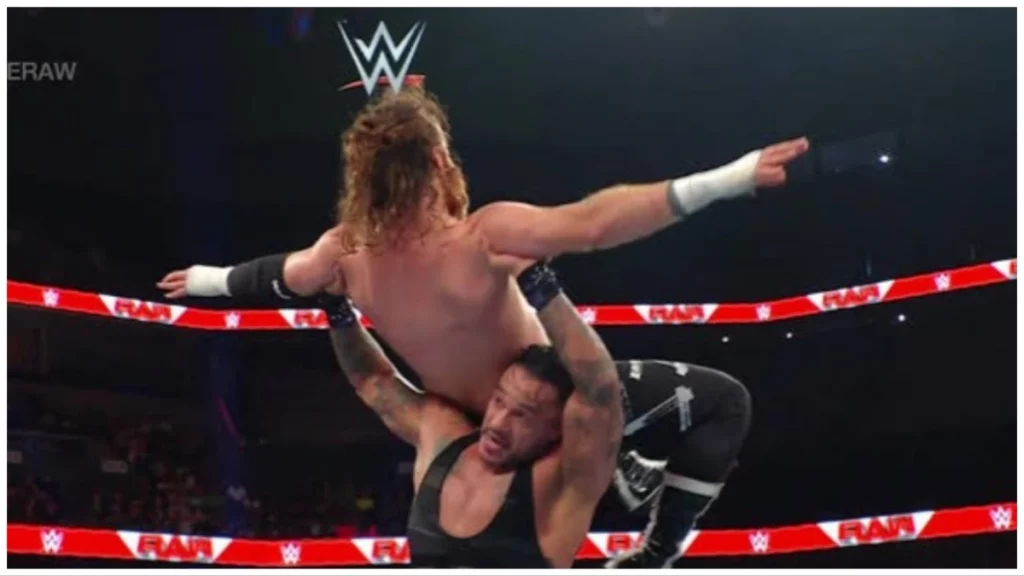 The performance began with a boisterous crowd shouting along to Sami Zayn's entrance music before Damian Priest's music interrupted it. Sami Zayn refused to be intimidated despite Se'or Money in the Bank's obvious advantages in height and strength.
Prior to Priest taking control and beginning to rule, he put up a lot of offense. It was a welcome change of pace to have Priest ride alone for this match because Judgment Day's matches frequently feature the other band members. JD McDonagh intervened and, unfortunately for Zayn, cost him the match.
After the game, The Archer of Infamy shoved McDonagh because he was upset about it. This gave Kevin Owens and Zayn the chance to knock him out as Priest abandoned him. This was a good match that allowed for future development. There will be a lot of excitement in the tag title match at Payback with Judgment Day.
Victor – Sami Zayn
Grades – B
Post-match
After the match, McDonagh enters the ring and extends Priest's hand. Damian, however, is not amused and pushes McDonagh down while telling him to mind his own business. JD turns around to see Kevin Owens and Sami Zayn beating him down before dropping him with a Helluva Kick.
Backstage
Akira Tozawa and Drew McIntyre are chatting. In response, Matt Riddle rolls up as Tozawa tells him he looks fantastic and departs. On the other side of the piece of paper Drew is holding is a picture of him wearing green "Bro" trunks that have been digitally altered. Riddle rambles on about the value of wearing coordinated attire and says he wants to watch the New Day take on the Viking Raiders while eating hot dogs and haggis ringside.
LA Knight or The Miz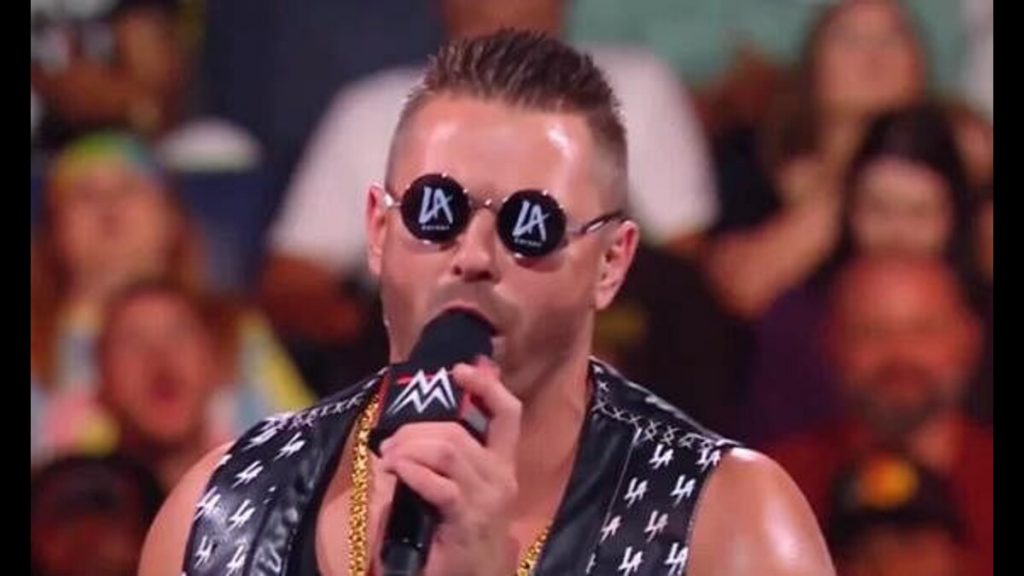 The "LA Knight" enters and picks up the microphone. In reality, he is Miz wearing a flimsy disguise. Miz introduces a bag of complimentary t-shirts and plays off the audience by tossing them into the aisle while removing his sunglasses and stripping off all of the LA Knight gear up to his waist.
He then claims to be dangerous and to have put on his tough guy voice before getting stuck in a catchphrase loop. He disparages the audience, saying that they will clap for anything and that their support is meaningless. Knight is generic, bland, and pandering, and Miz doesn't use catchphrases; he refers to himself as fantastic because it's the truth. When he defeats and exposes LA Knight, the party will be over. Also read: LA Knight is a proficient wrestler to oust Roman Reigns
Backstage
In an emerald jumpsuit and a solemn expression, Seth is pictured backstage. Rollins nods politely while maintaining his sour gaze as Ricochet passes by.
WWE RAW Results, Highlights and Grades – August 28; The New Day vs. Viking Raiders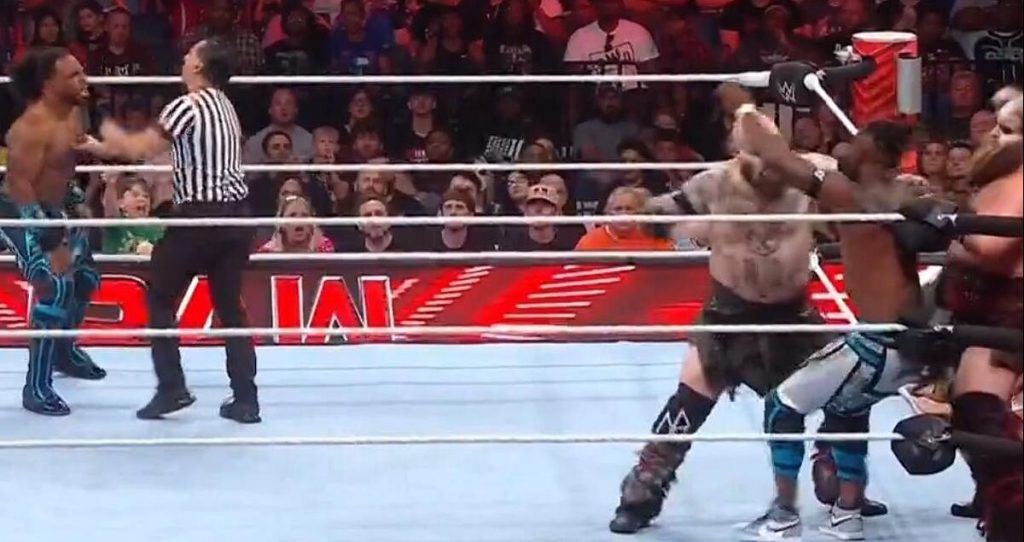 Erik and Ivar were the opponents in the subsequent match between Kofi Kingston and Xavier Woods. This was by no means the first fight between these two squads, who have frequently faced off in the ring. While sitting at the commentary table, Drew McIntyre and Matt Riddle observed.
Erik and Woods had a lovely conversation to start. It didn't take Kingston long to assist his colleague in making things right after the Vikings grabbed control and temporarily isolated Woods. The presence of Valhalla during the event didn't really affect it much, though. The majority of this tag team match turned out to be rather typical. They exhibited strong chemistry and a steady pace.
Erik and Ivar hit Ragnarok to win the match when McIntyre and Riddle got involved, turning the contest into mayhem at ringside. Drew is furious and throws tables towards the ring after bowling McIntyre and Riddle over at ringside. BLASTS THE WOODS IN THE FACE! Kofi, fighting valiantly by himself in the ring, is trapped.
Victor – The Viking Raiders
Grades – B-
Post Match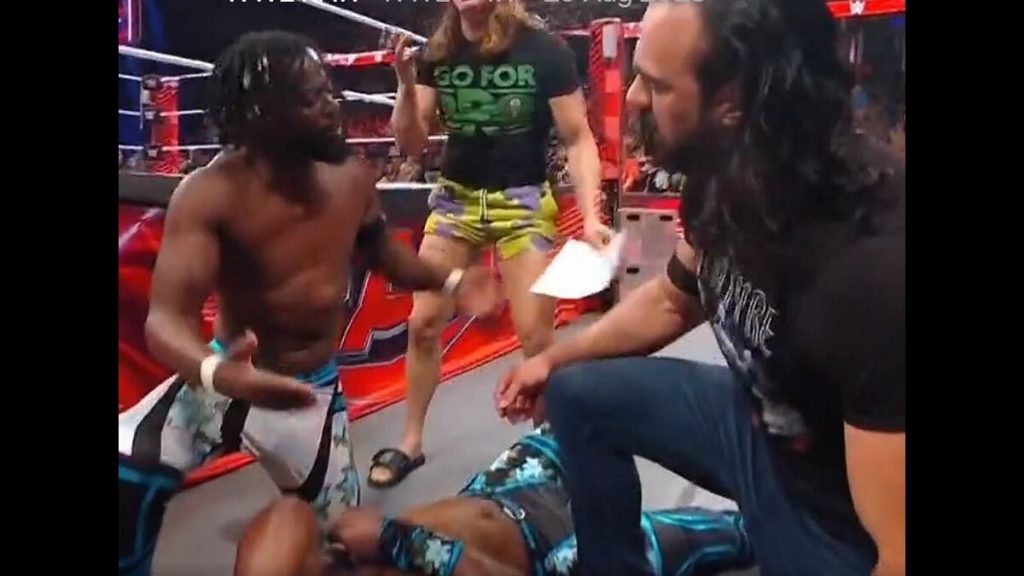 Drew and Matt pursue the Vikings after the bout but refrain from pursuing them up the ramp. McIntyre apologizes for hitting Xavier with the chair but then becomes so enraged that he throws it once more.
Finn Balor and Damian Priest had a conversation behind the scenes about the necessity of concentrating and aligning their goals. According to Priest, he shouldn't care about unimportant people like JD McDonagh. When Finn points out that he couldn't have defeated Sami without JD, Damian responds that he doesn't care; all that matters is Judgment Day.
They're going to remind everyone that the Judgment Day is a force to be reckoned with at Payback, and if they don't all have gold by the conclusion of the night, there will have to be some changes, Rhea Ripley heads in and shouts at them for not getting along. She also says she can't keep running the ship all by herself.
Remembering Bray Wyatt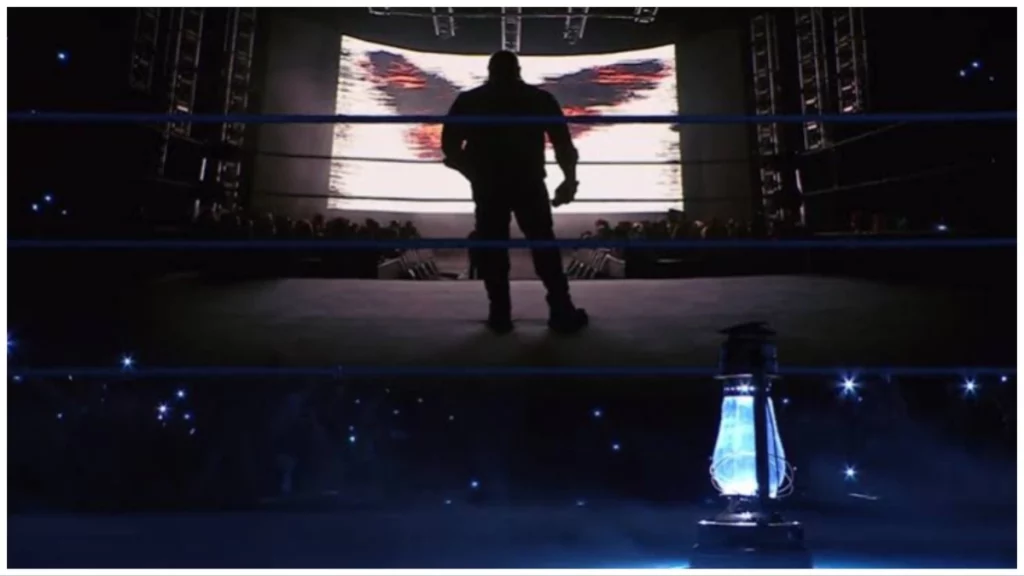 A video for Bray Wyatt is presented. The crowd breaks as Bray's original Broken Out in Love theme plays over the sea of fireflies and a spotlight is placed on the rocking chair on the stage. Also read : Top 10 greatest matches of Bray Wyatt in his WWE Career
Backstage
Review of the victory over New Day by the Viking Raiders and the volatile Drew McIntyre Riddle and McIntyre are waiting to see how Xavier is doing when Kofi Kingston exits the trainer's room.
They don't blame Drew for the incident's aftereffects, according to Kofi, who claims he was harmed but will be alright. McIntyre claims he will visit Adam Pearce and request a bout so he won't need to tag in to defeat a Viking ass.
Imperium Segment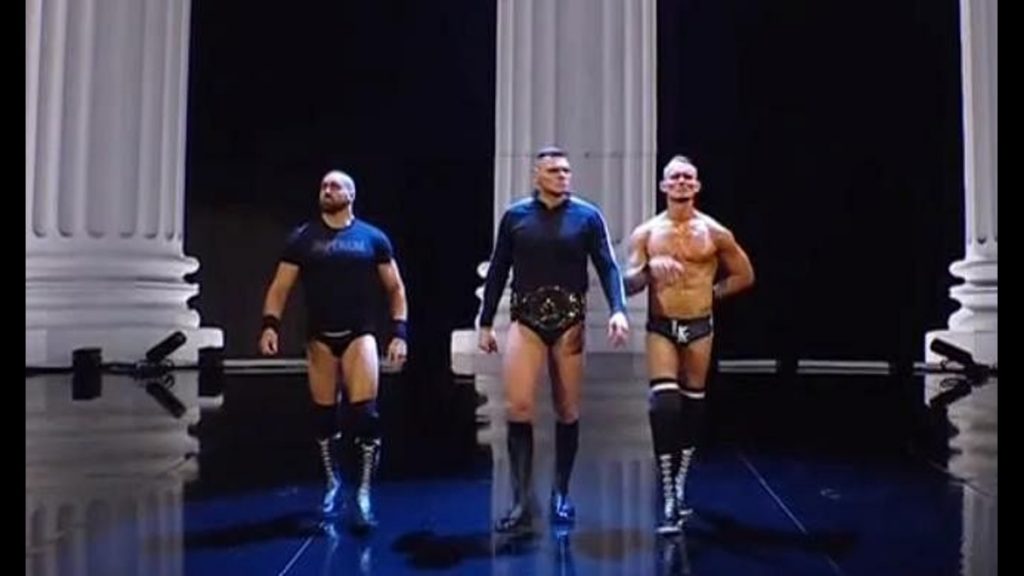 When Imperium arrives, GUNTHER ascends the announcer's desk to make a promotional cut. He claims that Chad Gable, who defeated him last week for the first time in more than 500 days, made history. With a count out during a competition.
He actually lost because Gunther is still in this room serving as your Intercontinental Heavyweight Champion. But he succeeded in one thing—he enraged the Ring General! He goes on in German for a while, declaring that Chad has his focus right now.
If Gable is the final thing standing between him and his proper legacy, then so be it. On Monday Night Raw the following week, Chad will re-challenge him! arrive at Alpha Academy.
However, Gable believes that Gunther has made some valid arguments, such as how he had gone nearly two years without losing until last week, when Chad delivered him his first defeat in just ten seconds, baby! However, he will oust the champion in 1-2-3 the following week.
WWE RAW Results Highlights and Grades- August 28: Chad Gable vs. Ludwig Kaiser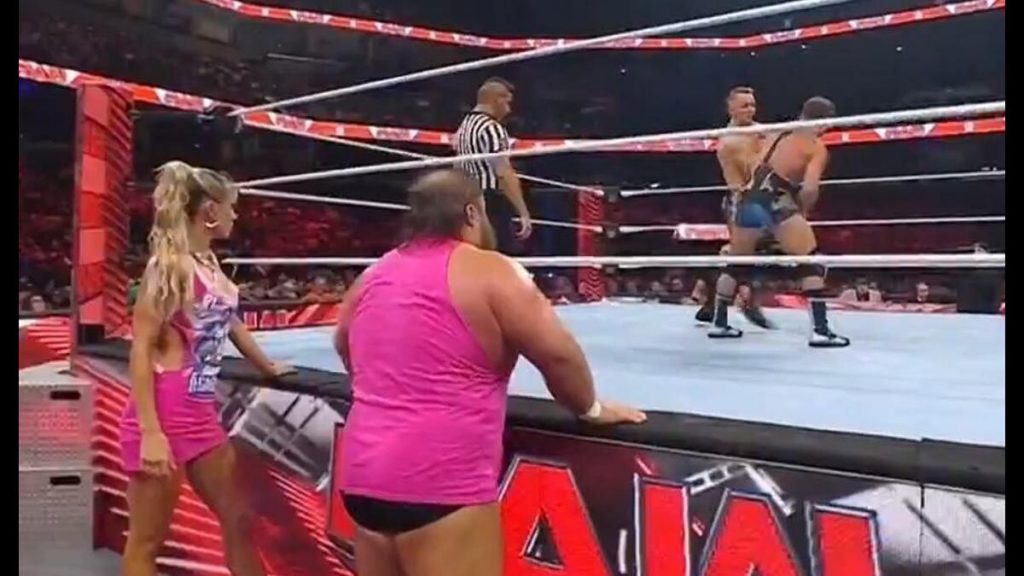 Gable cannonballs on Kaiser and sends us to break after sending him to the ground while feeling out! After the commercial, Kaiser turns a series of arm drags by Gable into a top wristlock into a kneeling armbar.
Ludwig battles out of the corner and lands a discus lariat after some back-and-forth punching and an ankle lock from Chad! Kaiser hits him with a punch and a running uppercut from above the turnbuckles, and we return to the break after that! following a commercial Rolling belly-to-belly suplexes from Chad, headbutts from Kaiser in response, and a tilt-a-whirl slam for two complete the move!
Trading blows, Gable having the upper hand, a blocked German suplex, a dragon screw, and Ludwig landing a California Roll and a Penalty Kick.
Victor – Chad Gable by Disqualification
Grades – B
Otis Dozovic enters the arena following the game and suplexes Vinci! He was hit with a stinger splash, the Imperium won, GUNTHER came down, and he attempted to use a powerbomb, but Gable quickly reacted and locked his ankle! The Ring General pushes Kaiser and Vinci out of the way and flings power bombs at Chad with reckless abandon.
We watch a Memorial for Bob Barker, lost recently.
World Heavyweight Champion Seth Rollins is here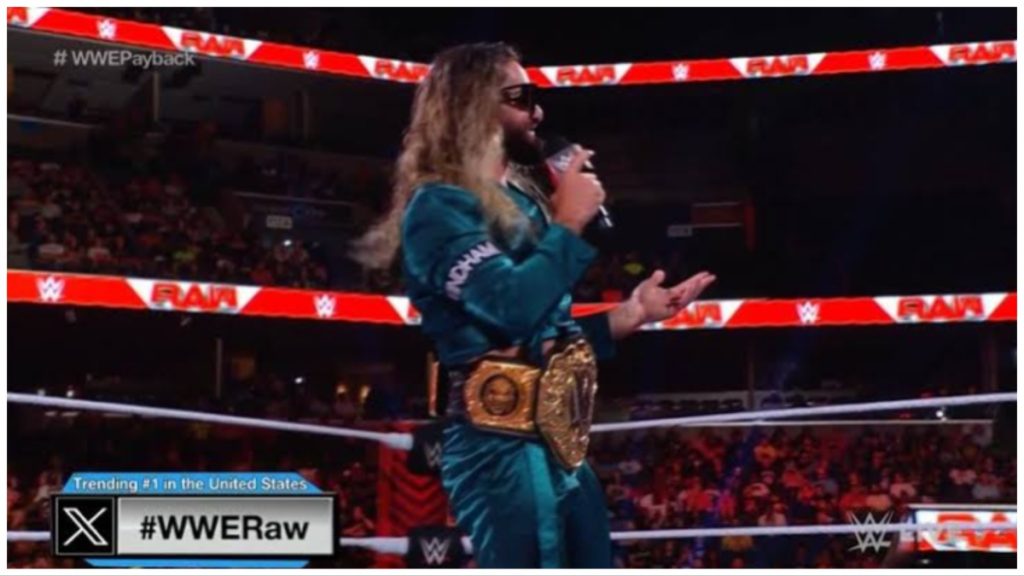 Welcome to Monday Night Rollins, Seth Rollins says as he enters the audience. He contacts Shinsuke Nakamura and asks him to give him what he wants right this second because it has been a long week, saying he will keep it brief.
He can walk down this aisle and confront him if he wants to play any more mind games or say terrible things. When Nakamura doesn't respond, he prods him to walk down and listen to the crowd sing his song before giggling because no one now sings Shinsuke's tune. In that case, if Nakamura doesn't arrive, perhaps he will head to Beale Street, get a hard drink, and let the crowd chant his song all night long.
Shinsuke makes an appearance on the tron in a clip where he trains martial arts and talks about wanting to discredit Seth Rollins, the man, and make his wife aware that he is the reason she has to help him out of bed and that he won't be able to lead his daughter down the aisle on her wedding day. In order to end Seth's suffering, he will break him because Seth is susceptible to being shattered and having his body betrayed.
When a video package was shown to Rollins, he became agitated and demanded to know what had become of Shinsuke Nakamura, who had headlined the Tokyo Dome and set the globe on fire before joining NXT.
Nakamura tramples on Rollins
He would have handed Shinsuke the shirt off his broken back a month ago, but that didn't stop him from winning the heavyweight world championship, and it won't stop him from kicking Nakamura in the a$$ on Saturday. He will attack him and not stop until he is dragged away. When he is laying there defeated, he will realize that he cannot take anything from Rollins—not his position, not his future, and not his family.
Invading from behind, Nakamura chokes Seth out before kicking him in the head.
Backstage- Sami Zayn and Kevin Owens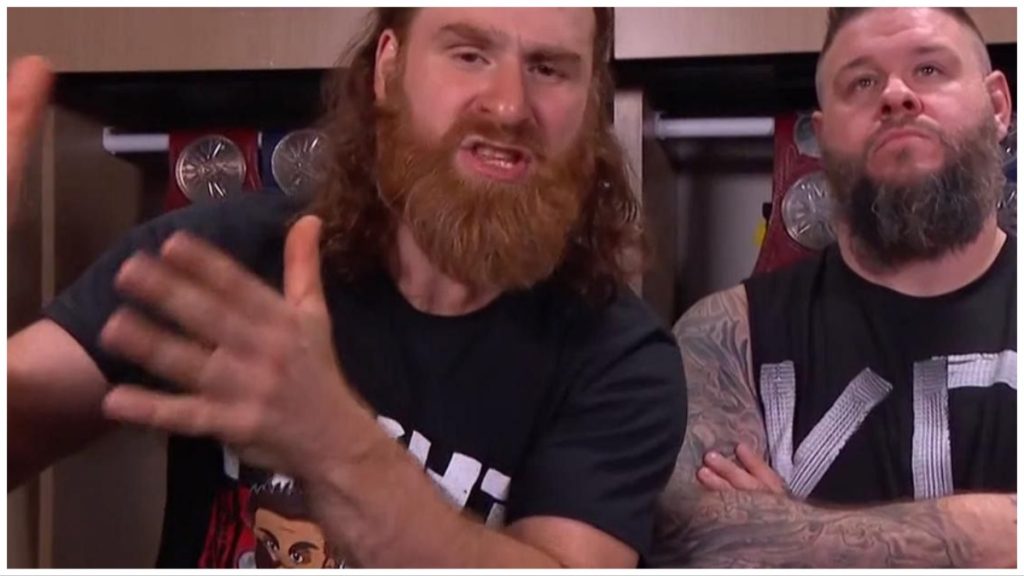 Sami claims that Judgment Day will continue to reappear if they choose to do so, despite all of the defeats they have endured. When Kev is asked to describe the process, Owens responds that it will be a Steel City Street fight for the tag belts at Payback and that the rules won't be in their favor because they are sick of this and went to Adam Pearce.
Reed wants to get rid of Ciampa
When Tommaso Ciampa makes his entrance, Bronson Reed tackles him and knocks him down the ramp. We go to break before the match even starts after Reed is passed to the floor in the ring and then strikes with a running knee and a diving knee as referee Aja Perera tries to maintain order.
WWE RAW Results Highlights and Grades- August 28: : Bronson Reed vs. Tommaso Ciampa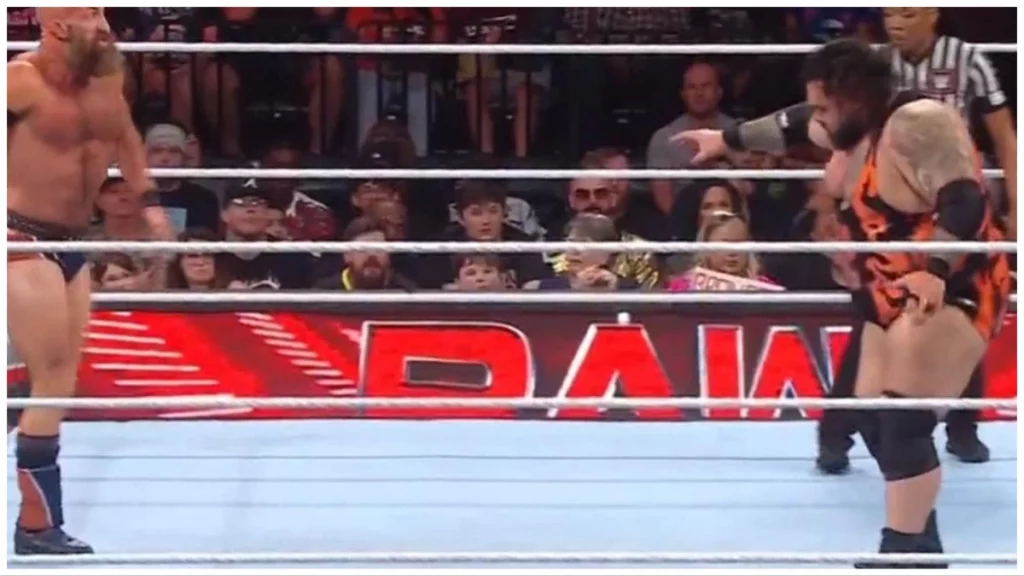 During a live match, Ciampa executed a Lou Thesz press into mounted punches, sending him off the turnbuckles. Reed hits him with a crossbody off the ropes to knock him out.
An air raid crash impacts Tom after he maneuvers under him—so close! Willow's Bell makes contact in the back-and-forth exchange, but Ciampa is slow to capitalize. While the knee trembler is in place, Bronson kicks it out. Trading strikes, neither man moving, Ciampa receives a crucifix driving.
Victor – Tommaso Ciampa
Grades – B
Interview of Becky Lynch
She acknowledges having second thoughts, third thoughts, and so on, but every single one of them involved whooping Zoey Stark all over the arena. She's been forced into a difficult situation but refuses to take the simple route, and as a result, she's causing chaos in Memphis.
Watch NXT Women's Champion Tiffany Stratton in the front row
Raquel Rodriguez beats Rhea Ripley
Rhea claims Raquel Rodriguez had to fabricate an ailment to have the upper hand, but she doesn't hold it against Raquel. After all, her resume speaks for itself, so there's no need for her to come out here and list all of her accomplishments when the title around her waist does all the talking.
She claims that Rodriguez is a fool for believing that she can win the title, and while she has her own accomplishments—such as the fact that she is big, rough, and strong—she is not Rhea bloody Ripley. Even if Raquel talks endlessly, Mami will emerge victorious at Payback.
Introducing Raquel Rodriguez.
Rhea Ripley is beaten down and whipped into the corner before Rodriguez executes the fallaway slam as he enters the ring and works her over. Raquel turns around and begs Dom to stop, but that only gives Rhea a chance to headbutt him! Dom comes up behind her. Pumphandle, Riptide countered into a hip toss, and Rodriguez lariat-kicked her out of there.
Backstage
Trish Stratus and Zoey Stark make a promotional cut. When Becky Lynch is finished with her, Zoey promises to leave plenty for Trish in the steel cage at Payback, calling Lynch foolish for accepting this bout.
WWE RAW Results Highlights and Grades- August 28: Falls Count Anywhere Match: Becky Lynch vs. Zoey Stark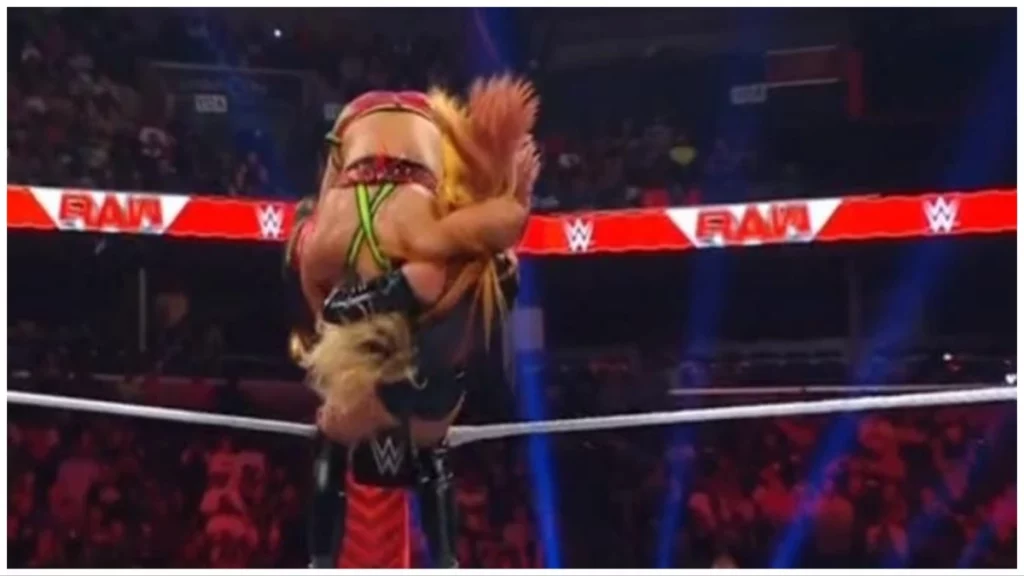 As soon as they enter the ring, Lynch assaults Stark with the kendo stick to begin the contest. Stark's legs and back had taken several hits from Lynch. Becky Lynch scores two counts after doing a side-leg sweep with the kendo stick. Using the kendo stick, Lynch applies a crossface.
Stark climbs the ropes and removes herself from the ring. Lynch tackles her at ringside after performing a baseball slide. Becky is attacked by Trish Stratus with two back shots after he seizes the kendo stick. Lynch grabs the ropes and makes her way to the apron as she attempts to powerbomb Stark to the floor. Becky scales the turnstiles. Lynch knocks down Stratus when she tries to strike. The Man blocks with a cross-body strike from the top.
Soon after, Stark makes a return and submits Lynch to ringside for a two-count. Lynch is invited to fight by Stark. She is attacked by Lynch, but Stark defeats her. Zoey scores a two-count after connecting with a springboard missile dropkick. Stark is struck in the face by Stratus as he pulls a steel chair out from under the ring and launches it into the action.
Zoey plays that pretty coolly and shrugs it off. For a one-count, Lynch rolls Stark up. Stark soon takes her down with a clothesline. Stratus awkwardly tosses additional chairs into the ring. Within the ring, there is a stack of seats. Stern assaults Lynch. The audience ignores this and chants, "We want tables. Stark positions Lynch on the top rope and attempts a superplex onto the stack of chairs.
Zoey and Stratus team up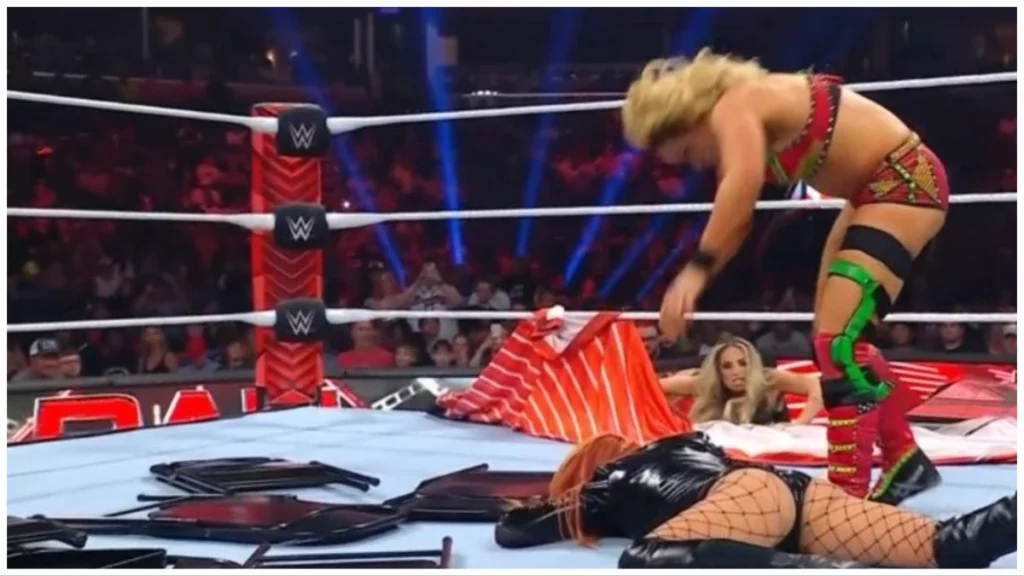 Stratus tries to hold onto Lynch's ankle, but Lynch tosses her off. Stark is knocked onto the top rope by Lynch, who then executes a diving leg drop for a two-count. Lynch attempts to disarm the opponent, but Stark blocks it and sweeps the feet to knock Lynch to the seats. Lynch escapes and executes the Manhandle Slam as Stark attempts the Z-360. The pin is broken by Stratus.
An angry Lynch follows the WWE Hall of Famer all around the ring. When Stratus reaches for a kendo staff, Lynch applies the breaks. Becky deflects a bullet and removes it from her hands. Lynch uses the kendo stick to smack Stratus around the ringside. The Man brutally whips Stratus to the back and up the ramp. Stark shoots Lynch in the midsection with a chair. Stark nearly knocks her down by firing another chair at her.
In the crowd, there is conflict between Lynch and Stark. Stark is sent back to the ringside by Lynch by sending him over the barrier. Lynch slams a diving clothesline while standing on the barricade. Lynch nearly falls when he blasts the LED barricade with a bomb. In response to a thunderous cheer, Lynch places Stark in the ring and removes a table from underneath the ring. Baseball player Stark slides Lynch and yells that Memphis doesn't deserve tables.
Stark knocks Lynch into the ring before knocking her over the top rope. Lynch is brutally struck four times in the spine by Stark as he seizes a steel chair. With a chair on her breast, Lynch is raised by Stark.
Becky Lynch on fire
Stark nearly falls after hitting a plancha with a slingshot twist. Lynch may have damaged her knee as a result. Lynch is supported by a second chair as Stark climbs to the top rope. When Lynch stands up, she hurls the chair at Stark's head. Becky super plexes into the chair stack!
Lynch arranges Stark on the commentary table after clearing it. Lynch attempts to manhandle Slam Stark into the table, but Stark resists. Lynch's feet are swept by Trish Stratus when she re-enters the ring. Lynch nearly falls to the commentary table before getting kicked in the face by Stark.
Stark is indignant. Stark assaults Lynch and scales the barrier. Lynch pushes Stratus to the ground and knocks her into the timekeeper's area. In an attempt to manhandle Slam Stark, Lynch scales a table, but Stratus attacks her. Then, through a swarm of people, Stratus smashes a bulldog! A close fall is covered by Stark!
Lynch is double-teamed through the crowd by Stratus and Stark. They scale some crates in preparation for a double-team bulldog, but Lynch repels Stark. With a chick kick, Lynch ducks. Stark confronts Lynch as she attempts to manhandle Stratus.
Winning move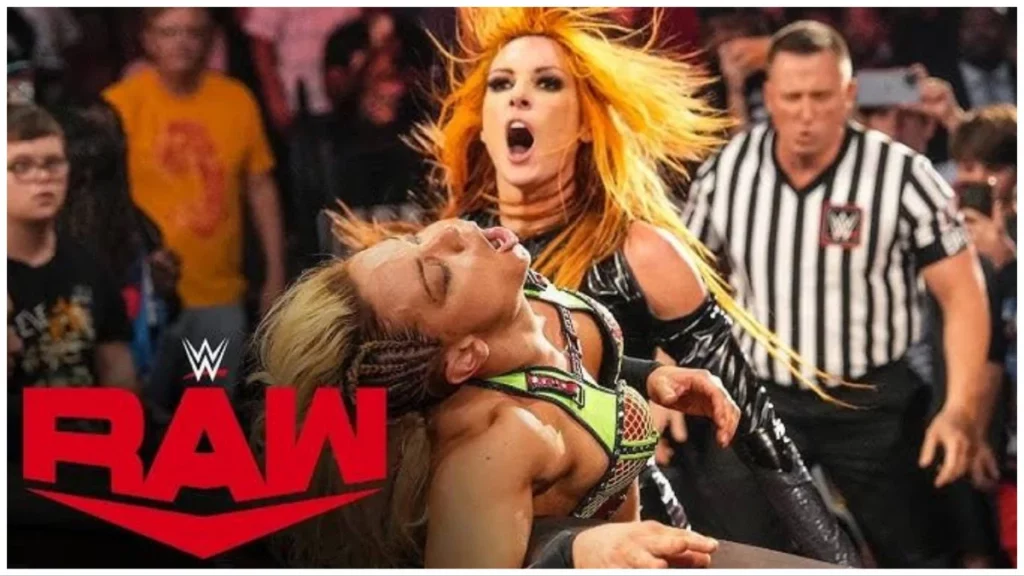 Stratus is unintentionally struck by Stark's errant strike, which sends her flying off the boxes and through a table on the concrete floor! Lynch and Stark both express shock. Lynch then successfully completes the victory by the man handling Stark through a concrete table!
Victor – Becky Lynch
Grades – A
Hope you enjoyed Monday Night RAW watching with us!
Add Howdy Sports to your Google News feed.