Rhea Ripley, The SmackDown Women's Champion is popularly known for her great distractions. And after her little stunt in the latest episode of RAW, Mami had something to say that stirred up the fans. The fans were curled up on Rhea Ripley's hilarious excuse for her actions.
She is an expert in adopting dirty tactics to distract the event in her favor. Rhea has gained a lot through these formulated and well-researched techniques. Dirty Dom Title is the epitome of her distractions. Feels nothing strange as she has been consistently ruining most of the things and turning them in her favor with the distractions.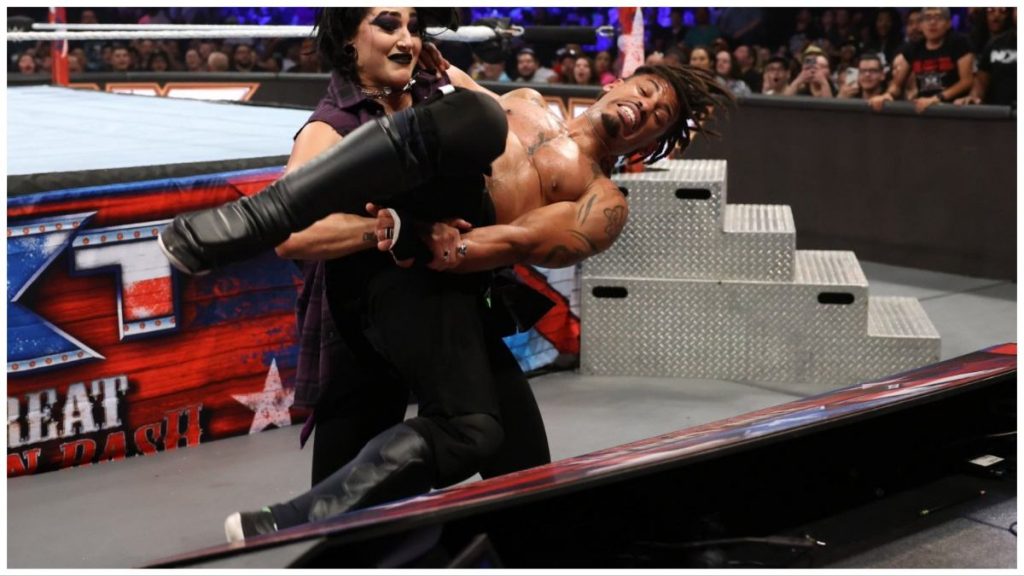 Rhea Ripley's distraction most of the time leads to opponents' destruction. Recently, In the Main Event of RAW, Rhea was seen distracting the Referee when Cody Rhodes was gaining momentum in the match against her stablemates.
SmackDown Women's champion knew this momentum could be a serious threat to Judgment Day victory. So, using her dirty tricks, she preoccupied the attention of the Referee. Out of her mind, the rationale behind her slipping the gold belt to hit the opponents was extremely illogical.
I got oil on my body, title flew out my hands 🤷🏻‍♀️ https://t.co/alY3gIQlSf

— RheaRipley_WWE (@RheaRipley_WWE) August 8, 2023
She insists her title slipped out of her hands due to excessive oil on her body. Her body got oil, her hands got oil and ultimately made her title slippery. Although, The real intention is known to the audience. Rhea Ripley's action became an active subject of criticism and laughter.
Fans react to Rhea Ripley's hilarious excuse
Consequently, Fans made fun of her and criticized her for interrupting the win. However, after Rhea's numerous efforts, Judgment Day still suffered defeat at the hands of Cody Rhodes, Seth Rollins, and Shinsuke Nakamura.
This incident caught a lot of eyes and a variety of reactions. One fan even clipped her dancing after she threw her title. Sorry… slipped her title. This 2 seconds clip is actually veru funny when seen on loop:
That's definitely an effective way to distract a ref 😂 pic.twitter.com/gtvCO5zOtD

— Zeb (@Over_Caffinated) August 8, 2023
This was the video to which Rhea replied and gave her laughable response.
Most of the fans were completely ridiculing her for her excuse. However, there were a lot of fans that believed that was the case and were in support of The Eradicator.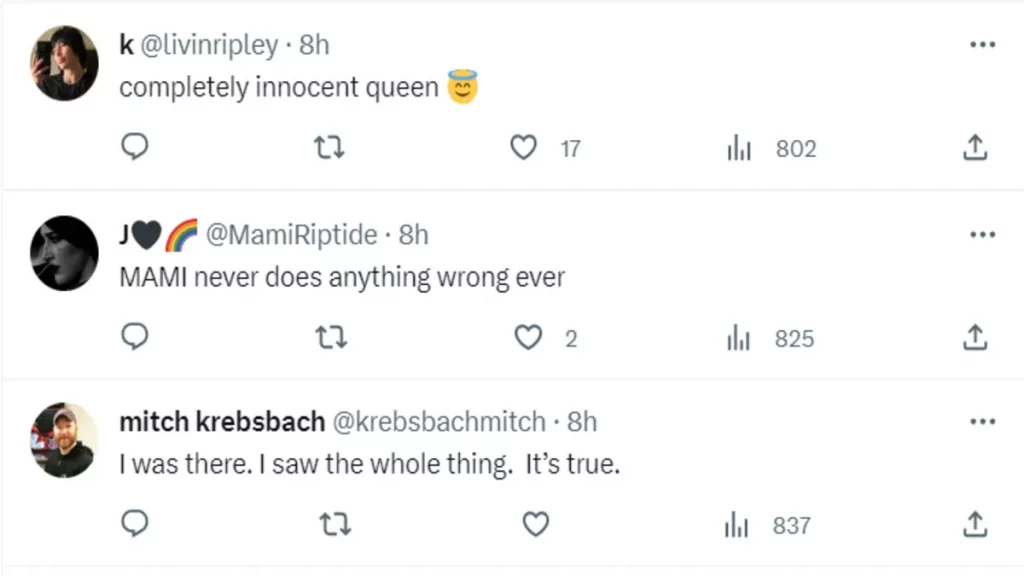 While, there were also some who picked up a completely different angle and involved "Dirty" Dom into this. They think Dominik was the reason behind Mami being covered in oil.
The funny action leads to the audience's laughing reaction. Some Fans theorized that Rhea was eager to dance and hence came up with this ridiculous excuse.

Rhea Ripley, irrespective of her heel character appeared extremely funny with the moving action and explaining to the referee that it was the oil on her body. Certainly, Mami has to work a lot on giving reasons and making excuses.
Read Next:
Add Howdy Sports to your Google News feed.