The forthcoming 2023 WWE Payback event will be held at the PPG Paints Arena in Pittsburgh, Pennsylvania, on Saturday, September 2, precisely during the Labor Day weekend. This is the first payback since 2020. Let us have a look at WWE Payback 2023 Preview and Predictions.
WWE Payback 2023 Match Card:
| | |
| --- | --- |
| Matches | Winner |
| Becky Lynch Vs. Trish Stratus | Becky Lynch |
| World Heavyweight Championship: Seth Rollins(c) vs. Shinsuke Nakamura | Seth Rollins |
| The Miz Vs. LA Knight | LA Knight |
| Intercontinental Championship: Gunther(c) Vs. Chad Gable | Gunther |
| WWE SmackDown Women's Championship Match: Rhea Ripley Vs. Raquel Rodriguez | Rhea Ripley |
| WWE Women's Championship: Iyo Sky Vs. Asuka Vs. Charlotte Flair Vs. Bianca Belair | Bianca Belair |
| United States Championship: Rey Mysterio vs. Austin Theory | Rey Mysterio |
| Steel City Street Fight tag team match for the Undisputed WWE Tag Team Championship: Sami Zayn & Kevin Owens vs. Damien Priest & Finn Balor | Sami Zayn & Kevin Owens |
| Jimmy Uso vs. Jey Uso | Jey Uso |
WWE Payback 2023: Becky Lynch Vs. Trish Stratus (Steel Cage Match)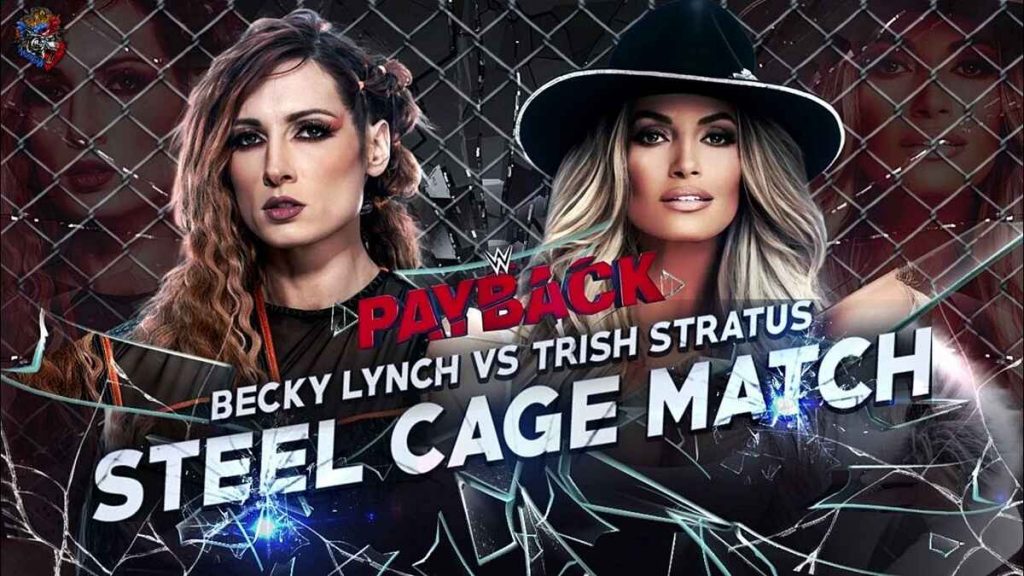 Trish Stratus and Becky Lynch will square off at WWE Payback, which is being promoted by WWE. On Monday's episode of WWE Raw, Becky Lynch and Trish Stratus engaged in a fight that resulted in a double count-out. The altercation extended beyond the ring and into the audience, even getting to the concession stand.
Trish prevailed after Zoey Stark—who wasn't permitted at ringside—jumped into the altercation and assaulted Lynch at the merchandising table. Trish and Becky would settle their issues in a cage match, according to WWE official Adam Pearce, who made the announcement following the contest. The cage bout between Trish and Becky is being promoted for WWE Payback for international viewers as well as on the WWE Main Event.
Prediction – Becky Lynch will win
WWE Payback 2023: World Heavyweight Championship: Seth Rollins(c) vs. Shinsuke Nakamura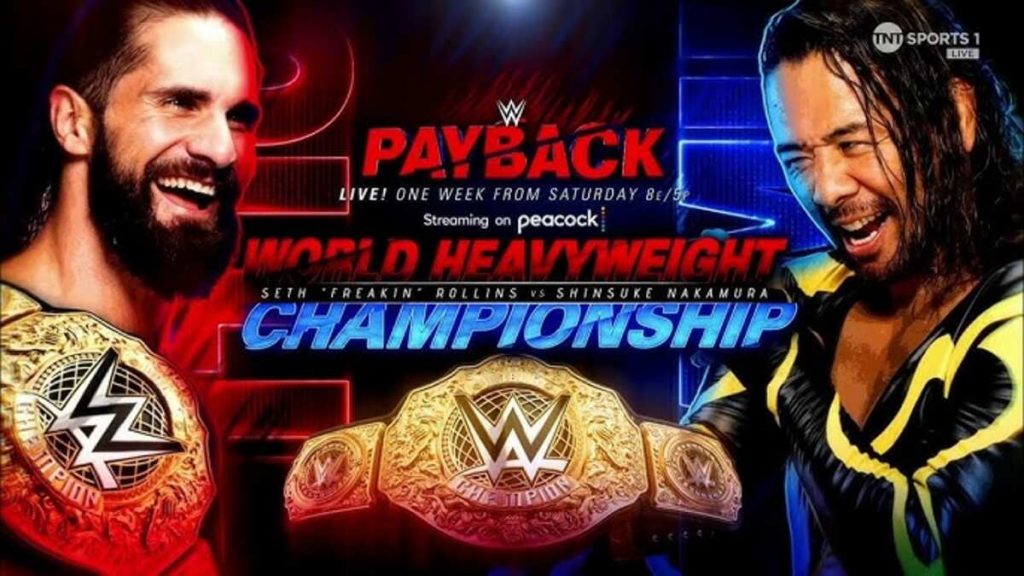 When Shinsuke Nakamura turned heel on WWE Raw after hitting Seth Rollins with a vicious Kinshasa, the trigger was finally pulled to give him a major push. In his NXT days, Triple H had a huge project in mind for Nakamura, who has been a fan favorite of the WWE Universe for a while.
Since then, he has been a main roster star who is frequently highlighted. Nakamura hasn't often been shown as the main event-level superstar. He is very capable of being, despite having some excellent stints with the midcard belts. As a result of Nakamura's strong personal feud with Seth Rollins, the current WWE World Heavyweight Champion, that booking pattern may be about to change.
Seth Rollins and Nakamura had an argument in the ring during which Rollins was demanding answers. Nakamura then muttered something to Rollins, startling him enough for him to be caught off guard by another Kinshasa. On the August 21, 2023, episode of Raw, Nakamura disclosed details regarding Seth Rollins' lingering back issues, officially confirming Nakamura vs. Rollins as payback after weeks of uncertainty.
In the Monday Night RAW edition of August 28, 2023, Seth Rollins contacts Shinsuke Nakamura and asks him to give him what he wants right this second because it has been a long week, saying he will keep it brief. He can walk down this aisle and confront him if he wants to play any more mind games or say terrible things.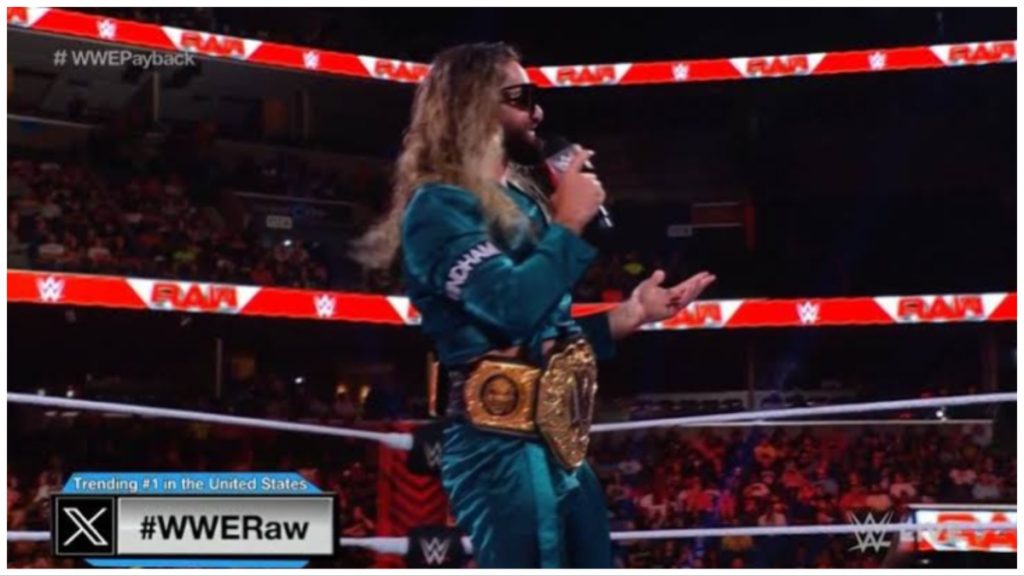 When Nakamura doesn't respond, he prods him to walk down and listen to the crowd sing his song before giggling because no one now sings Shinsuke's tune. Then a video package was shown to Rollins; he became agitated and demanded to know what had become of Shinsuke Nakamura, who had headlined the Tokyo Dome and set the globe on fire before joining NXT.
Seth would have handed Shinsuke the shirt off his broken back a month ago, but that didn't stop him from winning the heavyweight world championship, and it won't stop him from kicking Nakamura in the a$$ on Saturday. He will attack him and not stop until he is dragged away.
Seth Rollins adds that when Nakamura recognizes his defeat, he will realize that he cannot take anything from Rollins—not his position, not his future, and not his family. Invading from behind, Nakamura chokes Seth out before kicking him in the head.
Prediction – Seth Freakin Rollins will retain his Title
WWE Payback 2023: The Miz Vs. LA Knight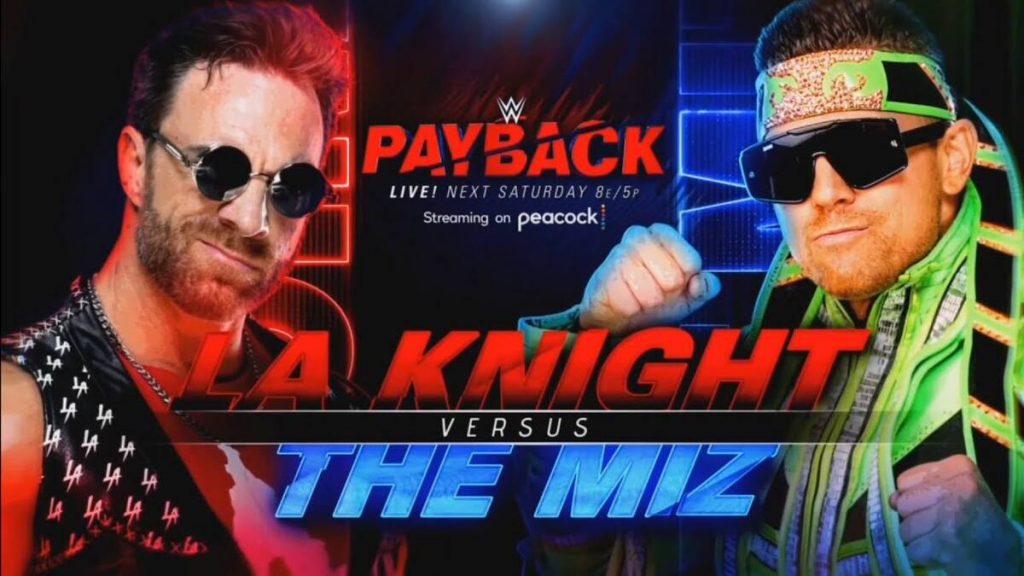 A few weeks ago, LA Knight made an unexpected debut on Raw. Resulting in The Miz and LA Knight in a verbal duel. It was LA Knight who emerged victorious after a fun promo war.
Also read: LA Knight is a proficient wrestler to oust Roman Reigns
On the WWE SmackDown episode from August 18, 2023, Miz was seeking a small amount of "payback" of his own. For a chance at Rey Mysterio's United States Championship. Knight was to face Austin Theory, but Miz entered the arena early by sitting at the commentator's table.
After distracting The Megastar long enough for Theory to secure a quick victory, Happiest The Miz stirred up the match. Because of this, The Miz and LA Knight are now competing against one another for the advantage. The Miz and LA Knight will square off at Payback, and this may very well be the biggest match in LA Knight's current run as the WWE Universe's favorite.
While the crowd would go wild for a clean victory by Knight, Miz will use some sleazy strategies to win. The WWE loves drama and is taking a long view with LA Knight. Since Miz is such a perfect heel, not giving LA Knight the victory would cause the live audience and social media to erupt. and this would be a great opportunity for Knight to win over the crowd on his route to the main event.
Prediction – LA Knight will win.
WWE Payback 2023: Intercontinental Championship: Gunther(c) Vs. Chad Gable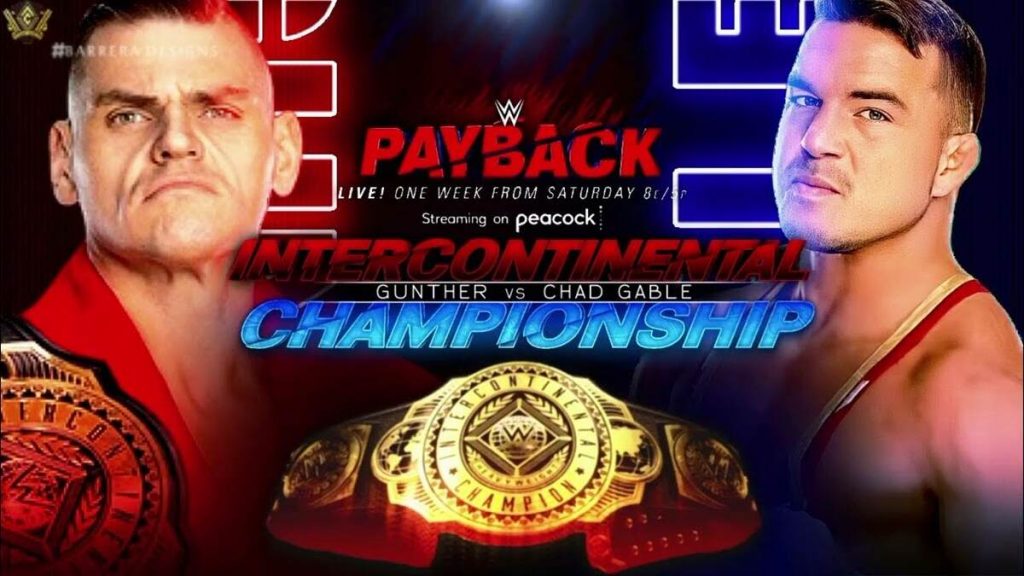 It is difficult to disagree that Gunther is most likely the best Intercontinental Champion the WWE has had in the last generation. The Ring General is a main event-caliber champion who is perfect in the ring and carries himself as such. He has all the tools necessary to dominate the WWE for many years to come.
During his tyrannical rule, Gunther has already destroyed Drew McIntyre, Sheamus, and a wide range of other superstars.
Recently, the rivalry between The Alpha Academy and Imperium has been getting hotter and hotter. WWE Creative is finally showing Chad Gable some much-needed love. The WWE Universe loves Gable and has been clamoring for him to have a push for a very long time. Gable is a wrestling machine. Gunther suffered his first main roster loss on the August 21, 2023 episode of Raw, which Gable did by count-out. The Ring General will, therefore, undoubtedly seek retribution.
It is official now, that Gunther and Gable will Battle at Payback 2023. This fight could end up being a show-stealer in terms of in-ring stamina. It will surely be an amazing and hard-hitting conquest.
Prediction – Gunther will retain his championship
WWE Payback 2023: WWE SmackDown Women's Championship Match: Rhea Ripley Vs. Raquel Rodriguez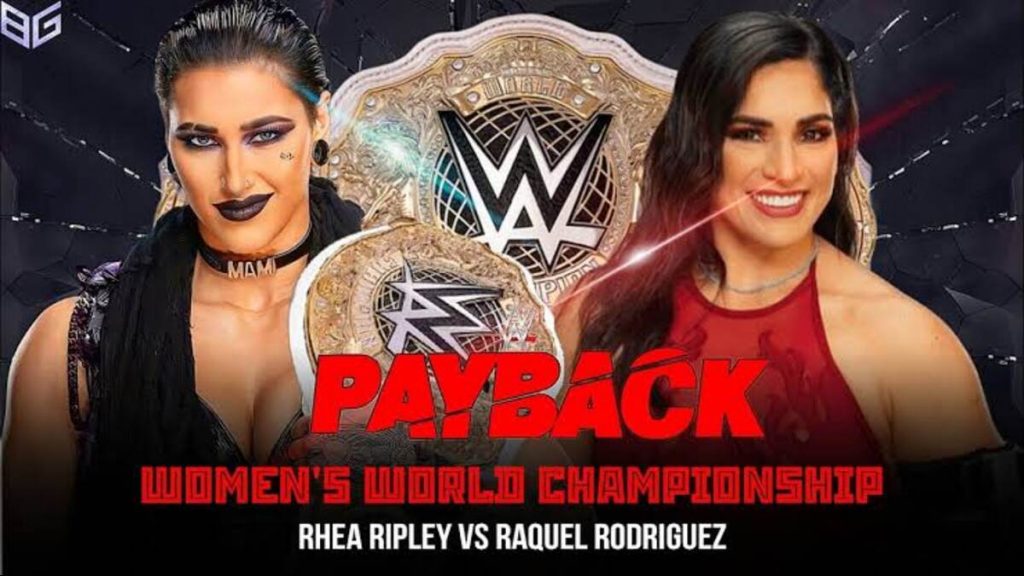 Raquel Rodriguez is a great athlete on whom the WWE has recently placed a lot of emphasis. Rodriguez the rising star has an illustrious relationship with Ripley that dates back to their time on the developmental brand.
He is a seasoned NXT wrestler. The 21st August episode of Raw saw Rodriguez's return from a storyline injury inflicted on her, by Rhea Ripley and her vicious attack on the title. Their feud has been slowly building on the main roster lately.
A match between Ripley and Rodriguez will take place at Payback, Rodriguez said while speaking onto the microphone. Despite the fact that Rodriguez is talented and has the backing of the public. It is improbable that she will succeed Ripley in taking the crown.
Prediction: Rhea Ripley will retain her Title
Also read: WWE SmackDown Women's Champion, Rhea Ripley breaks silence on ignoring Shawn Michaels Backstage
WWE Women's Championship: Iyo Sky Vs. Asuka Vs. Charlotte Flair Vs. Bianca Belair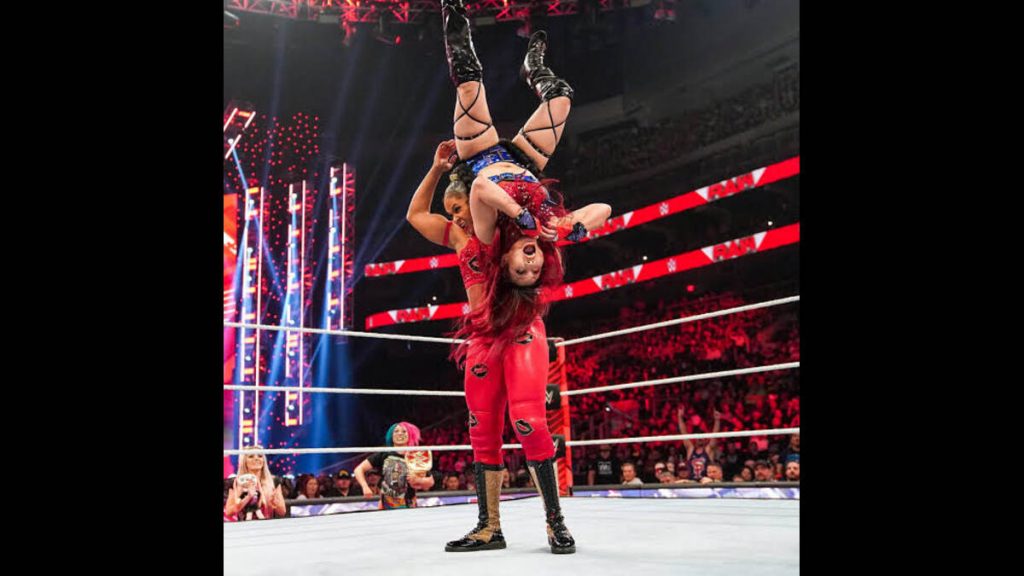 As Bayley and Iyo Sky's arguments go on, Damage CTRL keeps developing more cracks. Sky will unavoidably become a babyface as a result. But for now, the emphasis is on advancing the SmackDown women's division.
The division has recently received a lot of attention from WWE, with stars like Sky, Charlotte Flair, Bayley, and Bianca Belair all emerging as key figures on the Blue brand. Asuka is another prominent figure who has experienced a rekindled career spark.
Before losing the championship to Bianca Belair at SummerSlam during an incredible triple threat match that also featured Charlotte Flair, Asuka had been winning the Women's Championship with distinction. Iyo Sky stole the victory over Belair and cashed in her Money in the Bank contract after the match.
As the top performers in the women's division continue to be booked heavily and continue to be in each other's business without a clear dominant winner, a fatal four-way tie for the women's title appears to be potentially in the works for Payback 2023. After the triple threat match's popularity, a fatal four-way battle involving the top women has the potential to be a masterpiece, but it wouldn't be shocking to see Bayley cost Sky the title during the contest.
Prediction – Iyo Sky loses the match due to Bayley's interference
"The Grayson Waller Effect" to feature Cody Rhodes at Payback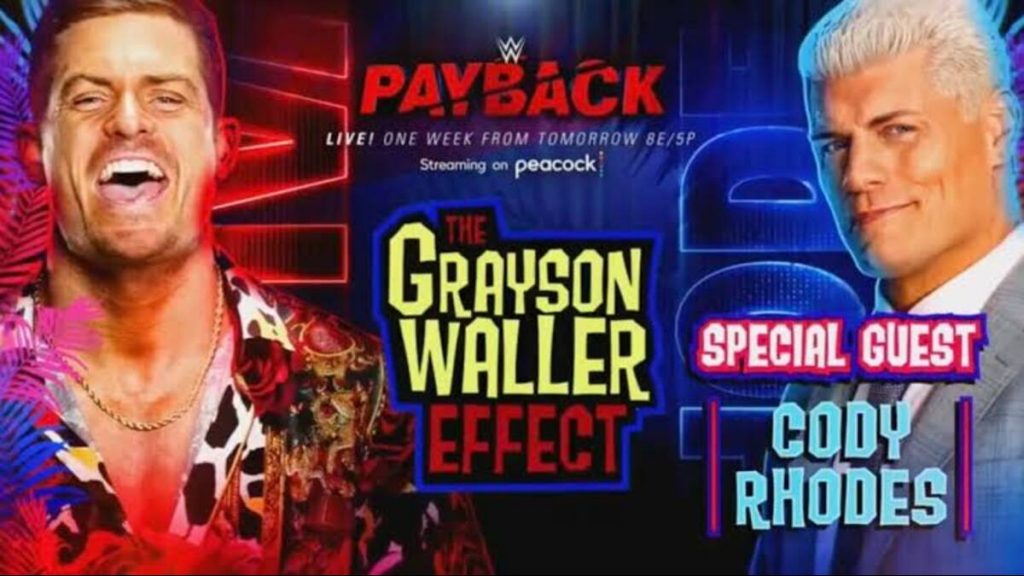 "The Grayson Waller Effect" at WWE Payback as "The Aussie Icon" and The American" Nightmare will converse on the talk show. Following a string of difficult matches against Brock Lesnar. After peaking with his victory at SummerSlam, Rhodes is now Waller's guest. Judgment Day and Rhodes are still in a bitter dispute.
However, since joining SmackDown, Waller has grown quickly in popularity. His confrontations with WWE greats like John Cena and Rey Mysterio have brought him to public attention. Even at Madison Square Garden, he engaged in combat with "The Rated-R Superstar" Edge.
United States Championship: Rey Mysterio vs. Austin Theory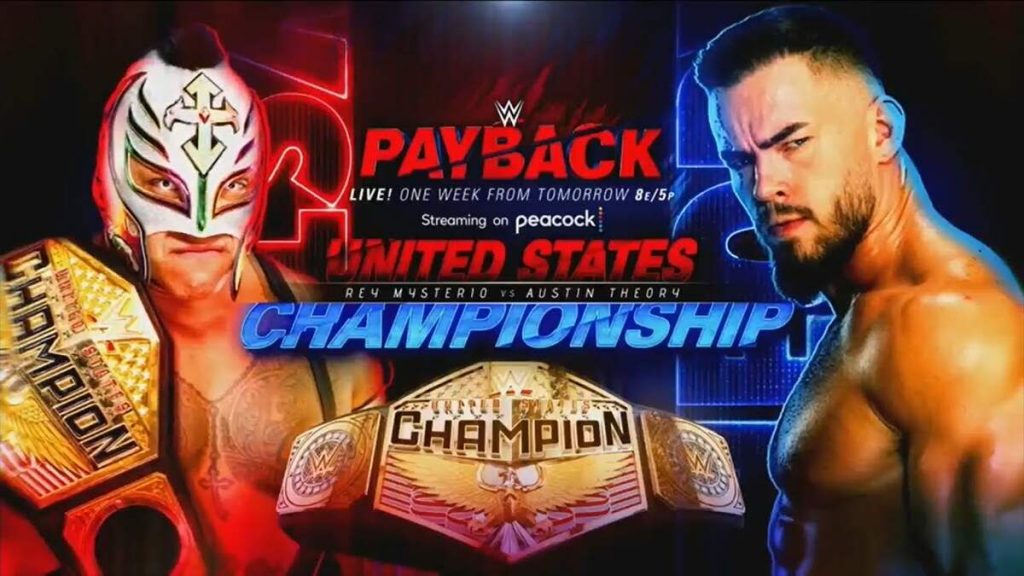 At WWE Payback, Austin Theory plans to attempt to reclaim the United States Championship from Rey Mysterio. On the August 11 SmackDown broadcast, Theory was initially to face Santos Escobar from LWO. But before the contest, Theory defeated Escobar. Paving a way for WWE Official Adam Pearce to guarantee that the Calgary, Alberta, Canada. The crowd will still witness the promised title contest.
With Mysterio, Pearce took the place of Escobar. Mysterio proved his perseverance by using his trademark 619 to claim the red, white, and blue championship. In his lengthy career, he had done it three times prior to this. Without wasting any time, a furious Theory swiftly got back on course to contend for the title. The following week, with a little help from The Miz, he defeated LA Knight. In order to become the No. 1 contender for the United States Championship.
Prediction – Rey Mysterio will retain his title.
Steel City Street Fight tag team match for the Undisputed WWE Tag Team Championship: Sami Zayn & Kevin Owens vs. Damien Priest & Finn Balor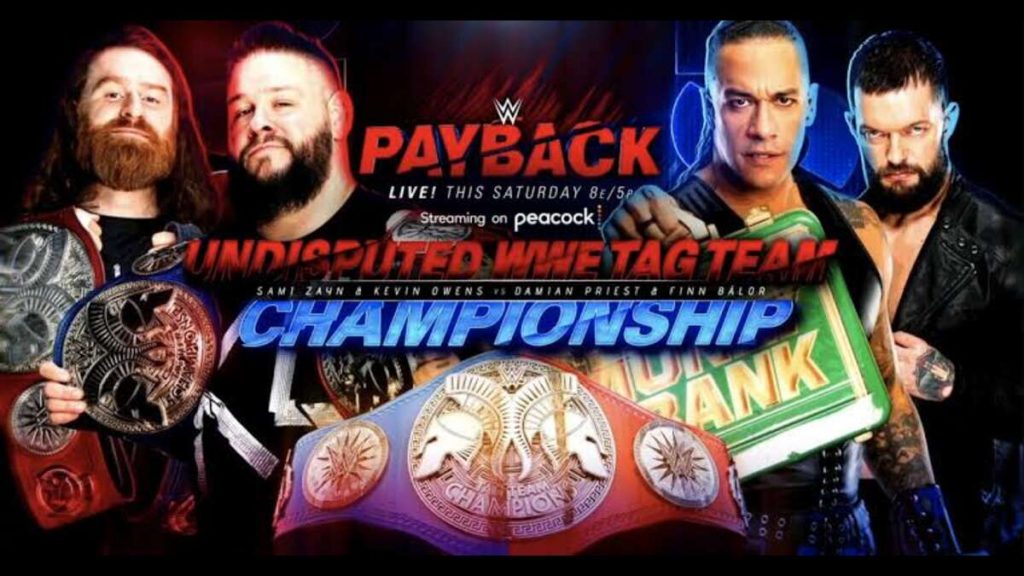 Kevin Owens and Sami Zayn will defend their prized title belts at WWE Payback. It was official on the August 28 episode of WWE Raw that Finn Balor and Damian Priest, commonly known as The Judgment Day, will be Kevin Owens and Sami Zayn's opponents when they defend their undisputed WWE Tag Team Championship.
This comes after Kevin Owens' comeback on the episode of August 21 after availing injury due to an earlier attack from The Judgment Day. As part of their feud with The Judgment Day for the past few months, Owens and Zayn have been intemperately confronting each other.
Judgment Day has nevertheless been battling internal strife in recent weeks. Balor and Priest, who are both holding Money in the Bank briefcases, have had trouble getting their goals in sync. They are preparing to work together despite their differences and compete for the championship crowns on September 2.
Later on in the same broadcast, Kevin Owens and Sami Zayn reaffirmed their commitment to ending their continuing conflict with Judgment Day. To do this, they stated that the title bout would take place as a Pittsburgh Steel City Street Fight.
Prediction – Sami Zayn and Kevin Owens will emerge victorious due to internal strife in Judgment Day
Jimmy Uso vs. Jey Uso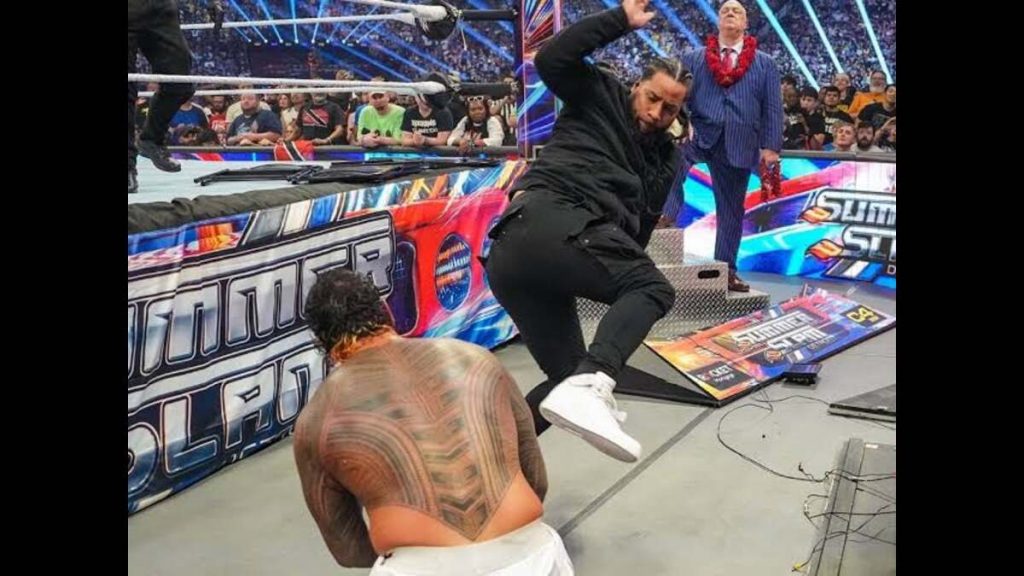 Suddenly, Jimmy Uso interfered in the tribal combat match at SummerSlam, costing his twin brother Jey Uso the victory. Roman Reigns was able to keep his undisputed WWE Universal Championship after Jimmy turned on Main Event Jey.
 Given the recent course of events, a potential conflict between the two brothers may develop over the next few days. Fans can anticipate that their animosity could result in a "brother vs. brother" grudge match at Payback 2023. Nothing is official yet.
Prediction – Jey Uso will emerge victorious
Add Howdy Sports to your Google News feed.