Rhea Ripley, whose real name is Demi Bennett, is a prominent figure in the world of professional wrestling. Rising to fame through her several appearances in WWE, particularly NXT and Raw, Ripley has become a recognized and celebrated wrestler among WWE fans. However, beyond her in-ring persona, there are lesser-known aspects of her life and career that make her story even more intriguing. In this very article, we will look at the top 10 lesser-known facts about Rhea Ripley:
1. Rhea Ripley started her wrestling career at the age of 16
Rhea Ripley, whose real name is Demi Bennett was born on October 11, 1996, in Adelaide, South Australia. She grew up watching wrestling with her father and brother and decided to pursue it as a career. Also, growing up, Ripley excelled in multiple different sporting fields including the likes of soccer, karate, rugby, netball, and swimming.
But her main attraction was wrestling, and she started She joined Riot City Wrestling, a local promotion, in 2013 and made her debut under her real name. She was only 16 years old at the time and had to balance her wrestling training with her schoolwork.
2. She changed her name and look after joining WWE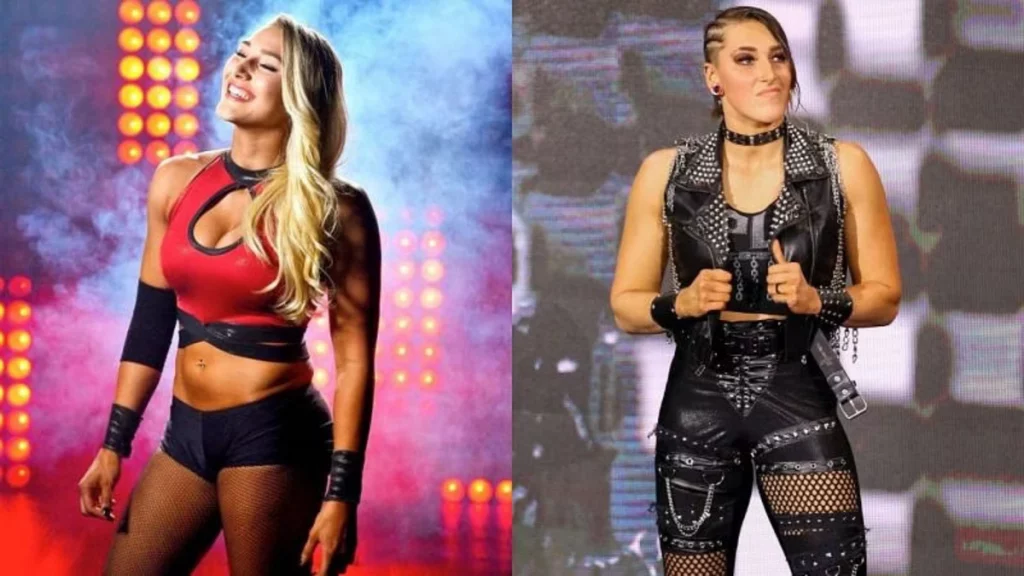 Rhea Ripley signed with WWE in 2017 and participated in the inaugural Mae Young Classic, a women's tournament featuring 32 competitors from around the world. She was still using her real name and had long blonde hair at the time.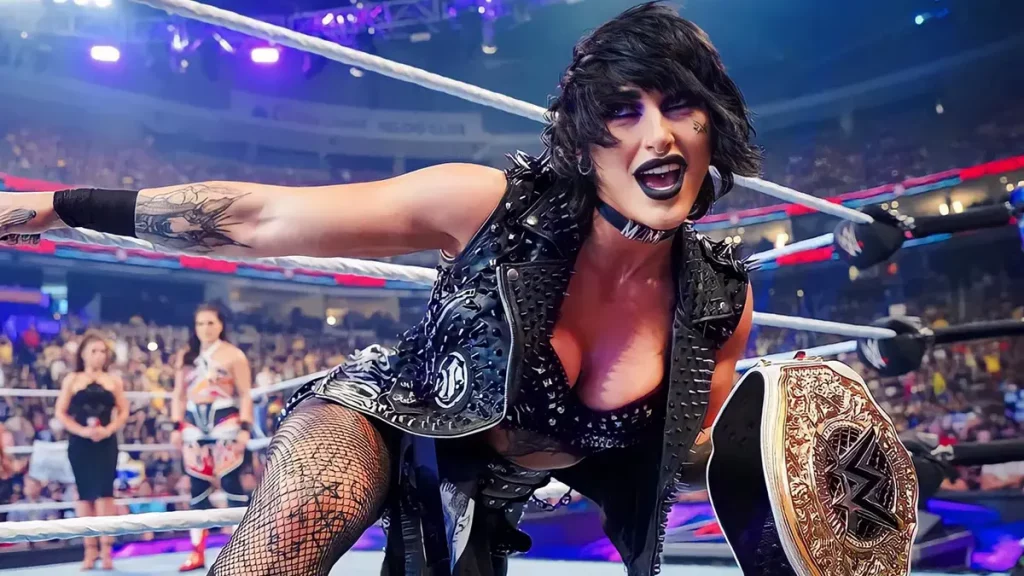 However, she felt that she needed to stand out more and create a unique identity for herself. She changed her name to Rhea Ripley, which was inspired by Ellen Ripley, the protagonist of the Alien film series. She also cut her hair short and dyed it black, giving her a more edgy and punk rock look.
3. She is a fan of metal music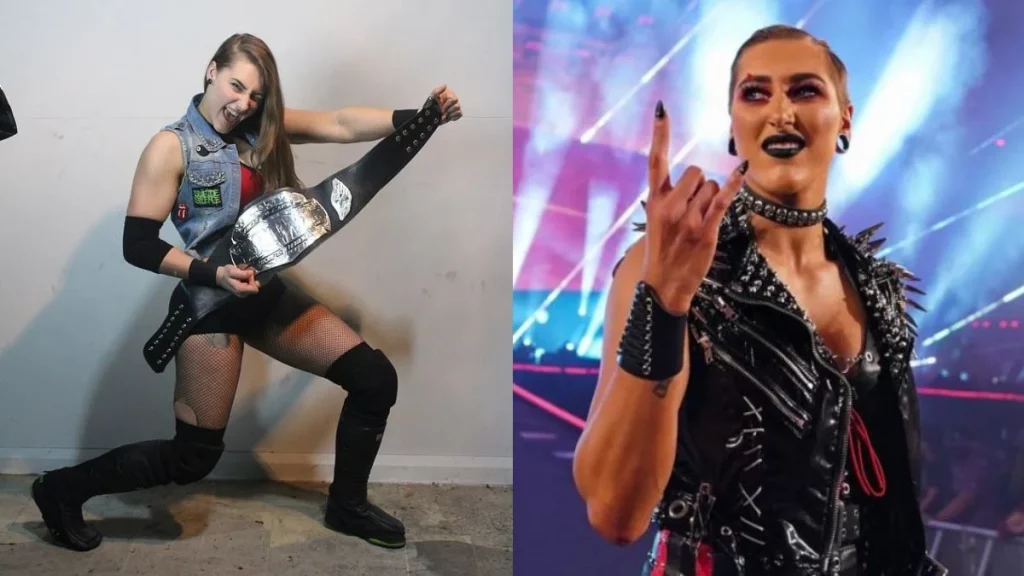 Rhea Ripley's appearance and personality reflect her love for metal music. She often wears band t-shirts, leather jackets, spikes, studs, chains, and piercings. Some of her favorite bands include Slipknot, Metallica, Avenged Sevenfold, Parkway Drive, and A Day to Remember. She has several tattoos inspired by metal bands, such as a Suicide Silence logo on her chest, a Motionless In White lyric on her arm, and a New Year's Day symbol on her finger
Her entrance theme song is "Brutality" by New Year's Day, which features heavy guitar riffs and screams. She also plays guitar herself and has performed with some of her fellow wrestlers on stage.
4. Rhea Ripley is engaged to Buddy Matthews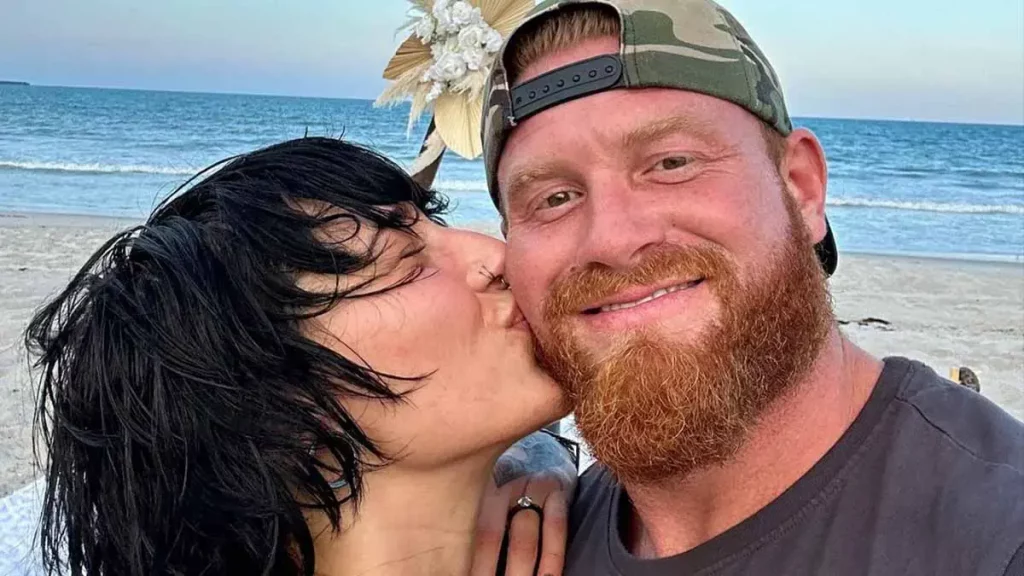 In recent years, it's become increasingly common for professional wrestlers to form relationships with fellow talents, choosing to be romantically involved with someone within the wrestling world. This has its advantages, as they intimately understand the challenges and dynamics within the industry.
Also Read: Rhea Ripley Net Worth 2023, Family, Career and More!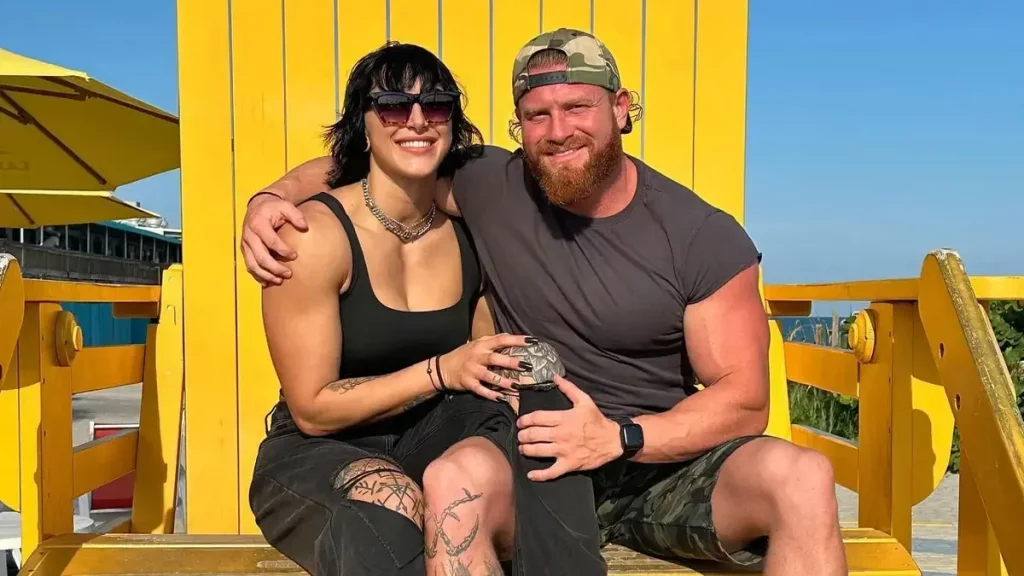 Rhea Ripley is an example of a wrestler in such a relationship, but interestingly, her partner is not part of the WWE roster. She's currently engaged to Buddy Matthews, a wrestler who is currently signed with AEW. For those who might have believed in a storyline relationship between Ripley and Dominik Mysterio, this information might alter that perception for good.
5. She has a matching tattoo with Toni Storm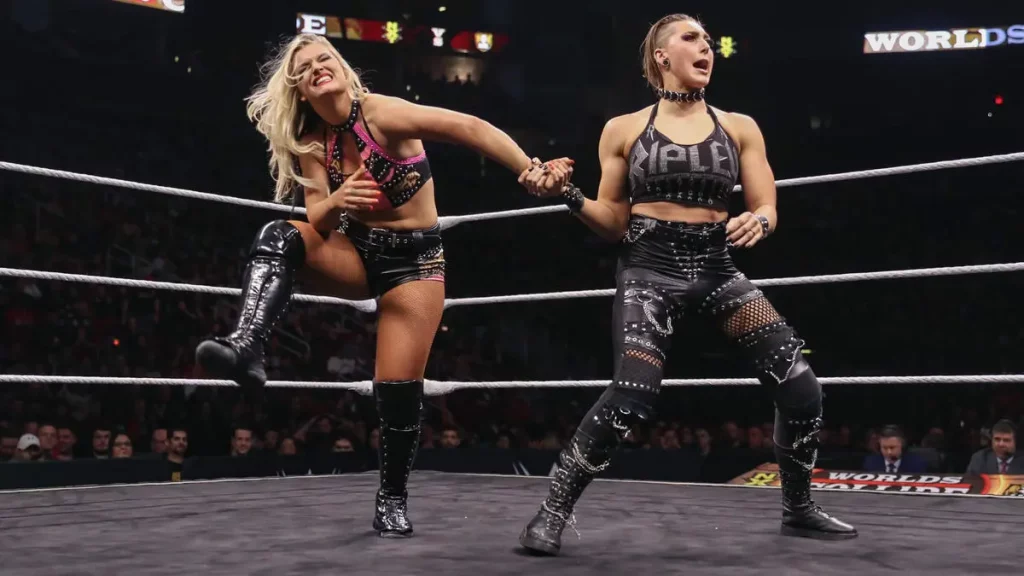 Rhea Ripley has collaborated with numerous wrestlers in her career, and a significant competitor she has faced frequently is Toni Storm. Their extensive wrestling history spans various locations worldwide, showcasing exceptional matches that propelled both of them higher in the industry ranks.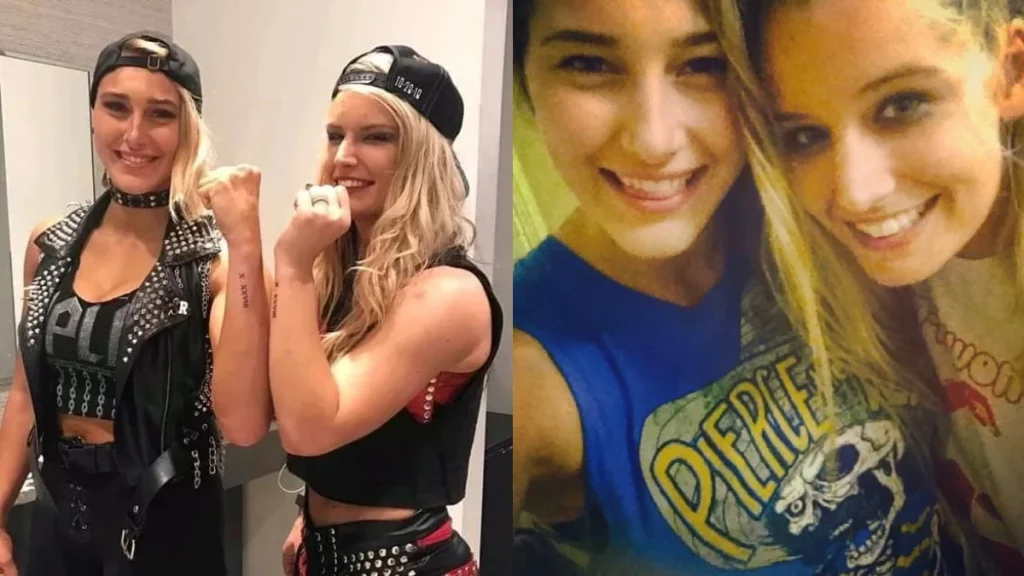 Over the years, they've developed a strong friendship, deepening their understanding of each other. They share a special connection, symbolized by matching tattoos on their wrists, featuring the date of the Evolution PPV in Roman numerals, underscoring their bond.
6. She has two pet dogs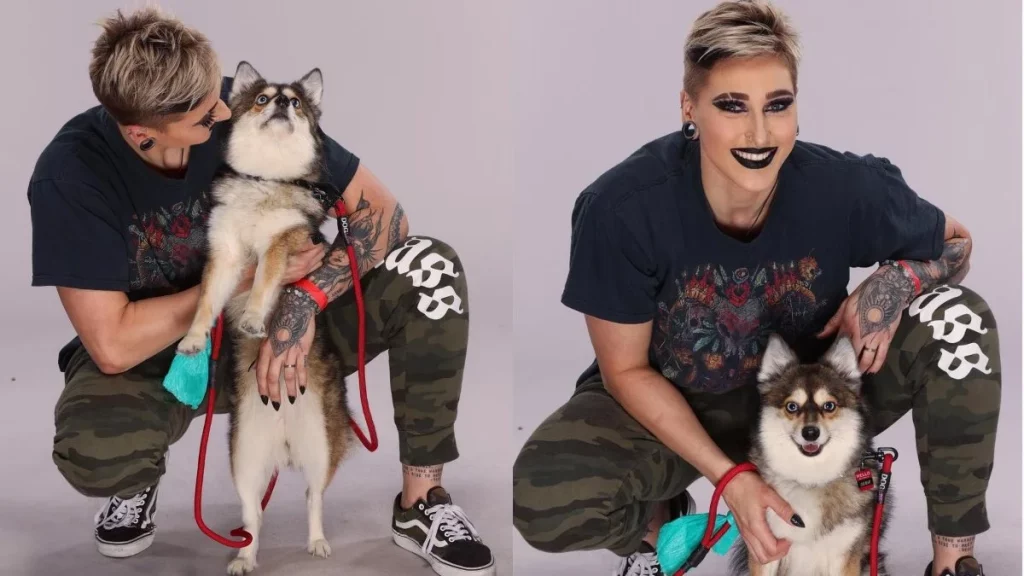 Rhea Ripley is an animal lover who owns two dogs: Barry and Luna. Barry is a Bull Terrier that Ripley adopted in August 2020. He is a white and brown dog with a playful personality. Ripley often posts videos and photos of him on her social media accounts. Whereas Luna is a Pomsky, a mix of Pomeranian and Husky. She is a black and white dog with blue eyes and a fluffy coat. Ripley also shares pictures of her on her Instagram and Twitter pages. Luna is a loyal and friendly companion to Ripley.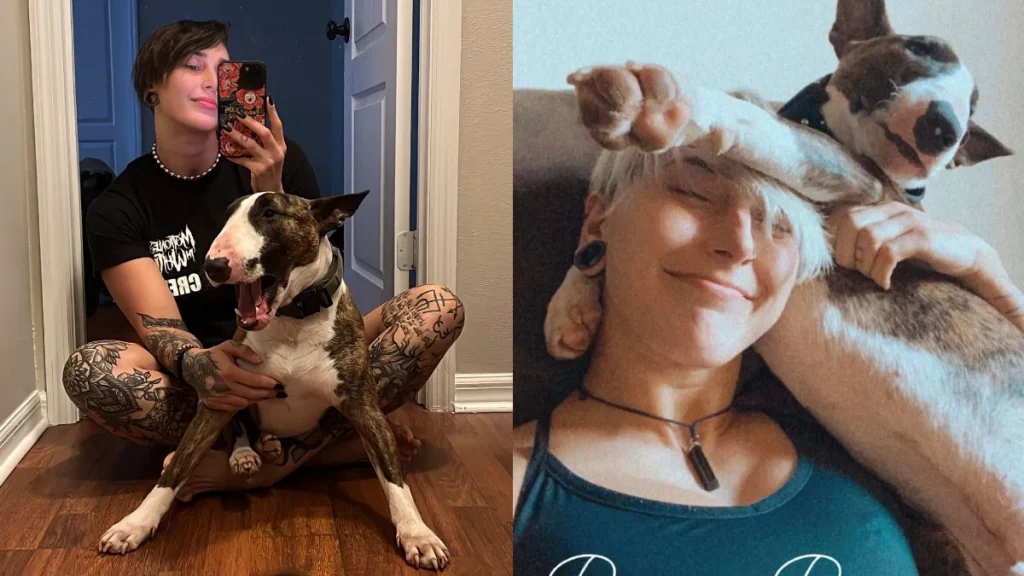 Ripley's dogs are part of her family, and they bring her joy and comfort. They also support her in her wrestling career, as she sometimes wears their names on her ring gear or dedicates her matches to them. Ripley's dogs are also popular among her fans, who often comment on their cuteness and adorability. Ripley's dogs are not only pets but also friends and partners to her.
7. Her Idol is none other than Rey Mysterio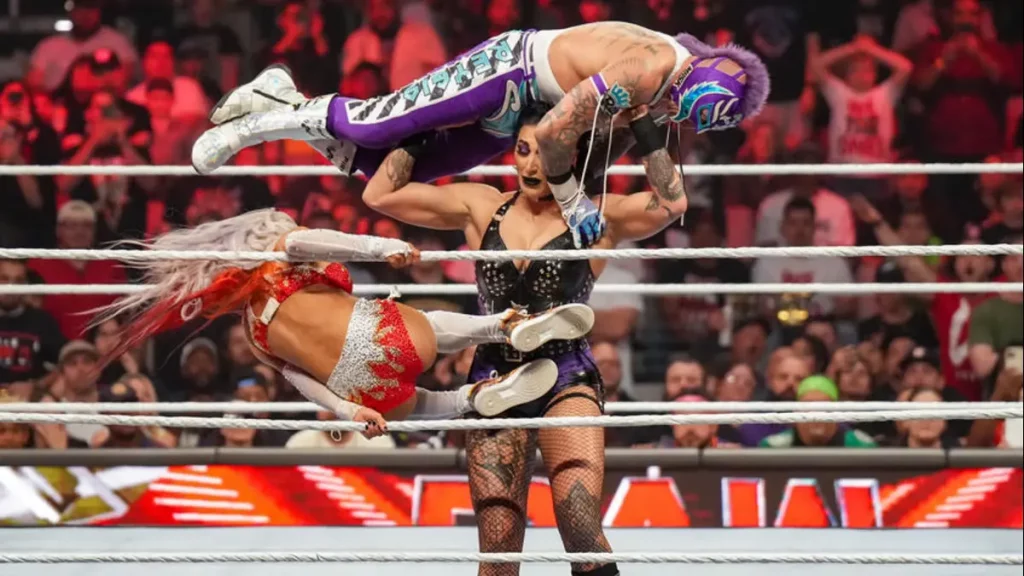 Yes, the former arch nemesis of Judgment Day, Rey Mysterio is the inspiration of Rhea Ripley. She started watching WWE as a child and was fascinated by Mysterio's high-flying and innovative style. She had a poster of him on her wall and would dress up like him. She considers Mysterio as one of the main reasons why she kept watching wrestling and why she is in WWE today. She respects his ability to overcome many obstacles due to his size and height.
Also Read: "Mami gets what she wants"- Rhea Ripley talks about if she's the leader of The Judgement Day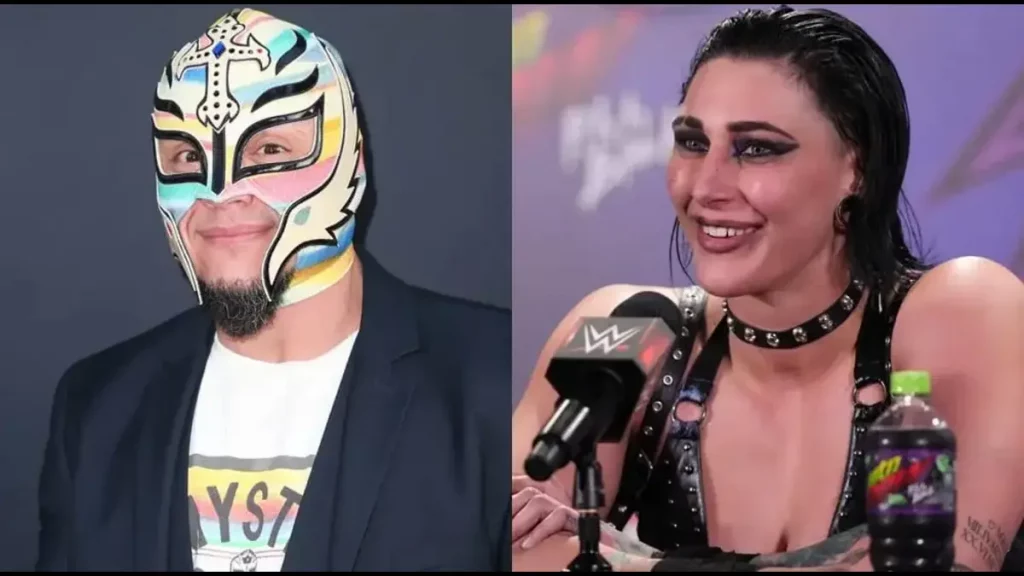 She has never faced Mysterio in the ring, but she has expressed her desire to do so in the future. She has said that it would be an honor and a dream come true to share the ring with him. She has also praised Mysterio's son, Dominik, who is her stablemate in Judgment Day and her on-screen boyfriend. She has said that Dominik is very talented and that he reminds her of his father.
8. Rhea Ripley is a fan of Adelaide FC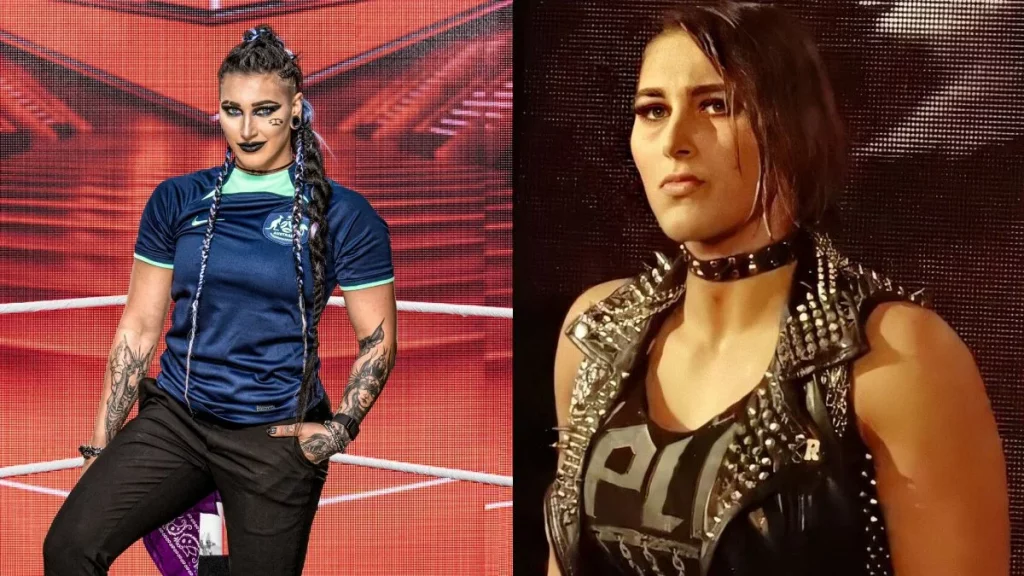 As previously mentioned, Ripley was involved in various sports during her youth, displaying a strong interest in multiple athletic activities. Like numerous pro wrestlers, she also follows sports teams, with Australian rules football being her foremost sporting passion apart from wrestling.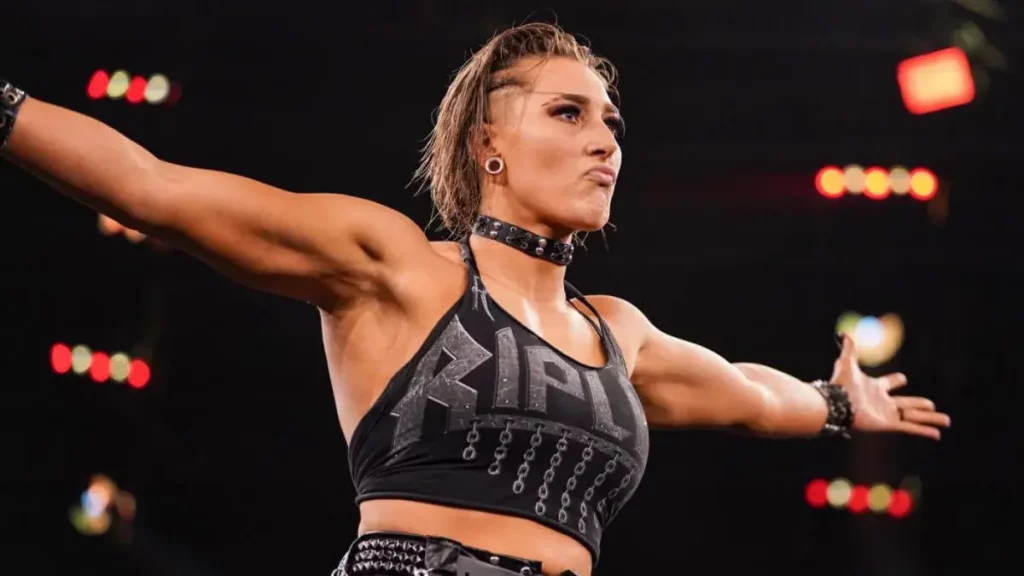 Hailing from Adelaide, Ripley has a natural leaning towards her hometown team, Adelaide FC, a participant in the AFL. Australian rules football stands out as a distinctive sport, blending elements from various ball sports to form an exhilarating and occasionally intense game.
9. She has over 20 tattoos
Rhea Ripley has over 20 tattoos, most of which are related to her love for metal music, her Australian heritage, and her personal life. Some of her tattoos are inspired by her favorite bands, such as Suicide Silence, Motionless In White, and New Year's Day. She also has a tattoo of a quote from Dragonball Z on her ankle.
Also Read: WWE SmackDown Women's Champion, Rhea Ripley displays her New Tatoo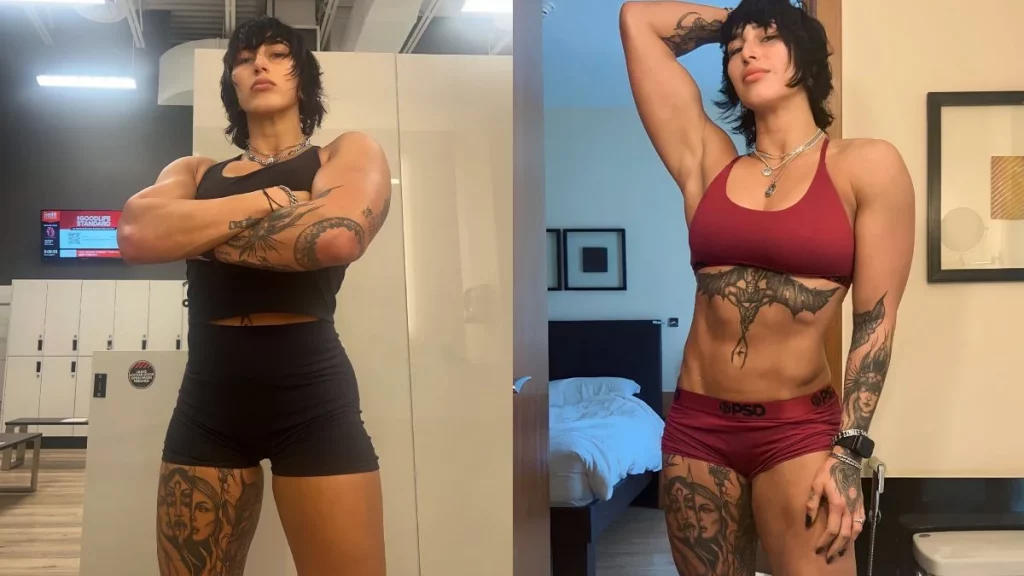 Some of her tattoos are symbols of her strength and courage, such as a lion on her left arm, a dagger with snakes on her calf, and a woman with three faces on her thigh. Some of her tattoos are dedicated to her family and friends, such as a rose for her grandmother Rosetta, a turtle for her daughter Joelle, and a Roman numeral for the date she wrestled Toni Storm at Evolution. Some of her tattoos are just things that she likes, such as a crocodile, a spider, a moth, and a dog.
10. Rhea Ripley is a Dragon Ball Z Fan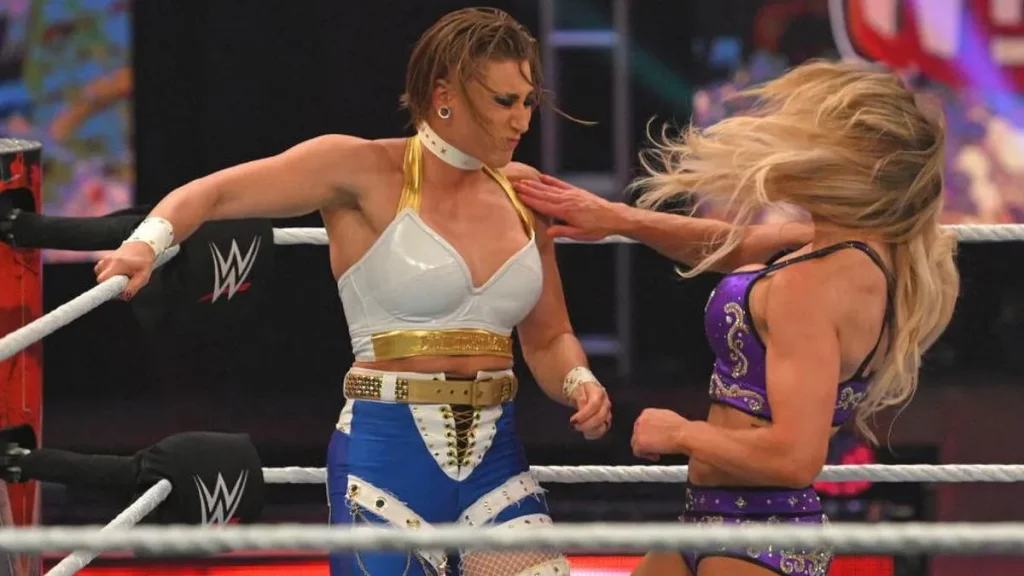 Just like many professional wrestlers, Ripley finds fascination in various facets of pop culture such as television and movies. Anime, a beloved genre, captures the interest of many in the wrestling community. Ripley, for instance, holds a keen fondness for Dragon Ball Z.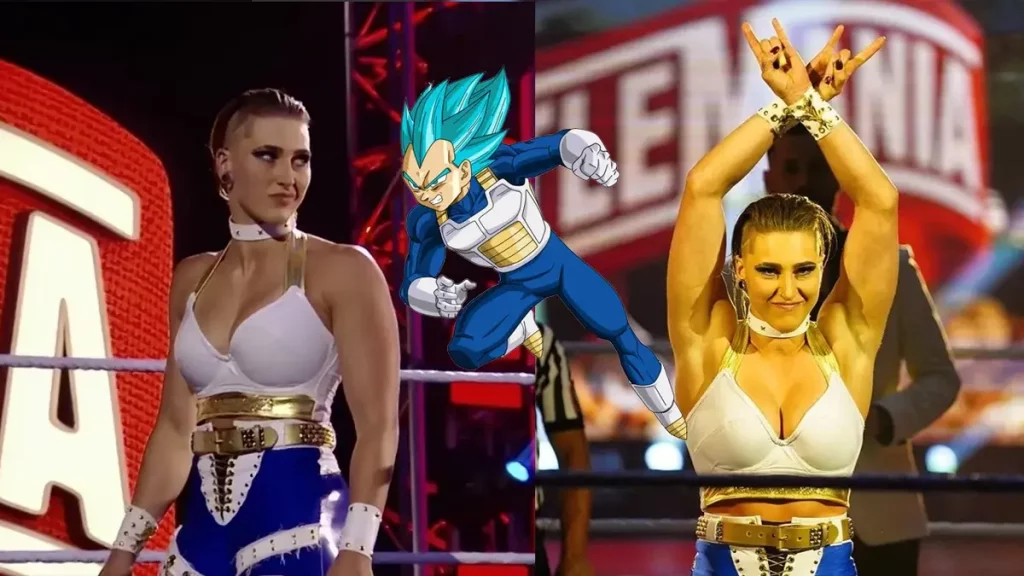 Her enthusiasm for the show was vividly expressed at WrestleMania 36, where she chose to dress up as Vegeta, donning ring gear inspired by the character's distinctive attire. This was a subtle tribute recognizable only to fellow fans of the show, a genuine manifestation of her love for it.
Also Read: Top 10 lesser-known facts about Cody Rhodes
Add Howdy Sports to your Google News feed.