SmackDown Women's Champion Rhea Ripley recently spoke about whether she's the leader of the Judgement Day or not.
Rhea Ripley made her official main roster debut in 2021. About a year later, she joined Edge and Damian Priest to form the Judgement Day. They took in Finn Balor as well after a while. However, Balor alongside Ripley and Priest kicked out Edge. Following his exit, Dominik Mysterio also joined the group. Since then, fans have wondered who the real leader of The Judgement Day was. Some thought that it was Finn Balor, while others believed it was Rhea Ripley.
Speaking with the Battleground Podcast, Rhea Ripley was asked if she was the leader of the villainous stable.
"We don't have a leader but, you know, I do get quite bossy sometimes. Mami gets what she wants so…", Ripley replied.
It was also mentioned once by Dominik that there actually was no official leader or head of the Judgement Day. They simply are a group of people who treated each other like equals, understood each other and hung out like friends. He also mentioned how it's easier working with The Judgement Day than his father, Rey Mysterio.
Rhea Ripley might just be the closest thing that The Judgement Day has to a leader. She is known for her dominating and bossy nature, often beating down other male wrestlers. One time, she addressed the possibility of participating in intergender matches in WWE.
"I'm not too sure. So, for me, I would like to see it just for the pure fact that I also love beating up the men. I love showing them exactly who I am and proving my dominance. And it's a different kind of excitement for me because you get to see the fear in their eyes when they realize that they've taken you lightly. Like they didn't take you as a threat to begin with. So, I hope so for me, but I'm not too entirely sure what the future holds," said Rhea Ripley.
Rhea Ripley and Seth Rollins recreate a hilarious Shawn Michaels moment on RAW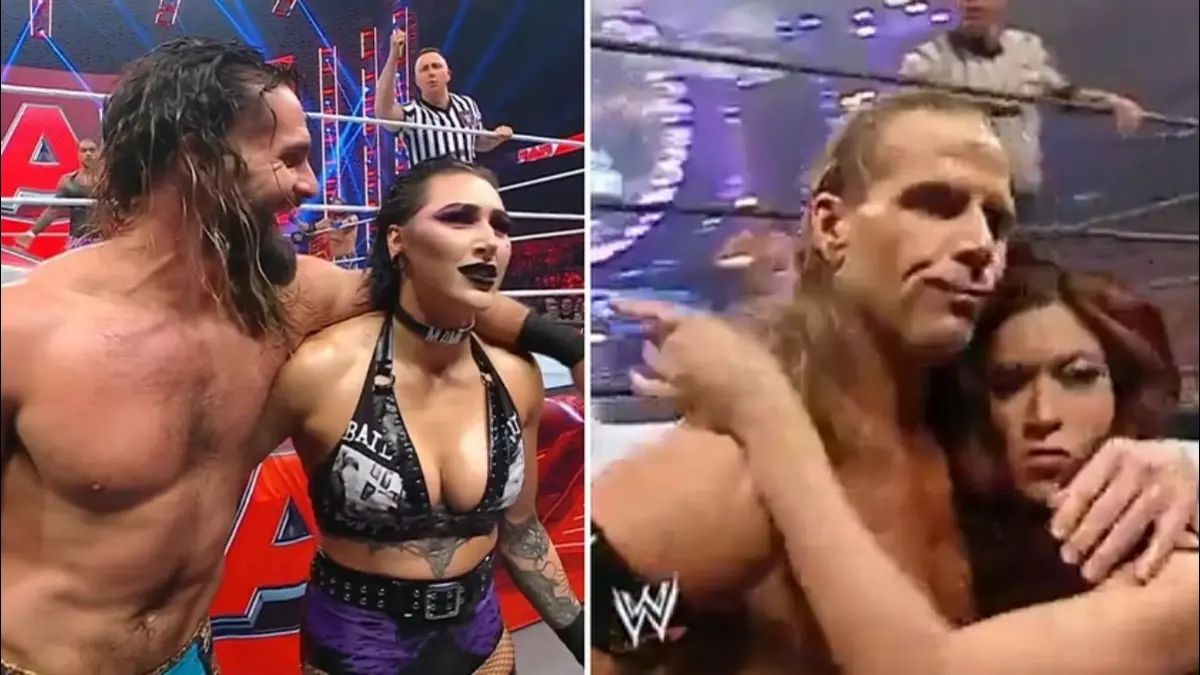 On last week's RAW, Seth Rollins and AJ Styles went up against Damian Priest and Finn Balor in a tag team match. Although Rollins won the match for his team, his one particular moment from the match has been going viral on social media.
At one point in the match, Rollins slipped out of the ring and put his arm around Rhea Ripley. Ripley, who thinks it's Dominik beside her, continued to cheer. It was only when Seth started to laugh when she noticed who it really was beside her. As expected, Ripley freaked out and yelled at him to get back in the ring. It was a moment that payed homage to one of Shawn Michael's hilarious spots.
Although Buddy Matthews, Ripley's real life boyfriend forgave Seth for his antics, it's clear that Dominik certainly hasn't. As of now, Seth Rollins is set to defend his World Heavyweight Championship against Damian Priest of The Judgement Day. Stay tuned to get further updates on the storyline.
Read Next:
Add Howdy Sports to your Google News feed.