WWE RAW known as Monday Night RAW is scheduled to air live on Sept. 4, 2023 from the Spectrum Center in Charlotte, North Carolina. Let us have a RAW Recap by looking into WWE RAW Results, Highlights and Grades – September 4, 2023.
WWE RAW Results, Highlights and Grades: Match Card:
| | | |
| --- | --- | --- |
| Matches | Winners | Grades |
| Tag Team Match: McRiddle (Drew McIntyre & Matt Riddle) vs. Viking Raiders | Viking Raiders | C |
| Ricochet vs. Shinsuke Nakamura | Ricochet | C |
| Shayna Baszler vs. Zoey Stark | Shayna Baszler | B- |
| Raquel Rodriguez vs. Chelsea Green | Raquel Rodriguez | C |
| JD McDonagh vs. Sami Zayn | JD McDonagh | C |
| Intercontinental Championship: Gunther (c) vs. Chad Gable | Gunther | A+ |
Opening Segment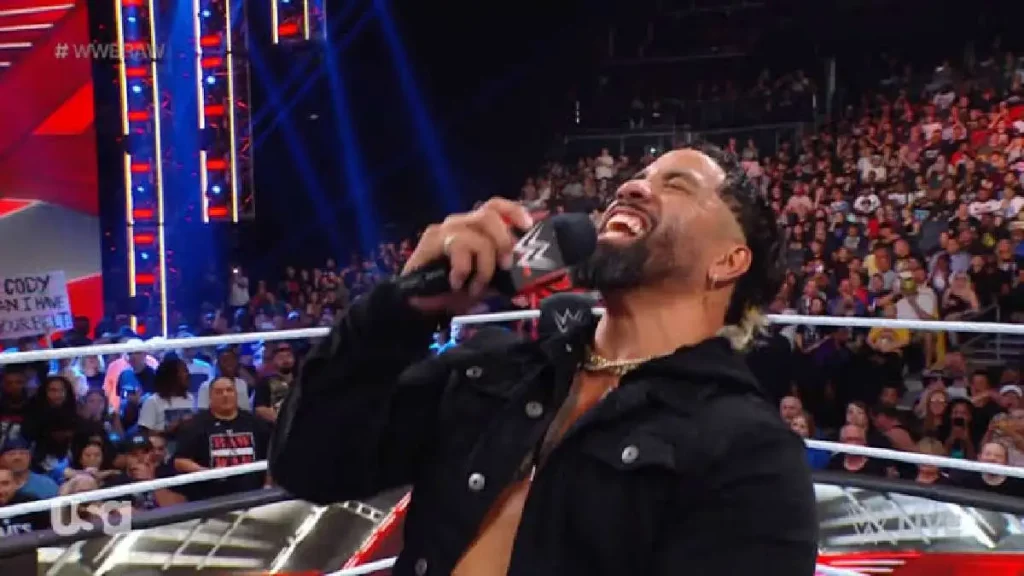 On this episode of RAW, WWE superstar Jey Uso is present. Prior to discussing his comeback and how he came to blows with his family (The Bloodline), he greets the audience and welcomes them to Monday Night RAW.He thinks back on how Cody Rhodes assisted him in rejoining WWE following his departure.
Former Bloodline participant Sami Zayn interrupts Uso.  According to him, Jey's presence on the RAW roster is astounding, and many celebrities wouldn't feel at ease with him in the backstage area.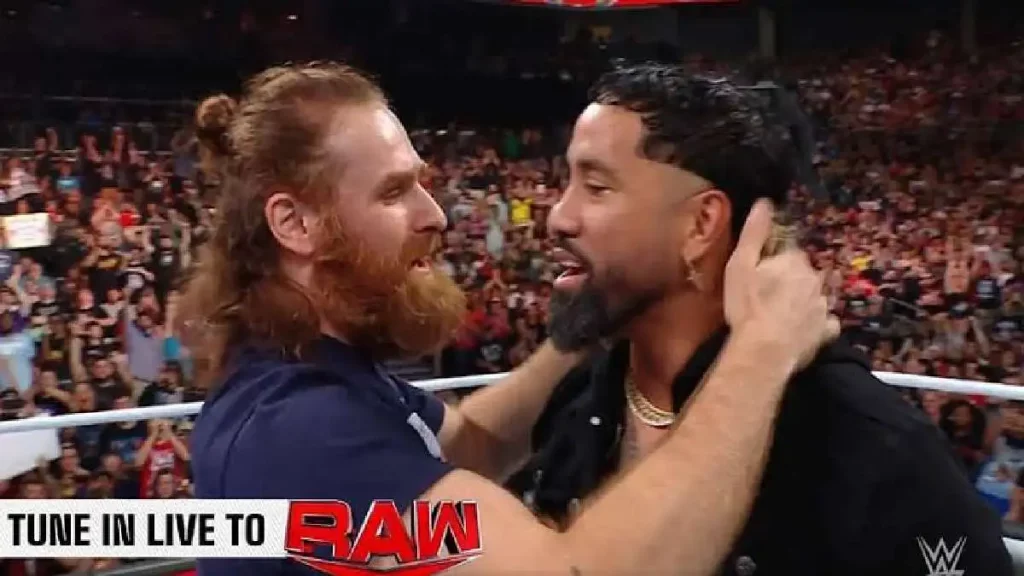 Zayn mentions his joy and enthusiasm that Jey Uso is now affiliated with the red brand and that he has left The Bloodline. He asserts that Jey is actually "Main Event Jey Uso."  While extending a handshake and expressing his pride in Jey Uso, Sami Zayn breaks down in tears. The latter does not respond at first, but after saying it was a "ucey meeting," they hug.
Later, while Jey Uso was about to exit. Drew McIntyre, Matt Riddle and Jey Uso exchanged looks, Sami Zayn came to maintain peace..
Backstage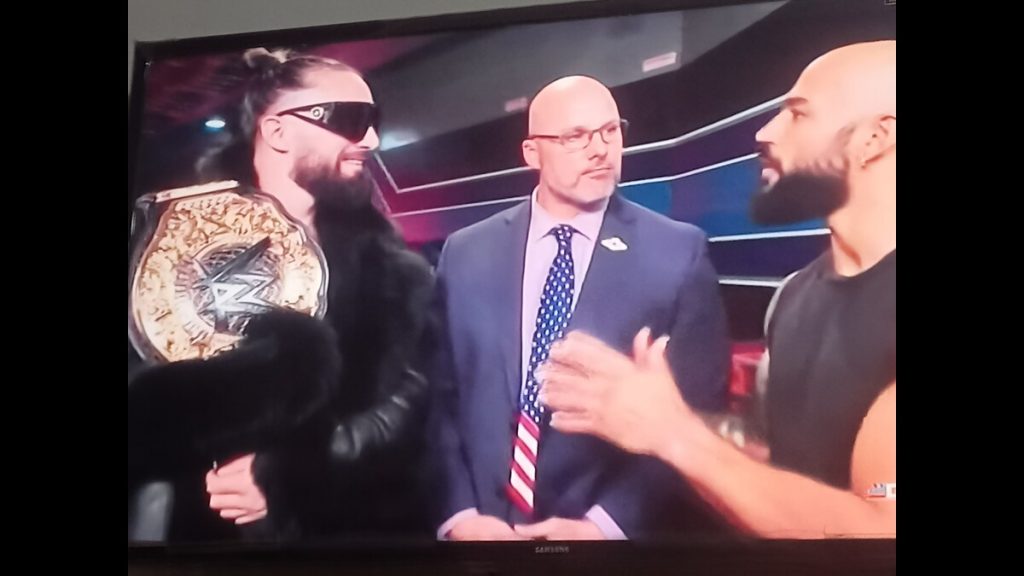 Ricochet is having a conversation with Adam Pearce and claiming that all he wants to know is what will happen next for Seth and Shinsuke. Pearce interrupts him to find out what Seth Rollins is doing.
Seth is informed by Adam that he is not authorized to even enter the building tonight, but Rollins counters that if he can walk, he can fight. Ricochet compliments him on appearing on Raw after their match and says he respects him for it. Ricochet informs Seth that he need not carry the entire show and put himself at risk, which Seth interprets as a compliment.
WWE RAW Results Highlights and Grades – September 4 2023: Tornado Tag Team Match: McRiddle (Drew McIntyre & Matt Riddle) vs. Viking Raiders (Erik & Ivar)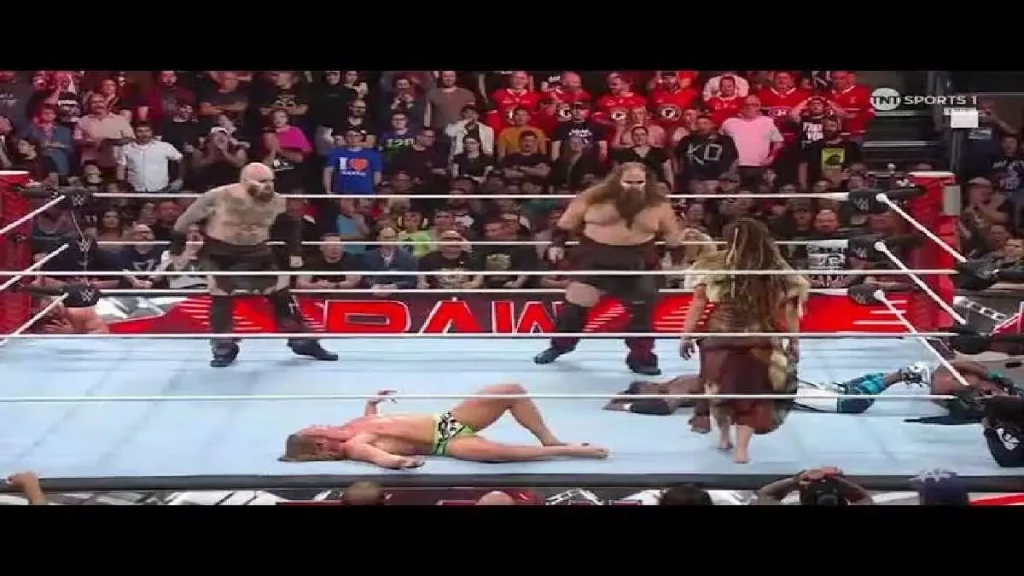 As soon as the bell rings, all four men charge each other. Ivar is attacked with a spinebuster after Drew McIntyre tries to chop him. Ivar is being raised by The Scottish Warrior as Matt Riddle tries to corner-slam him. Superkicking McIntyre after rolling back into the ring, Erik.
Ivar set up Matt Riddle on the table. He attempts to ascend the top rope but is stopped by Drew McIntyre, who superplexes Ivar with the assistance of Matt Riddle. The Scottish Warrior rushes back in and prepares to kick Ivar with a claymore, but Erik causes a commotion at the ringside.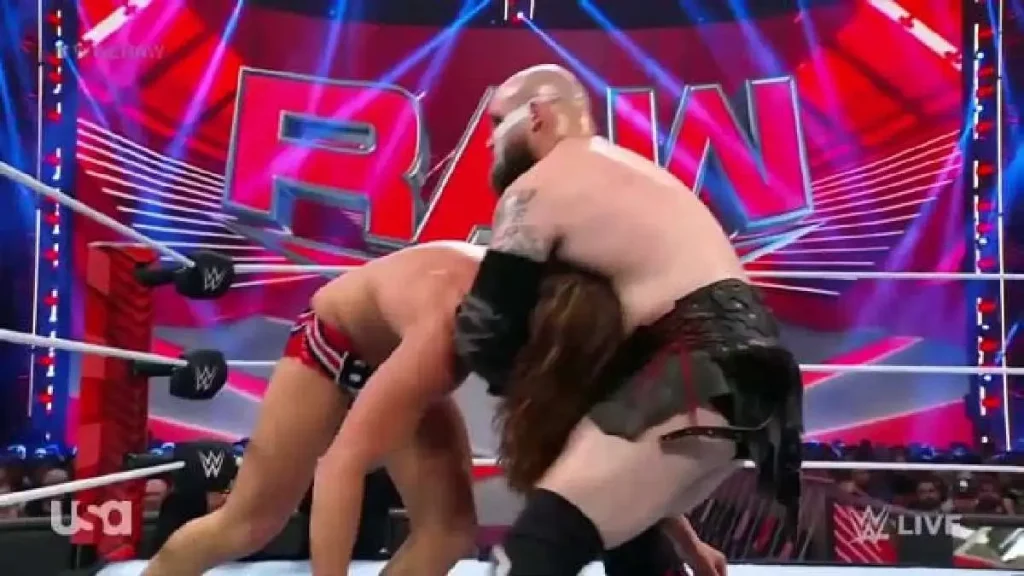 Kofi Kingston intercedes and unintentionally knocks down former champion Drew McIntyre as the Viking Raiders prepare to bash him through the table. As a result of the confusion, their adversaries distract Matt Riddle and then pin him.
Winners – Viking Raiders
Grades – C
Nakamura attacks Seth Rollins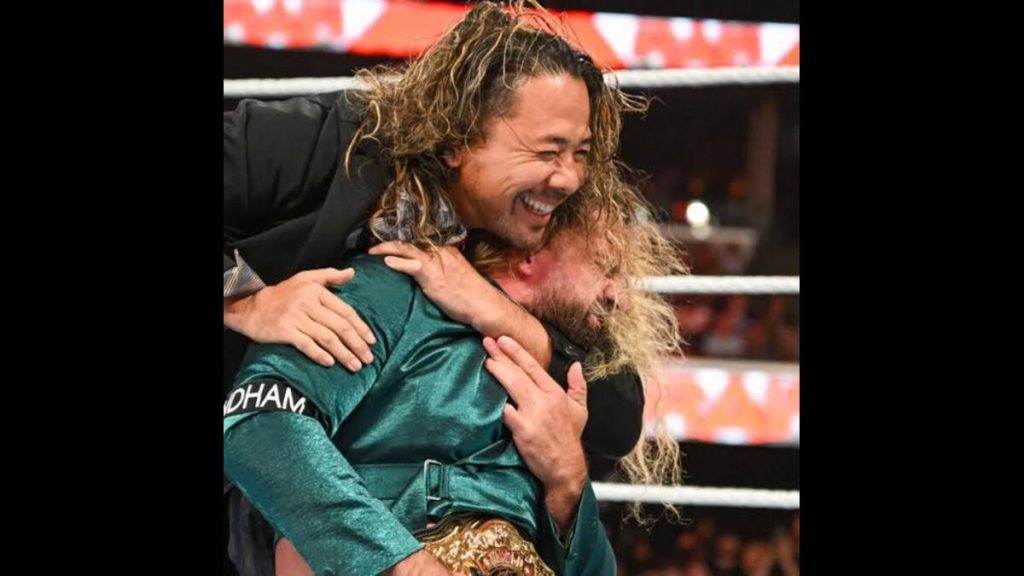 Insinuating that he is the host of Monday Night RAW, Seth Rollins makes a veiled jab at John Cena. He continues by discussing his match at Payback versus Shinsuke Nakamura and how it affected him mentally, but despite that, he persevered and kept the title.
The offer of a title rematch from Seth Rollins is rejected by Nakamura, who is his opponent. The champion declares that a match must take place because it is his show before charging the King of Strong Style and starting a fight. As security leaves to separate the two WWE stars, Ricochet rushes to Seth Rollins' assistance.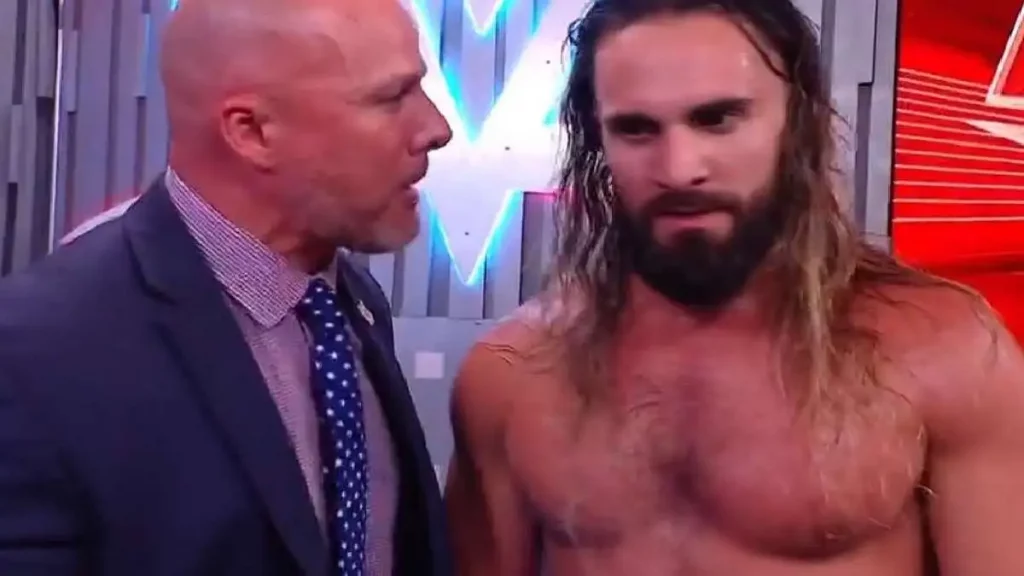 Short discussion between Adam Pearce and Seth Rollins takes place.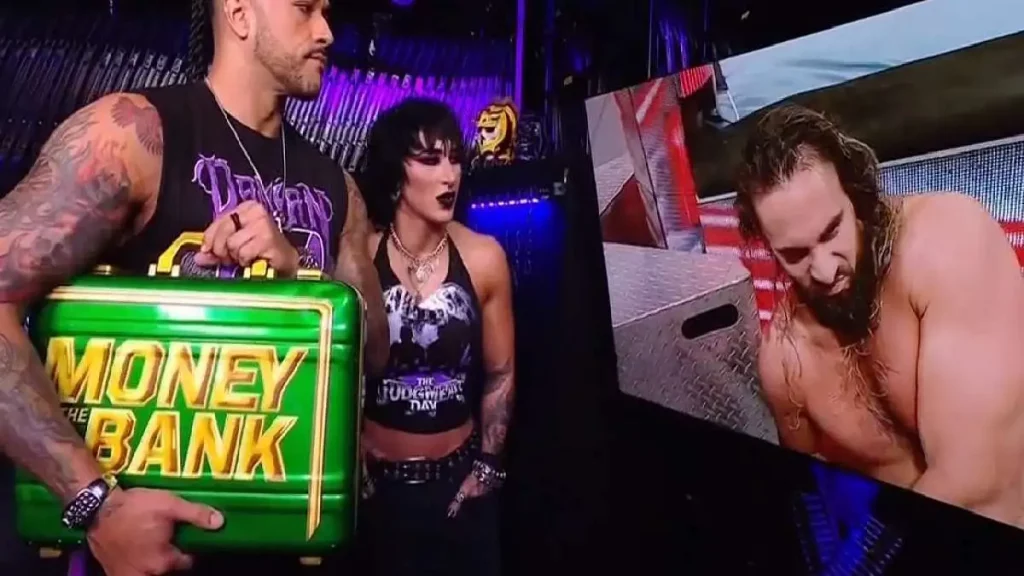 WWE RAW Results Highlights and Grades – September 4 2023: Ricochet vs. Shinsuke Nakamura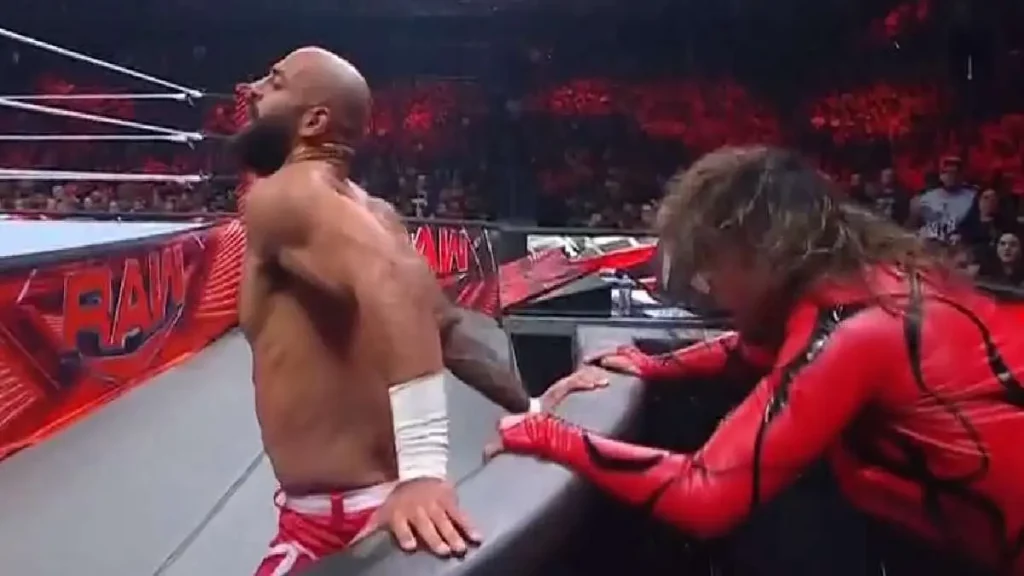 As soon as the bell sounds, the two men start pursuing one another. The previous champion catches up to Nakamura as he tries to leave the ring. The King of Strong Style receives a kick to the face from Ricochet as they roll back in.
While Shinsuke Nakamura is rolling out of the way, Ricochet leaps off the top rope and slams him face-first to the mat before attempting another pin. With kicks to the face off the apron, the King of Strong Style prevails.
Prior to Seth Rollins exiting, Shinsuke Nakamura prepares to hit Ricochet once again with the chair. While security is pursuing him, he tries to fight Nakamura.Rollins is slammed backward against the steel stairway by the King of Strong Style.
Winner- Ricochet via disqualification
Grades – C
Zoey Stark is having interview backstage
Trish Stratus, whom she claims to have such respect for, who has taught her a great deal, and who is the greatest of all time, is not pushed by anyone, Hall of Famer or not, plain and simple. Interrupted by Shayna Baszler and she states that they both have unfinished business before challenging Zoey.
Judgment Day is on mic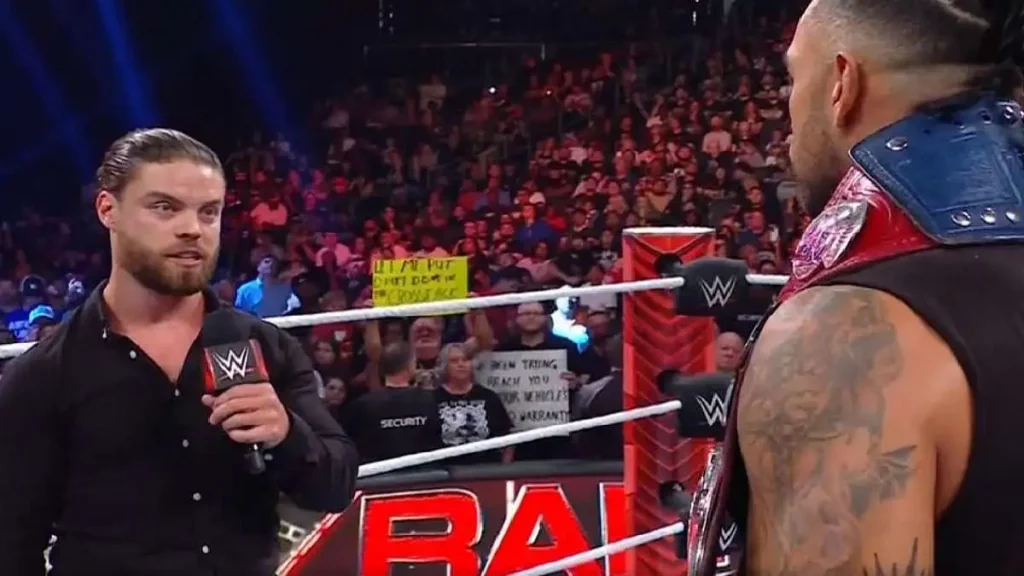 Finn Balor and Damian Priest are amused by the situation as Dominik Mysterio receives loud jeers as he attempts to discuss the group's accomplishments. Priest and Ripley have been Judgment Day members for a year, and Finn Balor wishes them well. He speaks about Priest and their payback victory, as well as their friendship.
Prior to declaring himself the grand slam champion, the prince thanked JD McDonagh for his participation in the tournament. According to Rhea Ripley, Judgment Day is coming, and The Bloodline has failed. Sami Zayn, who is furious and interrupts the group, argues that they are not champions because the odds are not in their favor. Dominik Mysterio is the only one who hears him call them all t*rds.
Dominik Mysterio is challenged by Zayn to a bout; however, JD McDonagh reacts on his behalf and says that he will face Dominik Mysterio instead. As Sami Zayn accepts, he expresses his disappointment at having lost the tag team championships at Payback.
Gunther's Promo
He claims that Chad Gable believes he can prevent his legacy from being established, but GUNTHER's legacy is indelible and will make him the greatest and longest-reigning Intercontinental Champion in history once the last bell has sounded.
Backstage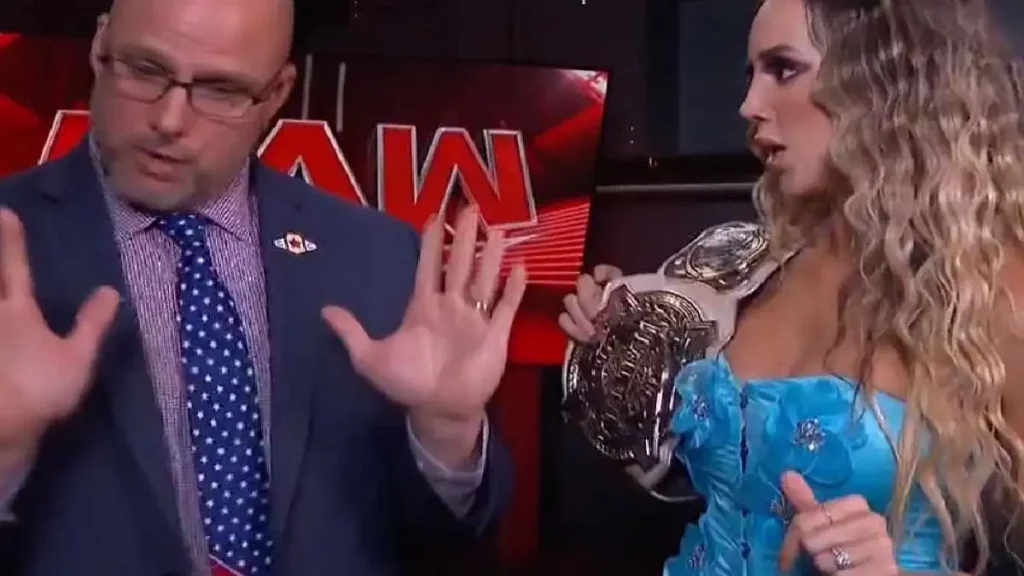 Adam Pearce informs Chelsea Green that Piper Niven is not medically approved when she arrives to complain about not having to wait in line behind sasquatches and that they need to have a conversation about it. She becomes enraged by Adam's intimation that the title isn't what is cursed. Rodriguez is still standing directly behind her as she criticizes Raquel, and Adam declares their match official for a later time.
WWE RAW Results, Highlights and Grades – September 4, 2023: Shayna Baszler vs. Zoey Stark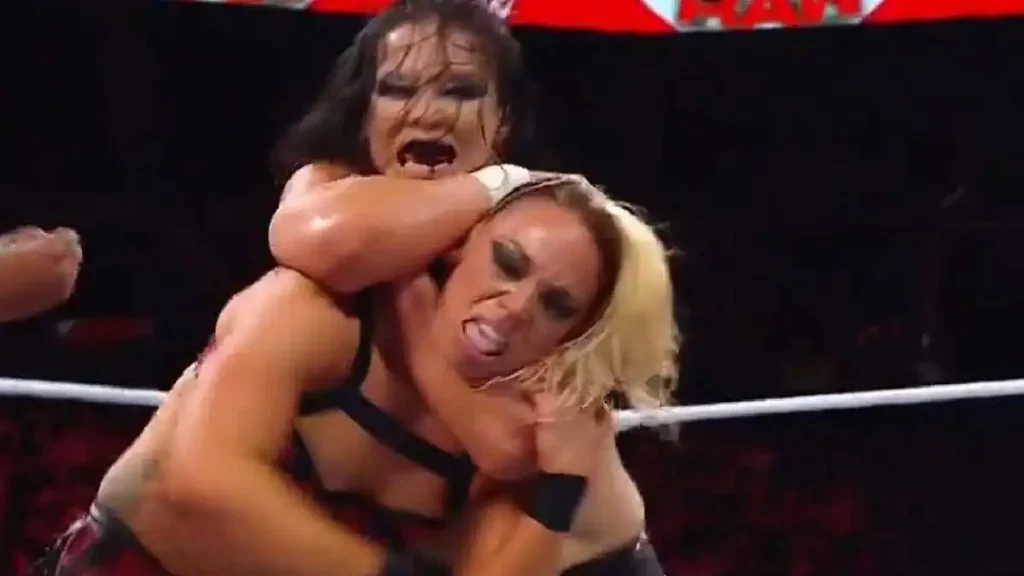 Prior to receiving a dropkick, Shayna Baszler knocks Zoey Stark off her feet. With Zoey Stark wriggling free, Shayna Baszler reclines and tries the Kirifuda grasp.
She attacks her with the Z360, but Baszler intercepts her in the middle, setting up her submission maneuver. While attempting to escape the submission hold, Zoey Stark faints, giving Baszler the victory by way of a technical knockout.
Winner – Shayna Baszler by Referee stoppage
Grades – B-
After the match, Baszler congratulates Stark and says she fought harder than Ronda.
Post Match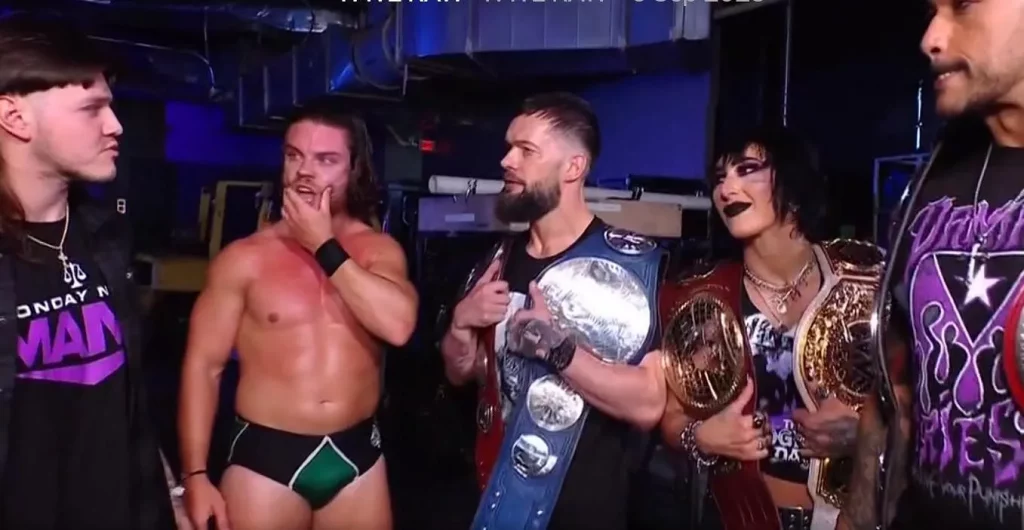 Finn Balor suggests adding JD McDonagh to The Judgment Day formally, as they are hanging out backstage. Dominik Mysterio says he's cool with whatever they decide, Finn says they wouldn't be champions without him, Damian Priest says he still isn't completely confident in him, and Rhea Ripley proposes waiting to make a decision until they see how he does against Sami Zayn.
Finn and Damian head out together, but Rhea stops them and tells Dom she needs him to make sure JD goes the way she wants.
WWE RAW Results, Highlights and Grades – September 4, 2023: Raquel Rodriguez vs. Chelsea Green
As soon as the bell sounds, Raquel Rodriguez strikes Chelsea Green, who tries to leave the ring. Rodriguez throws the woman across the ring and positions her over the ropes, but Green chokes the woman on the top rope. Raquel stops Chelsea Green in the middle of a crossbody attack from the top rope. After dropping a pin, she strikes her with the Tejana bomb.
Winner- Raquel Rodriguez
Grades – C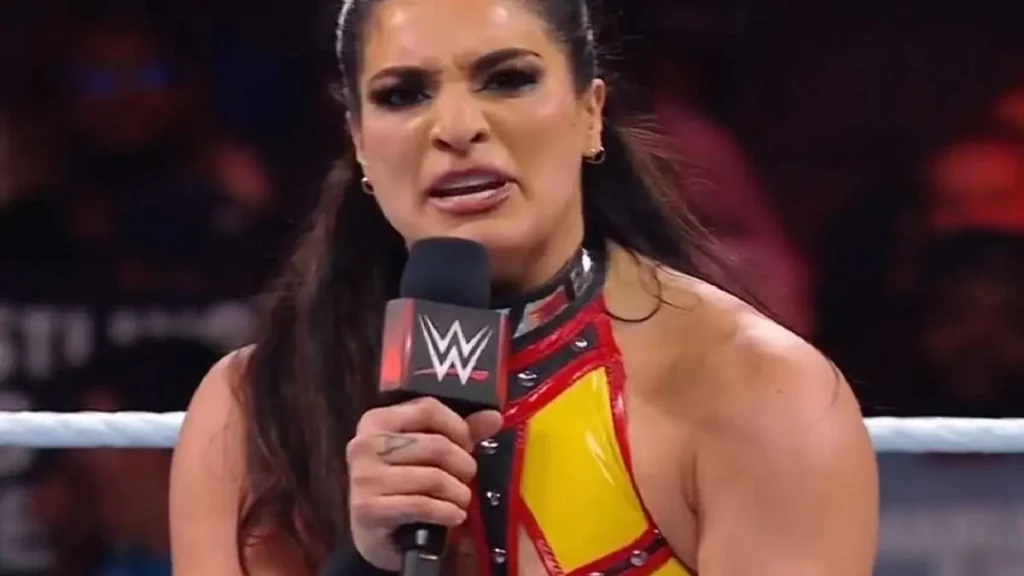 In addition to announcing Dominik Mysterio's ringside ban, Raquel Rodriguez asserts that she will face Rhea Ripley in a rematch. The two women will square off for the WWE Women's Championship on Raw the following week, she continues.
Alpha Academy cuts a promo
When we catch a glimpse of Alpha Academy hanging around backstage, Chad Gable tells them that if GUNTHER believes that he doesn't belong in the annals of history, the bad news is that he already is! He will be able to further his legacy tonight and demonstrate that he is more than simply a tag team expert after competing in the Olympics and earning a tag title.
Backstage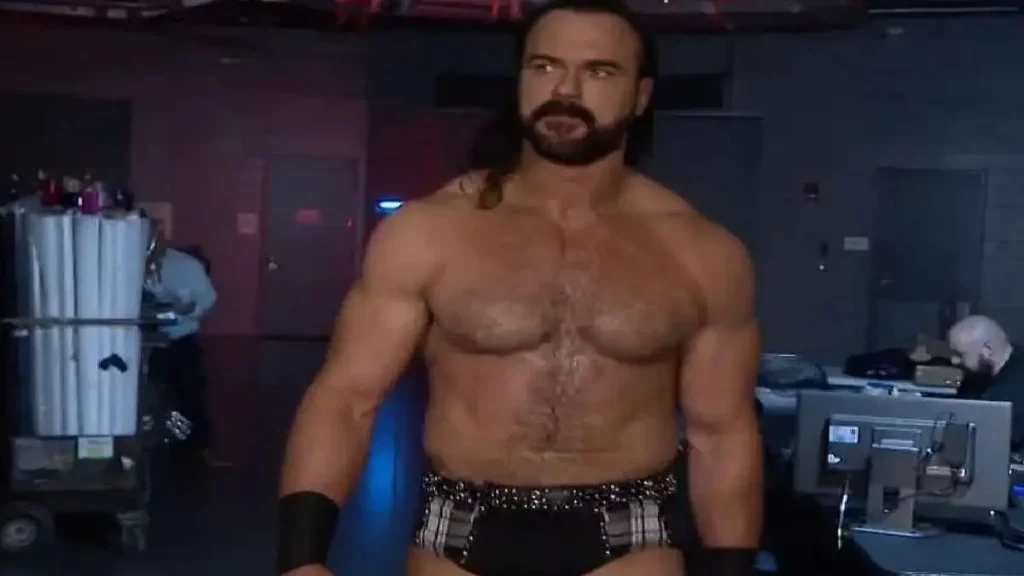 As he approaches Matt Riddle, Drew McIntyre declares that he will watch Jey Uso closely and that if he causes trouble, he will pursue Cody Rhodes, the person who brought him here.
When Kofi Kingston arrives to apologize, Riddle tells him it's okay, but Drew questions whether it truly is, pointing out that a week prior, he inadvertently hit Xavier Woods with a chair, and this week, Kofi "accidentally" punches Matt in the face. He's going to watch out for any other "accidents." Riddle is requested by Kingston to supervise his son.
Miz TV featuring John Cena as special guest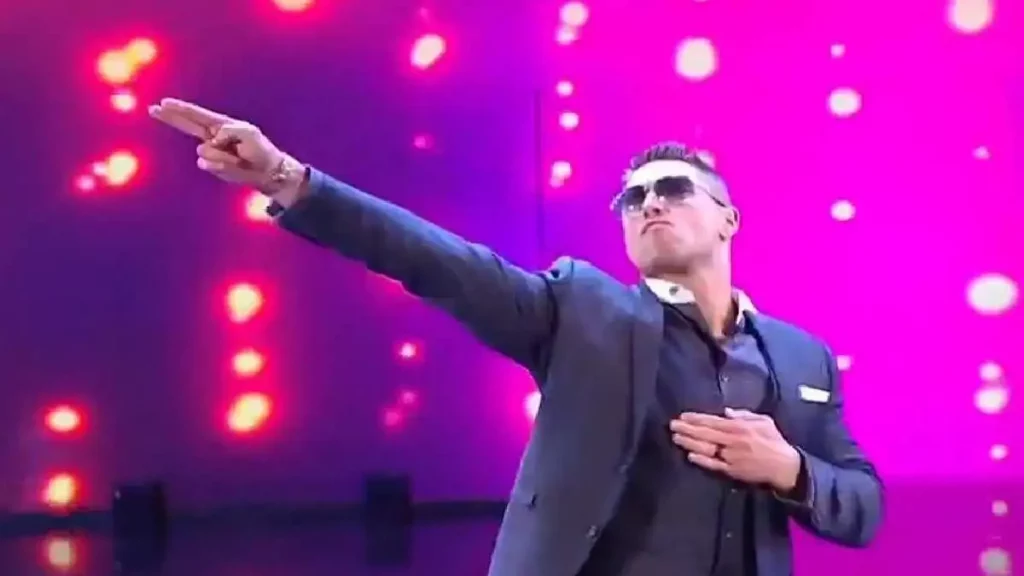 John Cena, The A-Lister's special guest on Miz TV, is called out by the host. No one leaves, despite the music accompanying his entry. As he proceeds to make fun of the 16-time world champion, The Miz makes it seem like John Cena is present but cannot be seen. The Miz wonders whether LA Knight bought John Cena's victory at Payback by paying and collaborating with him.
He says that the Cena who cannot be seen must leave his ring. Miz removes his jacket and smashes Skull-Crushing Finale after John "shoves him. Without a special guest referee or any other surprises, he dares LA Knight to a one-on-one match and makes the assurance that Knight will eventually fade away after the chanting stop. Also read: John Cena named the current WWE Champion a GOAT
Backstage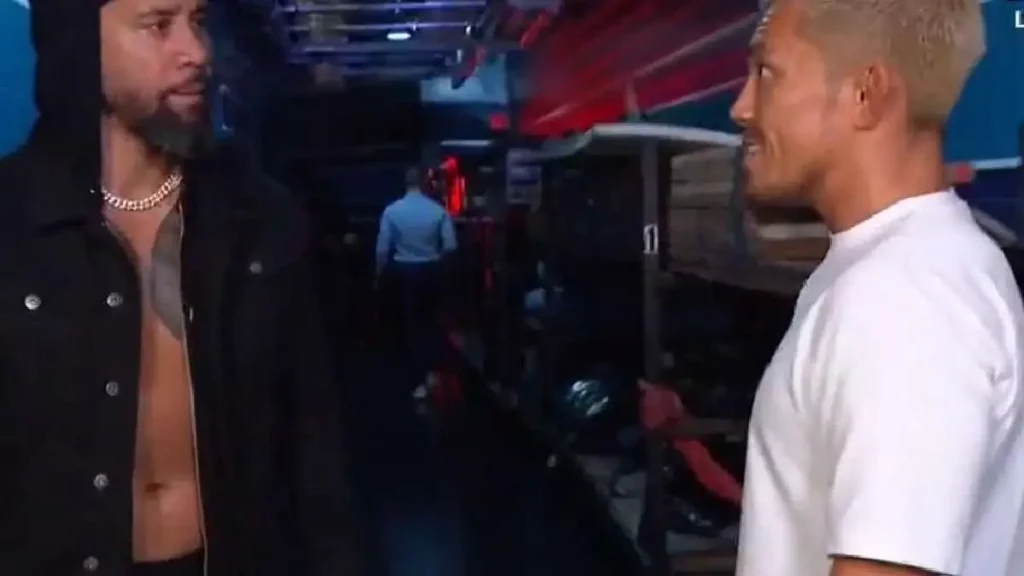 Jey Uso encounters Akira Tozawa, who quickly flees from him. Shortly after, he crosses paths with Adam Pearce, who warns that the situation will deteriorate before improving. SmackDown plans to acquire a wrestler from Raw in exchange for Pearce, potentially provoking someone's anger. Tommaso Ciampa arrives and joins Pearce in his office for a discussion.
WWE RAW Results, Highlights and Grades – September 4, 2023: JD McDonagh vs. Sami Zayn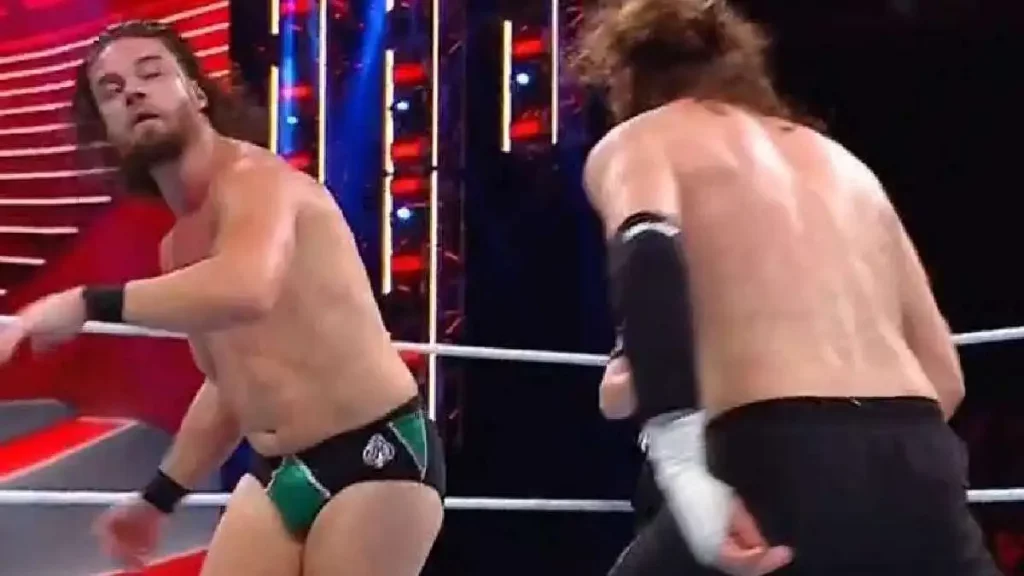 Sami Zayn throws the Irish star back into the ring when he tries to leave in an effort to play mind games. Zayn, who received a chest chop from McDonagh, quickly makes things right. The match is interrupted by Dominik Mysterio, who enters the ring and stops McDonagh from being pinned. Sami Zayn lashes at him and pursues him. He returns to the ring, which allows JD McDonagh to pin Zayn.
Winner – JD McDonagh
Grades – C
Sami strikes Dominik Mysterio in a fit of rage after losing, making JD McDonagh appear to leave the scene. Mysterio is urged to leave the ring as he enters, but Sami Zayn instead attacks him.
Backstage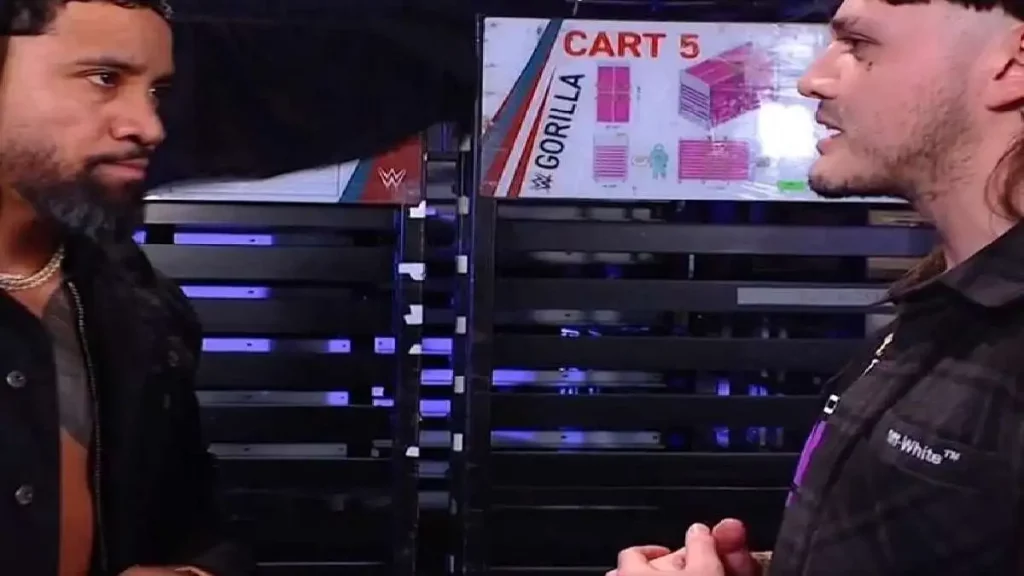 Dominik Mysterio and Jey Uso run into each other and start chatting about how their families were disappointing and that their fathers were Hall of Famers. Inviting Jey Uso to join the faction, he continues by mentioning how Judgment Day gave him hope for a family. Also read: "Fire this man!" 33-year-old star following Jey Uso's return at WWE Payback
WWE RAW Results, Highlights and Grades – September 4, 2023: Main Event: Intercontinental Championship: Gunther (c) vs. Chad Gable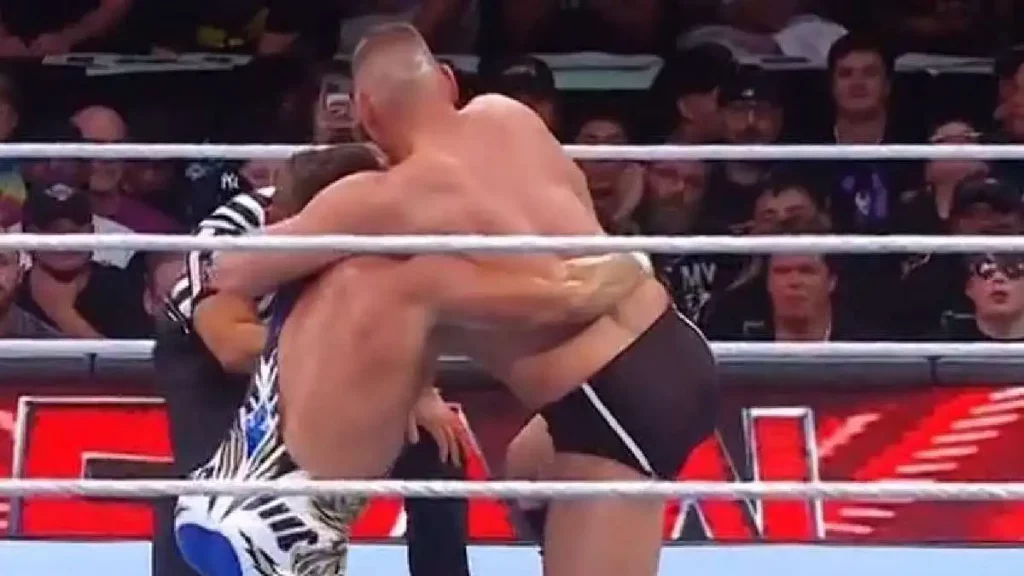 Gunther throws Gable into the arena. As The Ring General positions him in a side headlock in the center of the ring, the member of Alpha Academy rises to his feet.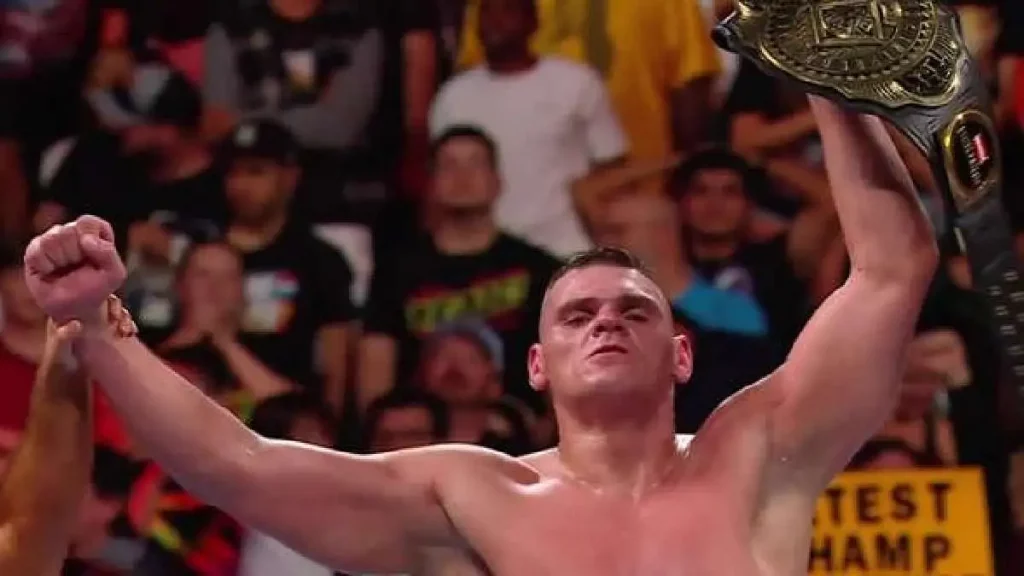 Gunther is placed in the ankle lock by Chad Gable, but he successfully breaks free. Gable tries to perform a suplex, but his opponent is stronger. When Gable tries it again the second time around, he succeeds. With the powerbomb and a lariat clothesline, Gunther pins Gable. The family of Chad Gable can be seen crying ringside.
Winner – Gunther
Grades – A+
Add Howdy Sports to your Google News feed.