WWE NXT was live from Orlando, Florida on 18 July 2023. Trick Williams and NXT Champion Carmelo Hayes kick off the show with their in-ring segment. As last NXT was not a good one for Hayes and Williams they are here to discuss straight away about the Great American Bash. NXT also includes a Judgment Day performance as Dirty Dom fights for the North American Championship. To know the WWE NXT Results have a recap by reading ahead.
NXT Champion Carmelo Hayes and Trick Williams- In-ring segment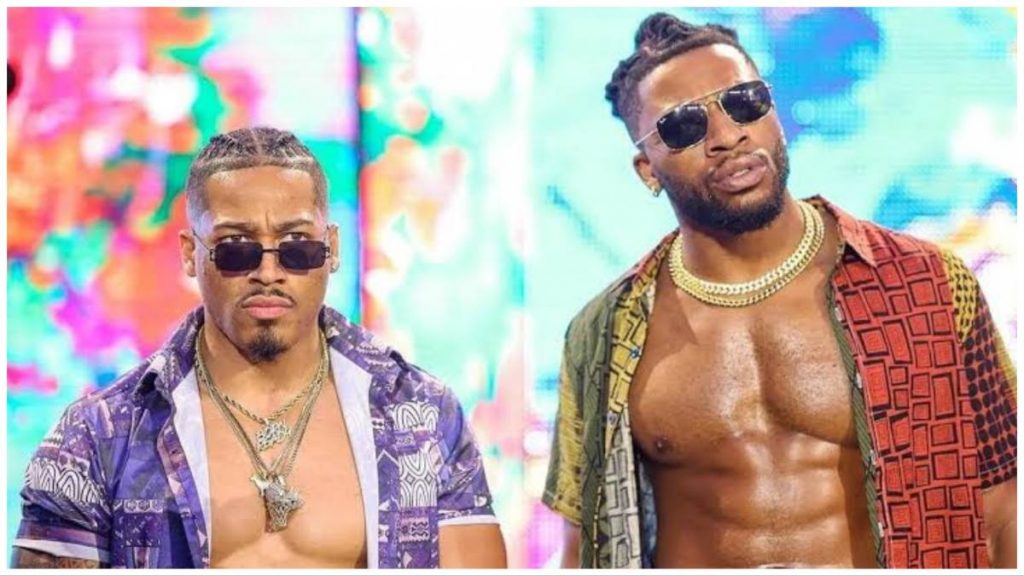 Trick began discussing The Great American Bash as it is nearby, introducing Carmelo on the side. Hayes expresses dejection on the bad things associated with Judgment Day that were stuck in his head. He further adds he is aiming to do the whole "I Yam" thing. Williams notices Hayes's depression and quickly reminds him that the win of Judgment Day includes cheating as well.
Dragunov claims that he got involved because Damian Priest had the opportunity to cash in Money In the Bank and potentially win the title, taking it to the main roster. However, Dragunov wants to face Hayes at The Bash. According to Dragunov, Hayes has lost control. They exchange words, with Dragunov emphasizing the significance of his presence in the ring and how it resonates with the audience. He vows to make Hayes feel defeat at The Bash.
Hayes, on the other hand, expresses that he feels the weight of the title, the criticism from others, and the animosity from his peers. He believes that Dragunov is the most qualified challenger for The Bash. The debate over The Great American Bash continues, with Dragunov asserting that Hayes cannot control the fire within him, while Hayes promises to extinguish it. Hayes concludes by stating that one of them will celebrate with champagne after The Bash, while the other will endure pain. The music plays, and they face off as Hayes proudly holds up the title.
Mustafa Ali comes nere NXT North American Champion Wes Lee backstage
Mustafa Ali shows discontent against Dominik Mysterio facing the NXT North American Champion at today's NXT night. Ali is on the line as a contender to fight for the gold. He clearly stated that he was not willing to have a match with Dirty Dom at the Great American Bash. Furthermore, Ali motivated Wes Lee and expressed the willingness to have the match with the all-time great North American Champion.
NXT Heritage Cup Champion Nathan Frazer and Dragon Lee vs. Los Lotharios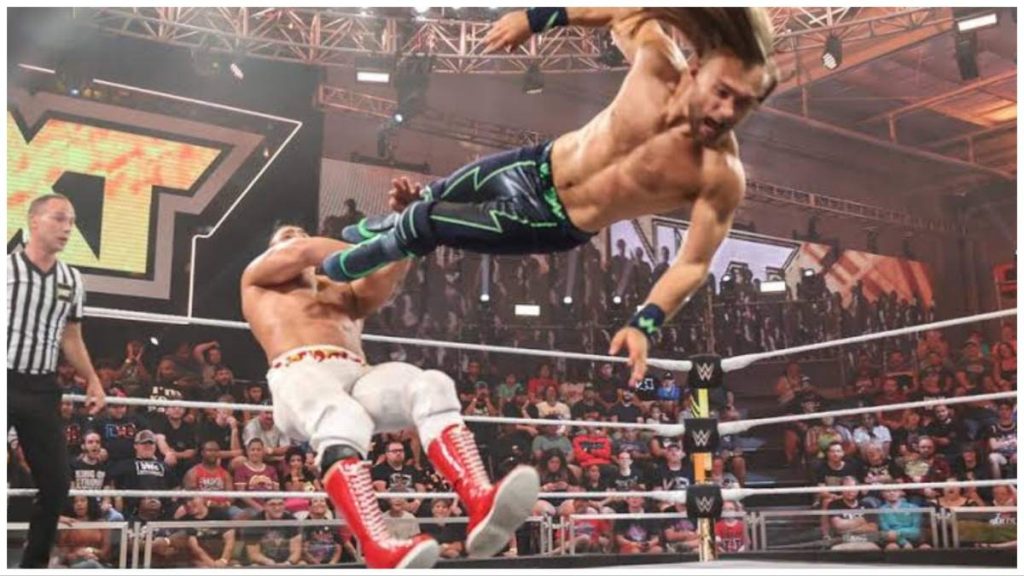 Ring and out comes Los Lotharios – Angel Garza and Humberto Carrillo. We go to commercial. Back from the break, Tony D'Angelo walks out of jail and meets Channing "Stacks" Lorenzo. They drive off together. Returning to the ring, NXT Heritage Cup Champion Nathan Frazer makes his entrance. Dragon Lee follows, but Los Lotharios attacks them at ringside. Lee is thrown into the steel ring steps as the match begins. Lee is then dropkicked off the apron. The teams exchange offense. Humberto attempts to remove Lee's mask, drawing boos from the fans. Humberto executes a suplex for a near fall. Lee and Frazer eventually clear the ring. Frazer goes for a dive, but Los Lotharios catch him. Valentina Feroz and Yulisa Leon are now at ringside, supporting Lee and Frazer. Los Lotharios hold Frazer up in the air while Feroz and Leon tend to him.
Garza prevents Frazer from tagging and delivers a powerful kick. Lee enters the ring and unleashes a barrage of attacks. The match sees a back and forth exchange. Frazer attempts to send Carrillo to the floor, but Carrillo counters with a blocked baseball slide. Carrillo slams Frazer into the announce table. Garza executes a spectacular moonsault from the top rope onto Frazer on the outside. Carrillo follows up with a moonsault on Lee, resulting in a near fall. Lee retaliates by hitting a double stomp on Carrillo. The action continues with both teams trading offense. The Lotharios attempt to put an end to the match, but Lee and Frazer respond with a flurry of offense, sending them to the floor. Frazer dives out with a massive crossbody. Garza is brought back into the ring, where Lee ultimately defeats him with the Asai DDT, securing the pinfall victory.
WWE NXT Results- Nathan Frazer and Dragon Lee
After Frazer and Lee started the celebration Garza being annoyed at Carrillo. Carillo pushes Garza. Garza being shocked. Carrillo shoves off through the crowd.
Kiana James vs. Gigi Dolin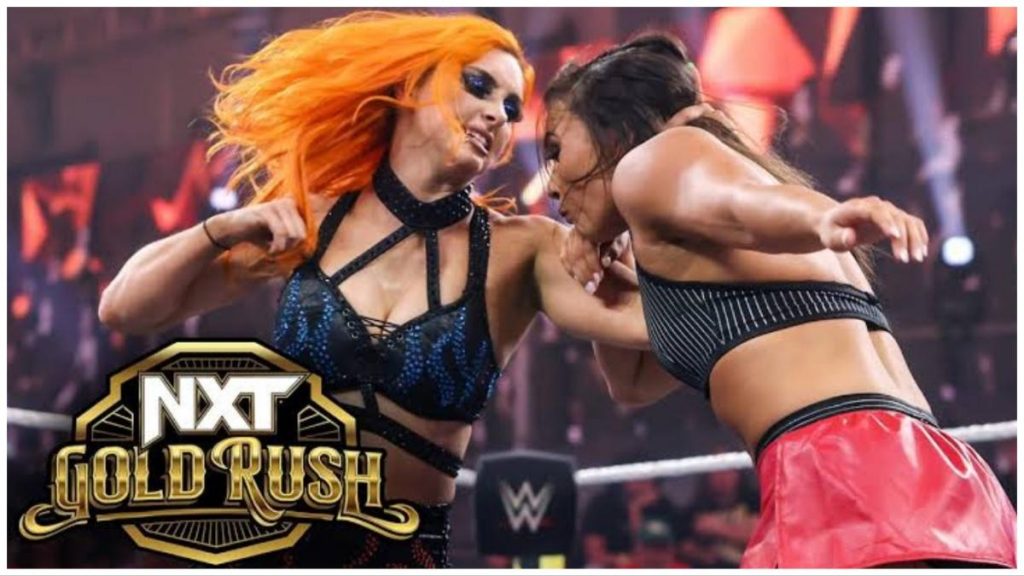 The bell rings and James immediately takes control, relentlessly attacking Dolin in the corner. The fans engage in dueling chants as the momentum swings back and forth between the two competitors. Dolin manages to kick James to the floor, but James quickly recovers and delivers a powerful blow from the apron.James forcefully slams Dolin into the edge of the apron before bringing her back into the ring to maintain her offensive onslaught.
James executes a scoop slam, but Dolin manages to fight her way out. Dolin retaliates with a powerful pump kick, but James counters Dolin's finisher and forcefully slams her down by her hair.In a surprising turn of events, James reaches for her loaded bag, but Dolin snatches it away. Dolin attempts to strike James with the bag, but the referee intervenes and takes it away. Seizing the opportunity, James strikes Dolin with a move called "401K" onto the bag, securing the pinfall victory.
WWE NXT Results- Kiana James
Noam Dar tweeted an apology
After we saw Ivy Nile taking off The Diamond Mine banners from their training room. We saw Noam Dar tweeted an apology to Eddy Thorpe for canceling last week's Supernova Sessions. Dar expressed that he is still emotionally affected by losing the NXT Heritage Cup. Despite this, Dar mentioned that he will try to host again this week. McKenzie Mitchell interviewed Thorpe backstage, asking about his NXT Underground win.
Thorpe stated that his victory should put him in title contention. Dar, Oro Mensah, Jakara Jackson, and Lash Legend approached them and apologized for Dar's repeated cancellations. Dar seemed disoriented tonight. As a gesture of goodwill, they presented Thorpe with a signed photo of Dar. However, Thorpe ripped it up. Oro then challenged Thorpe, leading to a heated exchange of words while officials intervened.
Bronco Nima and Lucien Price vs. Axiom and Scrypts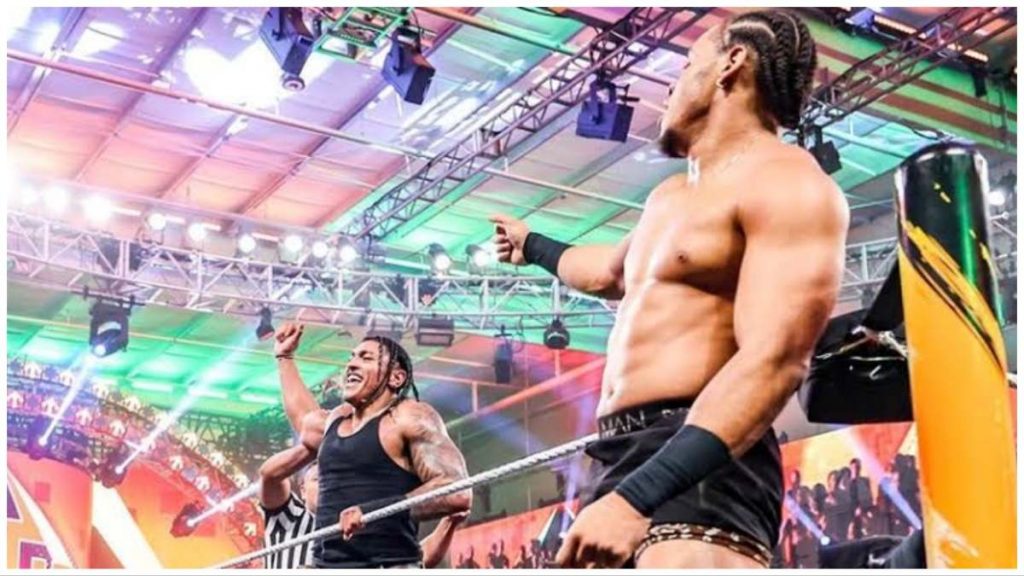 In the match, Axiom starts off against Nima. Axiom attempts a submission, but Nima slams him for a two-count. Axiom retaliates with chops and manages to escape a beatdown. However, Nima launches Axiom into the corner. Axiom fights back and delivers a dropkick.Then, Scrypts enters the ring and flips to avoid Nima. Scrypts focuses on working on Axiom's arm and continues until Axiom tags back in. Suddenly, Scrypts hits Axiom from behind, allowing Nima to beat Axiom down. Price then tags in and begins to attack Axiom. Price executes a lariat and follows up with a big boot for the pinfall victory. Throughout the match, Scrypts watches and smiles while sitting on top of the turnbuckles.
WWE NXT Results – Bronco Nima and Lucien Price
Tony D'Angelo's Home arrival
Stark was in the ring with some of D'Angelo's friends and family. He said it was a few weeks ago when D'Angelo was targeted by whistleblower Joe Coffey. Stark introduced D'Angelo. D'Angelo joins the ring and announces he's back baby. D'Angelo praised Starks. The Starks came up with a master plan to break D'Angelo out of prison. D'Angelo said Gallus and most of the NXT universe thought Stark was a rat, but he wasn't. D'Angelo released a video package detailing Starks' master plan. Gallus interrupted.
Joe Coffey called the D'Angelo family scum. Coffey said D'Angelo will pray he's still in the cell. D'Angelo said Joe Coffey looked like a man out of control. Stark added that Wolfgang and Mark Coffey would lose the NXT Tag Team Championship. Wolfgang said they couldn't even make it to the carnival. Gallus enters the ring. Joe Coffey draws a miniature bat. Each member of the D'Angelo family took out a gun in the ring. Coffey realized he had made a mistake. An argument broke out. D'Angelo and Stark are at the table with Mark Coffey.
Thea Hail vs. Elektra Lopez
Lopez gives Hail a corner kick. Hail caused a series of attacks. Vice got on the apron. Lopez attacks from behind. Lopez built a gigafactory. Welcome it back Kimura. Lopez is out.
WWE NXT Results – Thea Hail
After the match, Hail says she knocked out Lopez the same way she knocked out Tiffany Stratton. She wants another shot at the NXT Women's Championship. Hudson begins a chant of revenge. Hail yells at Stratton to get out of here so she can kick his ass. Stratton comes out and tells Hail it's rude to call the champ. Stratton is way better than Hail. Hail isn't special because he learned a move. Stratton accepts Hail's challenge. Why not? It will be the easiest victory since he has already beaten her. Hail says he wants it to be an introduction contest. Stratton says Hail doesn't make the rules. She doesn't agree. Hagel captures Stratton in the Kimura. Straton immediately starts knocking. Hail refuses to let go. Stratton accepts the submission match.
Oro Mensah vs. Eddy Thorpe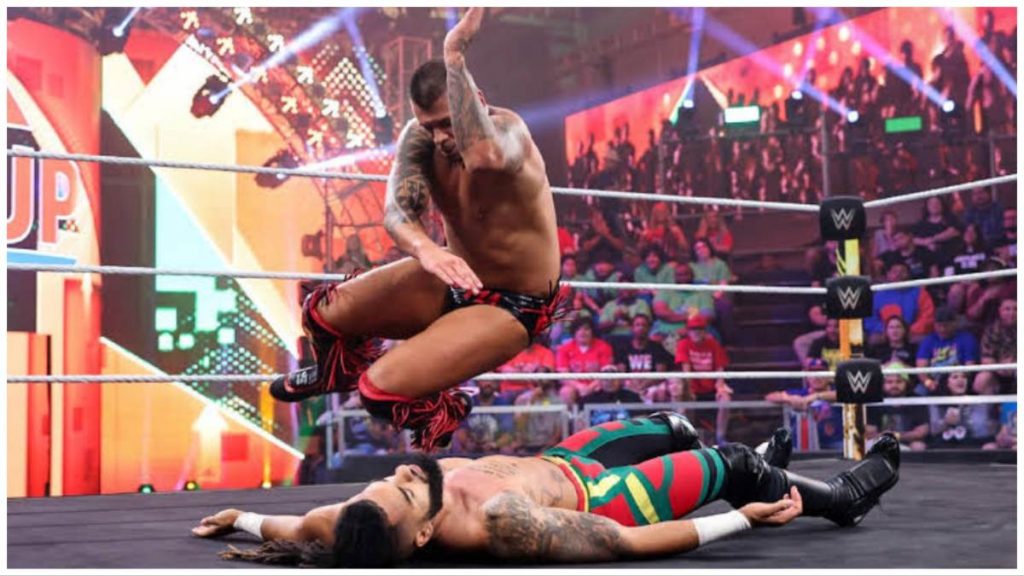 Mensah dominates Thorpe in the match, causing Thorpe to become agitated. The intensity escalates, resulting in the fight spilling out of the ring. Legend and Jackson assist in bringing a seemingly unconscious Noam Dar back into the ring. Despite the referee's attempts to remove Dar from the ring, he remains motionless. Dijak unexpectedly jumps over the barricade and launches an attack on Thorpe. In a strategic move, Thorpe manages to roll back into the ring to avoid being counted out. Finally, Mensah delivers a decisive rolling kick, securing the victory.
WWE NXT Results- Oro Mensah
NXT North American Championship Match: Wes Lee (c) vs. Dominik Mysterio w/Rhea Ripley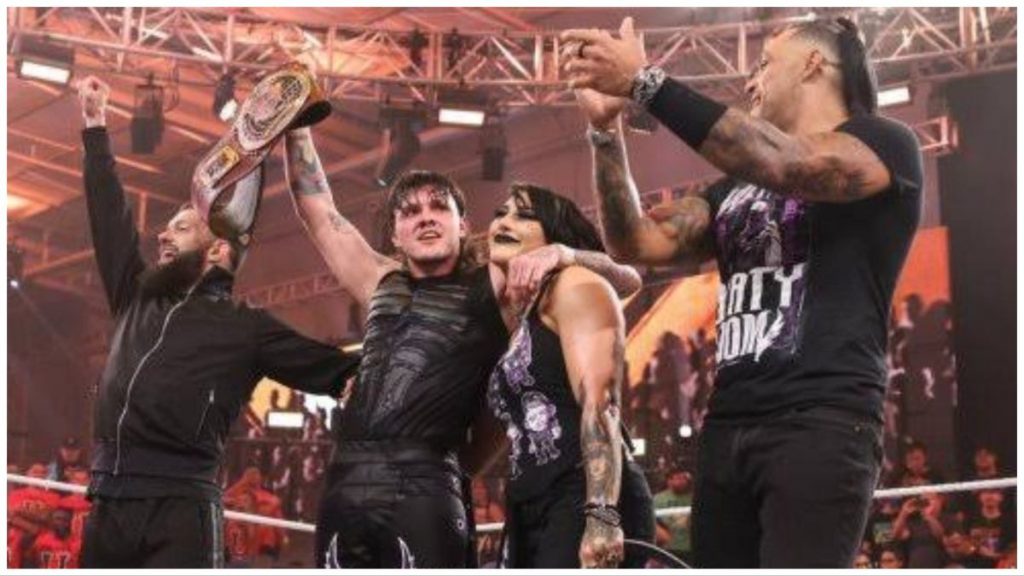 Dirty Dominik Mysterio and Lee exchange headlocks. Dirty was thrown out of the ring. Lee reached the top, but Ripley stood in the way to save Dirty. After the game, Dom practiced with Lee. Dom tried three friends but Lee blocked the last one. Michinoku rides to Judgment Day member. Lee threw it away. Dirty was on top of it and longing to perform in front of the audience. Lee dodges Dirty Dom seed spray. Dominic and Lee go on a trade strike. Lee grabbed a side headlock. Dom sends the release back to Supex. Lee threw it away. Dominik backs Lee hard into the corner.
Ripley cheers Dominik on. Dom hit a boot to Lee. Lee went on strike after strike. Dominic sent Lee into the ropes and ate a series of flying elbows. Lee kick combo. Li Shuan pressed Dominik back. Lee has a great shot. Lee jumped off the second rope and kicked again. Lee's Dive Tornado DDT. Dominik rolled out of the ring. Lee was about to dive but Dominik grabbed the North American Title and tried to leave. Lee caught Mysterio Son with a dive. Ripley was in disbelief on the sidelines. Lee sent Rey's Son back into the ring. Lee's Spiral Tap. Suddenly Balor the Finn appeared and jumped onto the asphalt. Priest stormed the ring and attempted to take the title to Lee. Lee dodges and destroys the priest with a heart attack. Ripley hit Lee with her title as the referee was distracted. Dirty Dom burdens Lee.
WWE NXT Results- Dominik Mysterio put a North American gold belt on the waist.
Read Next :
Add Howdy Sports to your Google News feed.