Carlos Alcaraz was introduced to Roger Federer at a practice match by his coach Juan Carlos Ferrero. Carlos Alcaraz's first meeting with Roger Federer was in 2019. Alcaraz was a fresh face to Federer as he was not that popular at that time.
Carlos Alcaraz now has the 2023 Wimbledon title, one of the youngest to have this prestigious title. The Spaniard is very jocular about his win at the Wimbledon this year. Alcaraz made his commitment fulfilled that he will win. Also, he wanted to halt Novak Djokovic's winning streak of 5 Wimbledon titles and 45 wins on the center court. Alcaraz, the World No.1 makes his ranking much more justified for him winning the title to Novak Djokovic.
In 2019, Roger Federer was revving up his throttle for the practice session at the Wimbledon tournaments. Prior to his quarterfinal match against Kei Nishikori, Federer enlisted the help of the Spanish tennis star Juan Carlos Ferrero for his warmup match. At the end of the warmup session, Carlos Alcaraz's first meeting with Roger Federer was made by his coach. Ferrero introduced Roger to Spain's fresh upcoming star "Carlos Alcaraz".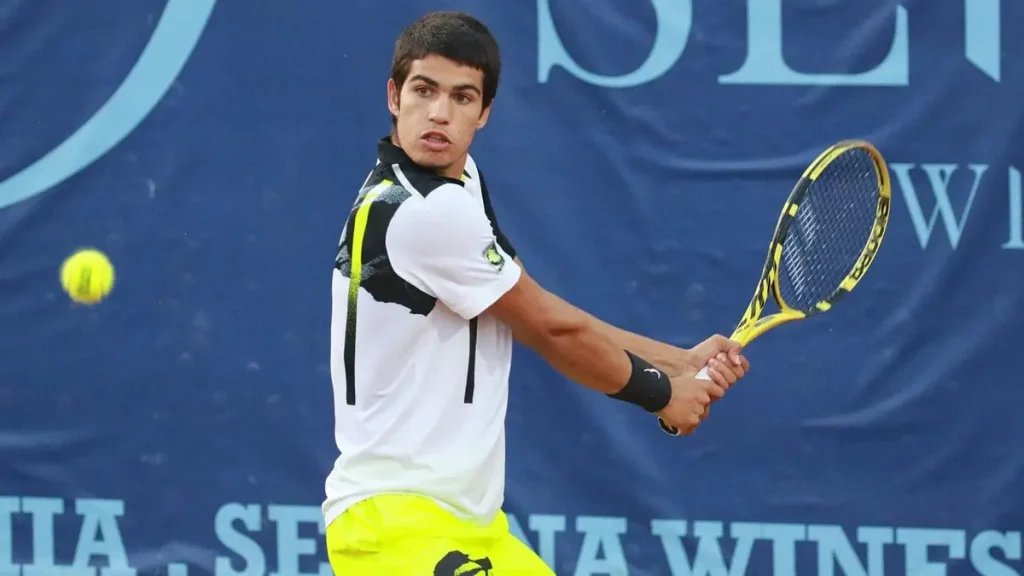 This incident could be Alcaraz's most exciting moment as a young teenager, meeting the Swiss legend. Alcaraz got much more will to pursue his dream to be the champion off this incident of playing against a living legend at a young age.
Carlos Alcaraz was first exposed to the public view in an interview with tennis majors in 2020. Carlos Alcaraz provided them with many answers including,
"It went extremely well, it was a unique experience for me," Alcaraz said.

"I was very pleased afterwards and I learnt a lot.

"At the beginning I was a bit nervous since a lot of people were watching us, but as the practice went on I started to relax more and ultimately I enjoyed it very much"
Carlos Alcaraz's win at the 2023 Wimbledon
This match was between Carlos Alcaraz and Novak Djokovic, the No.1 v/s the No.2. The match between them was the third-longest match in Wimbledon final history, lasting nearly 5 hours. Wimbledon now also has a new face for the title and a pretty young one at that.
Carlos Alcaraz is the third youngest Wimbledon title winner. The big four were dominating in the tennis world but now there is a young five. The Serb tasted defeat against the young Spaniard, Carlos Alcaraz with a 5-set game and a score line of (1-6), (78-66), (6-1), (3-6), (6-4).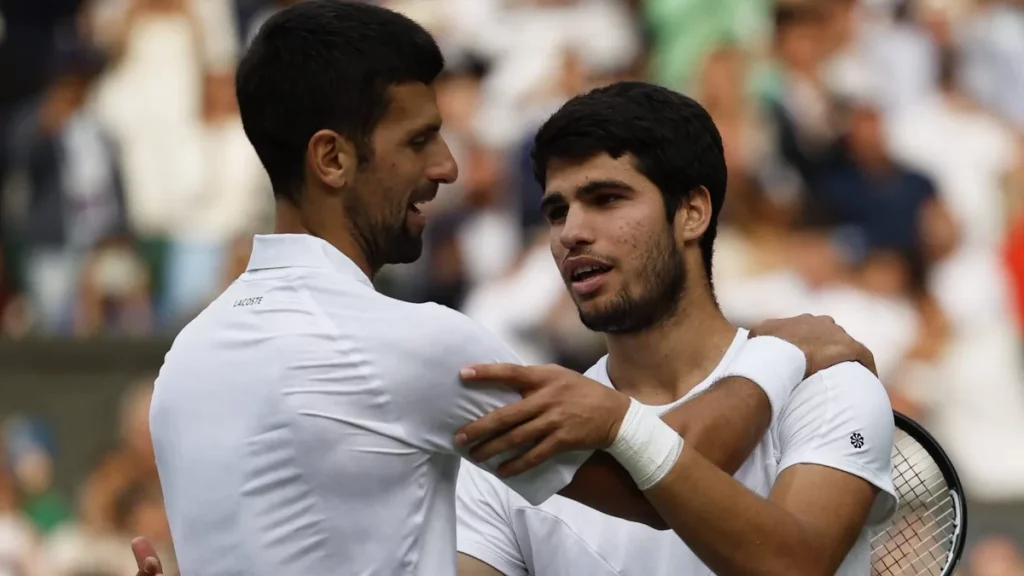 Novak shared some words on the new champion:
I haven't played a player like him ever, to be honest. Roger and Rafa had their obvious strengths and weaknesses. Carlos Alcaraz is a very complete player.
READ NEXT:
Add Howdy Sports to your Google News feed.