WWE SmackDown, aka Friday Night SmackDown scheduled at Amway Arena in Orlando, Florida. Florida showcased the highly anticipated Bloodline chapter, featuring the return of Roman Reigns. The exhilarating show also highlighted a thrilling Fatal 4-Way match, with Rey Mysterio, Sheamus, Cameron Grimes, and LA Knight vying for a chance to advance in the United States Championship invitational. Additionally, SmackDown announced Charlotte and Bianca Belair as the No. 1 contenders for the WWE Women's World Championship, setting up exciting challenges for Asuka. WWE SmackDown amassed 2.309 million views this time, which is lower as compared to the July 14 episode. Let us recap the WWE SmackDown results.
Match Card
U.S. Title Invitational Fatal 4-Way
Charlotte Flair vs. Iyo Sky
Santos Escobar vs. Austin Theory
Dominik Mysterio vs. Butch
Discussion of Bloodline's Rules of Engagement
WWE SmackDown: U.S. Title Invitational Fatal 4-Way
LA Knight made a grand entrance and delivered an energetic promo. The wrestlers communicated their moves loudly. Rey Mysterio emerged victorious in the match, showcasing WWE's tendency to overanalyze the unquestionable appeal of LA Knight, who is currently being portrayed as a more muscular version of Daniel Bryan.
Moments of the Match
Austin Theory is providing commentary for the match. The action is intense, with chaotic brawling taking place. Knight manages to clear the ring, but Grimes quickly gets back in. Grimes executes a slingshot shoulder block, causing Knight to be dumped to the floor. Sheamus takes control of the match against Knight, delivering a whip across the ring. Knight ducks a lariat and retaliates with a big elbow. Sheamus counters with a back body drop, sending Knight to the apron. Sheamus then clubs Knight down. Grimes attempts a quick nearfall, but Mysterio intervenes by putting Cameron into the ropes. Mysterio and Sheamus form an impromptu alliance and execute stereo Beats of the Bodhran.
The alliance broke down during the match. Rey wanted to execute a move called the 619, but Sheamus countered with the Irish Curse. Cameron was also involved in the action, but Sheamus blocked his pin attempt and brawled him into the corner. Sheamus then executed a scoop lift and a dropkick, setting up kicks in the ropes.
Cameron tried to counter by coming off the ropes, but Sheamus stopped him with a powerful lariat and followed up with the Irish Curse.Later, everyone ended up stacked up in the turnbuckles. Sheamus powerbombed them into a tower of doom before the match went to a commercial break. When they returned, Grimes put Mysterio in an electric chair and hung on over the ropes, but Rey turned it into a Frankensteiner. Theory tried to intervene, but Sheamus dived and took both of them out. Back in the ring, Sheamus executed a tilt-a-whirl slam on Rey and attempted White Noise on LA, but neither move was successful.
In a fast-paced wrestling match, Knight counters a dive from the Celtic Warrior with a slam. Rey tries to break up the pin, but Knight denies the BFT. Cameron delivers a kick, followed by a knee from Grimes. Knight gets under Grimes and executes a backbreaker rack facebuster, but it is not enough. Cameron then performs a crossbody power slam on Mysterio, yet Mysterio still kicks out. Both Mysterio and Cameron execute a double 619, and Mysterio finishes with a splash off the top rope. However, Austin Theory interrupts by pulling Mysterio off the cover and putting him onto the steel steps. Santos Escobar enters the ring and smashes Theory with a forearm, causing the match to break down. However, It leads to fixing up a new match.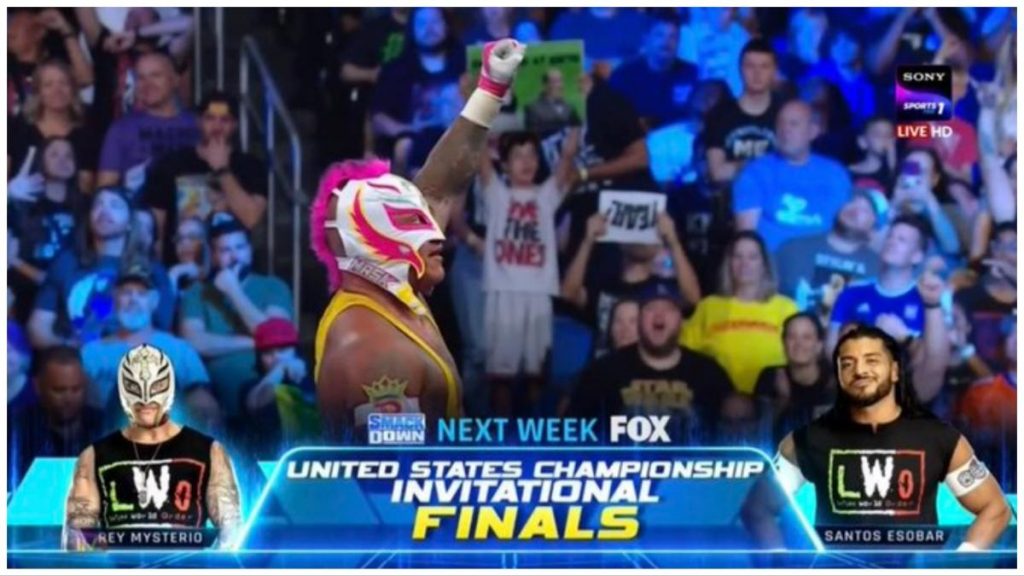 Victor – Rey Mysterio claims victory, this WWE SmackDown
Grade – B
WWE SmackDown: Charlotte Flair vs. Iyo Sky
Bayley is providing commentary for this match. SKY and Flair are engaged in a fast-paced exchange of moves. SKY executes a dropkick, but Flair counters with a trip. Flair then delivers a boot to SKY on the apron and follows up with a diving crossbody. SKY retaliates with kicks and attempts a cover, but only gets a two-count.
Both competitors trade shots over the ropes, with Flair eventually attempting a plancha, which SKY evades. SKY then executes a diving tijeras off the apron. After the break, Flair delivers chops and follows up with a fallaway slam. Flair quickly recovers with a kip-up and executes a handspring lariat into a folding press, but only gets a two-count. SKY is then set up on the top rope, where Bayley intervenes from commentary, allowing SKY to smash Flair's face into the turnbuckles and hit a Liger Bomb, but it is not enough for the victory.
Blackheart appears on the tron, challenging Bayley. The montage shows Bayley snapping scissors shut in a maniacal manner. Bayley walks over SKY's calls for help. Flair trips her up as she takes a giant step up top. Bayley sidesteps the spear and sends Charlotte into the turnbuckles. IYO perches, but there is nobody home on the moonsault. Flair attempts a moonsault from the top, but Bayley counters with her boots up. Bayley then transitions into a La Mistica into an arm-trap crossface. She rolls into a crucifix, but it's not enough. Bayley ducks under and snaps Charlotte's feet over the top rope. Charlotte counters a missile dropkick into a Boston Crab. Bayley breaks free and they slug it out. Bayley goes off the ropes for a spear, but IYO won't stay down.
Consequently, Charlotte nails the victory in this episode of WWE SmackDown.
Winner- Charlotte Flair
Grade – B
Post match Asuka hits Charlotte with Cross armbar! Bayley and Iyo having heated argument reaching the locker room, they discovered their bag stabbed through with a scissors, piercing an 8×10 of hers.
Vital Moment
Pete Dunne arrives and proposes a title match tonight. Mysterio declines due to being undressed and the title not being polished. Shawn Michaels unexpectedly appears and supports the idea. He leaves to discuss with Adam Pearce for official confirmation.
WWE SmackDown: Austin Theory(c) vs. Santos Escobar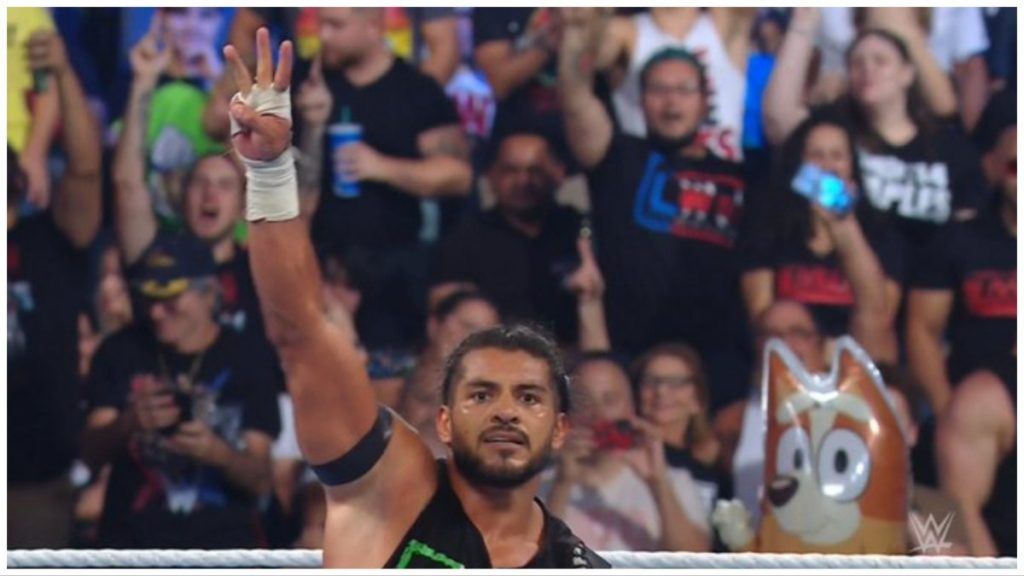 The bout was result of the Santos hit in the Fatal-4. In a thrilling match, Austin and Escobar engage in a series of intense wrestling moves such as collar and elbow tie-ups, punches, fireman's carry, drop downs, dropkicks, and boots to the corner. Despite Austin's straight suplex and DDT attempts, Escobar manages to kick out. The momentum shifts as Escobar retaliates with mounted punches and nearly secures a victory.
Theory retreats, leading to a break. After the commercial break, the action continues with both wrestlers exchanging moves like ducking a lariat and connecting with flying forearms. Santos executes a tijeras, followed by a corner enzuigiri and a diving crossbody for a nearfall. Theory counters with an elbow and a neckbreaker, but Escobar still kicks out. The match intensifies as both wrestlers struggle for control. Finally, Escobar delivers an impressive Avalanche Frankensteiner off the top rope. Theory possibility of surviving just messed up.
Winner – Santos Escobar
Grade – B+
WWE SmackDown Backstage
Bobby Lashley meets The NXT champion Carmelo Hayes and his friend Trick Williams.
NXT North American Championship: Dominik Mysterio (c) vs. Pete "BUTCH" Dunne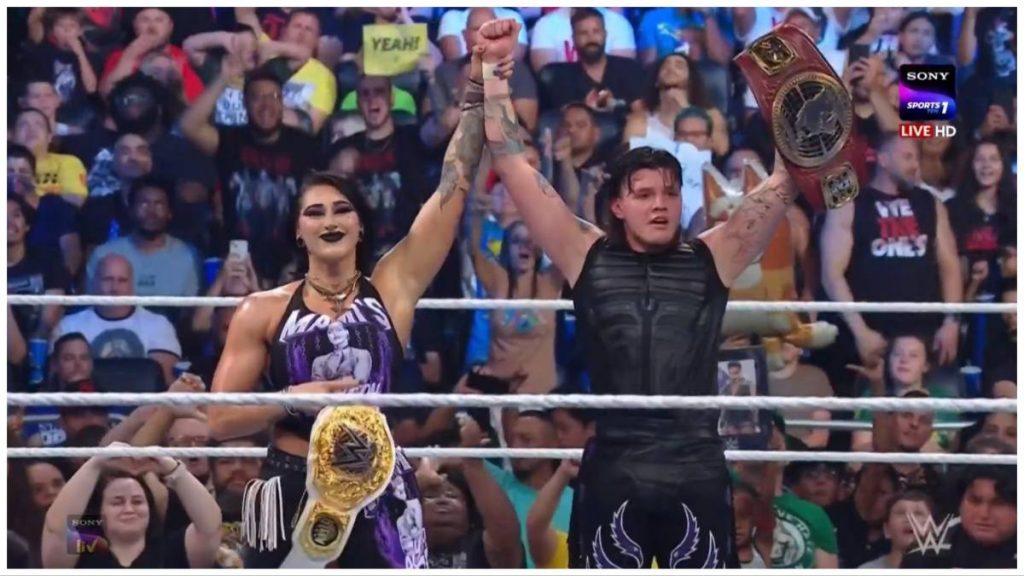 Dunne quickly starts the match with an armbar and small joint manipulation. Mysterio manages to reach the ropes, but Ripley interferes with referee Jessika Carr while passing a length of chain to Dunne. However, Ridge Holland grabs the chain from Mysterio's hand. Pete then executes the X Plex for a nearfall, leading to a break.
After the commercial break, Mysterio performs a slingshot senton atomico. Kit Wilson accompanies Elton Prince, who is in a wheelchair with his arm in a sling. Dominik aggressively attacks Dunne, patting his head disdainfully. Pete retaliates with enzuigiris in the corner, a knee drop across the hand, and a punch to the ear. He follows up with a Penalty Kick, stepping on Dominik's hands and punching him in the head. Dom puts Dunne in the ropes, but the 619 is reversed into a German suplex. Dunne stomps on Dom's hands and delivers a buzzsaw roundhouse kick, coming very close to victory. Pretty Deadly confronts Ridge Holland, and Rhea Ripley assists by executing a chop block on Dunne, causing him to collide with the ringpost forcefully.
Unfortunately, Dirty Dom wins.
Winner – Dominik Mysterio
Grade – C
WWE SmackDown: Discussion of The Bloodline's Rules of Engagement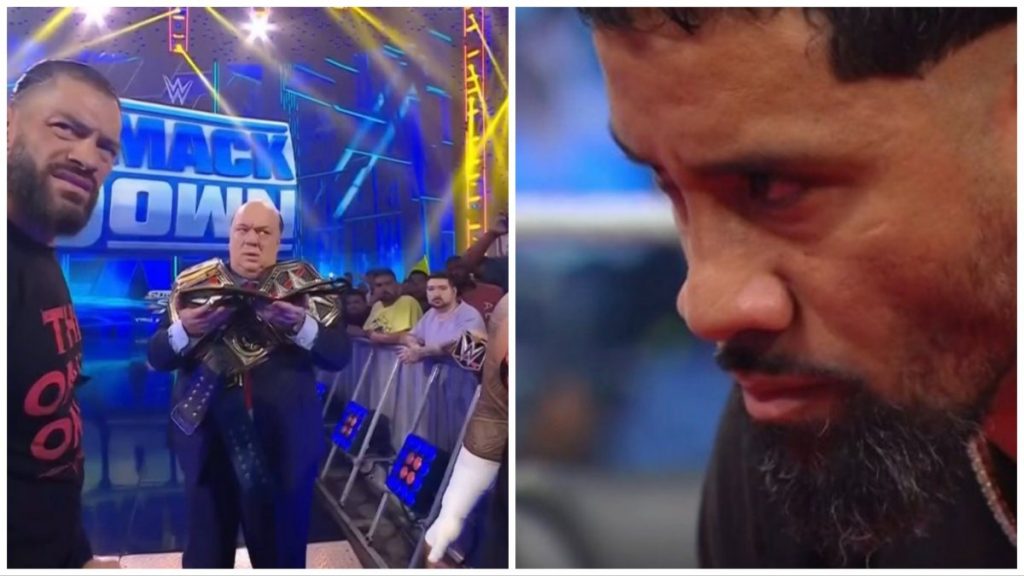 Jey Uso makes an entrance that electrifies energy in the audience and commentary. Then The Tribal Chief alongwith his Wiseman and Enforcer makes his way to the ring. Roman Reigns confidently asks Orlando to acknowledge him and takes a seat at the table next to Jey Uso. He inquires if Jey is certain about proceeding with their plan, to which Jey affirms that he must because he made the call and Jimmy is currently hospitalized, leaving it up to Jey to take down Roman.Reigns dismisses Jey's determination, stating that he won't succeed because he fails to understand the situation.
He asserts that Jey is merely a soldier, a pawn in the game. Despite Jey's defiance, Reigns proceeds to sign the contract. However, Jey tears it up, emphasizing that a contract is unnecessary, as their bond is rooted in their blood. This is now tribal combat. Reigns questions if the elders are aware of this, and Jey reveals that it was their idea.In tribal combat, anything goes. Reigns lists various items that can be used as weapons, from sticks to chairs, even a lady's slipper. He asserts his experience in such battles and instructs Orlando and Jey to remain silent. Roman confidently declares that this is not his first rodeo.
He places the title on the table and rises from his seat. Jey informs him that it is now tribal combat. Reigns pauses, removes his lei, and places it on the title. He approaches Jey and ceremoniously shakes his hand and touches foreheads. Roman begins to leave, but Solo attempts to attack Jey. Reigns intervenes, preventing Solo from doing so. Uso delivers a superkick to his own brother, forcing him out of the ring. This WWE SmackDown paves a way for the Bloodline members Collision in SummerSlam.
Grade – A
Read Next :
Add Howdy Sports to your Google News feed.