WWE RAW also known as Monday Night RAW scheduled on August 7, 2023, at Target Center in Minneapolis, Minnesota. Promoting the success of the SummerSlam premium live event t happened on Saturday in Detroit. In this episode of RAW Cody Rhodes' question came to light i.e. "What's next?". Seth Freakin Rollins still holds the championship after defeating Finn Balor at SummerSlam. Let us have a RAW Recap to know WWE RAW Results and Highlights.
Cody Rhodes kicks off the show by getting on the mic. In Minneapolis, he engages the audience by asking them what they would like to discuss. He then delves into a story about an extraordinary individual who underwent education and transformation, eventually becoming a champion in this very city – Brock Lesnar. The speaker had the privilege of facing off against "the Beast" and surviving his formidable presence, but he never anticipated the subsequent handshake and embrace that followed.
Later that morning, he spoke with his mother, still in awe of what had transpired. She enlightened him by saying, "You fool! Don't you realize what just happened? Brock Lesnar acknowledged you." After SummerSlam, he experiences an overwhelming sense of triumph; it's as if he could conquer anyone in the world. And then enters Seth Rollins.
Rollins steps into the ring with a microphone in hand and warmly greets everyone to Monday Night Rollins. He recalls a previous occasion where he discussed the future prospects of the World Heavyweight Championship and Cody was quick to confront him face-to-face. Now it's his turn to reciprocate that gesture.
Rollins asks Rhodes whether he believes he can defeat anyone in the world, and if so, why not put that belief to the test?
Setting the stage for Main Event
Enter Judgment Day unaccompanied by Finn Balor. Damian Priest tells them they must be befuddled and believe they are in charge of Monday Night Raw, but Rhea Ripley insists Judgment Day is in charge of Raw. Priest informs them that they have no say in what is the result of championships around here since Judgment Day does. Senor Money in the Bank, to be particular.
They already have the most commanding world champion, Rhea Ripley, and the North American Champion, Dominik Mysterio. Cody may be finished with the Beast, but Dirty Dom isn't. He claims that Mysterio is the true workhorse around here because he will be putting his title on line, live on NXT tomorrow night, and a question pops up: What will Rhodes be doing?
Finn Balor materialises out of nowhere and strikes Rollins in the back of the head while Damian and Dominik trample on Cody! Sami Zayn arises for the save! The babyfaces dominate and dispatch Judgment Day! Rhodes returns to the mike and announces that he has a solution for everything—there are three of them and three in the ring, therefore a trios match in the main event is set.
Backstage
We have video of SummerSlam Night, Ricochet talking to Adam Pearce about the result of his match with Logan Paul. Chad Gable, Matt Riddle, and Tommaso Ciampa join Pearce in apologizing but insisting that the referee's decision is final. Adam suggests a four-way #1 contender's match for the Intercontinental Championship in order for one of them to shine in the moment. They all joke about how tonight is their night.
WWE RAW Results: Intercontinental Championship #1 Contender's Match: Chad Gable vs. Matt Riddle vs. Ricochet vs. Tommaso Ciampa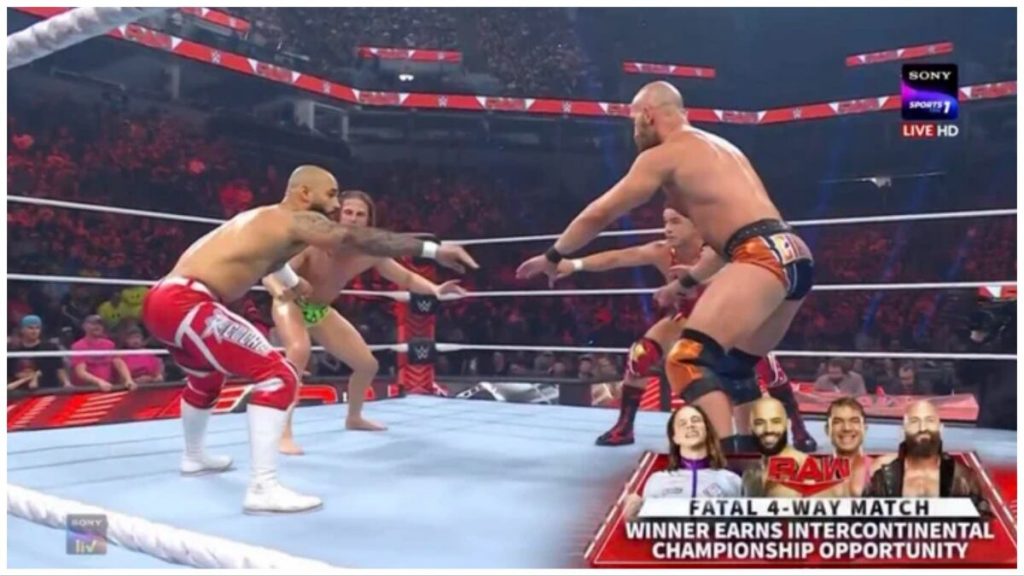 Early chaos, Ricochet off the ropes, dropdowns, shortstop, sunset flip from Riddle, swapping pinning situations, no finish! Riddle and Gable ejected their opponents from the ring and squared up, wheeling, Chad with a leg pick, Matt feuding him on the ground, rolling around, impasse! Ciampa returns, clubbing both of them, boots to Riddle, sending Gable out of the ring, and Ricochet puts him out with a diving lariat followed by a standing moonsault.
NOPE! Tom, the One and Only, breaks it up with a back-and-forth inverted DDT! Ricochet is knocked out with a rolling elbow, underhooks, Fairytale Ending is contradicted, fireman's carry, Benadryller connects near enough!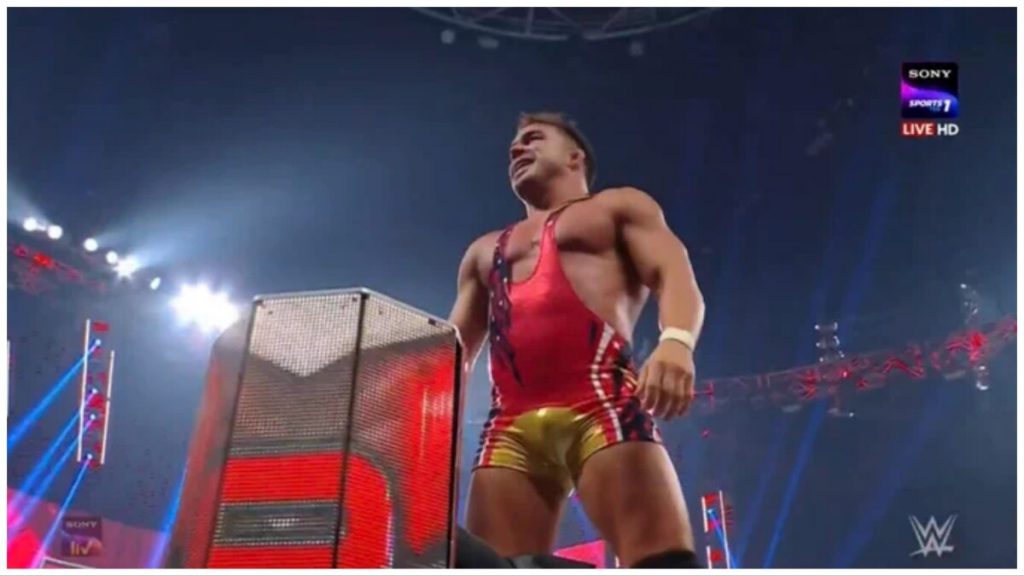 Gable goes under the turnbuckles of three men… TOWER OF DOOM! Ciampa escapes Chaos Theory, but Gable traps him in an ankle lock! Riddle breaks it up with a kick after pulling him back into the middle of the ring and wrenching in on him! Powerbomb followed by a knee strike.
Ricochet Ends it up with a Standing Shooting Star Press but is supplexed Right Away by Matt! Tom is sent spinning towards the corner after ducking Ciampa's short arm! Riddle raises him and climbs to join him, the superplex connects, and Rick and Chad bring the stereo dives. All three guys throw chops from their knees to their feet, as well as forearms, kicks, and Ciampa works Riddle's foot and stomps.
Winning Stroke
Gable lariats Ricochet to the floor, but is low bridged and eats a corkscrew moonsault from Riddle! Tom hits Willow's Bell, Ricochet dives into Gable, Ciampa lines up, springboard lariat countered with knees! Ricochet can't be kept down by Plan Ciampa! Gable breaks up Riddle's nearfall, and all four guys are down and out again. In the middle of the ring, Chad and Matt trade forearms, duck a kick, Gable pulls him up for Chaos Theory, but Ricochet steals Riddle with Recoil! Ciampa takes Ricochet down with a Fameasser on his second attempt! Tom's third attempt.
Victor – Chad Gable
Backstage
When Seth Rollins arrives, we witness Cody Rhodes and Sami Zayn arguing backstage. Sami encourages everyone to take a deep gasp and stresses that he understands there exists history and tension here, and that he doesn't expect them to highlight their problems overnight, but they have an opportunity to do something here, and he's tired of dealing with Judgment Day.
They hurt Kevin Owens, their mutual friend, and now they have the opportunity to stand side by side and steal the win. Can they pull it off? Cody highlights he's fine, and Seth states he's well as well. They both vanish on Sami, and he notices that it doesn't feel cool.
The Miz is ordering sushi on phone when a crew worker interrupts him and informs him that he will have to wait. When he asks, the camera turns to headline LA Knight completing a photoshoot. Miz rushes off, promising that Adam Pearce will pay about it.
WWE RAW Results: Shinsuke Nakamura vs. Bronson Reed
Shinsuke Nakamura and Bronson Reed, met for another bout this week. Reed tried to dominate the bout for a while, but Nakamura stomp on him after Reed taunted him. Until Reed used his full body to knock The Aussie Assassin off his feet, the former IC champion appeared to have The Aussie Assassin's number.
This could have emerged as their best confrontation yet because it emphasized both of their best qualities while also giving them enough time to work. To get the pin, Nakamura executed the Tsunami and hit two Kinshasa.
Victor – Shinsuke Nakamura
Grade – B
WWE RAW Results: Shayna Baszler vs. Zoey Stark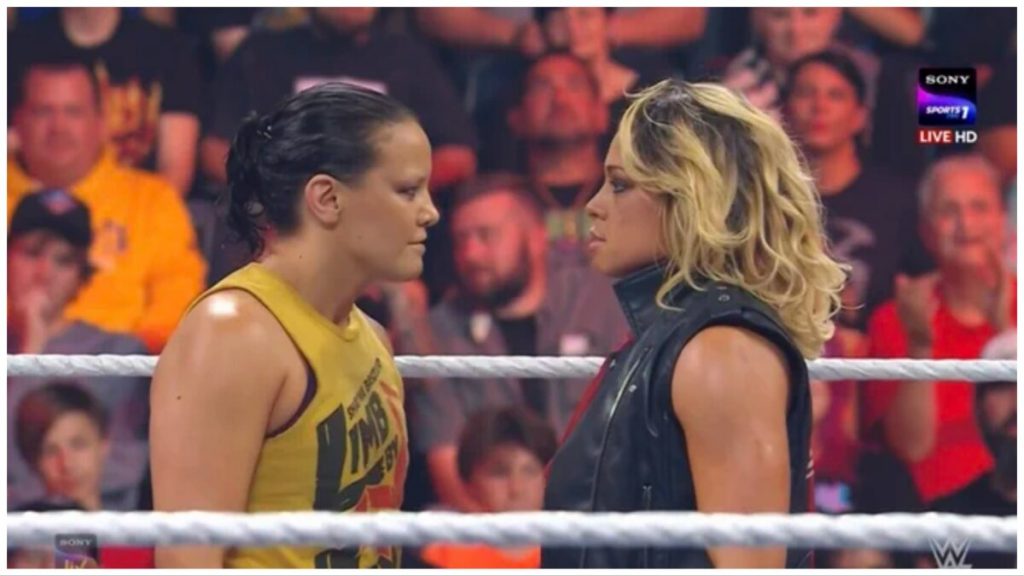 Becky Lynch made an appearance to promote her upcoming match against Trish Stratus. Zoey Stark, barge in. They were soon interrupted by Baszler, who received a standing ovation when she stated that she beat Rousey. Adam Pearce appeared and made official, Stark vs. Baszler, who was suffering from a severe black eye.
They locked up, and The Queen of Spades went for a waistlock takedown immediately away. Cole read through a list of her ailments as she used an ankle hold to ground Stark. Several times throughout the match, they went back and forth as Lynch stood ringside with a large pitcher of lemonade. Baszler was able to take the victory by pinfall.
Victor – Shayna Baszler
Grade – B
WWE RAW Results: Otis vs. Ludwig Kaiser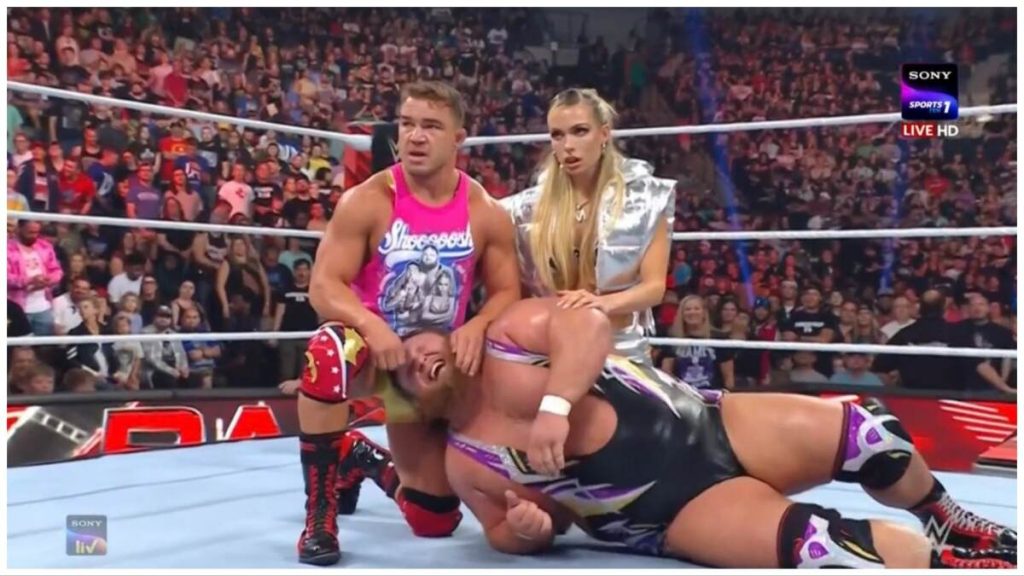 After Gunther's valet was discovered trying to hit on Maxxine backstage, Kaiser and Otis met for a match. Giovanni Vinci being at the ringside for Kaiser, but Gunther was not there. Kaiser tried to trap Otis for some strikes, but the big guy shrugged them off.
Kaiser tried to hit on Maxxine once more, which enraged Otis even more. After Vinci attempted to intervene, Gunther came and trampled Otis behind the ref's back, honouring Kaiser with the victory. Gable dashed down to make the save and exchanged a few words with Gunther before departing. This was brief and simply served to set up Gable and Gunther's bout, but that is prominent.
Victor – Ludwig Kaiser
Grade – C
The Miz and LA Knight Promo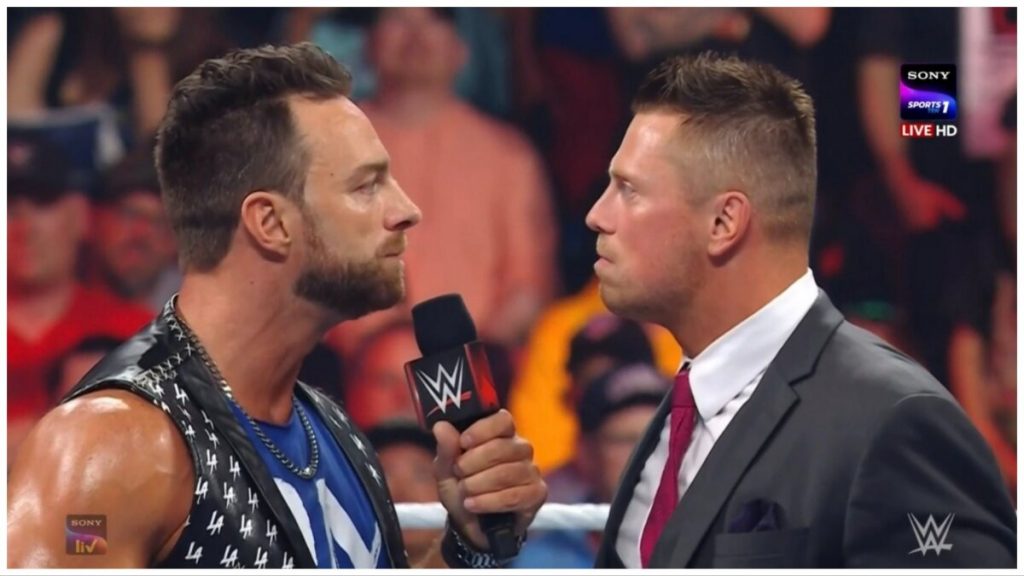 Miz takes the microphone. He complains about LA Knight taking precedence over him, about Knight not shaking his hand, or whatever Booker T nonsense he's on about.LA Knight steps forward. He introduces himself politely and extends his hand for Miz to shake, but the A-Lister declines, claiming he does not deserve to shake his hand.
He refers to Los Angeles as the flavor of the month, and Knight tells him he doesn't want to get personal. Miz claims it's been personal, and he wonders what LA has been up to for the last twenty years. Knight claims he's been putting himself in danger by crawling and scratching on the outside looking in while this place bets on all the incorrect horses, one of whom is Miz. And Miz received.
The line on Knight has always been that he isn't worth the risk because he won't be bullied, and that is the difference between them. Having said that, Miz still won every title he could, and LA hasn't had the opportunity to do so, but here he is on the rise while the A-Lister's career is in the toilet. He'll use Miz as a stepping stone to the main event, prompting the A-Lister to proclaim that he is the main event and Knight isn't on his level.
LA argues that if he's not on his level, he's not going anywhere. Miz removes his jacket and tie and walks about before throwing his garment at Knight and jumping him! They are struggling, and LA Knight hits the BFT and shakes Miz's hand!
Grade – A
WWE RAW Results: The New Day vs. Viking Raiders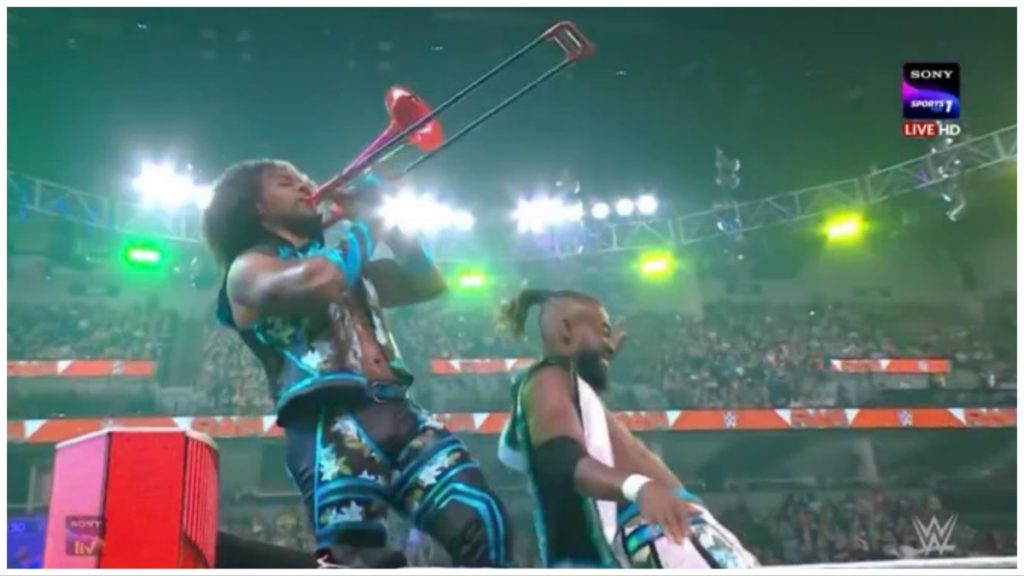 After a brief intermission, Kofi Kingston returned to pair with Xavier Woods in a tag team match against The Viking Raiders. Their prior feud, which concluded in the inaugural Viking Rules match, was revived as a result of this. For the first several minutes, Woods and Kingston used their usual tandem offense to keep Erik on defense. The Vikings tried to dominate.
After receiving the hot tag, Kingston put his ankle through its paces by performing multiple high-flying movements. He didn't appear to have slowed down throughout his vacation. The New Day won with Kofi's Trouble in Paradise, followed by Woods' flying elbow drop. This was a brief skirmish that resulted in a victory for The New Day.
Victor – New Day
Grade – C+
Becky Lynch interview
Byron Saxton interviews Becky Lynch backstage. Shayna Baszler arrives before she can say anything, saying she didn't need her aid tonight or ever, and that now that Ronda Rousey is out of the way, she has scores to pay and will be around to take care of The Man sooner rather than later. Becky Lynch states she is excited about it.
WWE RAW Results: Cody Rhodes, Seth Rollins, & Shinsuke Nakamura vs. Judgment Day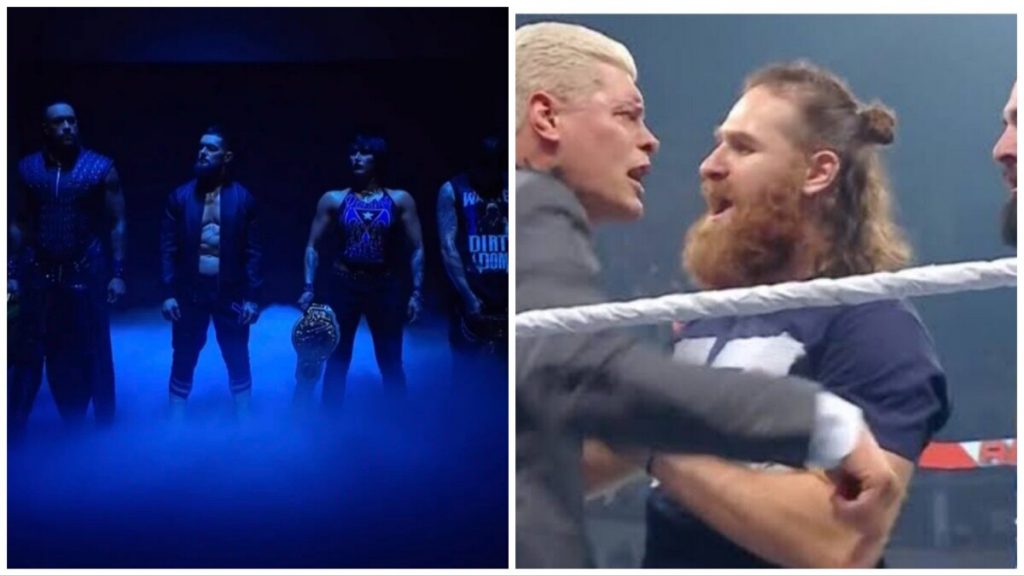 Judgment Day makes an appearance, and Raquel Rodriguez hit unexpectedly and beats Rhea Ripley, resulting in a pull-apart brawl! Candice LeRae and Indi Hartwell came in defense however, engaged in a brawl with Rhea Ripley.
Starting with Nakamura and Mysterio, amazing Vibrations in the center of the ring sets up a knee drop, cover for two! Dominik bails to the floor, Judgment Day stands together. Balor scores a near fall on Nakamura and reluctantly tags in Priest. Despite the animosity, they work quite well together, and Damian submits Shinsuke with a side headlock.
Goozle, he blocks South of Heaven and returns with an enzuigiri! Damian chops him off with a right hand and lands the massive lifting reverse STO! Rollins in, nearfall off a Falcon Arrow, and dives, back inside! We'll take a pause as Judgment Day maintains its momentum.
In the midst of a chaotic wrestling match, Cody Cutter attempts an inverted headlock reversed, followed by a drop down kick. However, his move is countered as he is caught in an inverted headlock elbow drop for a near fall. Finn charges towards his opponent but gets hit by the Cody Cutter this time. Before Cody can secure the victory, Dom breaks up the pin. The action intensifies as Nakamura takes out Dom, resulting in a free-for-all of impressive maneuvers.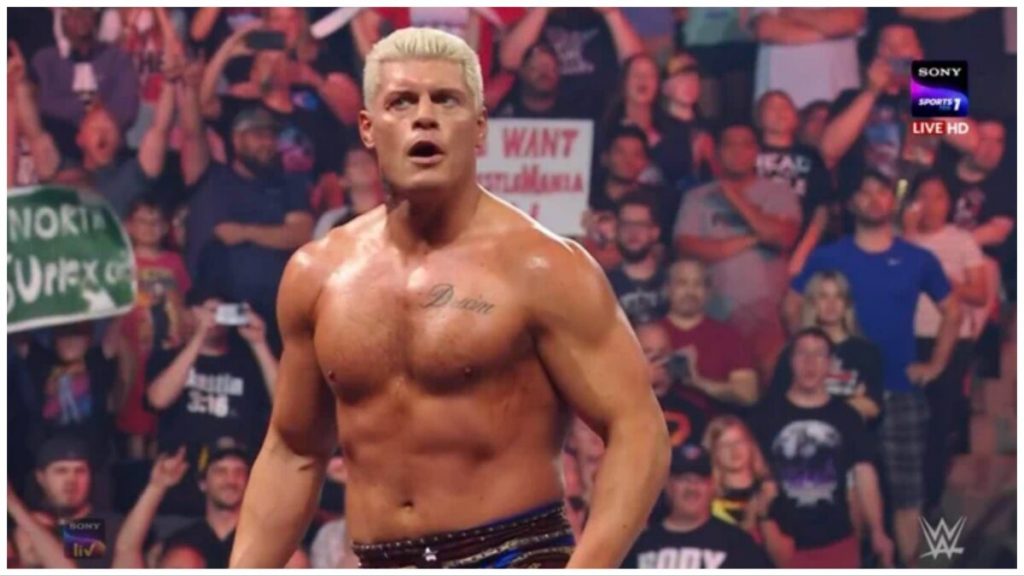 As the chaos unfolds, Balor turns around and finds himself caught in an inverted headlock by Cody. However, Priest intervenes by striking Cody with a briefcase shot to the back. Priest then passes the briefcase to Finn. Sami Zayn enters the fray to fend off Damian. While Rollins delivers a superkick to the briefcase, causing it to collide with Balor's face. Rhodes attempts to regain control with an inverted headlock.
Victor – Cody Rhodes, Seth Rollins, & Shinsuke Nakamura
Grade – A
Post Match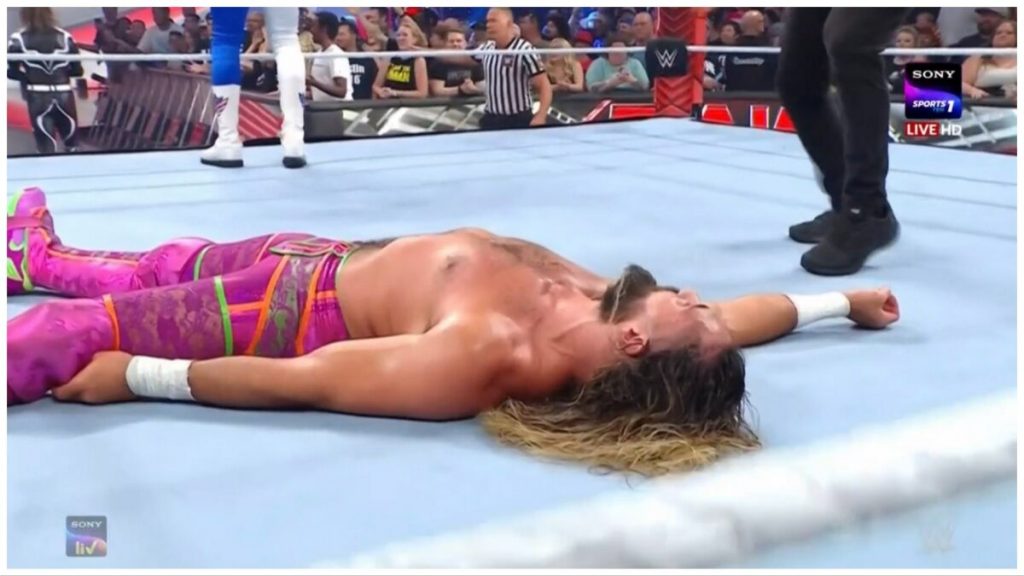 The baby faces give each other a high five and stand erect. Cody and Seth quarrel while Sami acts as a mediator by raising their hands. Rollins and Rhodes exchange handshakes. Shinsuke is the only one in the turnbuckles who isn't celebrating, and he puts Seth down with Kinshasa!
Read Next:
Add Howdy Sports to your Google News feed.