Ronda Rousey made her grand return to the squared circle at Royal Rumble 2022. Since then, she has had some amazing feuds with the likes of Charlotte Flair, Natalya, Liv Morgan, and many more. According to sources it was reported that Rousey has a Hard Out contract and therefore might leave WWE sooner than expected. Now Dave Meltzer in his Wrestling Observer Newsletter confirmed the rumors and stated that Ronda Rousey's Second WWE Run might end very soon.
Ronda Rousey made her much-anticipated debut in WWE at 2018's Royal Rumble pay-per-view. Rousey then went on to have a classic match at Wrestlemania 34 against the Authority alongside Kurt Angle. Rousey then went to main-event Wrestlemania 35 with Becky Lynch and Charlotte Flair. After which she took a break from WWE to welcome her baby.
Rousey then made her grand return to the WWE ring on Royal Rumble in the year 2022. She was involved in various high-stakes feuds with the likes of Charlotte Flair, Natalya, and Liv Morgan. Rousey also teamed up with her real-life friend Shayna Baszler to become the Women's Tag Team Champions. Shayna however betrayed Ronda at the Money in The Bank pay-per-view, costing them the tag titles. And as a result, Shayna is going to face Ronda at SummerSlam this Saturday.
There are rumors surrounding that Ronda Rousey has a Hard Out contract and might leave WWE after her match with Shayna at SummerSlam. Talking about the same Dave Meltzer noted, "It's not confirmed whether this is Rousey's last match in WWE for the time being, but her departure is coming relatively soon since they had to rush the turn angle."
Shayna and Rousey to Fight at SummerSlam in a MMA Rules Match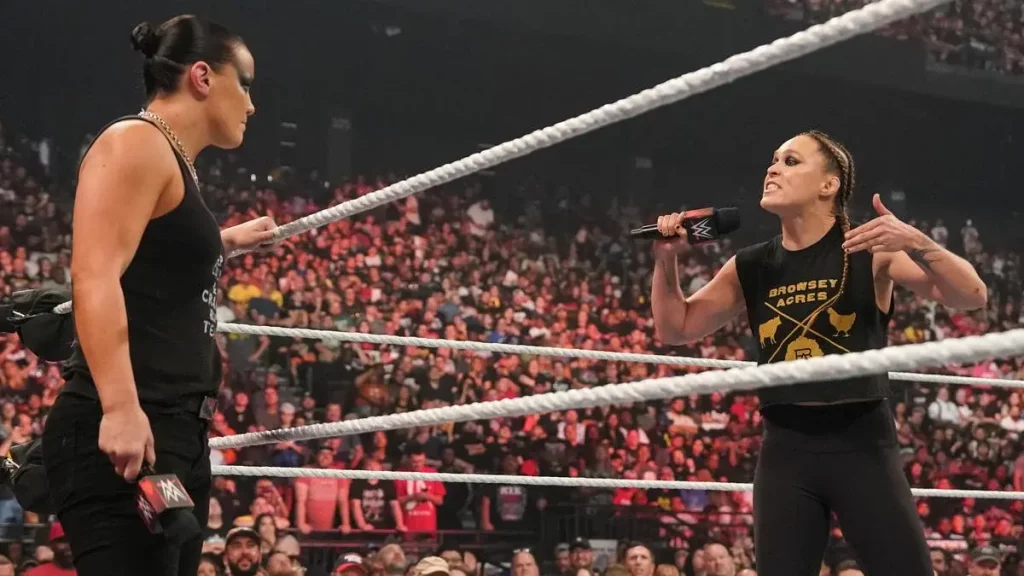 The rivalry between Ronda and Shayna is pure gold. Though the betrayal of Shayna was kind of rushed, the build to their match at SummerSlam is just professional wrestling at its best. Shayna Baszler betrayed Rousey in the Money in The Bank pay-per-view costing them the Undisputed Women's Tag Title. Baszler justified her action by stating that she was done with the antics of Ronda and that she wants to overcome her.
The rivalry between the two had some very intense promos and segments and therefore is easily one of the most anticipated matches at the SummerSlam PLE. Now the stakes for the match have been raised even higher as the match would involve the stipulation of MMA Rules. This means all the MMA rules would be applicable in the match. Thus, this match would be intense as former UFC fighters and close friends fight it out in the squared circle. We also strongly believe that Ronda is going to lose the match to Shayna this week.
Read Next :
Add Howdy Sports to your Google News feed.