WWE Friday Night SmackDown returns to our lives on August 4, 2023, with a live show from the Nutter Center at Wright State University in Dayton, Ohio with the final buildup for hereafter night's SummerSlam Premium Live Event at Ford Field in Detroit, Michigan. Let us dive right into WWE SmackDown Results and Highlights from August 4, 2023.
A night before meeting at the SummerSlam Battle Royal, LA Knight takes on Sheamus. Also on the card: "The True Chief" Jey Uso will appear as he prepares for the Tribal Battle with Roman Reigns. We'll also see the reunion of Asuka, Bianca Belair, and Charlotte Flair ahead of their Triple Threat match for the WWE Women's Championship at SummerSlam.
Match Card
| | |
| --- | --- |
| Matches | Winner |
| LA Knight vs. Sheamus | LA Knight |
| Brawling Brutes vs. Good Brothers | No Result |
| Austin Theory vs. Cameron Grimes | Austin Theory |
| Iyo Sky vs. Zelina Vega | Zelina Vega |
| Jey Uso vs. Solo Sikoa | Jey Uso |
The thunderous arrival of the king marks the beginning of a fierce and relentless reign. Tonight's pro wrestling show commences with the announcement that Jey Uso will face Solo Sikoa in the main event.
Knight enters and grabs the microphone. He talks about the Slim Jim Battle Royal and says everyone in it is a bunch of stooges and he's "proud to call a Stooge a Stooge". He also adds, "But hey, anyone can take it home, even the Miz or that pasty goof Sheamus."
"The cross-eyed halfwit thinks he's going to walk over here, and don't get him wrong, Sheamus has done it many times before, but tonight he's adding another feat: getting beaten by the one and only LA Knight, Yeah!" he concluded and started his brawl against Sheamus.
WWE SmackDown Results and Highlights: LA Knight vs. Sheamus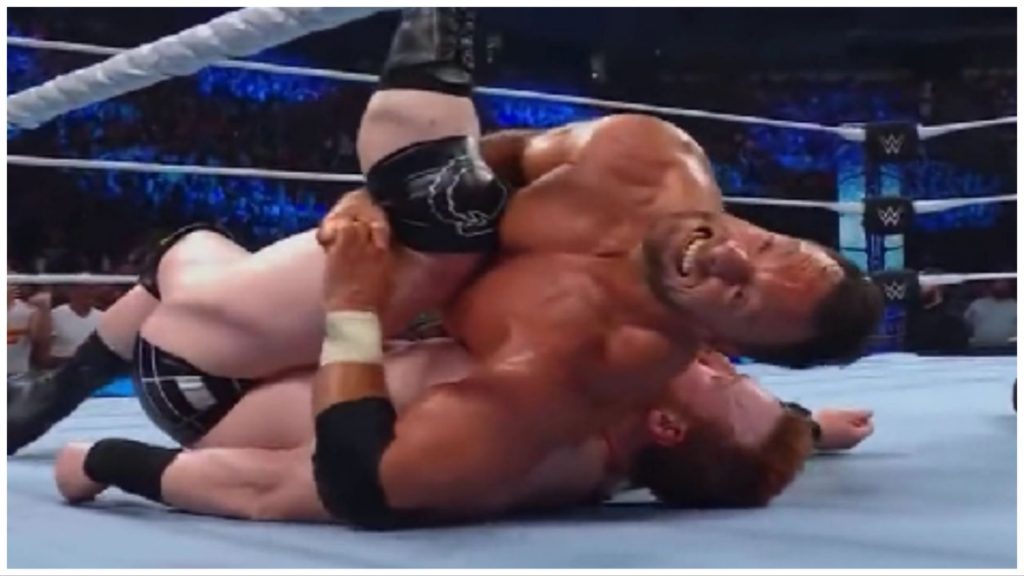 Sheamus executes a hard knee, followed by a side headlock takeover. He quickly reverses with head scissors, but then goes back to the headlock. Off the ropes, Sheamus delivers a successful shoulder block. Both Sheamus and Knight fall to the ground. Santos Escobar, Miz, and Grayson Waller enter the ring. Sheamus is fired up, but Karrion Kross and Scarlett Bordeaux also join the crowd. Sheamus attempts the Beats of the Bodhran but is interrupted as AJ Styles and "Michin" Mia Yim also fall.
Catching Knight on the apron, Sheamus executes White Noise on the edge of the ring before the break. After the commercial, Sheamus keeps Knight grounded and fishhooks his mouth. LA manages to post to his feet and breaks free with elbows. LA then hits an inverted DDT, taking Sheamus off his feet. Following this, LA delivers a knee strike and fires back with a slam. An elbow drop ensues, followed by a backbreaker rack and an inverted Attitude Adjustment, but it is not enough to secure the victory.
During the match, Sheamus executed an Avalanche White Noise on Knight, but it wasn't enough to keep him down. He followed up with an Alabama Slam into the cloverleaf submission hold, but Knight managed to reach the ropes and kick Sheamus away. As Sheamus charged in, Knight attempted to counter but slipped off the ropes. On his second try, both men ended up crashing to the floor. Meanwhile, Austin Theory entered the ring and a brawl broke out among the battle royal competitors at ringside.
Victor – LA Knight
Post Match
Grayson Waller and Karrion Kross slammed LA Knight with words. Here comes the commercial. Back from the commercial, Adam Pearce indicates a faceoff between the OC and the Brawling Brutes and directs the two tag teams to be present in the ring and to engage in a Brawl there itself.
The video of Cody Rhodes and Brock Lesnar starts rolling on the titantron. Followed by this Brawling Brutes making their way to ring is shown. We go on a break. Back from break, we find Jey Uso having a walk backstage.
WWE SmackDown Results and Highlights: Brawling Brute vs. Good Brothers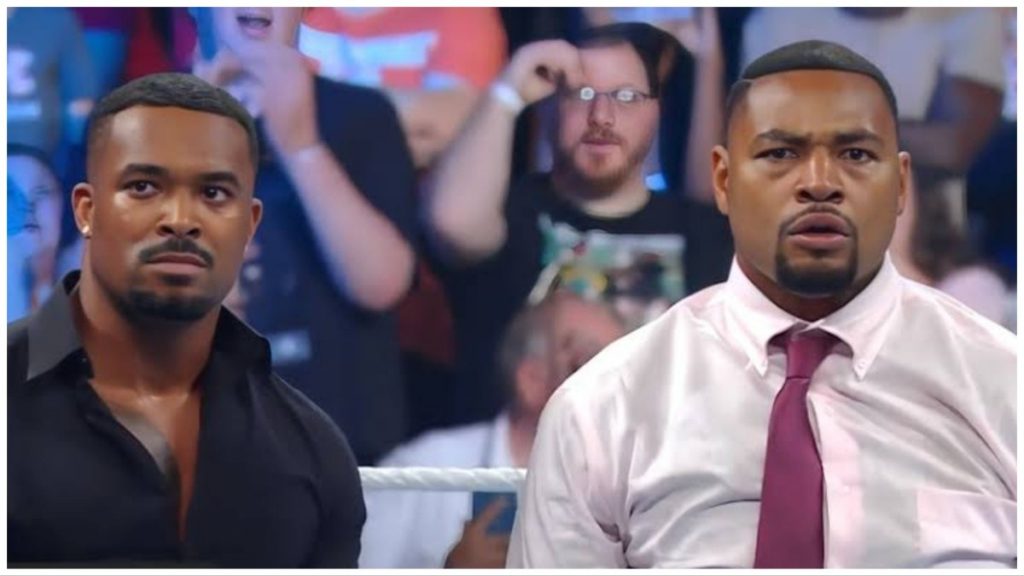 Holland and Gallows start the match, exchanging heavy blows and shoulder blocks. Anderson tags in and gets caught in a butterfly hold, spinning him around. Dunne tags in and targets Machine Gun's fingers, wishboning them and stomping his bicep. With wrists clutched, Dunne stomps Anderson's face, transitions into a cross armbar, and continues to work on his fingers. Karl manages to post to his feet and tags in Gallows.
They execute a back suplex/neckbreaker combination, but Holland breaks it up. Anderson chases Ridge out of the ring while the Good Brothers pose. After the commercial break, Anderson kicks Holland's leg out from under him. Dunne tags in and focuses on Anderson's arm, executing a mat slam and a sliding knee. Gallows interrupts the cover. Ridge trades shots with Gallows and back body drops him. Suddenly, the Street Profits enter the ring and clear the Brutes before attacking Anderson.
Victor – No result
Street Profits after taking down Brawling Brutes and Good Brothers stands tall on the ring. Later, Joined by Bobby Lashley.
Video package of Charlotte Flair discussing her strategy to snatch the title this time.
Paul Heyman Blame game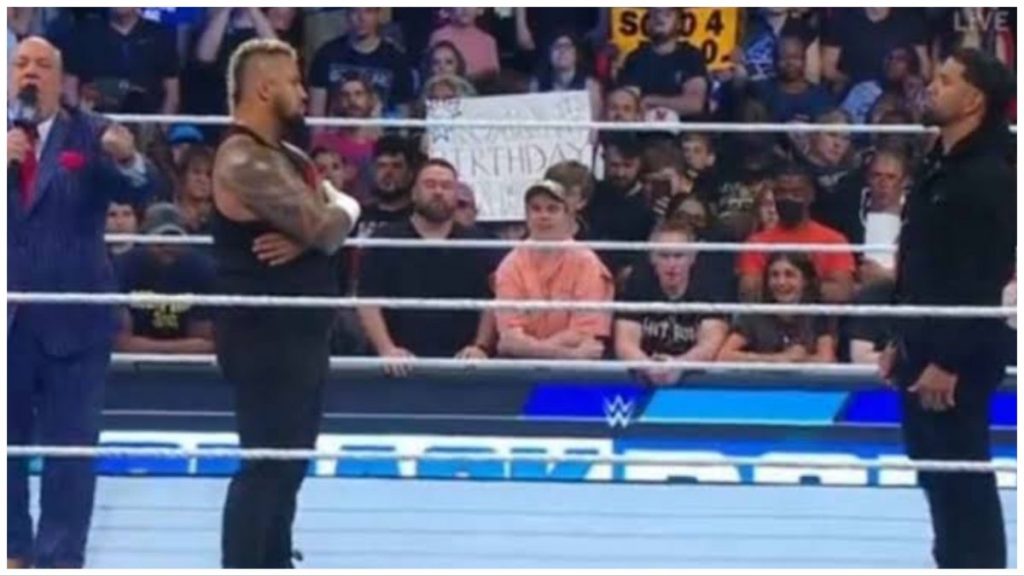 Paul Heyman is in the ring and sits at the microphone. He introduces himself and asks how this happened and that this is not what Roman Reigns wanted. It's actually the last thing he wants, and he says if you want to blame someone, you can blame Jey Uso. This turns into an explanation of tribal combat and the mechanics of how it works, indicating that under no circumstances will Jey be a tribal leader.
Enter Jey Uso. He gets in the ring and confronts Heyman and says he is right there is a tribal fight tomorrow night and yes he will throw all kinds of weapons at Roman and bring his passion and the spirit of his ancestors and his culture with him tomorrow. To beat Roman Reigns Win the title and the Tribal Chiefdon.
Enter Solo Sikoa. Jey tells him to relax, Paul talks about a big game behind Sikoa and Uso says whatever happens he is a brother to him and can always forgive him and these mind games are not. He says Solo is told all the same things he was told, Heyman tries to defend himself but stops when he sees the expression on Sikoa's face and requests a private conversation with the performer. Solo tells him to leave now and Jey shoots his little brother with a super kick! Uso directs Heyman to tell his cousin to see him tomorrow.
Kayla Braxton interviews Austin Theory
Theory speaks rubbish about Santos Escobar and states he is expecting Rey Mysterio to be watching, and get to know how he with his capability retains his title next week. Consequently, he will be dedicating the bout to Rey. And for Tonight, he will be beating Cameron Grimes.
WWE SmackDown Results and Highlights: Austin Theory vs. Cameron Grimes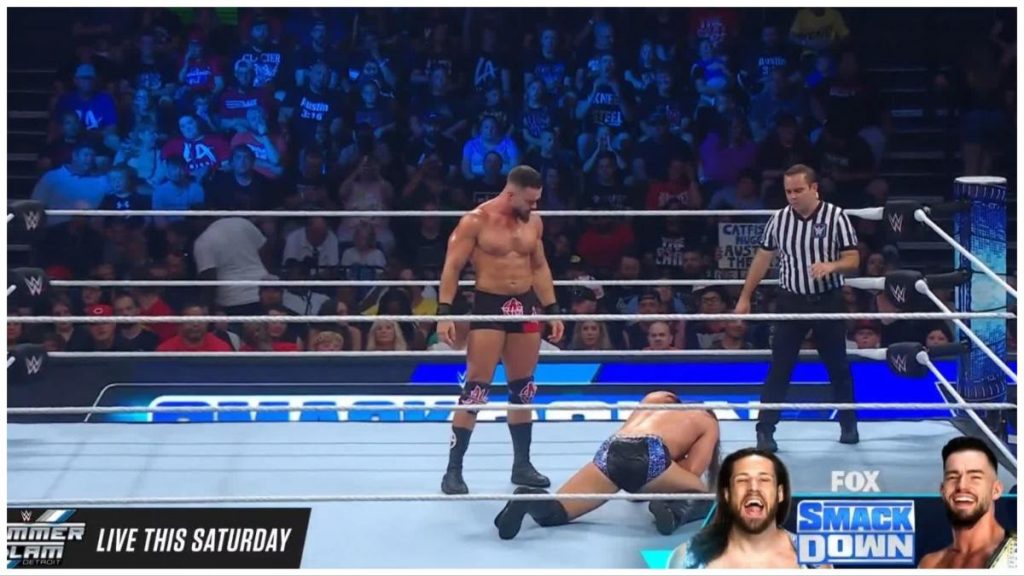 Santos Escobar attempts to make his way down to ringside, but the referees intervene and prevent him from doing so. Grimes manages to secure a nearfall after executing the Cave-In move. Cameron engages in a brawl and delivers a powerful slam, followed by another one through a crossbody power slam. Austin interrupts his momentum by cutting him off and executing a single knee facebreaker from the top position.
Victor – Austin Theory
Santos Escobar returns to the ring and delivers a devastating Phantom Driver to Austin!
Next, we are treated to an exciting highlight reel showcasing Asuka's victories over both Charlotte Flair and Bianca Belair.
Following that, the stage is prepared for the highly anticipated Grayson Waller Effect and we take a break. After returning from commercials, there is some anticipation building for tomorrow's show opener featuring Kid Rock, as it seems to be an essential element in the year 2023.
Grayson Waller Effect featuring Damage CTRL
He claims to be the center of attention and proceeds to introduce his guests for the evening, Damage CTRL. Bayley declares that she will not divulge any information about IYO SKY's strategy for Money in the Bank, considering us all fools. She then becomes startled by mysterious laughter, initially thinking it's Shotzi Blackheart, but Grayson reveals that he is playing a prank on her.
Bayley boasts about her fearlessness—Enter Shotzi Blackheart. Bayley commands IYO to intercept Shotzi, but there is no one in the tank! Suddenly, a freshly-shorn Shotzi emerges from behind Bayley. As Bayley slowly turns around to face her opponent, she immediately pleads for mercy! Blackheart lands a blow on Bayley and retrieves a trimmer from her fanny pack, chasing after Bayley with it! It is revealed that Zelina Vega was hiding in the tank before we go on break!
WWE SmackDown Results and Highlights: Iyo Sky vs. Zelina Vega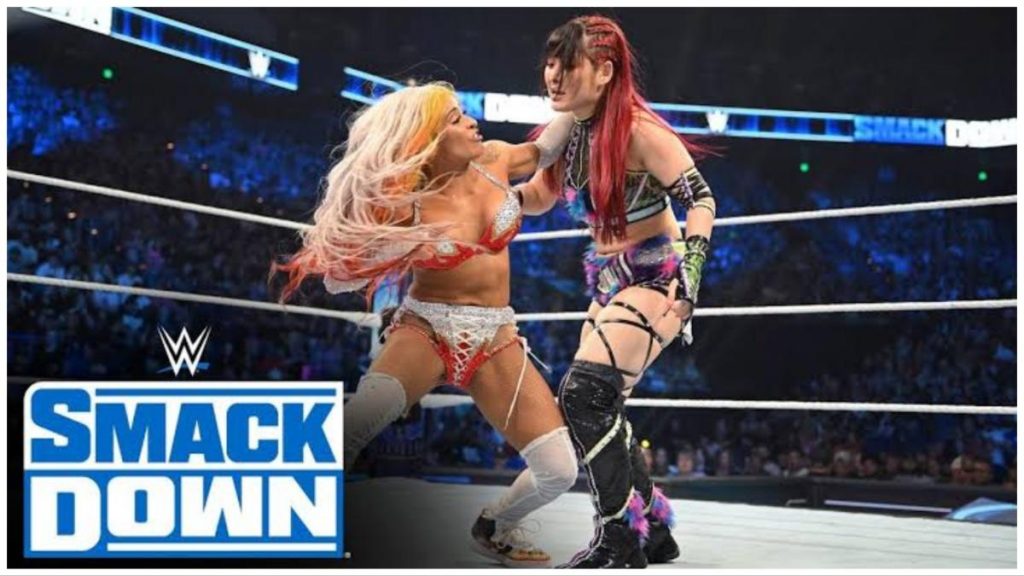 The ongoing match commenced with a sudden flurry of action as one participant delivered a forceful whip across the ring. In an impressive display of agility, she skillfully evaded an incoming elbow and retaliated with double lariats, causing both women to fall to the mat. SKY was the first to rise, promptly met by Vega's defense against any further lariats by countering with forearms and forcefully ramming her face into the turnbuckles.
Capitalizing on this advantage, she proceeded to deliver mounted punches in the corner followed by a powerful turning lariat, but it was not enough! The tide quickly turned when her opponent reversed a whip, allowing for Meteora off the top rope which came agonizingly close to victory. However, IYO swiftly dodged Yoshi Tonic and executed a butterfly backbreaker before driving knees into Vega's midsection in the corner.
Meanwhile, Shotzi Blackheart emerged on stage engaging in combat with Bayley over possession of a trimmer while barely managing to escape unscathed. Seizing this opportune distraction created by Shotzi's unexpected appearance, Zelina successfully executed a powerbomb maneuver.
Victor – Zelina Vega
The promotional video showcasing Bianca Belair generates excitement. The commentary builds anticipation for the SummerSlam event, while Jey Uso's arrival prompts a commercial break.
WWE SmackDown Results and Highlights: Jey Uso vs. Solo Sikoa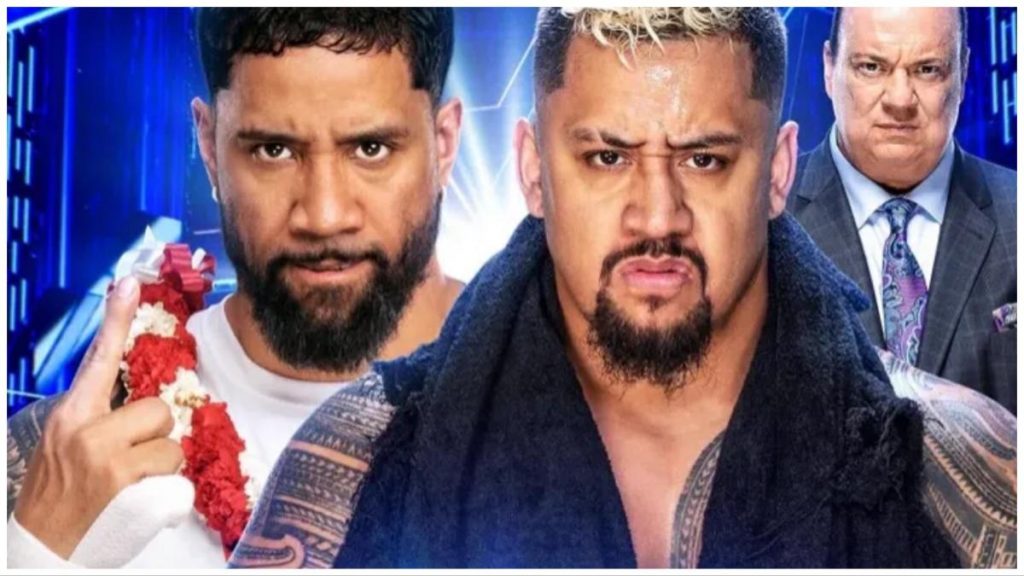 During the intense wrestling match, there was a flurry of moves and actions. Sikoa managed to overpower Uso and throw him aside, while Jey retaliated with a go-behind move and a side headlock. The crowd cheered as the wrestlers displayed their athleticism. Sikoa continued his dominance by applying a trapezius claw on Uso, weakening his brother.
However, Uso showed resilience by fighting back with body blows and sending Solo flying with a well-executed low bridge maneuver. The action was fast-paced and kept the audience on the edge of their seats. After the commercial break, Sikoa unleashed a Samoan Drop on Jey, firing up the crowd even more. Undeterred, Jey fought back from kneeling position with punches of his own.
The two wrestlers exchanged blows in an electrifying display of physicality. As the match progressed, both competitors showcased their agility and strength. Sikoa attempted to hang Uso over the top rope but ended up getting caught himself. Taking advantage of this opportunity, Uso launched himself off the top rope for an impressive crossbody maneuver that almost secured his victory.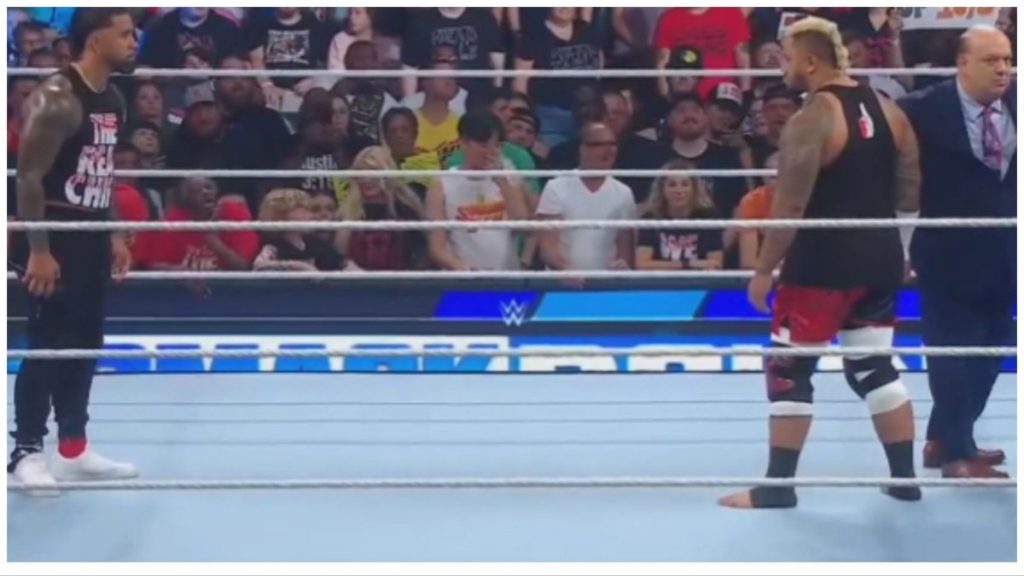 However, Jey's momentum was halted when he ran into a spinning wheel kick delivered by Sikoa. Despite this setback for Team Solo (Sikoa), they were determined to finish strong as Sikoa called for his signature move – "the spike." But before he could execute it successfully, Uso anticipated his opponent's move and evaded it skillfully.
Uso with a Superkick instantly shoots Uso Splash and it goes one two three. Jey Uso wins. The match reached its climax as both fought tooth-and-nail for supremacy in front of an energized crowd eagerly awaiting every twist and turn in this thrilling contest.
Victor: Jey Uso
Post Match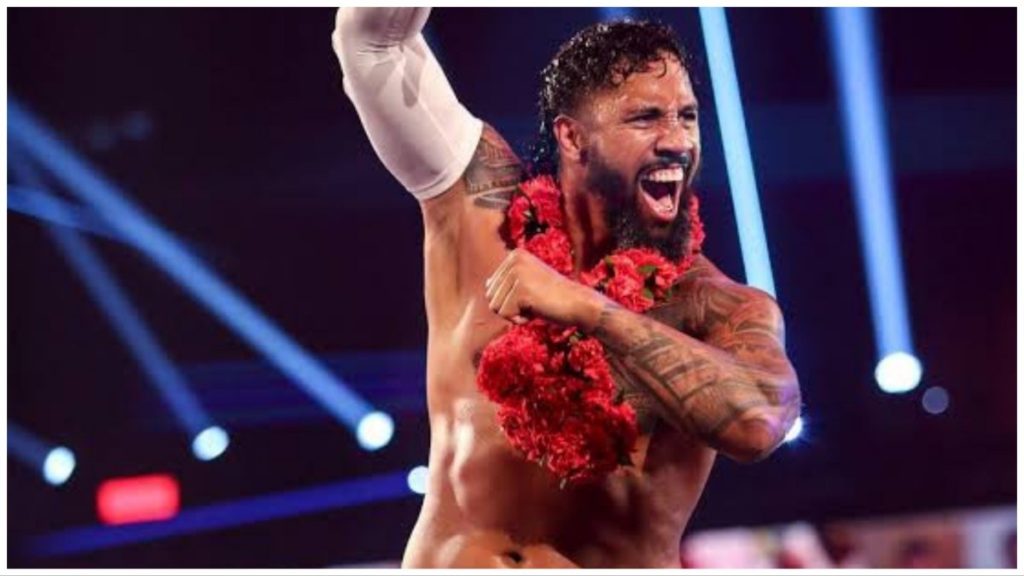 Solo delivers a devastating blow to Jey, forcing him onto the floor and slamming him against the ring post. Seizing a chair from the timekeeper's section, Solo is met with an unexpected superkick from Jey, shattering the chair in the process. Undeterred, Jey proceeds to unleash a series of forceful strikes using the steel weapon. In a triumphant display of resilience, Jey stands proudly atop the announcement desk.
The go-home show was fantastic and it successfully built up momentum for SummerSlam and everybody is hyped.
Read Next:
Add Howdy Sports to your Google News feed.