Konnan, Wrestling veteran firmly believes that Roman Reigns should lose his Undisputed WWE Universal Title to his cousin, Jey Uso. The recent turmoil within The Bloodline, involving Jimmy Uso's betrayal and Jey Uso's subsequent alliance with his twin brother, has added an intense layer of drama to their storyline. After Reigns and his younger sibling Solo Sikoa retaliated against Jimmy, Jey has issued a one-on-one challenge to Reigns, eagerly awaiting his response.
During an interview on Keepin' It 100, Konnan expressed his approval of the possibility of Jey Uso ending Roman Reigns' historic title run. Konnan stated that if someone was going to receive the rub, it might as well be Jey Uso, as he is the most natural opponent for Reigns. Konnan also mentioned that if not Sami Zayn, then Jey Uso should be the one to receive this opportunity. He emphasized the importance of someone getting the rub, indicating his support for this potential outcome. Additionally, reports have surfaced disclosing a possible ending to Roman Reigns and Jey Uso's SummerSlam match.
Former WWE Manager relishes Jey Uso beating Solo Sikoa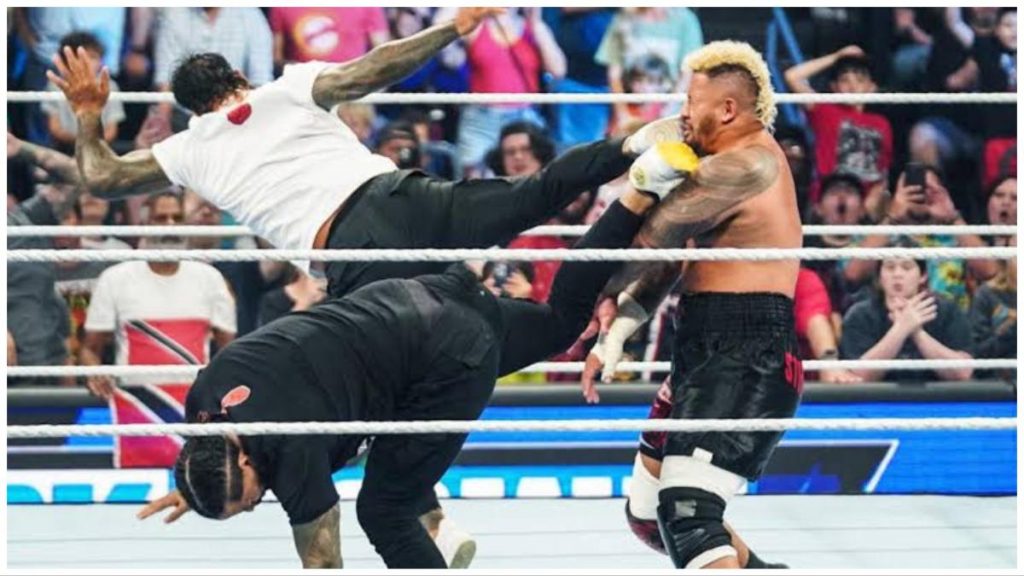 On the July 7 episode of SmackDown, Jey Uso sought revenge on Roman Reigns and Solo Sikoa for their earlier attack on his twin brother. With a chair in hand, Jey unleashed a series of powerful strikes on The Tribal Chief and Sikoa's back. Dutch Mantell, a former WWE manager, expressed his admiration for the segment, stating that Jey Uso "whipped that a**" and delivered a satisfying beatdown. Additionally, a former WWE writer believes that Jey Uso's storyline has surpassed that of a prominent AEW star.
The Tribal Chief, Roman Reigns attains milestone
Roman Reigns has solidified his status as one of the greatest pro wrestlers of all time. Since his return in 2020, he has dominated the competition, establishing himself as truly infallible. Recently, Reigns crossed an unfortunate WWE milestone, surpassing 1,000 days as champion. In recognition of this achievement, he was presented with a new championship. However, Reigns is not content with resting on his laurels. Just a few days ago, he surpassed 1,042 days as champion, making him the longest-reigning champion in WWE history since the creation of WrestleMania in 1985.
Roman Reigns, known as The Head Of The Table, has rarely defended his Titles throughout his long reign. However, he recently defended his titles against Cody Rhodes at WrestleMania 39 Sunday, ending a 104-day streak of not defending his titles. It should be noted that Roman may have defended his titles against Rey Mysterio at a house show on June 17, although this match was untelevised and had no real build. Nevertheless, it is highly likely that he will defend his titles against Jey Uso at SummerSlam. We eagerly await to see if Roman will successfully retain his titles against his cousin.
Read Next:
.
Add Howdy Sports to your Google News feed.