WWE RAW also known as Monday Night RAW scheduled on July 31, 2023 in Houston, Texas. WWE Superstars and bouts were full of entertainment and energy. Have a RAW recap to know WWE RAW Results of July 31, 2023.
In the aftermath of last week's events, Seth Rollins and Sami Zayn joined forces to take on Damian Priest, the reigning Money in the Bank holder, and Dominik Mysterio, the current North American champion. This alliance was formed as a direct response to the escalating tensions between the two sides.Meanwhile, after months of build-up, Maxxine Dupri and Valhalla finally collided in the ring, aiming to settle their long-standing differences once and for all.
The intensity of their rivalry was palpable, with both competitors leaving no stone unturned in their quest for victory. As expected, Alpha Academy and The Viking Raiders, who have been entangled in their own ongoing feud, made their presence felt during this clash.Adding to the excitement of the night, Cody Rhodes, Brock Lesnar, and Logan Paul made special appearances, further elevating the star power of the show.
With each of these individuals bringing their own unique flair to the proceedings, the anticipation and buzz surrounding Monday's event were at an all-time high.Overall, it was a night filled with high-stakes battles, intense rivalries, and surprise appearances, making it a must-watch for any wrestling fan.
Beginning Segment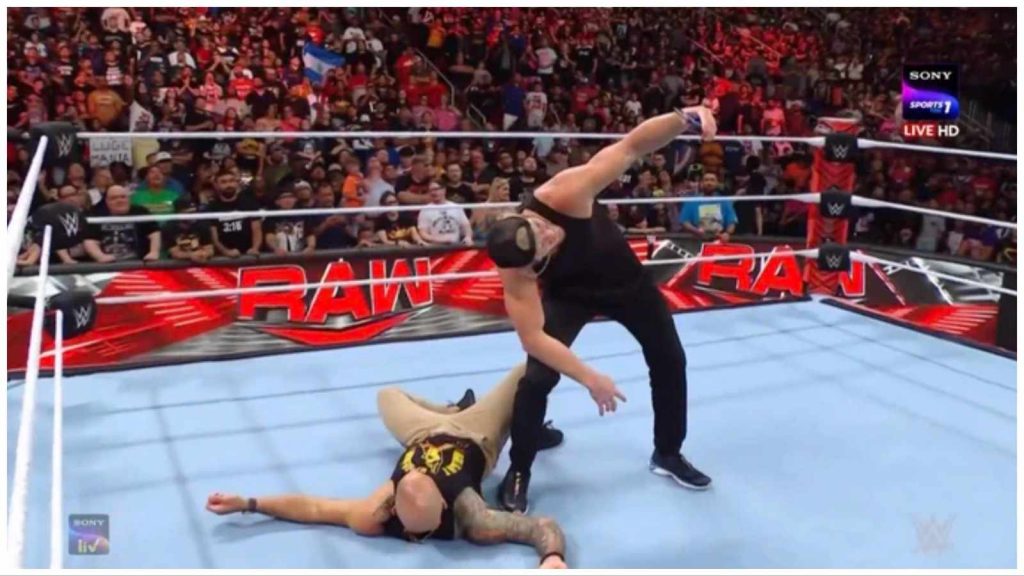 The show began with Paul receiving the customary boos from the crowd. He declared that he wasn't there for the fans, but for Ricochet. Ricochet entered and expressed his lack of respect for Paul as a person, while acknowledging his athleticism and showmanship. Paul made derogatory comments about Samantha Irvin, Ricochet's fiance and the ring announcer.
In response, Ricochet attacked Paul, targeting his legs and delivering punches. The brawl continued until Paul landed a powerful right hand on Ricochet, who was mid-air from the top rope. The segment concluded with Paul taking a selfie while lying on the mat. Although not extraordinary, this 10-minute segment effectively built anticipation for the upcoming WWE match.
Grade – B
Ludwig Kaiser vs. Matt Riddle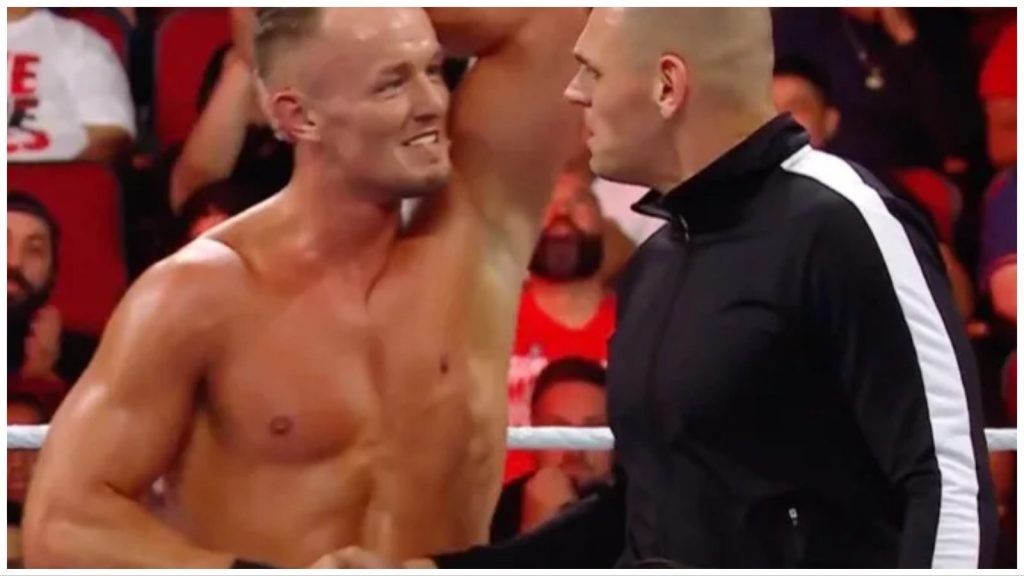 The feud between Matt Riddle and Imperium extended this week when The Bro battled Ludwig Kaiser. The match started with a display of grappling technique, focusing on holds and takedowns. However, once Riddle threw the first punch, it triggered an exchange of lefts and rights.
Gunther and Giovanni Vinci watched from ringside as Riddle took control after the commercial break. Kaiser, one of Raw's consistent performers, delivered a great performance and emerged victorious. He hit a modified DDT and covered Riddle for the pin, ending the match in his favor. It was a fun and physical contest.
Victor – Ludwig Kaiser
Grade – B+
WWE RAW Results: Maxxine Dupri vs. Valhalla
The feud between Alpha Academy and The Viking Raiders escalated with Dupri and Valhalla facing off in a one-on-one bout. Maxxine made her singles debut with the support of Chad Gable and Otis. Erik and Ivar were in Valhalla's corner, although she proved she didn't need them. As soon as the bell rang, Valhalla charged across the ring and delivered a knee that took Maxxine down.
Otis and Gable offered encouragement as Maxxine executed a sloppy caterpillar. Gable took out Otis, Ivar, and Erik with a moonsault. Maxxine lifted Valhalla into an electric chair and slammed her down into a bridge, securing the three-count. While not a technically impressive match, it was entertaining, showcasing Maxxine's portrayal of a novice wrestler.
Victor – Maxxine Dupri
Grade – C
WWE RAW Results: Tommaso Ciampa vs. Shinsuke Nakamura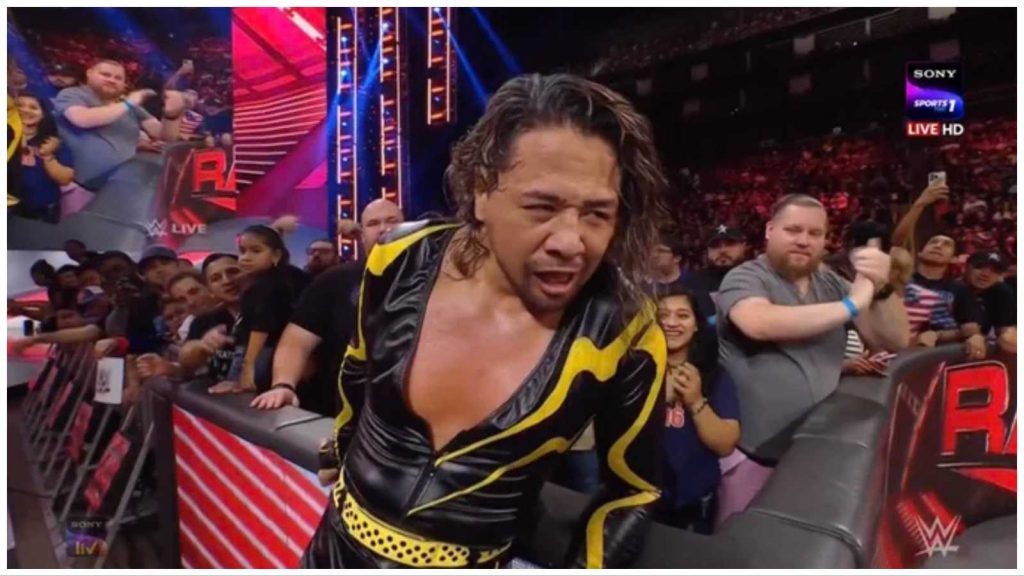 The Judgment Day delivered a dominant promo, with Raquel Rodriguez seeking revenge for Liv Morgan. Rhea Ripley eventually gained the upper hand, taking out Raquel's leg. Tommaso Ciampa and Shinsuke Nakamura faced off after their recent run-ins involving Bronson Reed. Bronson Reed was watching the match from backstage. Despite not hating each other, they displayed intense aggression. Nakamura controlled the match, rolling up Ciampa and using a handful of trunks for the pin. The inconclusive ending sets the stage for a future rematch.
Victor – Shinsuke Nakamura
Grade – B+
Brock Lesnar and Cody Rhodes Brawl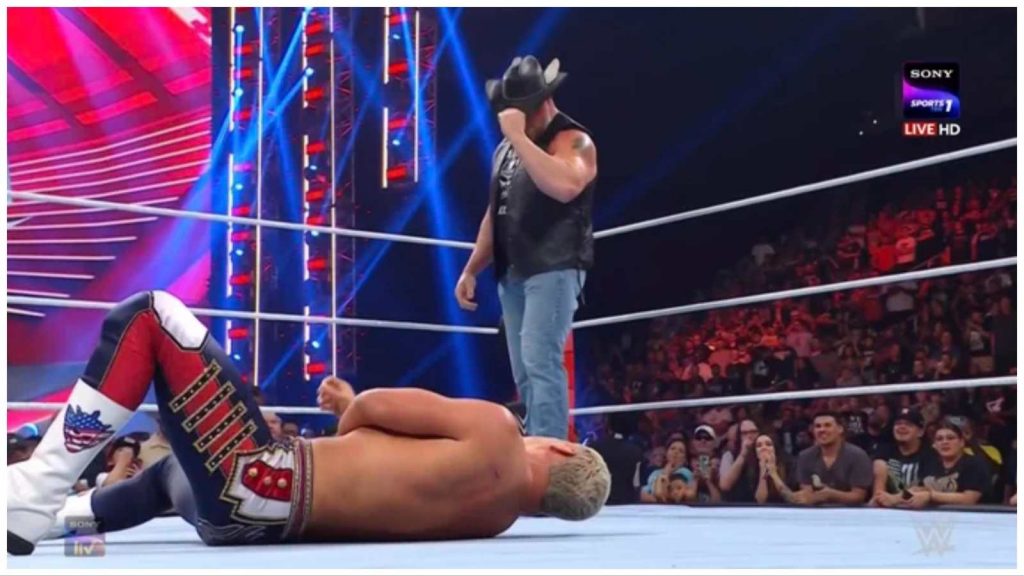 Brock Lesnar confidently makes his entrance, grabbing the microphone to introduce himself. He proceeds to highlight his impressive credentials and emphasizes that championships are won through fighting, not hype. Lesnar declares that this Saturday at SummerSlam in Detroit, he will be paid to kick Cody Rhodes' ass. Lesnar challenges Rhodes to speak up if he disagrees, promising to respect him and look him in the eye before their match. Otherwise, Lesnar confidently states that he will simply see Rhodes on Saturday. Cody Rhodes enters the scene.
Rhodes enters the ring and confronts Lesnar, offering his hand. They shake hands, but Lesnar quickly gets aggressive, jawing and shoving Rhodes. Lesnar then exits the ring, allowing Rhodes to rebound off the ropes and execute a suicide dive, followed by mounted punches on the floor.
Lesnar retaliates by ramming Rhodes into the steel steps and smashing him with them. Rhodes manages to get back on his feet, but Lesnar strikes him with the steps a second and third time. Despite the brutal assault, Rhodes refuses to stay down. Lesnar throws him into the ring and delivers a knee lift. Rhodes manages to stand up again, but Lesnar finishes him off with an F-5! Rightly said, a devastating segment.
WWE RAW Results: Chad Gable vs. GUNTHER – Five Minute Challenge
In the match, GUNTHER starts off jovial, circling his opponent Chad Gable. They engage in a test of strength, with Gable attempting to go low, but GUNTHER blocks and counters with a half-crab submission hold. They return to the test of strength, with GUNTHER breaking Chad's bridge and stomping away.
Gable retaliates with a standing neck twist, but GUNTHER dodges his chop and knocks him down with just over a minute remaining. Chad attempts a Tenryu Powerbomb, but GUNTHER reverses into an ankle lock. GUNTHER breaks free with a kick, Gable responds with forearms, and GUNTHER lands a powerful chop before applying the Gojira Clutch. With just ten seconds left, Gable surprises GUNTHER with a Frankensteiners move, sending him crashing to the floor.
Chad Gable wins by lasting for five minutes.
Graves claimed that Gunther demanded more time on the clock to continue the match, arguing that Gunther technically did not lose. However, Gable managed to catch Gunther in a Fujiwara armbar. Despite Gunther's escape, he was taken down by Gable with a German suplex, resulting in a two count.Gunther then climbed to the top rope, only to be intercepted by Gable, who executed a superplex.
Gable followed up with some strikes, but was met with a powerful chop from Gunther. Gable retaliated with a kick and executed a deadlift German suplex, bridging for another two count. Attempting to roll up Gunther, Gable found himself thwarted as Gunther held onto the ropes. Gunther countered with a kick and a lariat, nearly securing the victory.In an attempt to execute his rolling suplex, Gable was blocked by Gunther. Gunther unleashed a series of brutal chops before powerbombing Gable and pinning him for the win.
Victor -Gunther
Grade – B
After the bout, Gunther told the fans to get used to seeing him succeed because he will retain his title. Gunther said that he would defeat Drew McIntyre at SummerSlam.
Cody Rhodes having interview by Byron Saxton on the backstage ring set. Cody said that at SummerSlam he would diminish the aura of the Beast.
Becky Lynch vs. Trish Stratus
Becky Lynch confidently stood in the ring, microphone in hand, asserting that she had said and done everything necessary to earn her rematch with Trish Stratus. She declared that there was no better time than now and called out Stratus. Trish Stratus, accompanied by Zoey Stark and wearing a face shield, emerged.
Stratus firmly stated that Lynch did not have the authority to dictate when they would fight, but assured her that she would not be cheated out of her rematch. Stratus drew parallels to the Astros, prompting boos from the crowd. Undeterred, she emphasized the truth of her statement. As the bell rang, Lynch wasted no time in striking Stratus. However, Stark intervened, attacking Lynch and causing a disqualification.
Victor – Becky Lynch
Zoey Stark and Trish Stratus fighting Becky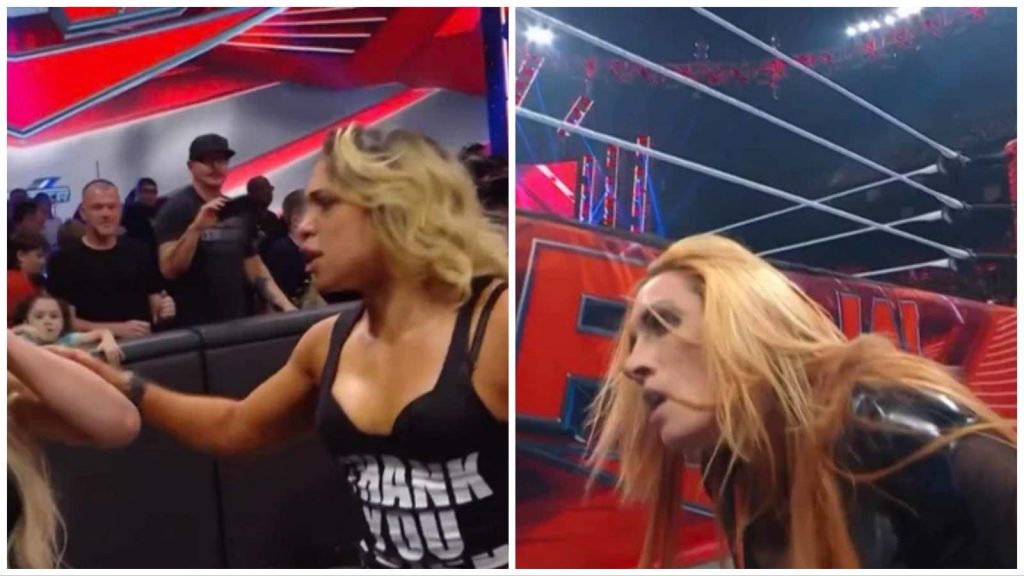 Lynch and Stratus engaged in a physical altercation, resulting in both of them falling to the floor. Becky forcefully slammed Trish's head against the broadcast table and then defended herself against Stark. Lynch proceeded to throw Trish into the timekeepers area. In preparation for her finishing move, Lynch was interrupted by Stark, who grabbed her by the hair and pulled her back to ringside. Reacting swiftly, Lynch pushed Stark into the ring post.
Trish retaliated by striking Lynch with a chair, causing her to hold her bruised nose. Commentator Graves expressed concern, hoping that Trish's nose wasn't broken again and referred to the situation as a tragedy. Stratus and Stark made their way backstage. Pearce, the authority figure, addressed Stratus and Stark, deeming their actions completely unacceptable. Stratus justified her behavior by claiming she wasn't given enough time to prepare. Pearce then made an announcement, stating that Stratus will face Lynch in two weeks on Raw in Winnipeg, with Stark prohibited from being at ringside.
Ronda Rousey and Shayna Baszler Video Segment
Baszler expressed her disappointment in Rousey, stating that she has given her everything as a friend, but Rousey has not reciprocated. Baszler emphasized that she is tired of being in the background and declared that their encounter will not be a mere match, but a fight. She boldly claimed that she will tarnish Rousey's reputation, asserting that she has always been the true baddest.
Baszler became emotional when mentioning that she is the godmother of Rousey's child, highlighting the personal connection between them. However, she made it clear that she will never forgive Rousey for what she is about to do to her as a fighter. Graves confirmed that Rousey and Baszler will face off under MMA Rules.
WWE RAW Results: Seth Rollins and Sami Zayn vs. Dominik Mysterio and Damian Priest (flanked by Rhea Ripley)
Dominik and Seth start the match, with Dominik using their right hand in the corner and Seth using their right hand and a kick. Sami Zayn is then tagged in, and together they double-team Dominik. However, Dominik manages to push Zayn into the corner and Priest is tagged in.
Zayn delivers some right hands and climbs the second rope to hit Priest with a right hand. Rollins is then tagged in, and they also double-team Priest. Seth delivers chops to Priest's chest, climbs the second rope, but Priest counters with a right hand. Priest throws Seth into the corner and Dominik is tagged in. Dominik lands some right hands, but Seth retaliates with chops. Seth goes for a forearm, but Dominik evades it.
Priest enters the ring and swiftly takes down Seth, followed by knocking Zayn off the ring apron. He applies an arm bar, then tags in Dominik for a double team on Seth. Priest returns and delivers powerful right hands to Seth. He throws Seth to the ropes, but Seth counters with a kick. Seth positions himself on the ring apron while Priest distracts the referee.
Finn rushes in, tripping Seth and sending him crashing into the ring post. Dominik and Seth are now the legal competitors. Seth strikes Dominik with a forearm, prompting Dominik to tag Priest back in. Zayn is tagged in as well. Sami lands a series of right hands and throws Priest to the ropes, executing a clothesline. Zayn knocks Dominik off the ring apron. Priest retaliates with a right hand, but Zayn hurls him to the outside of the ring. Zayn leaps to the outside, landing on Priest, before throwing him back into the ring.
Intense fight for the win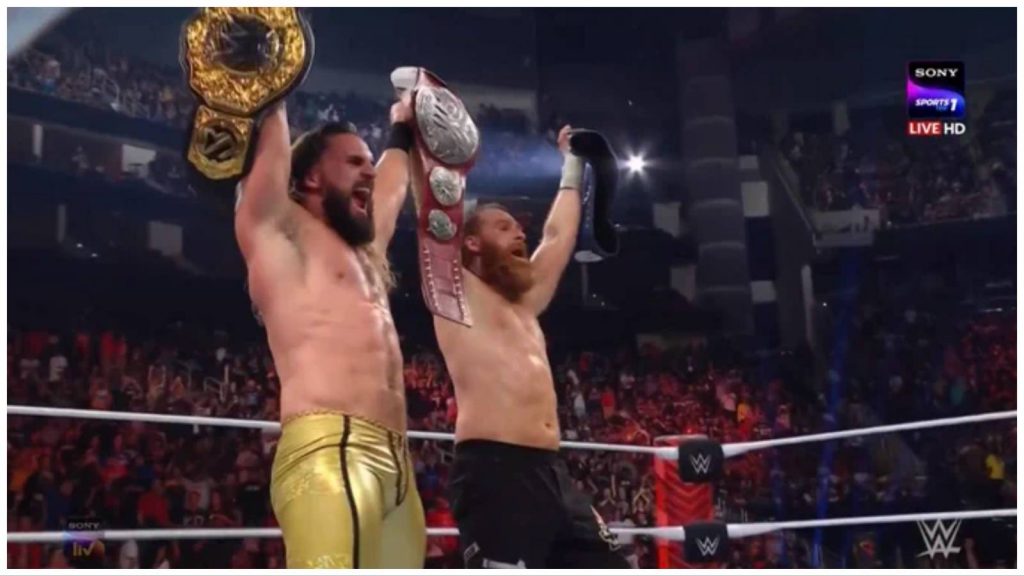 Zayn hits Tornado DDT. He wanted a cover but Dominic broke it up. Dominic was tagged in and he put Zayn on the second rope. Dominic went for a 619 and Zahn went for a clothesline. Priest and Seth are tagged in, Seth grabs a catapult and Priest falls out. Seth, doing multiple suicide jumps, jumped on Priest, who fell off the bulletin board.
Seth threw Priest into the ring and Priest hit him with a superkick. As Dominic hung Seth on the top rope, Rhea climbed onto the apron and distracted the referees. Zayn clotheslines Dominic to the outside. Rey face-blocked Zayn, but Finn kicked Zan. Seth was on the top rope but Priest hit him from behind.
A priest with a razor. The priest looks at the file in the bank and demands that Finn give it to him. Finn hesitated and finally handed him the folder. As the priest was about to cash in, Seth kicked him with a brilliant kick. Seth throws the briefcase in Dominic's face. Finn catches Seth's eye and Zayn hits Finn with a hard kick. Seth hit the priest with a stick. He walked over to the cover and picked up the pin.
Victor – Seth Rollins and Sami Zayn
Grade – A
Read Next:
Add Howdy Sports to your Google News feed.