Roman Reigns has been the face of the company for over 3 years, after capturing both of the top prizes of WWE. He has been the Universal Champion for 3 years now and the WWE Champion for over a year. Today, Reigns adds a new achievement to his career, as he officially surpasses 1000 days as the Universal Champion.
Reigns is now the longest-reigning champion of the modern era. He became the Universal Champion at Payback in 2020, where he defeated Bray Wyatt and Braun Strowman to win the championship. Since then, Reigns has had a dominant run, where he defended his championship against the likes of Edge, Daniel Bryan, Brock Lesnar, Sami Zayn, Kevin Owens, Drew McIntyre, Seth Rollins and most recently, Cody Rhodes.
Reigns also became The Tribal Chief of his faction called The Bloodline. He started the group with his cousins, Jimmy and Jey Uso along with Solo Sikoa. His personal Wise Man, Paul Heyman is also part of the group. Together, they have been dominating the blue brand for the past 3 years. On pretty much all the occasions, The Bloodline has helped Reigns to remain on the top.
The Bloodline has been part of a lot of interesting storylines, mainly the feud with Sami Zayn & Kevin Owens. Recently, The Bloodline seems to have a lot of internal issues among Reigns and The Usos. As of now, Reigns and Sikoa are set to face Owens and Zayn for the tag championships at Night of Champions.
Tension continues to rise between Roman Reigns and The Usos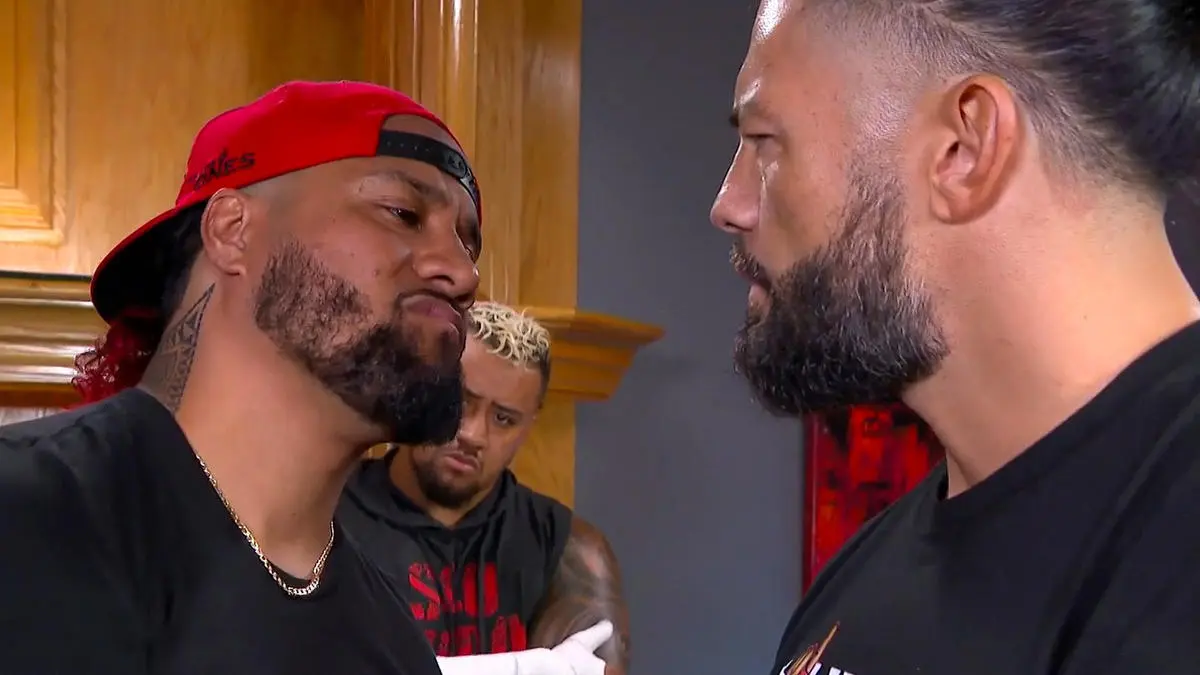 This week's episode of SmackDown strongly hinted at the split between Roman Reigns and The Usos. Over the past few weeks, things continued to get worse among the group as Reigns and his cousins.
In a backstage segment on SmackDown, Reigns expressed his excitement to hold a celebration for his 1000-day title reign. He said that he specifically wanted Jey at the celebration. This didn't sit well with Jimmy, who then got up and opted to leave. However, this provoked Reigns who challenged Jimmy to do something since he was acting tough. He then simply told him that he would have to "obey, respect and acknowledge" Reigns.
As Solo Sikoa and Roman Reigns prepare to take on Sami Zayn & Kevin Owens for the tag championship, Reigns' treatment of Jimmy could backfire on him. After this week's SmackDown,, fans have predicted that The Usos could possibly cost Reigns and Sikoa the match. Stay tuned to find out if that ends up happening.
Read Next:
Add Howdy Sports to your Google News feed.