Kurt Angle ranks his Top 3 matches with Brock Lesnar, his incredible chemistry partner. Kurt Angle without breathing space prefers Brock Lesnar in a Chamber match. Angle insists Brock will always be my preference when it comes to going on confrontations in a Chamber match. He states Brock and I have grown good chemistry working together for so long. Extending on the topic, Kurt Angle ranks his top 3 matches fought against Brock Lesnar.
Kurt Angle states "I would pick Brock in the chamber match over anybody else every single day. Brock and I have incredible chemistry, Brock is so easy and personal to work with."
Kurt Angle feels Brock is so easy and personal to work with. He firmly believes that He and Brock Lesnar can trade off significant moves in an amazing way. With the chemistry they are onto, it would be strenuous for Angle to form the same angle as with any other wrestler.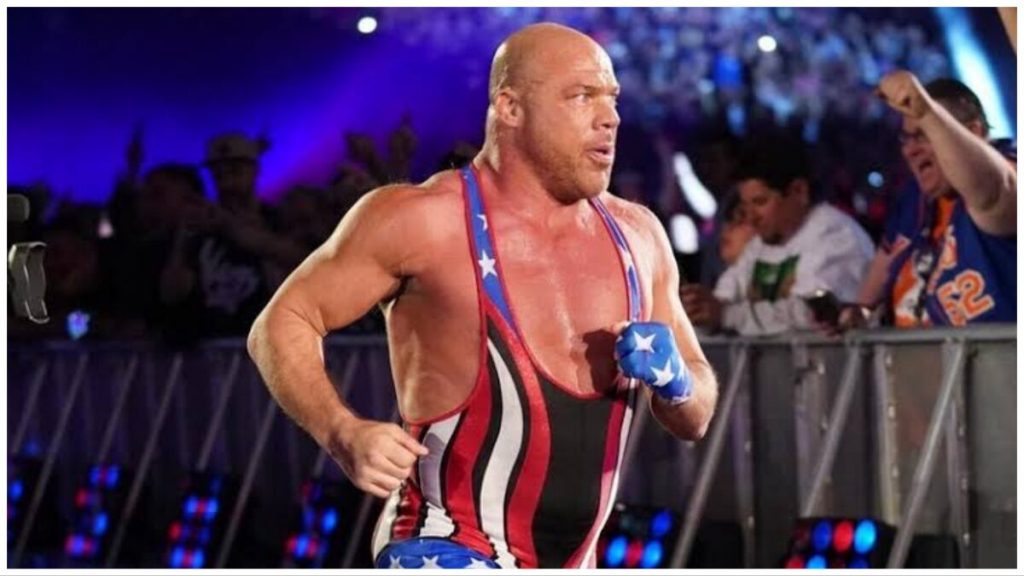 Kurt Angle illustrates Brock understands his movements and makes the bout easy to go with. It seems quite easy to be in the ring and work with Brock Lesnar. Kurt Angle highlights that the least talked about match against Brock Lesnar was SummerSlam. Angle knows the rationale behind it and he discloses it as their last match was an Iron Man match on SmackDown.
The last bout Kurt and Beast had was an Iron Man Match on SmackDown – on September 16, 2003. As people got to watch for free on WWE SmackDown, their desire to go on SummerSlam for the same match turned off. Kurt mentions the SummerSlam match of 2003 as one of the forgotten faceoffs. Angle holds WWE SmackDown responsible for the least grossing and attentive audience at SummerSlam.
Kurt Angle headlines his WrestleMania XIX contest against Brock Lesnar on the Top. Angle is quick to highlight his most grossing and exhilarating match forming incredible chemistry with Brock Lesnar. At second he places the Iron Man match that was scheduled on SmackDown. Last but not least, he ranks his SummerSlam 2003 as somewhat least cheered match in his wrestling career.
Kurt Angle ranks his top 3 matches against Brock Lesnar:-
WrestleMania XlX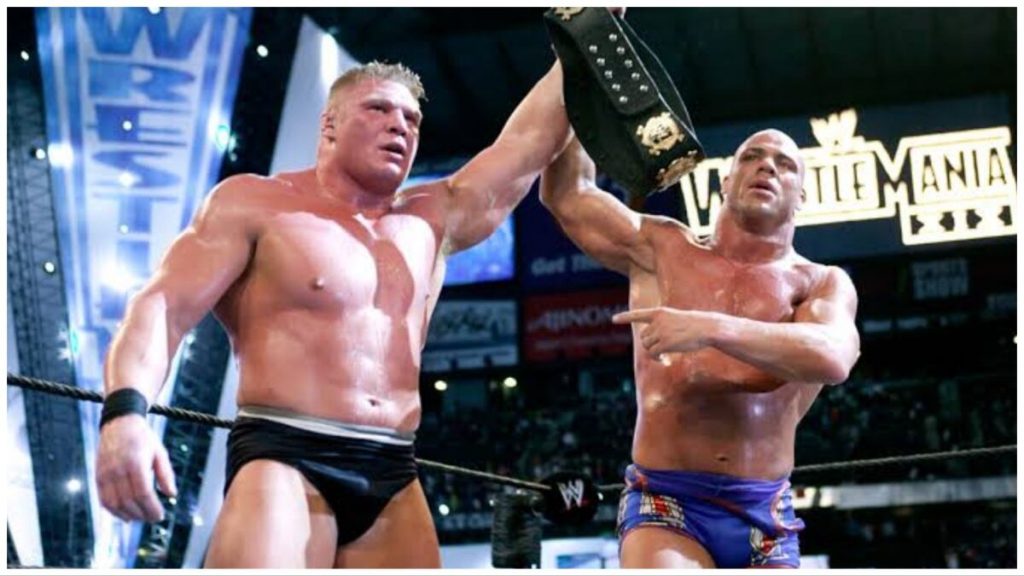 The biggest match between Kurt Angle and Brock Lesnar took place at WrestleMania XIX, where they main evented the show. Despite other attractions like Vince McMahon vs Hulk Hogan and the final Steve Austin vs The Rock match, WWE trusted Angle and Lesnar to close the event. They utilized their strengths as in-ring workers to stand out and delivered a memorable performance. The only downside was the shooting star press botch by Brock at the end. Overall, both wrestlers gave their all to close one of the best shows in WWE history.
SmackDown Iron Man Match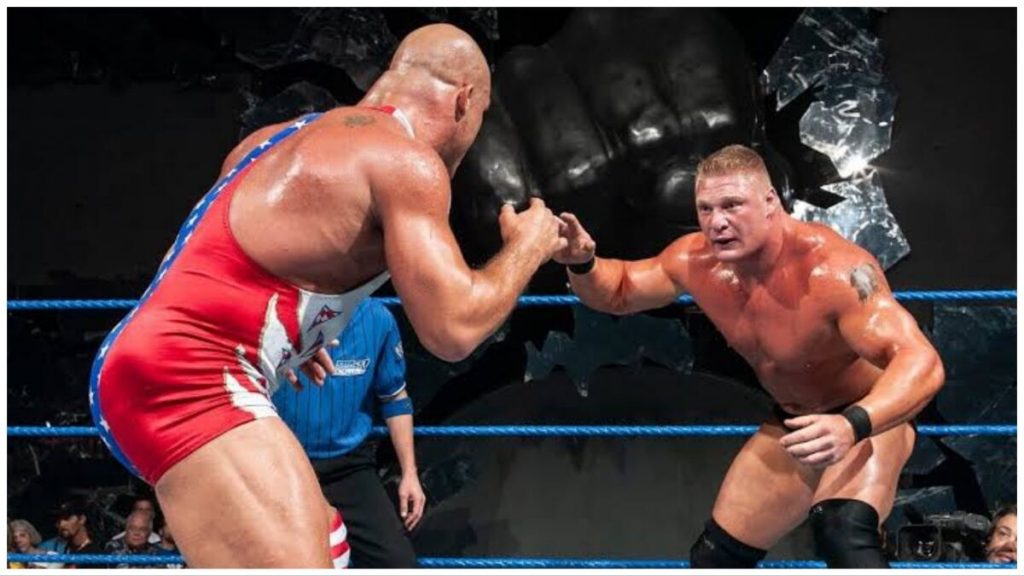 In a rare occurrence, only five Iron Man matches have been granted an hour of television time to determine the wrestler who can score the most falls. One such match took place on Smackdown, where Kurt Angle defended the WWE Championship against Brock Lesnar.
This match stood out from others with the same stipulation, as Lesnar strategically used a chair to intentionally get disqualified and secure multiple pins. Both Angle and Lesnar gave their all, resulting in a match that is widely regarded as one of the best in Smackdown history. Lesnar's victory in this match propelled him back to the top spot, setting the stage for a grand finale to their feud.
SummerSlam 2003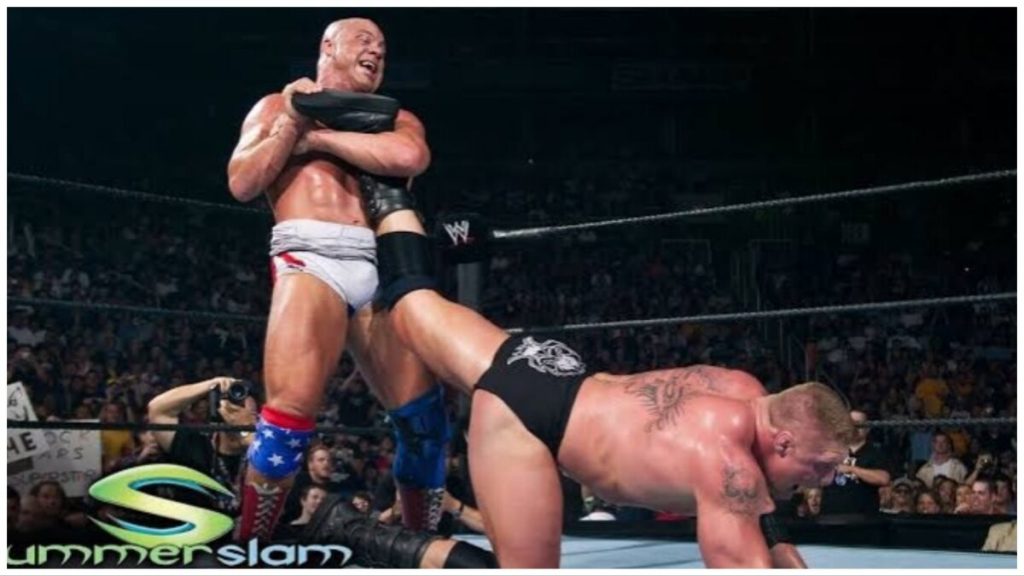 In the middle of 2003, WWE made the decision to turn Brock Lesnar into a heel when Kurt Angle returned as a face. This pairing felt more authentic. As Brock aligned himself with the evil boss character of Vince McMahon on the Smackdown brand.
At SummerSlam 2003, the audience witnessed an exciting match filled with technical wrestling and submissions. Ultimately, Angle emerged victorious, receiving a huge ovation from the crowd. To make the moment even more memorable, Angle proceeded to beat down Vince McMahon after the match.
Read Next:
Add Howdy Sports to your Google News feed.