WWE Hall of Famer Trish Stratus opens up about the time early in her career when The Rock gave her a lot of helpful advice which helped her to become one of the top stars of the women's division of WWE.
Trish Stratus recently returned to WWE in 2023 where she was a part of the Becky Lynch vs Damage CTRL storyline. She is currently in a feud with Becky Lynch, after turning against her last month. So far, Trish has been getting a lot of heat as a heel due to her betrayal.
Appearing on Out of Character with Ryan Satin, the Hall of Famer opened up about her early days in WWE. She talked about how she started out her career and how The Rock gave her ideas for her character.
Trish Stratus made her debut in the Attitude Era of WWE and quickly became a fan favorite. She would go on to work with some of the biggest names of WWE at the time, even participating in some explicit storylines. However, the person she gives the most credit to is Dwayne "The Rock" Johnson. Apparently, she wanted to follow his path and thus asked him for some advice, to which he advised her to become "The Female Rock".
"For sure, the Rock was someone who was very generous, offering me so much help. He took me aside one time and said, 'You could be the female Rock.' I was like, 'Yeah that sounds good. Yes, I want to do that.' He just meant that you could go out there and you could entertain. He had that perfect balance. It's the same thing while I grew up, Macho Man was my guy. He had that perfect balance of character and athlete. Just a perfect balance and I feel like that's what the Rock offered and I wanted to do that as well."
Both The Rock and Trish Stratus have been huge inspiration to the new generation of WWE superstars. They definitely paved the way for their respective divisions and established themselves as one of the very best. While Trish Stratus is an active part of WWE right now, the same can't be said for The Great One. It's unclear as to when he will possibly show up in the squared circle again.
Do Trish Stratus and Becky Lynch hate each other in real life?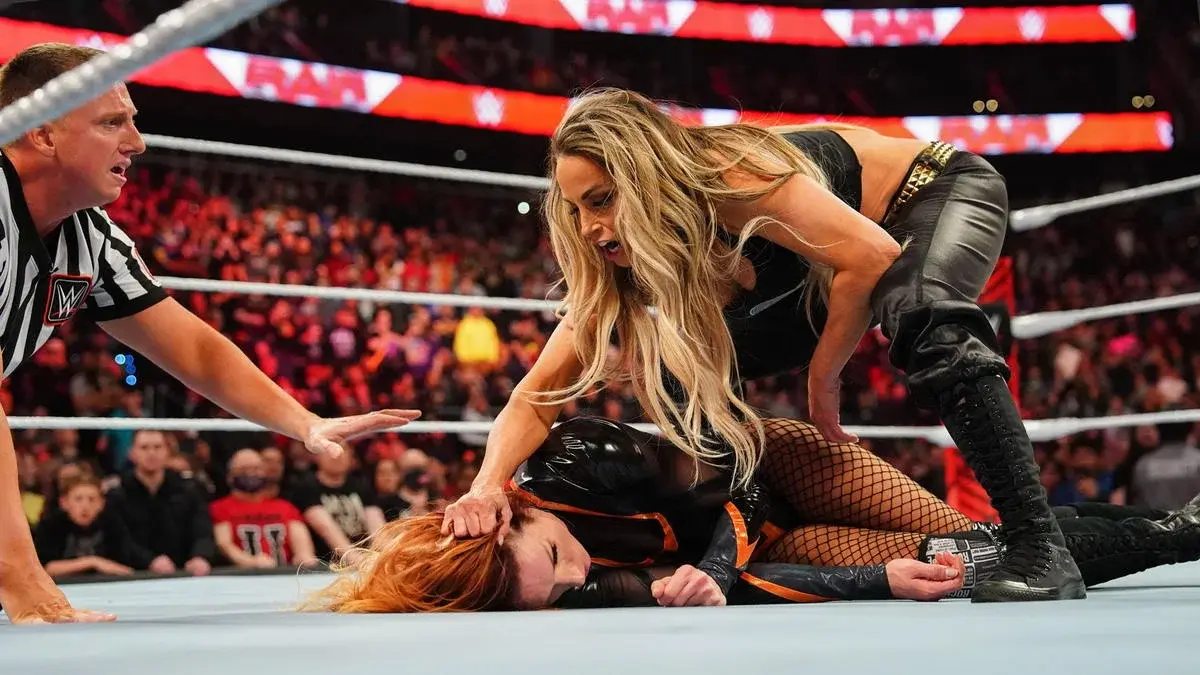 After she made her return to WWE this year, Trish Stratus allied herself with Becky Lynch and Lita. However, it didn't take long for the Hall of Famer to turn on them in a matter of weeks.
After her shocking betrayal, Trish took things to the next level in her attempts to belittle The Man. Due to Becky's absence for the past few weeks, Trish boasted that she lacked the courage to face her. She even made and circulated missing posters of Becky Lynch. At one point, she even insulted Becky's daughter, which caused The Man to lose control and attack her former friend.
But as things stand between the two in the ring, it seems like they don't really have any animosity for each other in real life. On-screen rivalries often cause some bad blood between wrestlers in real life. Fortunately, that is not the case with Becky Lynch and Trish Stratus.
Read More: "It's gonna end soon"- Edge shares update on major retirement plans
Add Howdy Sports to your Google News feed.