WWE superstar Ronda Rousey and her tag team partner Shayna Baszler lost their Women's Tag Team Championships match to Liv Morgan and Raquel Rodriguez at the July 3rd episode of Money In The Bank pay-per-view event. Ronda was upset with WWE's decision and claimed that it was wrong.
Although Rousey and her team held the upper hand during the earlier part of the match. They lost the match after Baszler attacked Ronda betraying her without mentioning the reason. Liv Morgan used this opportunity to her advantage and hit Ronda with an Oblivion to ensure her victory.  However, later on Monday Night Raw, Shayna bashed Ronda Rousey on her lousy microphone skills. She also stated the reason for her betrayal. Shayna turned against her tag team partner because "she was sick of Ronda stealing her spotlight and using her".
What did Ronda Rousey Claim?
On July 4, Ronda alleged in an Instagram post that her Money In The Bank live event got cut by WWE on three occasions and that "she still delivered a banger".
Her post gathered mixed reactions from fans with some sympathizing with her and others criticizing her for performance and behavior. Nonetheless, this has stirred up a lot of rumors regarding Ronda Rousey taking an exit from WWE. Her soon-expiring contract just adds concrete to the pillar.
What happened during the match?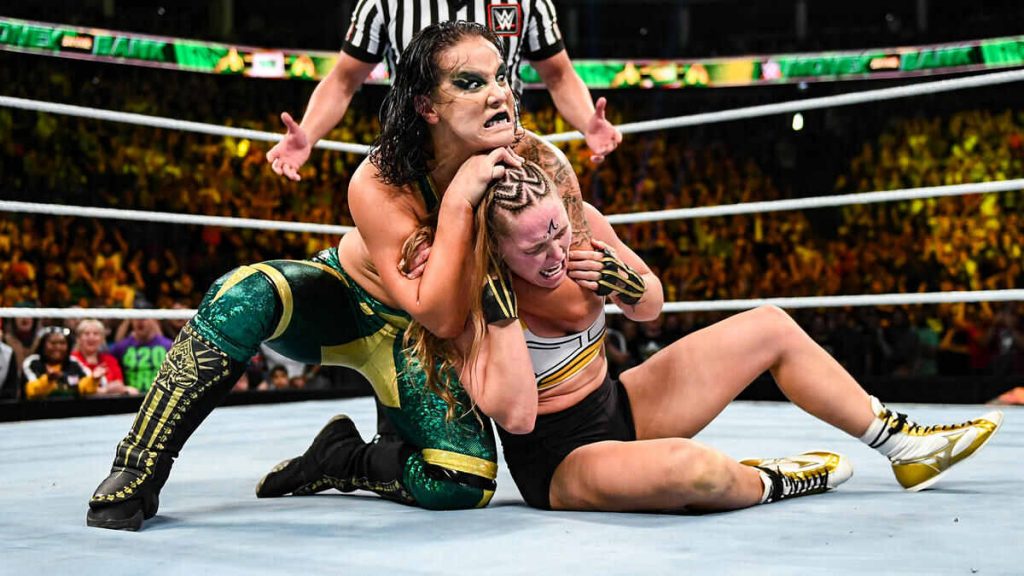 Both teams started out strong with Shanaya Baszler and Liv Morgan in the ring. However, the match did not go as anticipated as Shanaya Baszler ended up attacking her best friend Ronda Rousey, and choking her out from behind toward the end of the match. This led to both women losing the match.
WWE's Response
As of now, there has been no official statement from WWE replying to Ronda's claims. However, historically, matches often get cut short during events due to various reasons such as time constraints and match card timings. Although, it remains to be seen where this feud between Ronda and Shanaya will lead.
Ronda throughout her time with WWE, has held both the RAW and SmackDown Women's Championships. Rousey was recently serving as the Women's Tag Team Champion for the first time until her July 3rd Money In The Bank match. Although she is reportedly about to part ways with WWE.
READ NEXT
Add Howdy Sports to your Google News feed.