Asuka gives a hilarious reaction after Iyo Sky reminds Asuka of Damage CTRL holding a briefcase. As we saw in the Women's Money in the Bank ladder match Iyo Sky won the match and snatched the briefcase. In SmackDown's latest episode, Bianca attacked Asuka, then Charlotte entered to destroy Bianca and Asuka. Later Asuka gave a difficult shot to both former champions, then arrives Iyo being the money bank winner, and attacked Asuka along with Bayley. Iyo was all set to cash in her briefcase today. However, all plans go to the contrary and Bianca spoiled the plan.
Interestingly, this bout between the renowned stars of WWE will involve the attention of the public. Iyo later shared a tweet reminding Asuka that she couldn't claim the championship today but she still holds the briefcase and can do it anytime. However, Asuka shared a video as a tweet referring to the Simpsons directing Iyo to shut her mouth and stay quiet. Every time, Asuka and Iyo segment has been interesting. Let's see, who will become the next Women's Champion?
Last faceoff between Asuka and Iyo Sky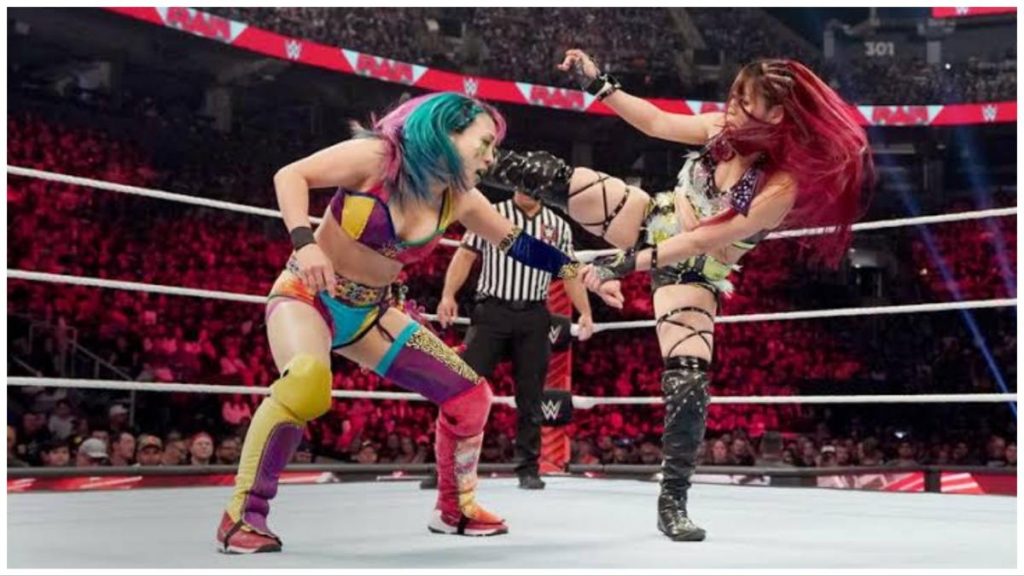 On SmackDown, Grayson Waller invited the new Raw Women's Champion Asuka on his talk show – The Grayson Waller Effect. During the segment, Asuka and Grayson Waller had a surprisingly good chemistry that fans didn't expect. However, their conversation was soon interrupted by IYO SKY, Bayley, Shotzi, Lacey Evans, and Zelina Vega, who all made claims about their Money in the Bank aspirations. The most interesting part happened when the Genius of the Sky made her entrance.
She engaged in trash-talking with Asuka in Japanese, igniting a heated exchange in their native language. The fans couldn't understand the words spoken, but the intensity of the promo was well-received. A translated clip of the segment in English has now been shared on Twitter, revealing that SKY called Asuka "a piece of s*it" and Asuka referred to SKY as s*****.
Money in the Bank bout 2023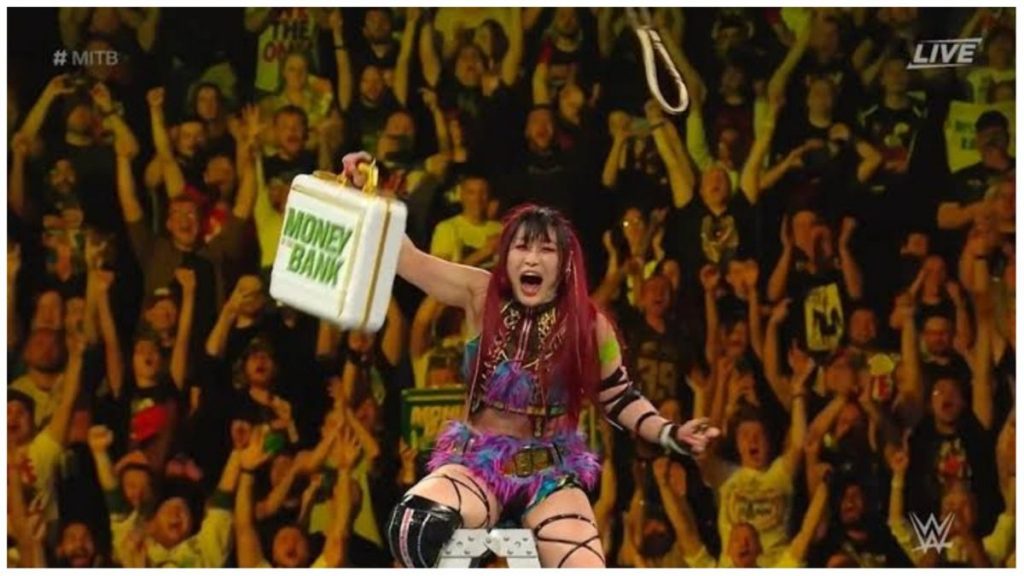 The match began with fans chanting "Hey Bayley" and both Bayley and Iyo Sky immediately fought over the ladder, creating tension within Damage CTRL. Zelina Vega attempted to grab the briefcase multiple times, even using Trish Stratus as a bridge. A chaotic scramble followed as several ladders were positioned under the briefcase, pitting former friends Becky Lynch and Bayley against each other. Bayley knocked Lynch off the ladder and executed a flying elbow drop. Sky then climbed the ladder, prompting chants of "Iyo".
The Sky executed a flying moonsault off the ladder, eliciting a loud reaction from the O2 Arena. LA Knight, the betting and fan favorite, was not the only one to impress. Trish Stratus engaged in strikes with Becky Lynch while Zoey Stark and Trish took turns fighting them off the ladder. Zelina Vega interrupted with a flying cross-body and received polite applause for scaling the ladder. However, Lynch and Stratus formed a temporary alliance, delivering a double powerbomb off the ladder before resuming their intense rivalry.
In the ring, Zoey Stark showcased her agility by swiftly traversing from one ladder to another. However, her impressive display was abruptly halted when she fell victim to a devastating move known as the Code Red. This turn of events prompted Wade Barrett to acknowledge Zoey's cousin, the Amazing Red, amidst the resounding chants of "This is awesome." Notably, Michael Cole expressed his enthusiasm for this particular Money in the Bank match, exclaiming "I've got chills!"
Iyo Sky Winning move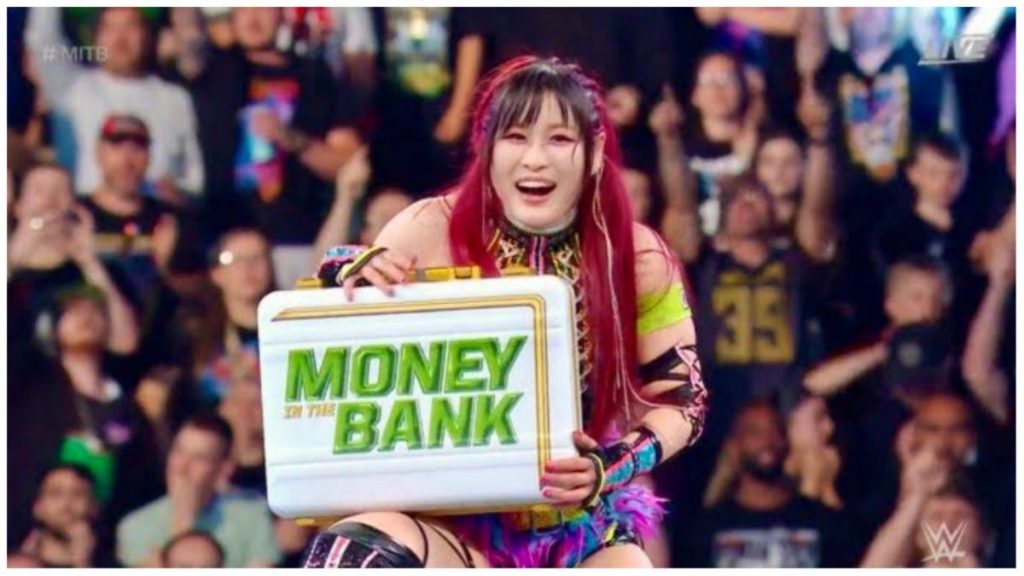 Sky attempted to scale the ladder, but Bayley pushed it over, further fueling their impending split. Becky Lynch intervened by using handcuffs as a makeshift fishhook in Bayley's mouth. Iyo came to Bayley's aid, with Barrett suggesting that Iyo was unaware that Bayley had stopped her earlier. However, Iyo handcuffed Becky and Bayley together under the ladder in a remarkable move. Disrespectfully, Iyo climbed over Bayley's body to reach the briefcase and secure the victory. Sky received chants of "you deserve it" as her star continues to rise following her breakout performance at WWE Backlash in Puerto Rico.
Read Next:
Add Howdy Sports to your Google News feed.