Daniil Medvedev admires Novak Djokovic, saying he wants to play like the Serb. Novak Djokovic is the 23 times Grand Slam champion and is playing tennis professionally at 36 years of age, which is worth admiring.
Medvedev, the Russian star in Tennis, has won 20 ATP Tour singles titles, including the 2021 US Open and 2020 ATP Finals. Seeing his achievements we can say he is a celebrity and a well-skilled player. Daniil has his career-high ranking at No.1 dated February 28, 2022, spending 16 weeks in the top position. And he is currently ranked No.3 just below Novak Djokovic.
Daniil Medvedev answered if he could play professional tennis at 36 years of age just like Novak Djokovic. To which Medvedev responded, "I think it's possible, but it definitely depends on my body and depends on my family." Novak Djokovic recently turned 36 but has the momentum of a 20-year-old in playing tennis. Novak is a fairly older player than his other counterparts, but not in the playing style. His agility and stamina in tennis sport are out of this world.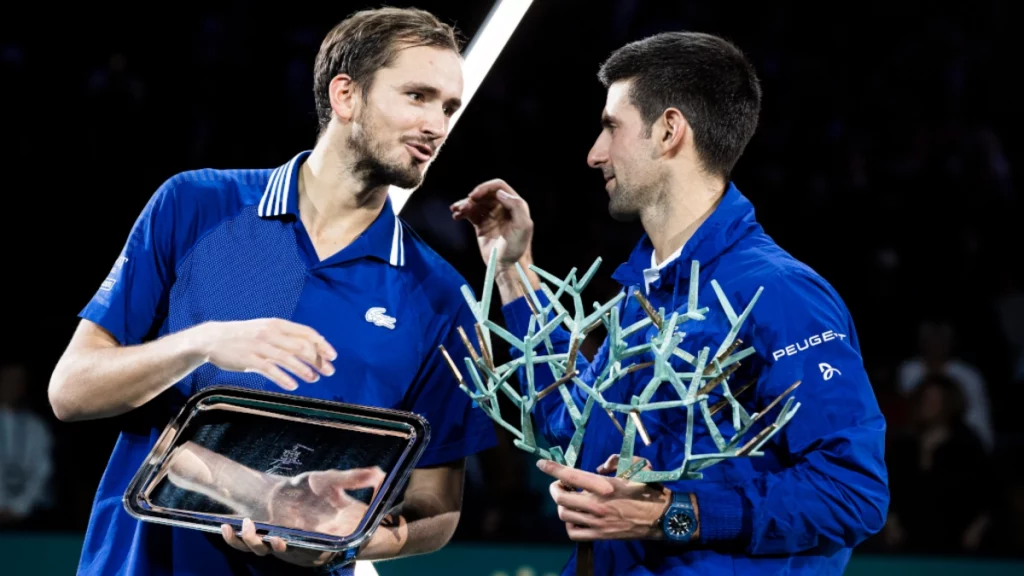 Djokovic has made a legacy in tennis, his continuity and playing style are astonishing. His commitment to his strict training schedule and his healthy diet are well-talked-about and well-documented. He is admired by most tennis fans and even his fellow players. Recently, Andrea Petkovic announced that "Novak Djokovic is GOAT" not Rafael Nadal or Roger Federer. Medvedev being 27 at this time hopes to play till 36. Also, he has a family and children which could be a factor to retire soon. Meanwhile, getting the hopes of his fans up, Daniil said, "It depends on many, many different aspects. I'm going to try my best to be able to do it."
Daniil Medvedev collated Carlos Alcaraz to the BIG 3
Medvedev was in disbelief that his best Wimbledon fight is ended. Medvedev lost his match in the semi-finals to the World No.1 Carlos Alcaraz on Friday. with a scorecard of 6-3, 6-3, 6-3.
But his defeat in the semi-finals was not worth less. The World No. 3 advanced to the quarter-finals for the first time in Wimbledon. He has now played in all four major tournaments and reached the quarter-finals in all of them. Which is an outstanding feat for the player.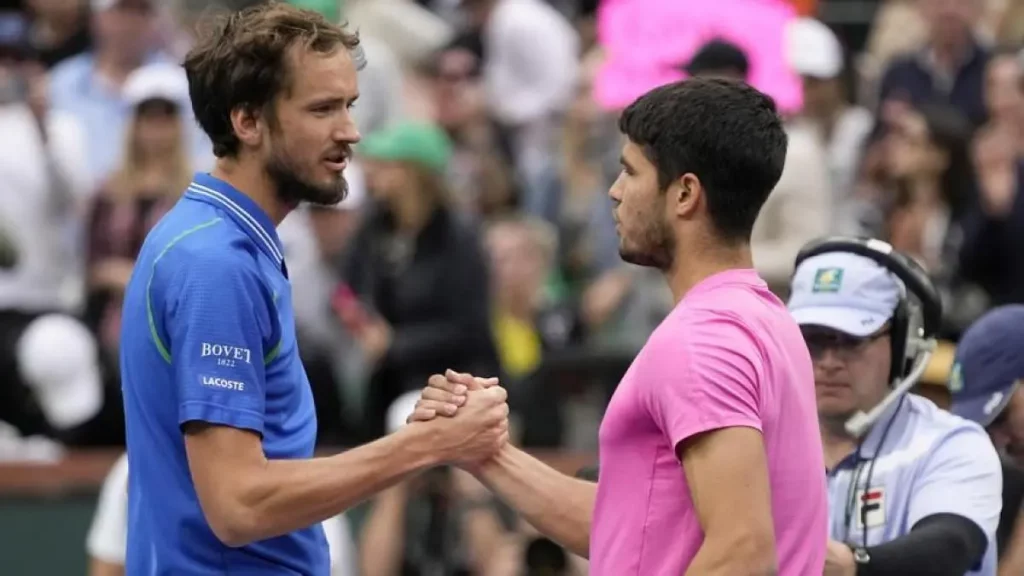 Even before Alcaraz won his Wimbledon title, Daniil Medvedev shared his opinion on Carlos Alcaraz and how big of a player he is. Medvedev says "He's a very strong player."
"I would say in general to compare like the Big 3, they're amazing, they win so many Grand Slams, they win so many matches. He's kind of like them. He's still 20. Already has one Grand Slam. Playing great. Been No. 1 for many, many weeks."
Medvedev feels motivated by him and wants to give his absolute best in Tennis and make a name for himself.
READ NEXT:
Add Howdy Sports to your Google News feed.