WWE SummerSlam kicks off at Ford Field, Detroit. Since 2007, this is the first time where WWE has headed to Detroit for the main event of SummerSlam. Let us have a look at WWE SummerSlam 2023 Results and Highlights.
| | |
| --- | --- |
| Matces | Winners |
| Logan Paul vs. Ricochet | Logan Paul |
| Brock Lesnar vs. Cody Rhodes | Cody Rhodes |
| SummerSlam Battle Royal | LA Knight |
| Ronda Rousey vs. Shayna Baszler | Shayna Baszler |
| Intercontinental Championship match: Gunther (c) vs. Drew McIntyre | Gunther |
| WWE World Heavyweight Championship match: Seth Rollins (c) vs. Finn Bálor | Seth Rollins |
| WWE Women's Championship triple threat match: Asuka (c) vs. Bianca Belair vs. Charlotte Flair | Bianca Belair won, however lost to Iyo Sky |
| Tribal Combat: Roman Reigns vs. Jey Uso | Roman Reigns |
WWE SummerSlam 2023 Results: Logan Paul vs. Ricochet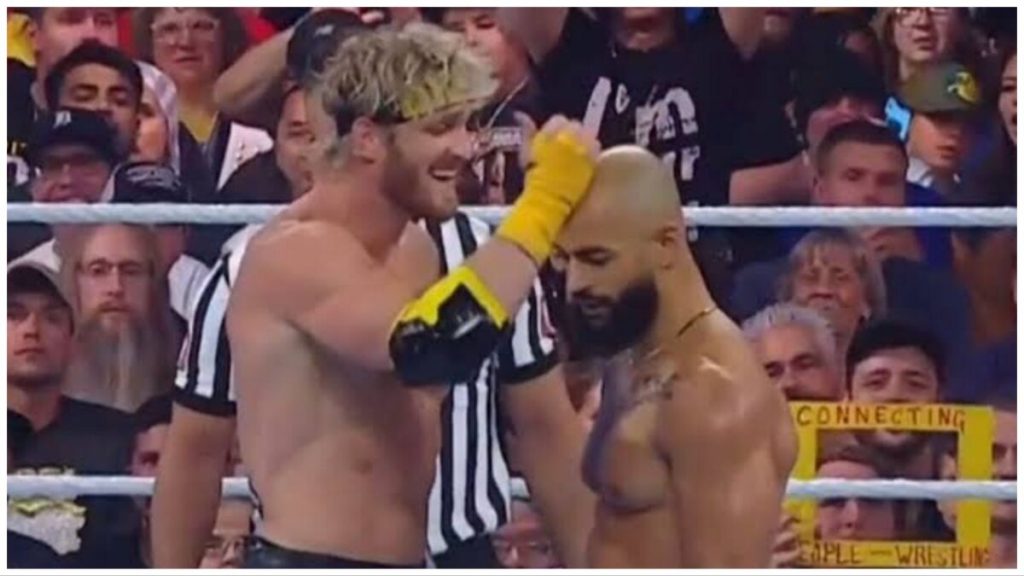 The bout commenced with both competitors locked in a gaze, Paul affectionately patting Ricochet's head while the latter responded with a playful slap. Ricochet wasted no time in unleashing his acrobatic prowess, teasing an outside move and swiftly kicking the high-flying action into full throttle. Reversals were exchanged before Paul delivered a powerful elbow strike that sent Ricochet sprawling to the canvas.
To impede Ricochet's momentum, Paul employed a chin lock, which was met with boos from the crowd. A Rude Awakening neckbreaker executed from the ring apron left Ricochet incapacitated on the mat. Paul followed up with well-placed boxing shots to prepare for his upcoming venture inside the boxing ring. Emulating his partner Braun Strowman's signature move, he executed a running power slam that showcased his immense strength.
He then paid homage to Hulk Hogan by delivering an impactful big boot and leg drop. However, Ricochet refused to be defeated easily and retaliated with a spinebuster followed by an impressive People's Moonsault maneuver. On the apron, Paul attempted a Spanish Fly but it was countered as Ricochet successfully executed one on solid ground instead. Ignoring its impact, Paul rebounded with a forceful springboard clothesline against the barricade. Paul continued to display his athleticism by executing high crossbody and moonsault maneuvers; however, they only garnered him a two-count from the referee.
Winning move
Ricochet executed a Hurricane Neckbreaker from the top position. Inside the ring, Ricochet delivered a series of punishing strikes and performed his own springboard clothesline, followed by an impressive moonsault. These individuals are fully committed to showcasing their daring moves. Paul countered with a DDT after missing a moonsault from the middle rope, causing the crowd to remain on their feet in anticipation. Ricochet retaliated with knees to Paul's face but was caught off guard when Paul countered from the top rope using his knees as well.
Paul then executed a Facebuster, followed by a Springboard frog splash that only earned him a two-count. Ricochet responded with a Superkick and Detonation Kick, concluding with another moonsault that also resulted in only a two-count.
Ricochet climbed to the top rope for his signature 630 Splash, Paul managed to evade it successfully. Taking advantage of this opportunity, one of Paul's associates handed him brass knuckles which he used to land an impactful punch on Ricochet for the victory.
As Michael Cole commented during this remarkable match, it was indeed great; however, it's ending left much to be desired due to Paul resorting to cheating tactics in order to secure his win. Nevertheless, both competitors delivered an outstanding performance that will undoubtedly be discussed among wrestling enthusiasts.It is quite astonishing how quickly Logan Paul has adapted to this world of professional wrestling and showcased such versatility within a short span period of time.
Victor – Logan Paul
Grade – A
Brock Lesnar vs. Cody Rhodes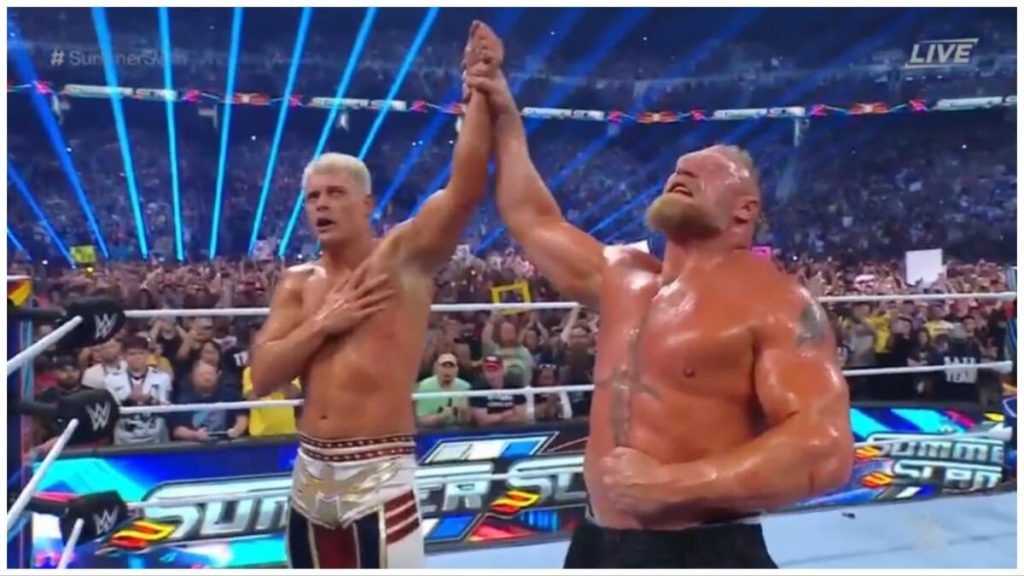 The particular wrestling match had an undeniable aura of importance, surpassing even the significance of their previous encounters. Rhodes wasted no time in initiating the action, displaying a high level of intensity from the very beginning. Lesnar effortlessly tossed Rhodes around, while Rhodes retaliated with his own signature moves.
Eventually, Lesnar gained complete dominance by subjecting Rhodes to multiple suplexes and executing an F5 outside of the ring before delivering another one on top of the announcer's table. However, each time Rhodes managed to reenter the ring in order to prevent a count out. "The American Nightmare" finally seized control and successfully executed a Cody Cutter from atop the ropes; however, Lesnar kicked out at two.
Ultimately, it was three consecutive Cross Rhodes that allowed Rhodes to triumph over "The Beast Incarnate," securing his second victory against him in convincing fashion. What followed after this surprising outcome was unanticipated: Lesnar extended his hand as a gesture of respect towards Rhodes, embracing him and raising his arm as a symbol of victory—a sight that brought immense delight to every WWE fan.
Winner – Cody Rhodes
Grade – A
SummerSlam Battle Royal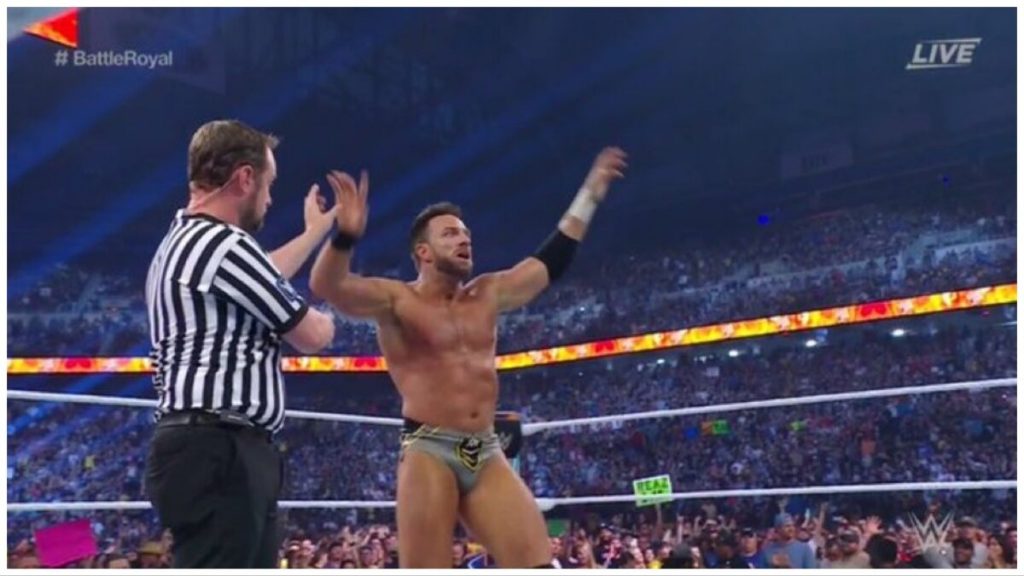 In the opening stages of the 20-person match, the formidable Omos wreaked havoc on the field. With an impressive display of strength, he swiftly eliminated the first three superstars and effortlessly shrugged off a combined attack from six others. Tommaso Ciampa also showcased his skills by eliminating three opponents in succession before being thrown out by Bronson Reed.
Omos continued his dominant performance with back-to-back eliminations of Butch and Matt Riddle. However, this success sparked a temporary alliance among his remaining adversaries as they united against him. Every superstar left in that ring unleashed their fury upon Omos. The climax came when AJ Styles, Omos' former mentor, delivered a Phenomenal Forearm to eliminate him.
The final three contenders vying for victory were AJ Styles himself, Sheamus, and LA Knight. Unfortunately for Styles, Karrion Cross interfered and played a part in his elimination from contention. This set up an intense showdown between LA Knight and Sheamus with fans eagerly anticipating who would emerge victorious. In an exciting turn of events that delighted fans yearning for their favorite star's rise to prominence, LA Knight managed to eliminate Sheamus from the battle royal and emerged triumphant.
Winner – LA Knight
Grade – C
MMA rules match: Ronda Rousey vs. Shayna Baszler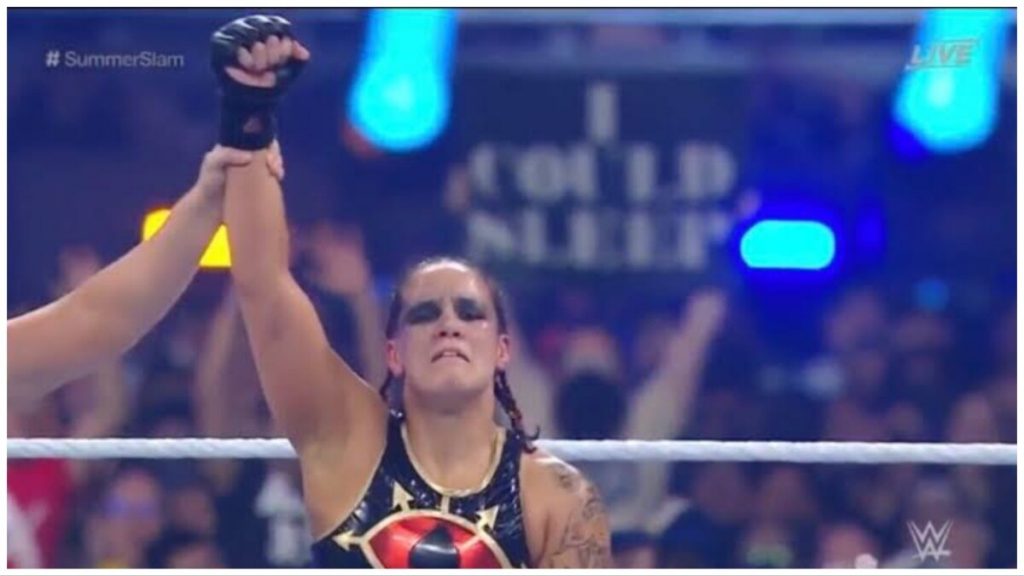 Witnessing a mixed martial arts (MMA) rules match within the confines of a WWE ring may appear peculiar at first glance. However, upon closer examination, this unconventional setting is justified by the participants' shared background in MMA. The initial stages of the match flowed seamlessly, highlighted by Rousey's impressive display with a flying knee strike.
Nevertheless, when Baszler required medical assistance, the referee intervened and called for trainers to attend to her. This decision irked Rousey who promptly expelled the trainers from the ring. Consequently, Baszler was afforded sufficient time to recuperate and regain her footing in the competition.
The two executed their submissions subjected to various switchings. In the last, Shayna Baszler claimed victory over Ronda Rousey.
Winner – Shayna Baszler
Grade – B+
WWE SummerSlam 2023 Results: Intercontinental Championship match: Gunther (c) vs. Drew McIntyre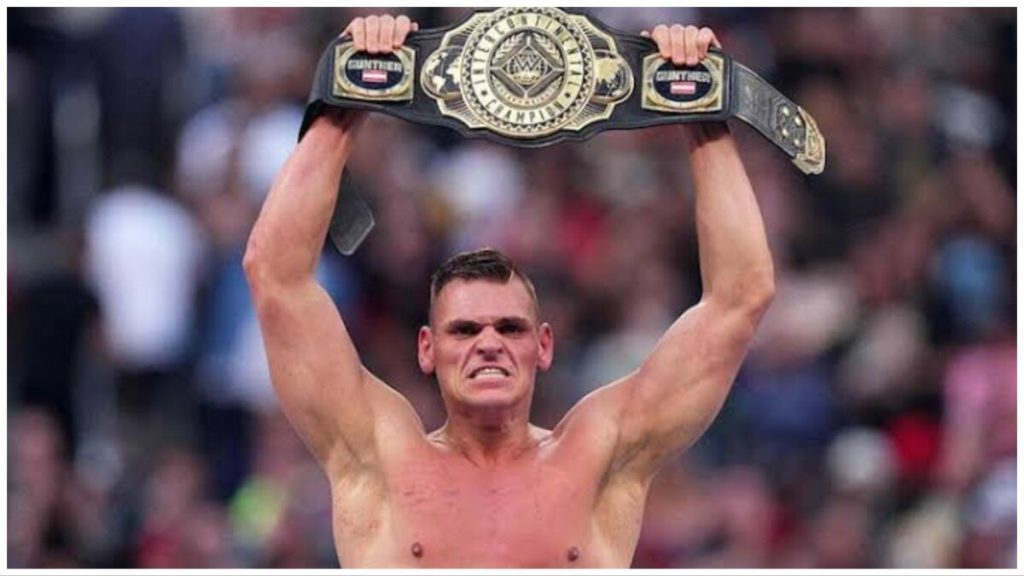 Engaged in a fierce battle, they carefully assess each other's strength, fully aware of the brutality that lies ahead. Gunther swiftly takes down McIntyre with a forceful shoulder tackle, revealing a rare moment of vulnerability. However, McIntyre retaliates with powerful chops and lands a devastating headbutt. Seizing an opportunity on the outside, Gunther slams McIntyre onto the unforgiving steel steps, causing immense pain to his spine.
Resuming their intense exchange, Gunther dominates with his relentless chops and forces McIntyre onto his back. Fueled by frustration, McIntyre engages in an explosive series of clotheslines and suplexes against Gunther. The display is nothing short of mesmerizing as both wrestlers showcase their remarkable power and skill.In a thrilling turn of events, McIntyre appears poised to dethrone "The Ring General" and end his reign as Intercontinental champion after delivering a crushing claymore kick.
Yet miraculously, Gunther manages to kick out just in time. With both competitors perched on the top rope, Gunther seizes control by trapping McIntyre on. He then unleashes a flurry of attacks—a frog splash, clothesline, and powerbomb combination—ultimately pinning McIntyre for victory. Gunther takes one step closer to becoming the longest-reigning Intercontinental champion in history. His path toward this historic achievement continues unabated.
Winner – Gunther
Grade – A
WWE SummerSlam 2023 Results: World Heavyweight Championship match: Seth Rollins (c) vs. Finn Bálor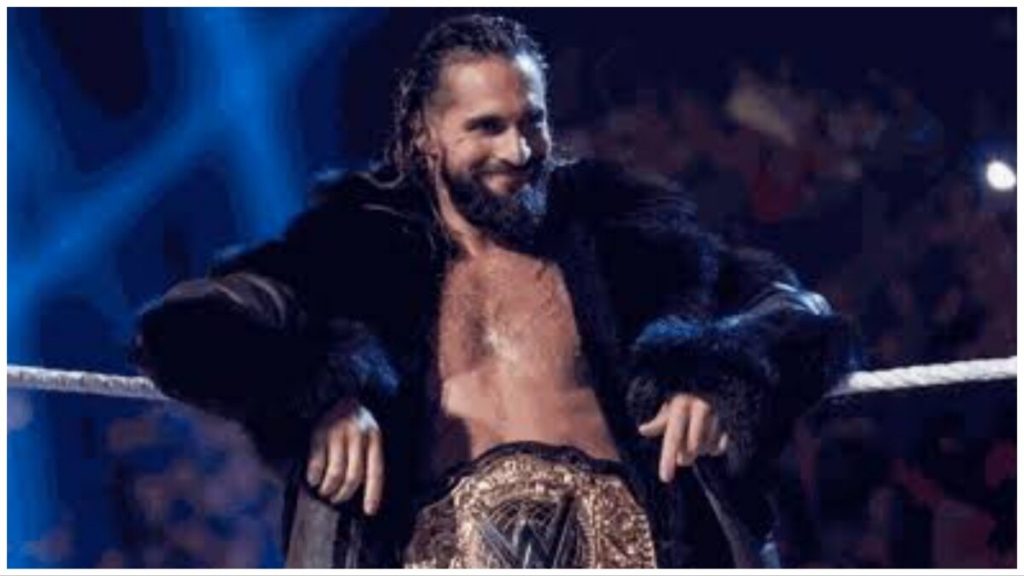 The rivalry between Seth Rollins and Bálor has evolved into one of the most captivating in recent years, and once again, they delivered an outstanding performance. There were several nods to their previous encounter seven years ago, with Bálor executing the same move that had cost him his title against the outside wall in that unforgettable match.
The excitement reached new heights when Damian Priest, the men's Money in the Bank winner, made an appearance hinting at a potential cash-in. Priest managed to land a sneaky blow on Rollins, but miraculously Rollins was able to kick out. As tension mounted, Rhea Ripley and Dominik Mysterio from The Judgment Day faction entered the scene.
Bálor found himself distracted by Priest while Rollins capitalized with a curb stomp; however, Bálor still managed to kick out. In a surprising turn of events, after Rollins shifted his focus onto Priest and Mysterio once more, Bálor executed a coup de grâce on Rollins who defiantly kicked out yet again. Unfortunately for Bálor though, Priest intervened once more by diverting the referee's attention allowing Rollins to successfully use his briefcase during the curb stomp to retain his title. These incidents continue to demonstrate growing tensions within The Judgement Day faction.
Winner – Seth Rollins
Grade – A+
WWE SummerSlam 2023 Results: Women's Championship triple threat match: Asuka (c) vs. Bianca Belair vs. Charlotte Flair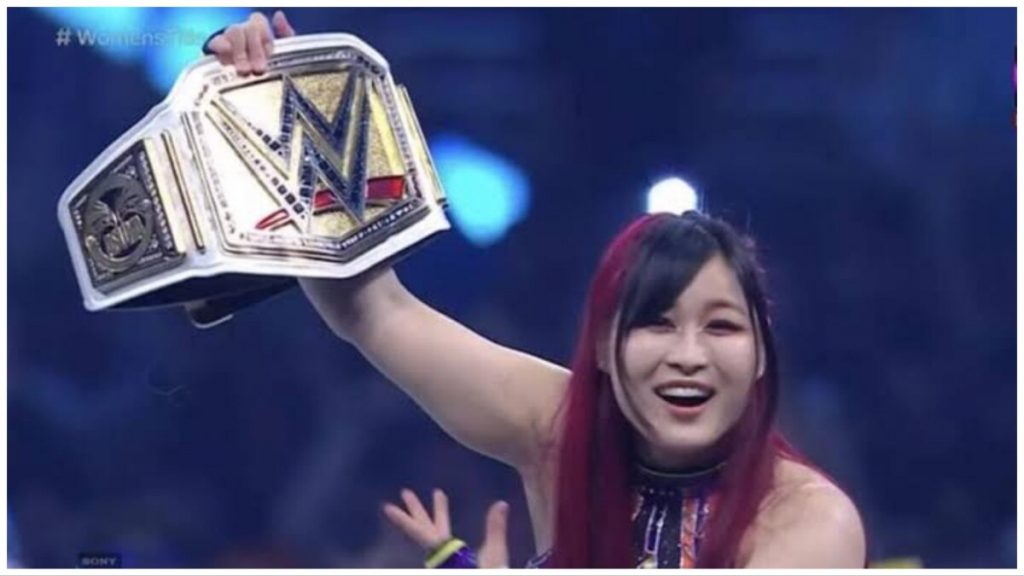 The WWE match featured three of the most talented female wrestlers on the roster, creating high expectations. However, there were a few shortcomings in this bout that slightly diminished its impact. Nevertheless, the conclusion of the match was truly remarkable. While the overall flow of the contest lacked consistency, there were notable instances where each wrestler showcased their signature moves to gain an advantage.
During one tense moment, Belair appeared to sustain a genuine knee injury and worsened her condition by landing on steel steps. This temporarily removed her from contention and transformed it into a one-on-one championship clash between Asuka and Flair. Despite these setbacks, Belair made an impressive comeback by executing a flawless 450 splash on Flair; unfortunately, she couldn't secure the pinfall victory.
Asuka intervened by utilizing her unique blue spit against Flair just as she was about to win with her Figure Eight submission hold. Capitalizing on this opportunity, Belair swiftly rolled up her opponent for a pinfall victory reclaiming the title.
Highlight
However, Iyo Sky cashes in Money in the Bank with the assistance of Bayley. She easily overpowers the exhausted Bianca and we get our Winner to be Iyo Sky and she is the New WWE Women's Champion.
Winner – Iyo Sky
Grade – A+
WWE SummerSlam 2023 Results: Tribal Combat for Undisputed WWE Universal Championship: Roman Reigns (c) vs. Jey Uso
The moment Reigns and Uso stepped into the wrestling ring, the intensity skyrocketed, leaving no room for boredom throughout the match. Kendo sticks and steel chairs became popular tools of combat, unleashing a flurry of finishing moves from both competitors. However, each time one unleashed their signature move, the other managed to kick out.
In an unfortunate turn of events, Reigns suffered a cut on his left arm after being slammed onto a table during a Samoan drop and being struck by a leather strap. As chaos ensued and spilled into the crowd, Solo Sikoa appeared to aid Reigns in attacking his brother.
The tables quickly turned when Sikoa found himself at the receiving end of both Uso's lethal spike and Reigns' powerful spear – inadvertently caused by Uso skillfully dodging out of harm's way. Just as victory seemed within reach for Uso as he attempted to pin Reigns down for good, he was abruptly pulled away by an unexpected masked figure – none other than Jimmy Uso himself.
The shocking betrayal continued as Jimmy delivered a superkick to Jey before making his exit from the ring. Seizing this opportunity created by his twin's interference. Reigns capitalized on it with a spear that sent Jey crashing through a table – ultimately securing him the victory. Allowing him to retain his championship title as well as asserting himself yet again as Tribal Chief in grand fashion.
Winner – Roman Reigns
Grade – B
Read Next :
Add Howdy Sports to your Google News feed.