Stefanos Tsitsipas makes it clear that he does not have any problem with Daniil Medvedev. Tsitsipas also quoted him as funny. During a recent Instagram Live, Stefanos Tsitsipas commented about Daniil Medvedev's tomfoolery and cleared the smoke between the two.
Stefanos Tsitsipas was seeded No.5 in the 2023 Wimbledon. And has a career-high ranking of No.3 in the ATP. Also, he is the highest-ranked Greek professional tennis player. On the other hand, Daniil Medvedev was seeded No.3 in the 2023 Wimbledon and is the former world No.1 in ATP. He held that No.1 spot for 16 weeks. Medvedev is the champion of the 2021 U.S. Open along with the 2020 ATP finals and 20 ATP tour singles titles in total.
Medvedev and Tsitsipas shared a court playing against each other at the 2018 Miami match. They even went against each other in the 2022 Australian Open and things got a bit rough.
The previous year in the 2022 Australian Open match, Daniil got very frustrated as Stefanos's father Apostolos coached every single point to his son. While Stefanos was on Instagram Live along with his girlfriend Paula Badosa, he was asked to talk about the Russian. Also, in this talk, Stefanos Tsitsipas talked about Daniil Medvedev's tomfoolery and said, "I find him funny sometimes". Briefly Tsitsipas shared his views on the Russian as a good friend and also as a good player.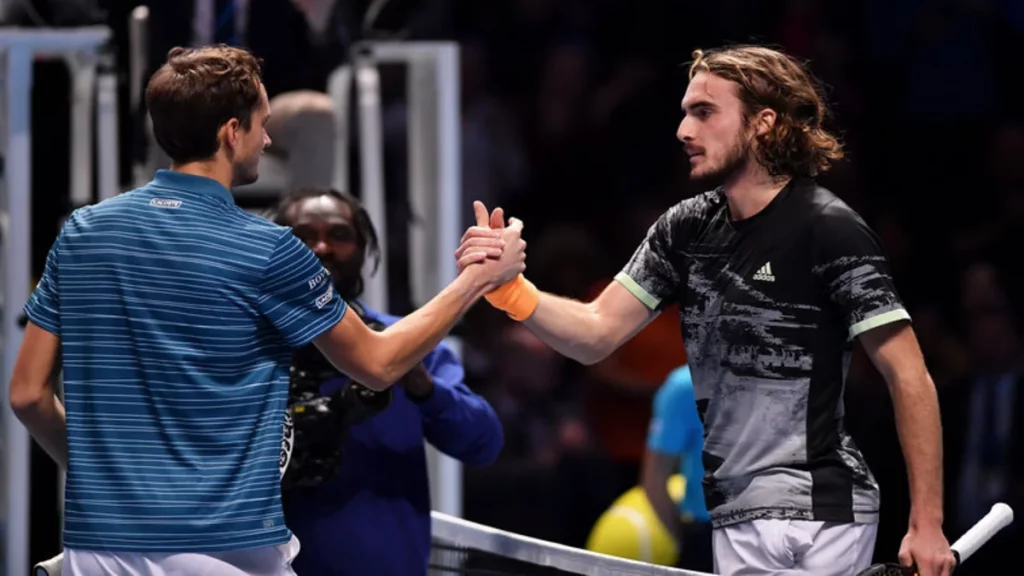 Stefanos Tsitsipas said, "I find him funny sometimes on the court when he does his antics. You want to go and play tennis and not spend 10 minutes talking, but sometimes they're fun. Especially when you see them again on replay. He has a game of very unorthodox tennis. One of the most unorthodox tennis players that I have seen in my career. But somehow, he makes it work. He makes it work in his favor pretty well."
He has a very unique style. And a difficult player to play – because he serves big. He doesn't make a lot of unforced errors. He doesn't miss a lot. And he has the ball in play most of the time. He is not a creator, but a player.

He doesn't create a play. He doesn't construct much of the play. But instead, he waits. He reads. And patience is one of his strongest components,

Stefanos Tsitsipas.
Carlos Alcaraz's message for Novak Djokovic
Carlos and Novak had a very intense 5-set match at Wimbledon. They both showed what they are capable of. World No.1 was up against World No.2, but in the end Carlos Alcaraz claimed the triumph. Carlos Alcaraz as well as Novak Djokovic performed their best to beat their opponent. Carlos Alcaraz won the match with a score of 1-6, 7-6 (6), 6-1, 3-6, 6-4 in the Wimbledon finals. Alcaraz had a final message for the Serb "I'll be keeping an eye on him".
He even thanked Martina Navratilova for her amazing advice that helped him win against Novak Djokovic.
READ NEXT:
Add Howdy Sports to your Google News feed.