Money in the Bank 2023 ladder event, Logan Paul and Ricochet participated in a zero-sum ladder match alongside five other wrestlers. Throughout the contest, Logan Paul and Ricochet created several catchy moments that captivated audiences worldwide. At a crucial moment in the match, both athletes got themselves engaged in an intense battle atop a ladder. However, Knight intervened and pushed them over, causing Ricochet to make a Springboard Spanish Fly on The Maverick. Unfortunately, the move did not go as planned, resulting in both wrestlers crashing through a table on the floor.
Paul's face collided with the table, prompting the ringside authorities to quickly attend to him. The daring move left the audience in utter shock, causing both Paul and Ricochet to be unable to continue participating in the match. Had it not been for Ricochet's interference, Paul could have secured the 2023 WWE Money in the Bank contract. This defeat may lead Paul, known as The Maverick, to hold Ricochet accountable, igniting a feud that will culminate at SummerSlam 2023.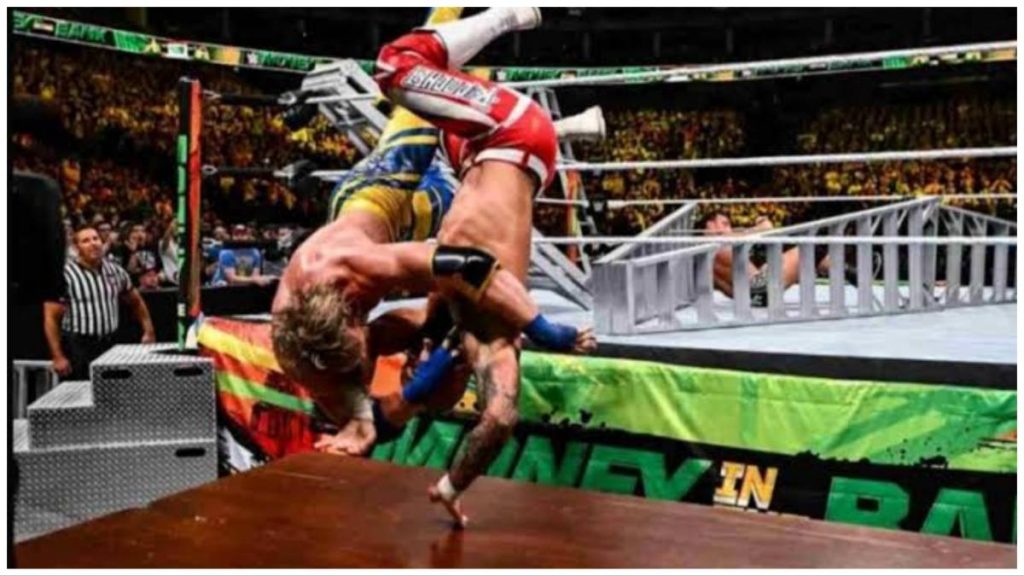 Ricochet and Logan Paul to fight one-on-one
If Paul and The One and Only were to face off, their match would likely be filled with numerous major spots that could potentially go viral. Social media numbers have become a crucial signal of an event's success for WWE, and The Maverick has consistently delivered in that area. With a potential victory over Ricochet in Detroit, Paul would have the bragging rights of defeating a former champion before moving on to greater things in the promotion. It's worth noting that Ricochet and The Maverick previously generated a popular moment. At the time they got engaged in midair during the 2023 Men's Royal Rumble Match, amazed the audience.
Undoubtedly, This feud if fixed will grant a chance to the WWE creatives to enlist Logan Paul as a significant performer. The SummerSlam of 2023 will become thrilling with this Ricochet and Logan faceoff. Fans are very excited about this high-stakes battle. The faceoff of Ricochet and Logan also secured a significant place in the Money in the Bank 2023 match.
Ricochet appreciates Logan Paul's wrestling ability
Logan Paul's matches against Roman Reigns and Seth Rollins have elevated his status in the company. Furthermore, His performance in this year's Royal Rumble Match was impressive, catching the attention of Ricochet. Recently, In an interview with Digital Spy, Ricochet praised Paul's dedication to improvement. Consequently, Ricochet respects Paul for his commitment to getting better.
The audience is deeply interested to watch this bout at SummerSlam 2023 in Detroit. Fans are impressed by the series of interactions between Logan Paul and Ricochet. Consequently, they are eagerly waiting for this battle.
Read Next:
Add Howdy Sports to your Google News feed.