Roger Federer's ex-coach Paul Annacone feels that Carlos Alcaraz and Novak Djokovic are 'better than everyone' in the ATP Finals in Turin.
Djokovic and Alcaraz are the top two players playing in the 2023 ATP Finals. Novak Djokovic who won the Paris Masters last week will play in the Nitto ATP Finals and look to defend the title. He has already won three Grand Slams and two Masters titles this season. He will compete for his seventh Finals title this time.
Carlos Alcaraz will make his debut at the 2023 ATP Finals. He has been grouped alongside Daniil Medvedev, Andrey Rublev, and Alexander Zverev in the tournament and is seeded second. He has won 5 titles this season, including the 2023 Wimbledon Open and two Masters titles at Indian Wells and Madrid Open.
As we move our focus to the ATP Finals, Alcaraz and Novak Djokovic are the only contenders for ending the year at the No.1 spot. Annacone feels that they are playing at a level higher than the rest of the players and Daniil Medvedev is somewhat close to them. 
"I think Alcaraz and Djokovic are a little bit better than everybody and then I would probably give Medvedev the next tip of the cap"

-Roger Federer's former coach in a podcast with Tennis Channel
Alcaraz and Djokovic have faced each other thrice. Djokovic has lost only one match in all four Grand Slams that too against Alcaraz in the finals of the 2023 Wimbledon Open. The other times they faced each other were at the semifinal of the French Open and the finals of the Cincinnati Open and Djokovic won both of them. 
---
'It is tough to ignore his presence', Stefanos Tsitsipas' take on Novak Djokovic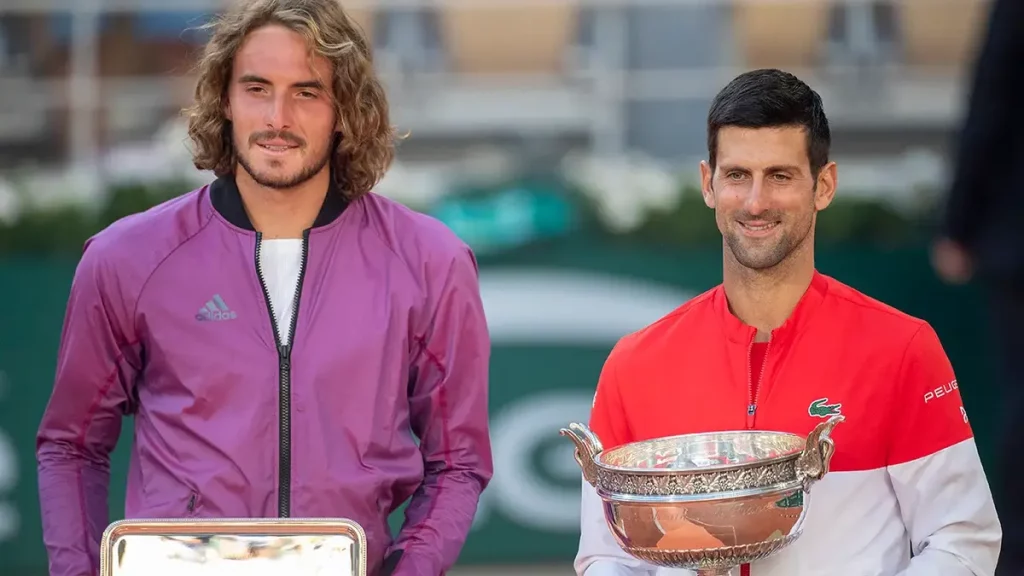 Stefanos Tsitsipas says that it is difficult to play against Djokovic due to his 'big presence' on the court.
Stefanos Tsitsipas will play in the 2023 ATP Finals in Turin. He has been drawn into the Green Group with Novak Djokovic, Janik Sinner, and Holger Rune. He will play his first match against Janik Sinner.
Novak Djokovic will fight for his seventh ATP Finals Title and Tsitsipas for his second. His first title came in 2019. But as he faces Djokovic in the round-robin stage of the tournament, he feels that it is tough to 'ignore the presence' of the 24-time Major winner on the court. He also added:
"He has very good body language and his mental state and clarity when he plays is something you can really see that he's very focussed in the task and in the goal that he carries with him"

-Stefanos Tsitsipas at the ATP Finals
Add Howdy Sports to your Google News feed.