Holger Rune was all praise for Novak Djokovic as he recalls him meeting the legend in 2019 as his hitting partner at the Nitto ATP Finals.
Fast forward 4 years, Rune is now playing at the 2023 Nitto ATP Finals in Turin against Novak himself. The tournament features the top 8 players from the singles and doubles category.
Holger Rune belongs to the Green Group and he has been grouped alongside Novak Djokovic, Janik Sinner, and Stefanos Tsitsipas. Rune will clash with the Serb in the round-robin stage of the tournament.
Ahead of their clash, a video surfaced on various social media platforms featuring both Novak Djokovic and Holger Rune. The video features Rune playing as a hitting partner to Novak Djokovic at the ATP Finals in 2019.
Rune was just 16 years old when he got this opportunity. Four years later, Rune is making his debut at the 2023 ATP Finals as a 20-year-old boy. He said to ATP Media how amazing it is to compete against Djokovic now. 
He will play his first match against Novak Djokovic on Sunday. He has defeated Djokovic two out of four times they have played each other. He is hopeful of a good result in his debut match at the Finals. He defeated Djokovic in the finals of the 2022 Paris Masters but lost to him in the quarterfinal of this year's edition. On the other hand, the Serbian is in tremendous form and is the favorite to win the title for the seventh time. 
Talking about his opponent, Rune said that one cannot expect Djokovic to have an off day, who loses four to five matches in a year. He can only expect to give his best when they face each other. He mentioned how 'amazing' it is to share the court with Djokovic, and how he gets to learn something new every time he plays against him.
"You cannot wish that he misses a shot or wish that he has an off day. He probably loses four to five matches a year, so he doesn't have off days."

-Holger Rune to ATP Media
🎙️ "It's amazing," @holgerrune2003 after being shown a video of his 16y self hitting with @DjokerNole at the 2019 #ATPFinals 🎾

Mostly knowing that there was a small boy practicing being a hitting partner, to now competing against [Djokovic], it's cool!https://t.co/dag96QzMtl pic.twitter.com/KP7uP8MUZu

— TRAVEL&Sp🎾rts (@travel__Sports) November 11, 2023
---
Novak Djokovic praised Holger Rune after their quarterfinal clash at the Paris Masters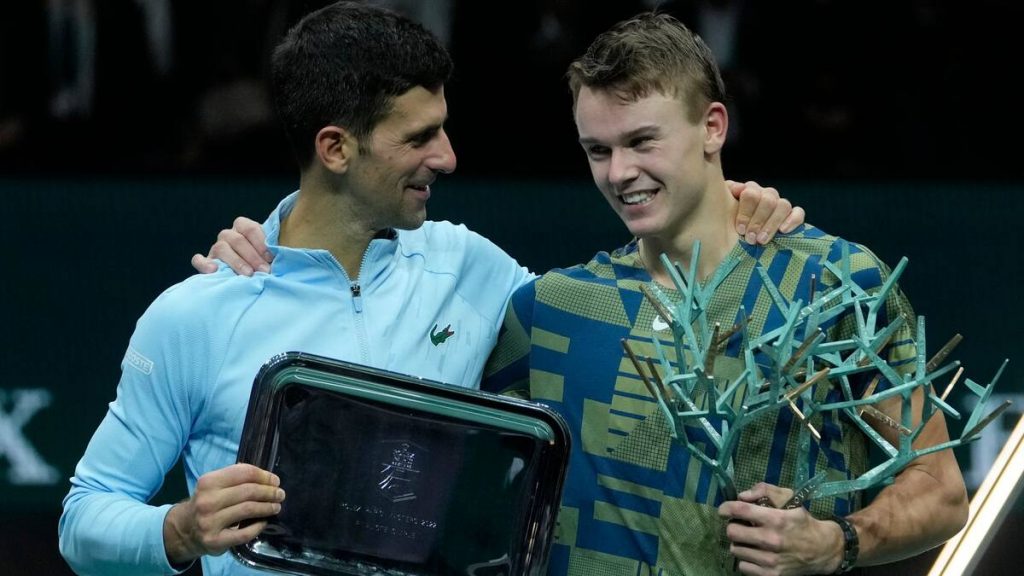 Novak Djokovic won the match against Holger Rune in the quarterfinal of the Paris Masters last week but he lauded the Dane's progress.
It was a rematch of last year's Paris Masters Final when Rune got the better of Djokovic. But this time Djokovic fought it hard to pull the game 7-5, 6-7, 6-4.
Rune hired Boris Becker as his coach last month, and since then his game has shown great improvement. Boris also coached Djokovic from 2013 to 2016 and it was strange for Djokovic to see him in the opposite box.
In an interview following the quarterfinal match, Djokovic said that Rune is an 'all-round player' and that the quarterfinal was an evenly-matched contest. He praised Dane's mental resilience in the game. He also mentioned how they both have similarities in their playing styles and that his game has improved since hiring Boris Becker.
Add Howdy Sports to your Google News feed.