Novak Djokovic lifted the trophy on Monday for the eighth time as the year-end World No. 1 at the Nitto ATP Finals. And here is what the 36-year-old had to say about it.
Novak Djokovic was just a win away from this coveted trophy. He defeated Holger Rune on Sunday and was crowned with the trophy on Monday. 
The Nitto ATP Finals kicked off on Sunday in Turin. Novak Djokovic has been named in the Green Group alongside Holger Rune, Stefanos Tsitsipas, and Janik Sinner. He had his first round-robin match against Holger Rune on Sunday and defeated him 7-4, 6-7, 6-3. Following this win, he was presented with this trophy by the ATP president Andrea Gaudenzi on Monday afternoon. 
It was a record eighth time that Djokovic finished the year as the World No.1. To date, he has been crowned in 2011, 2012, 2014, 2015, 2018, 2020, 2021, 2023. The last time that he won in 2021, he was 34 and became the oldest player to do so. In 2023, he broke his own record to win this title at 36.
There are very few who have achieved a #1 year-end ranking for five or more years. Pete Sampras now stands just below Djokovic at six #1 year ends, Jim Connors, and Rafael Nadal at five.
After the presentation ceremony, Djokovic posted a video on social media with the trophy and shared a heartfelt message. He was very thankful to his fans for their support who gave him the strength and motivation. He was also very thankful to his team for their contribution and called them a "crucial part" of his success.
He also hopes for more such success in the coming years while also hinting at his age. He says it is not the same as it was before but he will still try his best.
"More to come hopefully. 36 is not 26 but still going strong and thanks for all your support… And let's make more history"

-Novak Djokovic
A message from the man himself 🤳

☝️🏆 @DjokerNole pic.twitter.com/n29AOaPwDF

— ATP Tour (@atptour) November 13, 2023
---
From G&B t-shirt to matching shoes: Novak Djokovic's kit for the ATP Finals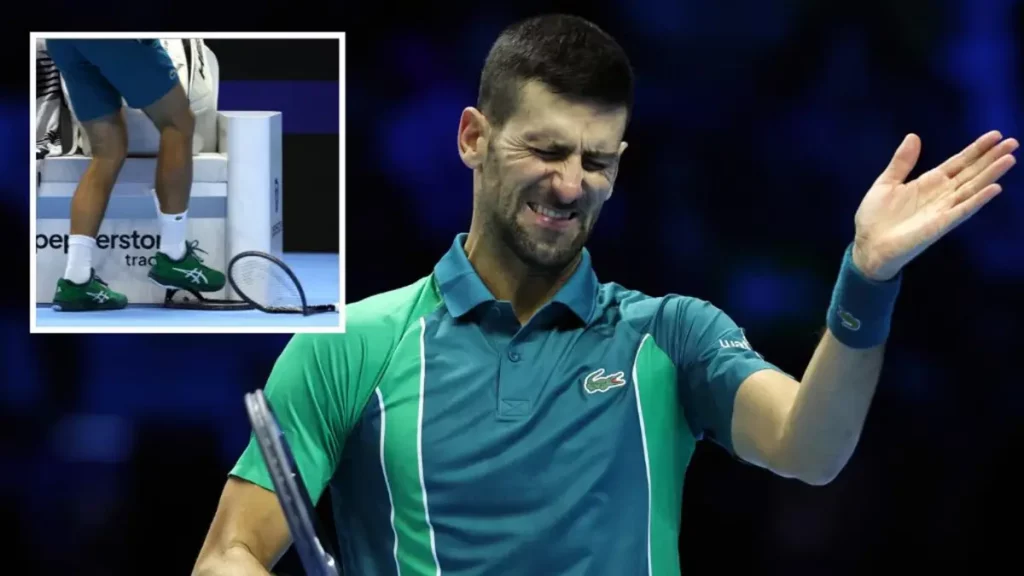 Novak Djokovic's kit for the ATP Finals was visible as he came onto the court to face Holger Rune.
Djokovic was seen in shades of blue and green from top to bottom in the match. His outfit has been designed by Lacoste while his footwear is from Asics. He is always seen in some eye-catching outfits and yesterday it was no different. His t-shirt and shorts were a combination of green and blue.
He was wearing matching shoes known as Asics Flyte-Foam shoes which have been specially designed for him according to his comfort and movement.
Novak Djokovic has been associated with Lacoste since 2017 after parting ways with Uniqlo. Later he also associated with Asics. His ATP Final collection is available online on their official website.
Add Howdy Sports to your Google News feed.