The 23-time Grand Slam Champion, Novak Djokovic participated in a fun but very engaging contest by ATP. This contest was organized on the completion of 50 years of Men's ranking in the ATP. Joker was along with his fellow players in this contest where they have to list the players on the basis of their time spent in the No.1 position in the ATP. Let's have a look at Novak Djokovic's sarcastic approach to his No.1 position in that activity.
This contest was hosted by the ATP to celebrate its 50th anniversary of the ranking system. This type of list and rankings were first introduced in the year 1973 on August 23. The first ever No.1 position was awarded to Ilie Theodoriu Nastase who belonged to Romania.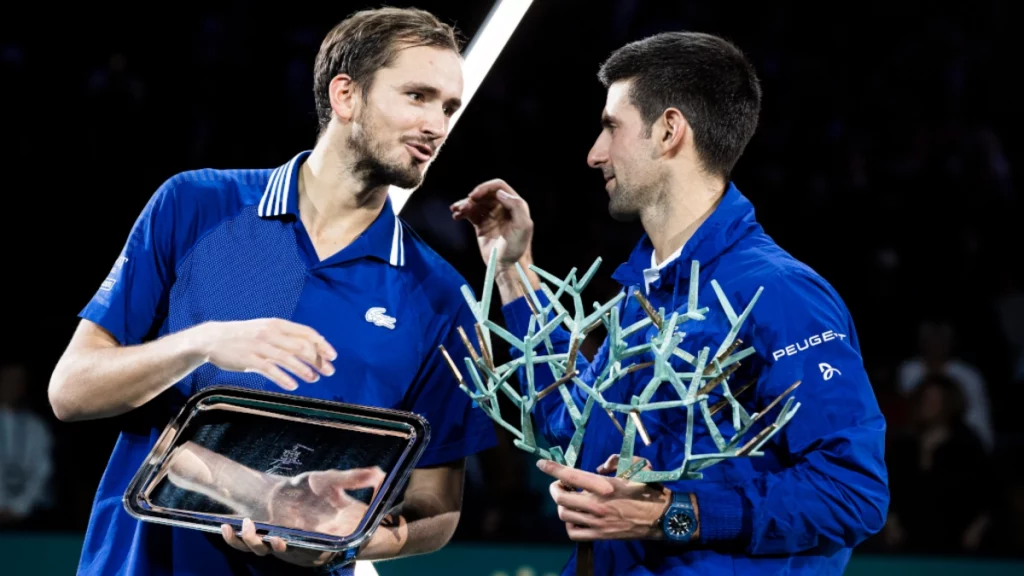 In this event, the world No.2, Novak was accompanied by Daniil Medvedev, Ben Shelton, Dominic Thiem, and Alexander Zverev. Choosing the top one was not a taxing deed for all the participating players as Djoker was already there. The Serbinator, who has spent the most number of weeks in the No.1 spot, total time of 389 weeks.
Player remarks on Novak Djokovic's No.1 position
In the arrangement contest held by ATP, Novak Djokovic prevailed with flying colors as he ranked all the players correctly. Tied with Djokovic was Alexander Zverev who also guessed all the top 10 rankings correctly. Then followed by Murray, Thiem, Medvedev, and Shelton.
You can watch the whole contest below:
The first position on the list was as easy as it gets: Novak Djokovic with 389 weeks at the #1 position. Followed by Roger Federer, who has 310 weeks at the top position. Then came Pete Sampras and Ivan Lendl and a few other top-of-the-class Tennis players.
Players shred their remarks on the list and stated many things uplifting the legacy of the Serbinator.
Andy Murray tried his best to be in a good spot but was swept down to the last spot in the competition. Murray said, "He had broken the board and had managed to rub his name off as well. he should better spell it right."
Dominic Thiem made a sarcastic statement on the Joker's No.1 position. Thiem said, "Number one, it's easy. Novak just passed Steffi Graf as well. Which makes him Number. 1 on both male and female."
Meanwhile, Medvedev took a diplomatic approach and praised Novak Djokovic's No.1 position. Daniil said, "He doesn't know the exact quoted weeks spent by Novak on his No.1 spot. But, he knows its a lot".
While choosing the No.1 Novak Djokovic puts himself there, chuckles and says, "It's not about humbleness… It's a fact. I'm sorry!"
READ NEXT:
Add Howdy Sports to your Google News feed.