When asked about if he'll be eyeing for Novak Djokovic's record 24 Grand Slams, Rafael Nadal to everybody's dismay said that it is not going to happen.
Nadal has not played any tennis since his second-round exit from the 2023 Australian Open earlier this year. He suffered from a severe hip injury in the match and had to withdraw from all the tournaments following that. For the first time in his career, he could not play in the Roland Garros. In May, he announced his withdrawal from this season and hopes to make a comeback in 2024. 
Rafael Nadal has 22 Grand Slams to his name which is the second highest to Novak Djokovic's 24 Grand Slams. Nadal won his 22nd Grand Slam at the 2022 French Open. He was ahead of Novak Djokovic and Roger Federer who stood at 20. But, following that Djokovic has won 4 out of the six Grand Slams till now which makes his count to 24. Djokovic won the 2022 Wimbledon Open followed by the 2023 Australian Open, French Open, and the US Open.  
Since the Spaniard underwent hip surgery in June, he has been concerned about his return. He started training a few weeks ago, and he was not sure of his return.
But recently, the Spaniard gave a strong hint on his comeback and is yet to confirm when and where. He still feels that there is some tennis left in him and would like to give his best.
But the injury-marred year for the 37-year-old Nadal has forced him to call 2024 the last year of his professional tennis career. For him, making a comeback and playing tennis at the highest level stands to be the biggest challenge. He recently spoke in a media interview and shed light on his career:
"I am not going to surpass Novak Djokovic's 24 Grand Slams. I don't think we are in that position. I haven't played for a year and for me personal success is maintaining the enthusiasm to do it again."

– Rafael Nadal in an iterview
🥹 When asked today whether he sees himself winning another Major title, Rafael Nadal said:

"I don't know what level I will be able to return to, but I have never lost the excitement. I haven't played for a year and for me, my personal success is maintaining the excitement of… pic.twitter.com/HOMmkCvlUi

— Olly 🎾🇬🇧 (@Olly_Tennis_) November 15, 2023
---
"It would be nice for the sport" Novak Djokovic wants one last match with Rafael Nadal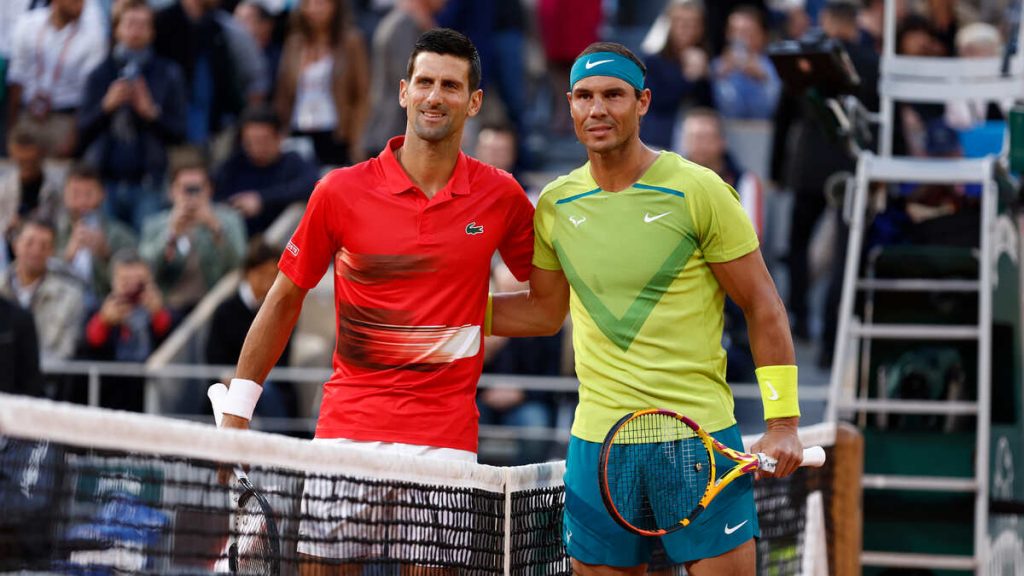 Novak Djokovic has missed the Spaniard who has been out of action due to injury and hopes to play against him one more time.
Rafael Nadal recently confirmed his comeback in the 2024 season which he announced to be his last year in tennis. Novak Djokovic is currently playing at the ATP Finals in Turin. He defeated Hubert Hurkacz yesterday to qualify for the semifinals.
In the post-match interview, Djokovic was asked about facing his rival one more time to which the Serbian responded:
"I think it would be nice for the sport to have at least one more match between Nadal and me. That's the biggest rivalry in terms of the amount of matches played that this sport has ever had."
Djokovic also called him a 'warrior' who never gives up and keeps going. He admires him and his spirit and is happy for his return.
🗣️ Novak Djokovic : "Rafael Nadal est un grand guerrier. Il n'abandonne jamais. Avec toutes les blessures qu'il a eues, il continue. C'est définitivement quelque chose que vous devez respecter et admirer chez lui. Son retour est une excellente nouvelle" ❤️pic.twitter.com/9Pinl0dCgZ

— Univers Tennis 🎾 (@UniversTennis) November 16, 2023
Add Howdy Sports to your Google News feed.