Frances Tiafoe is currently ranked #10 in the ATP rankings. The African American is having an amazing time at Wimbledon 2023 with his killing serves. His fastest serves slide past the opponents at a whopping speed of 147.3 miles per hour. Tiafoe is now in the limelight following his incredible performance at Wimbledon. Securing games in the series and advancing to the third round was no big deal for him. But what was amazing was his serve stats. He has 76% of games won in his first serve and 50% in the second serve.
Seeing his current form and super-fast serves, it wouldn't be an understatement to say that Frances has a good chance of making it to the top. And that is what the 25-year-old had in mind while he walked in for an interview. He stated his confidence and declared his contender ship for the title:
"Now I feel like I have a shot at it." He added, "Before I was like, I want to do well, but that's wishful thinking. Now I'm here to make some noise."

-Frances Tiafoe on his Wimbledon performance
After this, he also talked about how he has been more and more reliant on his serves and how his coach has helped him in strengthening his playstyle.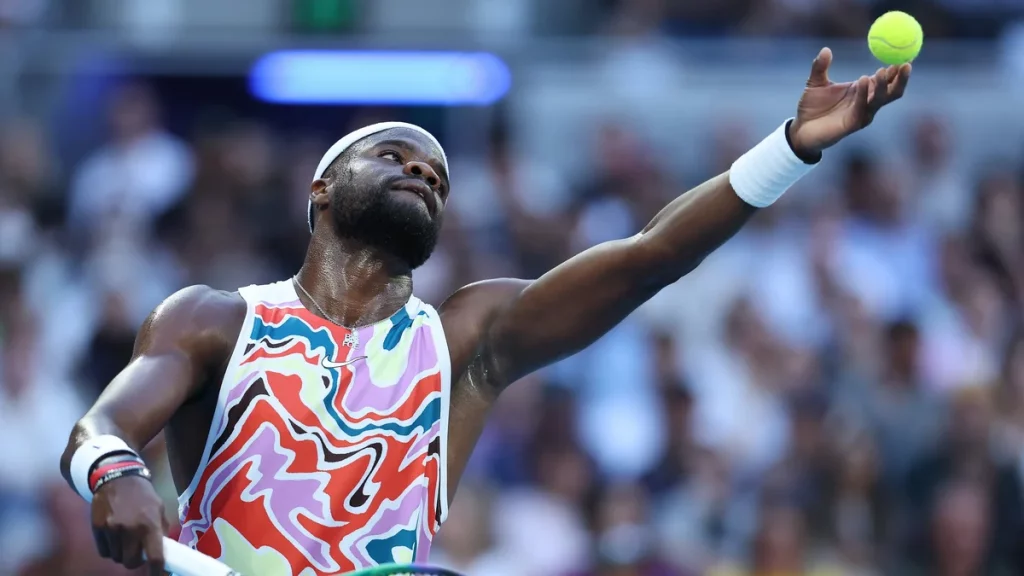 Tiafoe is very proud of his serves, saying his serves are the biggest difference that gets him out of troublesome situations. His serve percentages might be not high always but his aces are always on the winning side. He emphasizes, "My serve is definitely paying dividends."
"It is the only shot I have full control over. I am very thankful to Wayne Ferreira, my coach who helped me a lot. Controlling the serve is the thing which I can do better over time. It is going to be perfect every time as a sharpened knife. I am going to serve like that each and every day. It is a constant thing to me, and I am just trying to mimic the same thing again and again until I win."

-Frances Tiafoe on his powerful serves
Frances Tiafoe and his powerful serve at Wimbledon
Frances Tiafoe the 6'2″ African American is making explosions at the court throwing his serves at high speeds making the opponent player stumble. His serves are like the thing which he can really trust on. Tiafoe is making his games turn to his direction with his serves and his capability to adapt and react likewise. The sheer power in his shoulder is making those thunderbolt sounds.
At Wimbledon, Frances Tiafoe is moving fast by giving the taste of defeat to his opponents with an aggressive playoff and flash serves. Tiafoe is moving ahead to fight great players like Andy Murray, Carlos Alcaraz, and Novak Djokovic.
In case you missed it:
Add Howdy Sports to your Google News feed.