One of the most integral parts of the current reigning champions of the UEFA Champions League Real Madrid squad, Casemiro was their super important defensive midfielder. However, not everything is eternal, Casemiro made his move this season to another club and another region and Real Madrid had to lose their ace.
Casemiro made headlines when Manchester United announced their new signing on their official website. The Reds got their hands on this amazing defensive midfielder for a hefty share out of their treasury. Let us know the details on How much did Manchester United sign Casemiro for.
Manchester United Casemiro transfer details
Casemiro was spotted at the Old Trafford stadium in an all-black suit to confirm his move to the English League and the 'Red Devils' and get to terms with the club. Manchester United and Real Madrid came to a conclusion to make this transfer possible.
United had to pay a sum total of £60m to obtain this Brazillian midfielder from the La Liga giants Real Madrid. The club also agreed to pay an additional £10m to keep the player for an extra year after his 4-year contract gets exhausted. That makes it a 4+1 year contract with the club and a lump sum of 70 million euros out of their pockets.
Erik ten Hag's Manchester United squad always longed for a strong and reliable defensive midfielder. Erik showed his interest in this 30-year-old Brazillian and believes that Casemiro will complete his squad and lift the team up. Let us take a look at Casemiro's previous stats and learn what exactly Manchester United's rivals will be dealing with in the coming time.
Casemiro statistics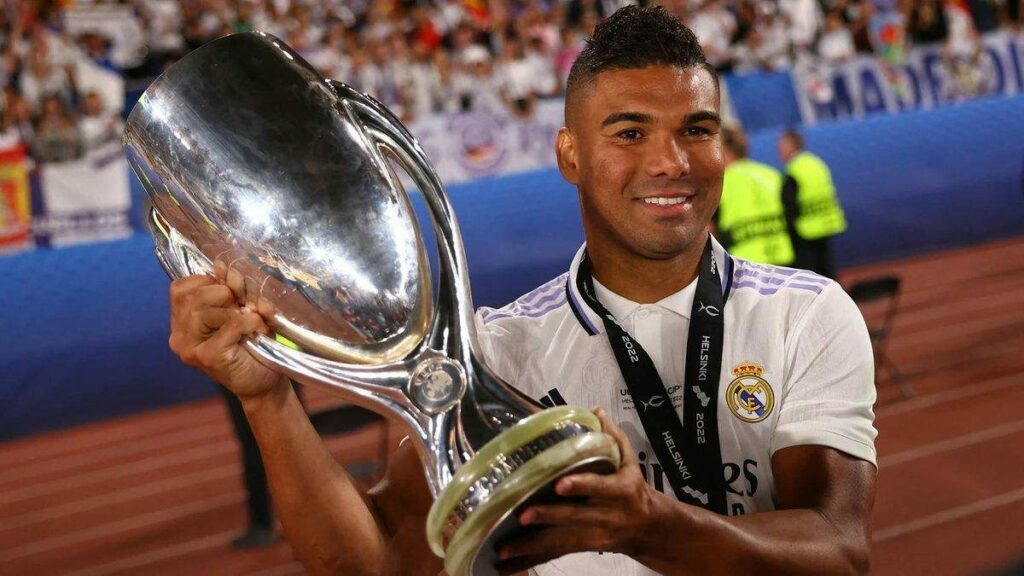 Casemiro started his senior career by graduating from the Sao Paulo youth academy to its senior men's team. After three years with the club, Casemiro was sent out on loan to the La Liga club Real Madrid.
Instantly after, Casemiro was seen with a transfer deal to join Real Madrid for a long time. He played as a defensive midfielder for the team and led them to victory on numerous occasions. He won three La Liga titles, five UEFA Champions League titles, and a Copa Del Rey by scoring 31 goals in his 336 appearances for the club.
Casemiro was born in São José dos Campos, Brazil and hence was called out by the national football team to perform on an international level for his country. Casemiro has made 63 appearances and scored 5 goals while serving his country. He was an integral part of the squad that won the Copa America in 2019.
Read next:
Top 10 players with the most assists in La Liga history
Top 10 most handsome black footballers of all time featuring Romelu Lukaku and Paul Pogba
Who is Trent Alexander-Arnold's girlfriend? Know more about Hannah Atkins
Add Howdy Sports to your Google News feed.