In a recent interview, John McEnroe mentioned that Carlos Alcaraz is a "One in a billion" player in the history of tennis and urged young athletes to go to college.
The 64-year-old American tennis player, a former World No.1, was all praise for Alcaraz. McEnroe has won 7 Grand Slam Titles and finished his career with 77 singles titles and 78 doubles titles which remains the highest combined total by any player. He calls Alcaraz a "one in a billion" player considering his achievements at a very young age.
Carlos Alcaraz is a 20-year-old Spanish tennis player. He turned pro in 2018 and won 12 singles titles, including two Grand Slams and four Masters Titles. He defeated Casper Ruud in the final to win his first Grand Slam at the 2022 US Open. He defeated Novak Djokovic in the final to win his second Grand Slam at the 2023 Wimbledon Open. He has reached the No.1in the ATP rankings.
John McEnroe feels that most of the players are good at tennis, but only a few have achieved the status that Alcaraz has. According to him being a good tennis player requires a dose of natural talent, a tremendous work ethic, and a bit of luck.
Prior to this, he mentioned that it is very healthy for the kids physically and mentally to enjoy different sports before they choose a sport professionally. He urges the young generation to go to college as it allows them to play in a team and get to learn a grow a lot. Playing professionally requires a lot of dedication and Alcaraz is just an exception.
"For every person you hear that succeeds, there's a million that don't. Not everyone's Carlos Alcaraz, he's one in a billion. He's just a freak. He's an incredible player, but most kids have no business doing that."

– John McEnroe in podcast with SmartLess
John McEnroe says Carlos Alcaraz is 'one in a billion' & urges young athletes to go to college:

"I grew up in Queens. The best thing that ever happened to me was not going to a Nick Bollettieri-style camp. I would've quit the game at 16 or 17. I love to play other sports.. All… pic.twitter.com/eois9uov5H

— The Tennis Letter (@TheTennisLetter) November 9, 2023
---
Carlos Alcaraz says that he has "no chance" of ending the year as No. 1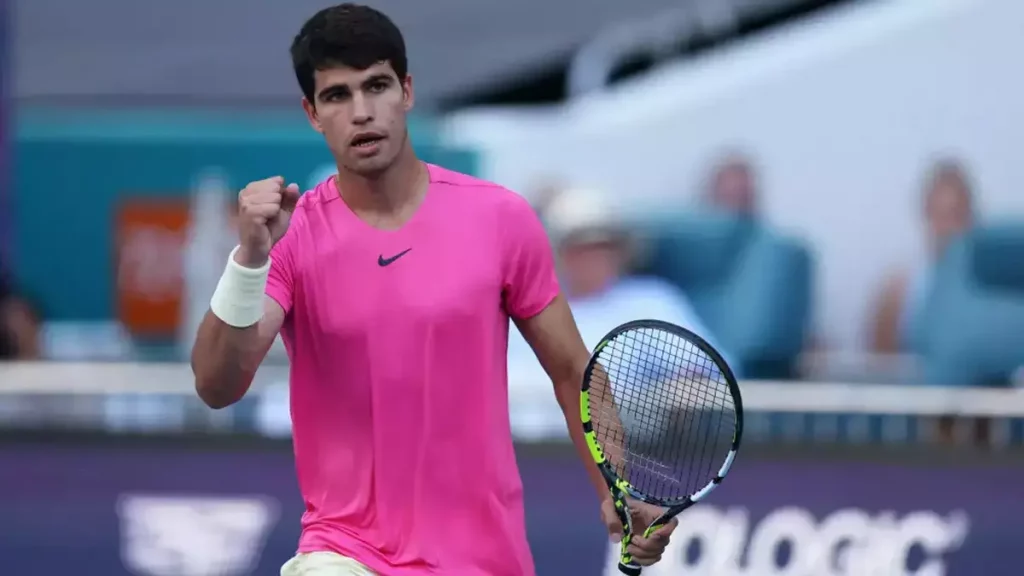 Carlos Alcaraz says that he has no chance of ending the year as the No.1 after his second-round exit at the Paris Masters last week.
Alcaraz faced an early exit after he lost to Roman Safiullin in the second round at the Paris Masters. He won the 2023 Wimbledon Open defeating Novak Djokovic in the finals. But since then, he has not won any singles titles. As the Spaniard already qualified for the ATP Finals, the Paris Masters was the last opportunity for him to stand a chance to end the year as the No.1. He is the second seed going to the ATP Finals behind Novak Djokovic.
But Alcaraz's second-round exit from the Paris Masters and Novak Djokovic winning the title later is now way ahead in points. Even if Alcaraz wins the year-ending Nitto ATP Finals title without dropping any set, he has no chance of reaching the No. 1 spot. Djokovic is just a win away in the tournament to end the year as No.1.
Add Howdy Sports to your Google News feed.