The Tennis Hall of Fame induction ceremony experienced an outstanding celebration of power and groundbreaking achievements. Celebrating Wheelchair Pioneers, Esther Vergeer and Rick Draney who have left an incredible impact on the sport of tennis. Both of them had defied all odds in their path and inspired many people across the globe to pursue their true ambition. The induction ceremony was a heartfelt tribute to their amazing career and a testimony to their consistency and inclusion in the world of tennis.
Esther Vergeer is a Dutch wheelchair professional tennis player. She surfaced as the most dominant and successful wheelchair tennis player. Her immaculate love for Tennis made her play it at a very early age. But due to a medical condition, her lower body got paralyzed at the tender age of 8. Not getting distracted by the condition, she embraced wheelchair tennis, and her talent was boosted remarkably. She has numerous titles under her belt, including an inspiring 470-match winning streak. Also, with an incredible 42 Grand Slam titles, and four Paralympic gold medals. Meanwhile, she fights for disabled athletes as a professional lawyer as well.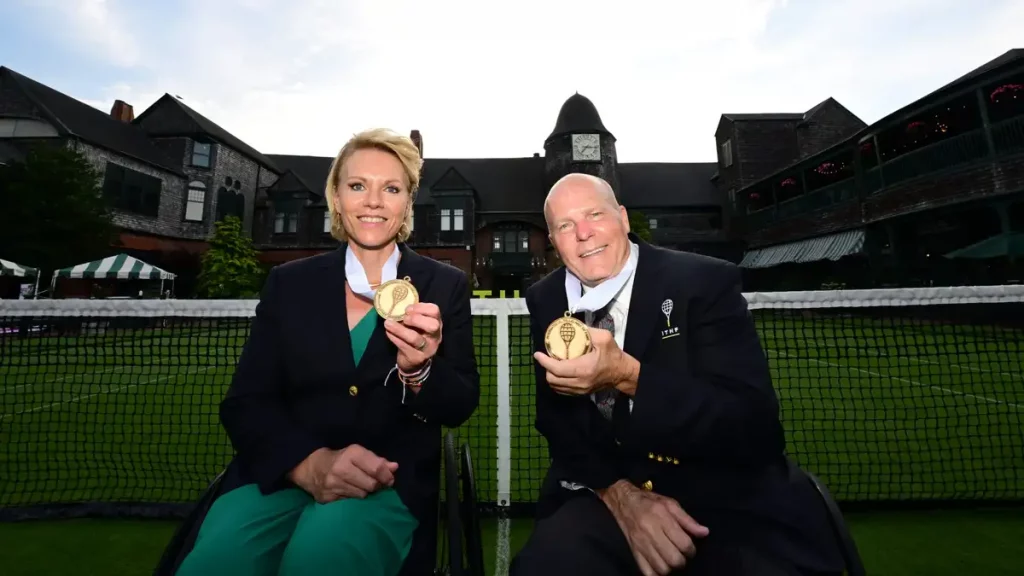 Rick Darney is an American professional wheelchair tennis player. He made his spot in the sport when wheelchair athletes were often overlooked and didn't get much exposure. Besides having many challenges and limited opportunities, his sheer commitment to the sport propelled him to become the greatest wheelchair tennis player of his time. Rick, throughout his career, showed exceptional skills and a strong competitive spirit. He has 3 Paralympics medals and many national and international titles.
Celebrating Wheelchair Pioneers at the Tennis Hall of Fame
On Saturday evening, the abovementioned players officially got inducted into the Tennis Hall of Fame. The Wheelchair legends Esther Vergeer and Rick Draney became the 6th and 7th wheelchair tennis professionals receiving their Sport's highest honor at a special ceremony.
They both had an amazing time there and shared some words
"Tennis was making me laugh. Tennis was making me take back control over my life, believing in myself, trusting that everything would be all right. I have never felt more comfortable than I have on a tennis court. It's an indescribable, almost magical feeling," said Vergeer.
She also stated the importance of the sport and said, "Tennis transformed me into the very essence of who I am today: a testament to the power of perseverance, resilience, and determination"
READ NEXT:
Add Howdy Sports to your Google News feed.