Carlos Alcaraz replied to the allegation proposed by Djokovic. This all started when Novak Djokovic was vexed as he saw Carlos Alcaraz's father filming the No.2 seed in Wimbledon. Djokovic called for privacy as he was playing his practice match for his match that day. Novak Djokovic got frustrated with it and shouted at him and wanted privacy while playing the match.
In a press conference, Carlos Alcaraz was asked about the incident and his father's involvement in the same. No. 1 seed Carlos had a very casual approach to the matter and accepted by saying that he wouldn't be surprised if his dad did so.
He says his father is fond of tennis, he loves to watch tennis all day long. Gonzalez spends the majority of his time in All England Club seeing players play. He watches many other players including the 20-year-old son, nicknamed "Cartilos" who is seeded No.1 in Wimbledon.
Many people including reporters and tennis fans do get access to the practice matches of the players. And also taking some photos and videos as a piece of memory. Players play in practice matches with no barrier between them and can see each other clearly. Also, they can have an eye on the other players examining their moves and techniques.
The No.1 seed, if he could defeat Daniil Medvedev in the semi-finals he can have a match with Novak Djokovic who will have to come as victor against Sinner in the Semi-finals match. Novak has a long-time legacy making a winning streak of 4 title wins in Wimbledon with 7 overall titles. Also, it would be a tough match for Carlos Alcaraz.
Carlos Alcaraz response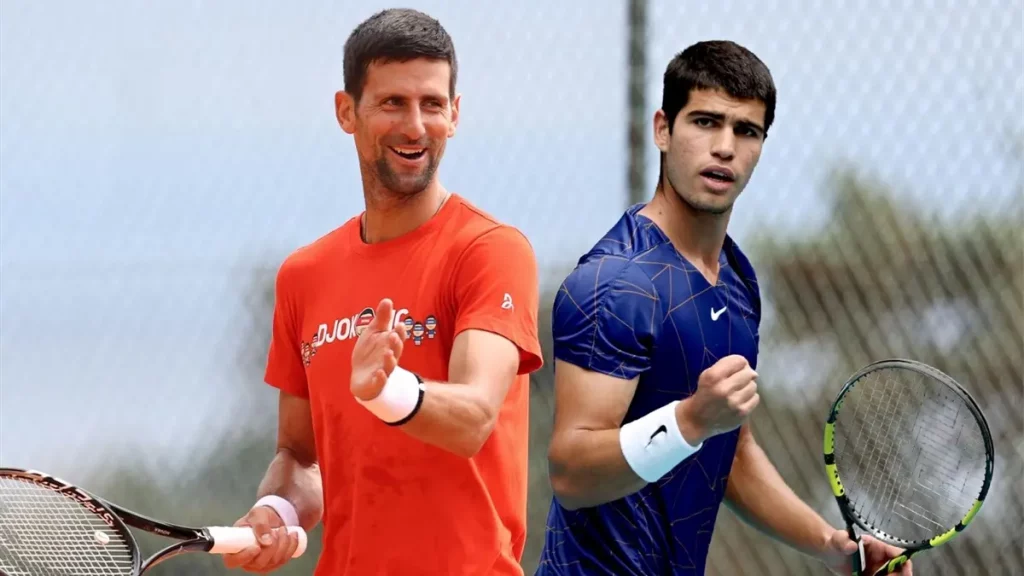 Carlos spoke about the Novak incident and accepted that his father might've done what the No. 2 is alleging of him. He says:
"Dad keeps an eye on matches. On practices, too. And so, sure, maybe he pulled out his phone and snapped some video of Djokovic."
Praising Djokovic he mentions that his father was thrilled to get a look at the World no. 2's game. His actual words went like this:
"To be able to watch Djokovic in real life, yeah, probably it is true he'd film the sessions."
However, at the end, he tried to defend this and said that the clip from his father's camera won't be of great use as he already has a lot of material on Djokovic.
"I don't think so, "I mean, I have a lot of videos from Djokovic on every platform.
Fans' reaction to Alcaraz's statements
Many Fans and Fan pages reacted to this incident, sharing photos and videos of Carlos Alcaraz.
Fans saying, "This is what Alcaraz's father is teaching him to do… sad. There should be some values." Also, "Senior Alcaraz is a Disgusting cheat."
READ NEXT:
Add Howdy Sports to your Google News feed.