Chelsea's heroes were Mason Mount and Kepa Arrizabalaga as they held on to Graham Potter's perfect record against Aston Villa despite a scare.
In front of England manager Gareth Southgate, Mount scored twice to secure a valiant 2-0 victory at Villa Park. But with Chelsea on the verge of losing, they needed Kepa to make two incredible saves in the first half to thwart Danny Ings and Jacob Ramsey.
The Blues have now won their past five games overall, have recorded four shutouts, and have clinched fourth place in the Premier League. Although Chelsea was shaken by an improved Villa, the loss was harsh on them as they inched closer to the relegation zone.
When manager Steven Gerrard took over, Villa were 16th and two points above the relegation zone; today, after almost a year, they are only one point above the bottom three.
He had made a point of highlighting the narrow margins that had caused his team to draw three of their previous four games and had urged his players to grab attention. The issue was that Villa garnered all the wrong attention as Chelsea was given a lead in the sixth minute due to Tyrone Mings' awful defence.
Ben Chilwell was able to slip by Ramsey, and Ramsey's feeble attempt to make a tackle only served to make the ball loop in Mings' direction. The defender had Emi Martinez all alone, but he misjudged his header entirely, causing it to spin backwards for Mount to volley past him.
A hasty clearing from Mateo Kovacic allowed Douglas Luiz to test Kepa, giving Villa at least a chance to make Chelsea sweat in the first minute.
The home team replied, and Leon Bailey's header narrowly missed the top of the crossbar, but Chelsea's goal had first put a damper on a raucous Villa Park.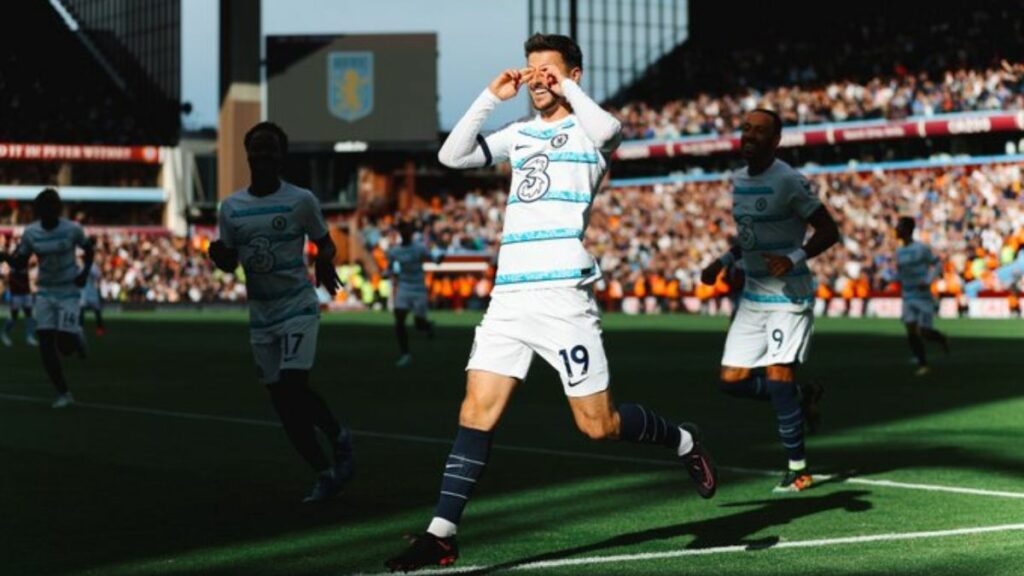 But there was still cause for celebration for the hosts since the absence of Reece James and Wesley Fofana made Chelsea's defence shaky, and the Blues needed a spectacular stop from Kepa to maintain their lead after 21 minutes.
While Kepa was attempting to save a shot from John McGinn after Ollie Watkins had wriggled free on the left and cut back for him, the ball went to Ramsey, who forced Kepa into a great low stop that turned the shot onto the post. He then bounced back to make an incredible stop from Ings, despite the striker being offside.
The poor Chelsea defence did not give the team any confidence, and McGinn once more put Kepa to the test as he forced Thiago Silva off the ball before shooting at the goalie. Villa had scored seven goals this season, second only to Wolves with four, but they encountered an impasse with Kepa.
He held off on giving his finest performance until the 33rd minute when Bailey outmuscled Chilwell and stood up a cross for Ings from four yards. The attacker appeared to have put one past Thiago and Trevoh Chalobah, but Kepa wonderfully deflected the header away.
Since the hosts had taken the lead, Chelsea needed to regain their composure. Five minutes before halftime, Raheem Sterling struck the bar from 16 yards thanks to fine work from Mount and Kai Havertz.
It was a rare opportunity, and Potter saw the potential threat. At halftime, he switched Marc Cucurella and Havertz for Kalidou Koulibaly and Cesar Azpilicueta, but Villa persisted in their probing.
After 65 minutes, Mount unleashed a sucker blow after Watkins had glanced wide. Mings knocked him to the ground from 25 yards out, and he then outwitted Martinez with a spectacular free kick.
Villa was completely stunned, and Sterling nodded wide as Chelsea finally won with ease.
Twitter Reactions
Add Howdy Sports to your Google News feed.