Novak Djokovic felt some sort of discomfort in his elbow during a practice session before his doubles match.
In a video posted by Travel&Sports on X, it was seen that Djokovic's physio Claudio was talking and working on his arm on the court minutes into his practice session. 
The Paris Masters 1000, also known as the Rolex Paris Masters is taking place currently. This year the tournament has been scheduled between 30 October and 5 November and it is already underway. It is the final Masters tournament before the ATP Finals next month and also the final Masters of the year. All the top singles and doubles players are competing to secure a place in the top 8 to qualify for the Finals. 
Novak Djokovic who is the top seed coming to this tournament is also playing doubles partnering with Miomir Kecmanovic from Serbia. He has yet to play his first singles match of the tournament. He started his campaign in the doubles category against Ecuador's Gonzalo Escobar and Kazakhstan's Aleksandr Nedovyesov and won the match in straight sets 6-4, 6-2.
Djokovic has won this title six times and is playing for his seventh title in singles. The 36-year-old Serbian Djokovic who is hardly seen playing doubles is playing doubles in Paris Masters for the fourth time. 
In a practice session before yesterday's doubles match, he was seen to have some problems with his elbow. His physio Claudio Zimaglia was seen discussing and comforting him on the court. But the problem continued to his match and he was noticed to face the same during the match later. Claudio Zimaglia is a well-known physiotherapist and has worked with Milos Raonic and Janik Sinner in the past. He partnered with Djokovic a year ago.
Even though Novak was in top-notch form this season, he was not immune to injuries. He played through a tear in his left hamstring during the Australian Open finals and has experienced discomfort in his elbow for quite a time now.
However, The Paris Masters and The ATP Finals are the two most prestigious events and he would be looking to end the season as the No.1. 
🙏 @DjokerNole elbow will hold during those last 2 demanding events, finishing the season on a 🔝🎵.

Observed occasional discomfort during the doubles match but hopefully nothing too serious.

👁️Earlier today, seen Claudio working on No1e's arm less than 20 min into practice 🎾. pic.twitter.com/KH4STuHlzE

— TRAVEL&Sp🎾rts (@travel__Sports) November 1, 2023
---
Novak Djokovic to face Etcheverry in his first match at Paris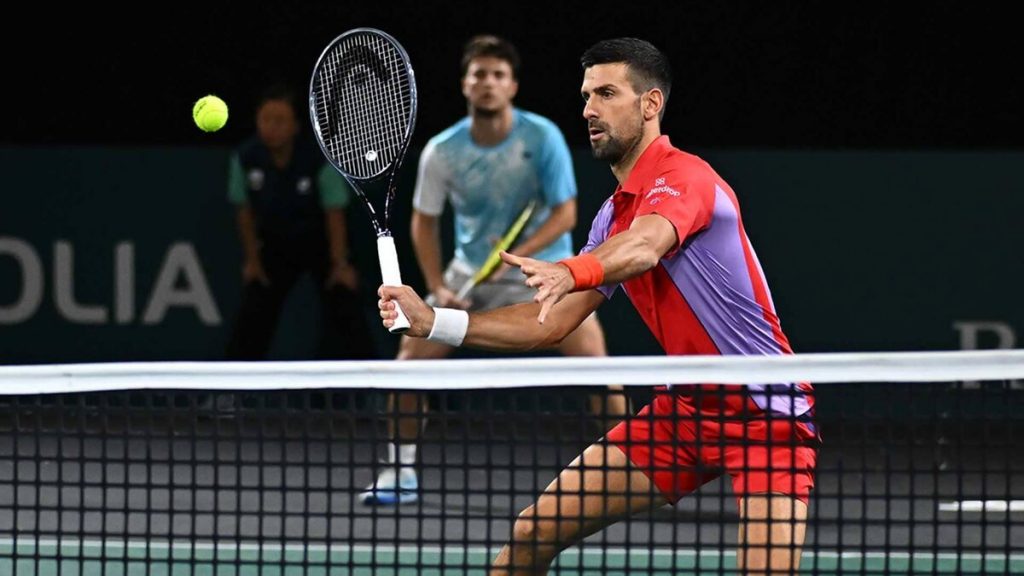 Novak Djokovic is all set to play his first singles match of The Paris Masters against Tomas Martin Etcheverry at the Accor Arena on Wednesday.
It is Novak's first ATP tournament since the US Open final. Djokovic is the favorite to win this Title. It will be his 40th Masters Title and 7th Paris Masters Title. He has won this title earlier in 2009, 2013, 2014, 2015, 2019, and 2021.
It is not only the title but with this win, he will better his chances to end the season as the No. 1. Alcaraz who is also eying for the same, lost to Roman Safiullin in the 2nd round on two straight sets.
Add Howdy Sports to your Google News feed.