Rafael Nadal shared a story on Instagram yesterday and fans are reacting hilariously to his confusing and hilarious story. Rafael Nadal who has more than twenty million followers on Instagram shared a story yesterday. The photo was of him taking some poor pictures of an aquarium.
Rafael Nadal is a 37-year-old Spanish tennis player. He has won 22 Grand Slams which consists of two Australian Open, two Wimbledon Open, four US Open, and fourteen French Open Titles. He has 92 ATP titles, 36 of which are Masters Title.
The Spaniard has been out of tennis since January. He was the defending champion coming into the 2023 Australia Open. But he couldn't defend the title and ended his journey in the second round.
Nadal is the most-followed tennis player on Instagram with over 20 million followers. He is followed by Djokovic with 14 million followers and Roger Federer with 12 million followers.
Nadal's posts mostly revolve around tennis. But today, he was taking a photo of an aquarium, and his wife was quick to capture that moment. He uploaded those photos taken by him and his wife on his story with some funny emojis.
One of his fans shared these photos on X and instantly fans swarmed it with funny comments.
His mind ???? 🤯🧠 pic.twitter.com/Oyrgj7Ih6b

— kay nonsense (@atp4me) November 7, 2023
One of the comments also joked that her mother does social media better than him. His clueless reaction while taking the photo followed by the photo he captured by himself was funny.
Since the Spaniard is away from tennis, it is good to see him active on social media. All his fans are waiting for his comeback in early 2024. Earlier this year, with his prolonged injury he decided that 2024 would be the last year for him in the professional circuit and would like to win a few tournaments before his retirement.
---
Toni Nadal suggests Rafael Nadal play doubles with Carlos Alcaraz at the Paris Olympics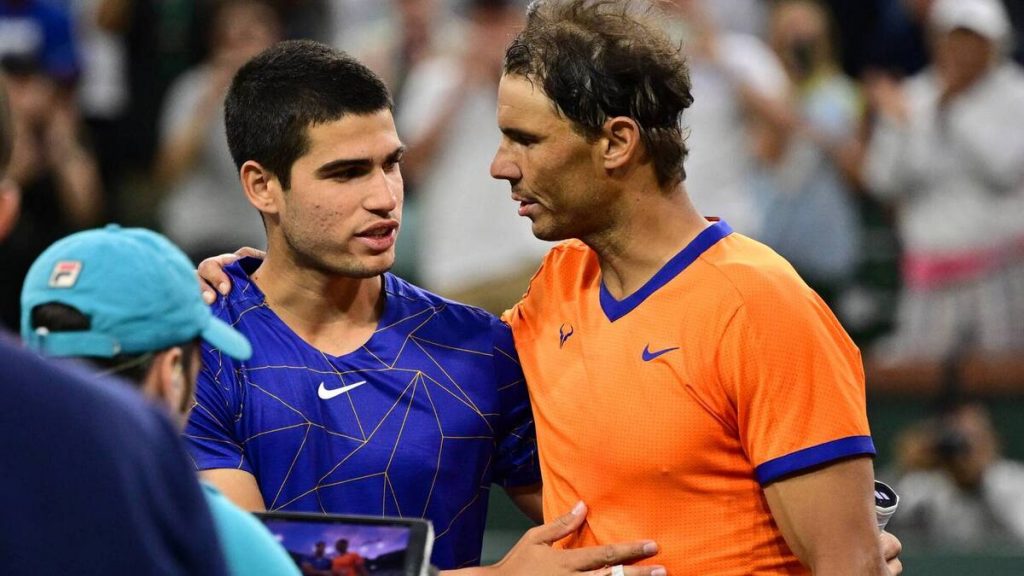 Toni Nadal suggests the possibility of Rafael Nadal pairing up with Carlos Alcaraz to play doubles at the Paris Olympics next year.
The Paris Olympics which is scheduled for next year will be the last Olympics for Rafael Nadal. Nadal who has hinted at his retirement plans next year is eying to make a comeback in 2024. He will play all the tournaments for one last time. It will be an emotional moment for him at the 2024 French Open having won it a record 14 times. Among the active players, no one is even close to breaking that record in the near future.
Tony Nadal, who is a Spanish tennis coach and uncle of Rafael Nadal would like to see him pair up with another upcoming Spanish player Carlos Alcaraz for doubles at the Olympics. Carlos Alcaraz has been in great form and will play in the ATP Finals next week. When he was asked about the same, he said that it would be a dream come true to play doubles with Nadal.
Nadal won the gold medal in singles at the 2008 Beijing Olympics and another gold medal in doubles at the 2016 Rio Olympics with Marc Lopez. Since Paris holds a special place in his heart with 14 French Open Titles, the Olympics doubles will mark the best finish to his career. And who better than the current World No. 2 to assist him?
Add Howdy Sports to your Google News feed.