Novak Djokovic has claimed that his rivals have put a target on his back after he lost to Jannik Sinner in the ATP Finals. He claims that "everyone wants his head."
Sinner handed Djokovic his first loss since the 2023 Wimbledon Open Final and broke his 19-match winning streak.
He has particularly mentioned that players like Holger Rune, Carlos Alcaraz, and Jannik Sinner are extra motivated when they play against him.
Jannik Sinner, 22 has been in great form recently having won the tournaments in China and Vienna. He defeated top players like Alcaraz, Rublev, and Medvedev in the tournaments. Coming to the ATP Finals, he defeated Stefanos Tsitsipas in the first match and then defeated the World No.1 in the second match. Sinner admitted that it was the "biggest win" of his career.
Talking about his match today, Djokovic admitted that Sinner was the deserving winner. He also gave an example from his previous meeting with Sinner at the Wimbledon Open semifinal earlier this year which he won in straight sets but was a very hard-fought battle.
The same has been the case with Alcaraz, who is a rising star and has a very good head-to-head record against Djokovic. Their matches have never been decided in straight sets.
The 36-year-old Serbian said that it's normal to see that these young players are hungry and want to reach where he is now.
"Everyone wants my head. Jannik got it today. But I am happy with how I fought."

– Novak Djokovic during the post match interview
Djokovic says everyone wants his head

"It seems like Holger Rune, Carlos Alcaraz, & Jannik Sinner are extra motivated when they play you"

Novak: "I think it's normal, they want to get to where I got to. This happens everywhere I play. Everyone wants my head. Jannik got it… pic.twitter.com/BNnmLN1HXw

— The Tennis Letter (@TheTennisLetter) November 15, 2023
---
Novak Djokovic vs Sinner and the Italian crowd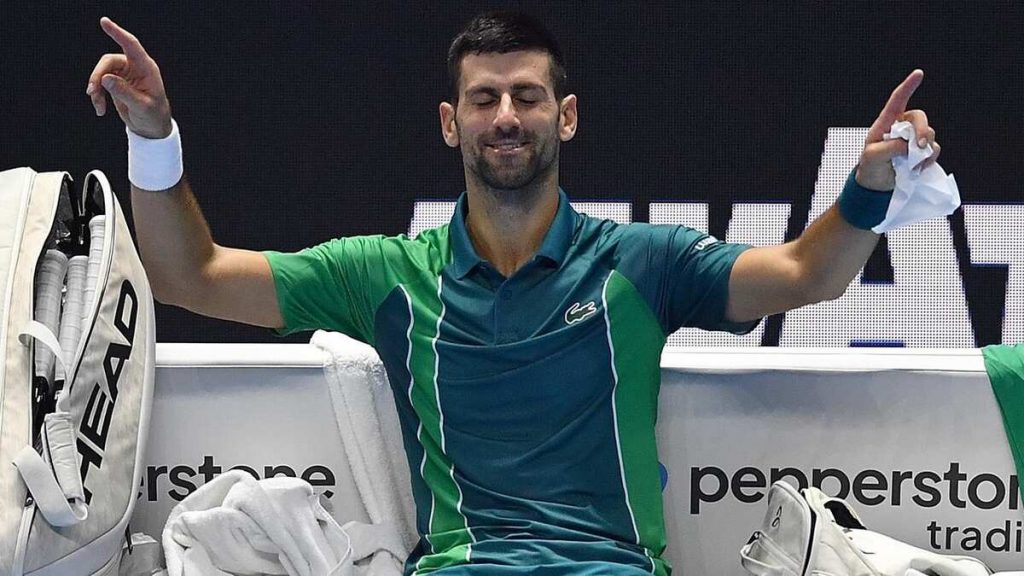 Novak Djokovic has played against the crowd in Turin as he faced Jannik Sinner in his second-round-robin match at the 2023 Nitto ATP Finals.
Jannik Sinner is the only Italian player to qualify for the prestigious tournament. He has already won both the matches he has played so far. It was a different atmosphere at the stadium today as he faced Novak Djokovic. Sinner is known to have defeated some top players but has never defeated Djokovic in his career so far.
He could not have asked for a better place to play the match. He received massive support from his home crowd. He has been in great form and the constant support helped him to finally win the match. To this, Djokovic said:
I expected it, he's the only Italian here and he's playing in Italy. There's a lot of hype and he's in great form, so its normal that people wanted him to be the winner

– Djokovic in post match interview
Add Howdy Sports to your Google News feed.