On one side of the world, a struggling Cristiano Ronaldo was at his wasteful best in Portugal's 0-1 UEFA Nations League defeat to Spain in Braga.
While on the other, a reenergized Lionel Messi was at his captivating best in Argentina's 3-0 friendly triumph over Jamaica in New Jersey.
On Tuesday, the two finest footballers of the modern age on the pitch about 3500 miles apart. The type of the games they played, as well as their performance and influence, were completely different.
Fans Reaction on Messi's freekick against Jamaica
One fan said, "Messi from bench outscored Ronaldo's goals this season in 3 minutes".
Another said, "Every time Messi has a good game, you can always bet on the opponents to be some unknown team. He has never had an actually impactful game in his career".
A third said, "I hope people can now see the difference Messi makes. Those who compare Messi to any player are just trying to get us taking. Messi is incomparable!" "Messi survives where others fail".
Messi Vs Jamaica
While Ronaldo had numerous decent chances to score during his 90-minute stint, Leo needed only two shots on goal to score a spectacular brace in a second-half cameo.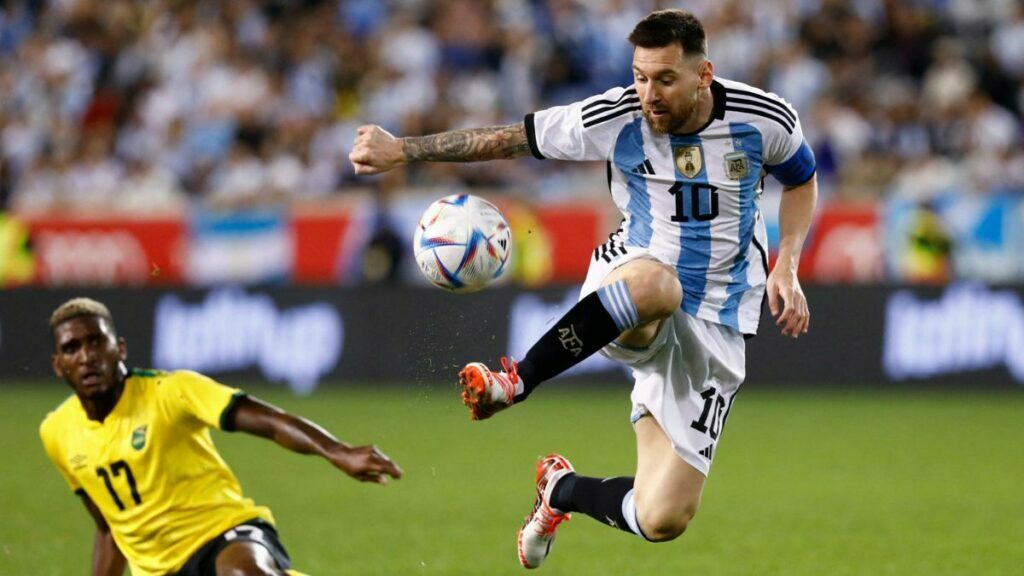 Argentina came closer to Italy's world record undefeated streak with two goals from the great footballer in his 100th international triumph. He scored his 89th and 90th goals for the Albicelestes in his 164th game, coming on as a second-half substitute for Lautaro Martinez at the Red Bull Arena.
In the 86th minute, he scored his first goal of the night with a classic darting move into the opponent's box before expertly sending a shot into the bottom corner beyond Jamaica goalkeeper Andre Blake.
His second goal came from an unplanned free kick. Just before the 90-minute mark, the 35-year-old wizard masterfully curled a low shot underneath the Jamaican wall into the bottom corner to double his score.
Leo's brace, as well as an early goal from Manchester City's Julian Alvarez, who tucked away a low finish from close range on 13 minutes, capped an impressive win for the South American giants.
They have now gone 35 games unbeaten in a streak that dates back to 2019 – just two short of Italy's world record unbeaten run of 37 games, set between 2018 and 2022.
Add Howdy Sports to your Google News feed.