Golden foot award winner in 2012, Ibrahimovic is one of the finest footballers of all time. He has been nominated for the Balon d'Or a total of 11 times and even placed fourth in the 2013 Balon d'Or race.
He has played for many big-shot teams in his career. The most significant of them is his time with PSG where he spent 4 years. He currently plays for the Italian club AC Milan as a forward. The player has also played for Manchester United, Barcelona, Ajax, and Juventus. He has performed exceptionally in all of these teams.
Zlatan also plays in international formats representing his nation Sweden. He is the all-time top scorer for his country with 62 goals in 121 appearances. He is 6ft 5in tall and has an athletic and strong physique. Combined with his sense of gameplay, he is just built differently when he plays on the field. He is well known for his amazing volleys and bicycle kicks. His amazing 35-yard-long bicycle kick made him the FIFA Puskas Award winner in 2013.
Despite so many great achievements and a successful career, the player is always surrounded by controversies. This is the result of the controversial statements that he spits out during the interviews and his egoistic nature. Let us take a look at the top 10 Zlatan Ibrahimovic quotes.
10. "When you buy me, you are buying a Ferrari. If you drive a Ferrari you put premium petrol in the tank, you hit the motorway and you step on the gas. Guardiola filled up with diesel and took a spin in the countryside. He should have bought a Fiat."
These were the words from Zlatan in his autobiography "I am Zlatan Ibrahimovic". He says the above words for targeting his coach Pep Guardiola when he was in Barcelona. Although his time was very less with the Barca as he left it within a year of playing in that jersey.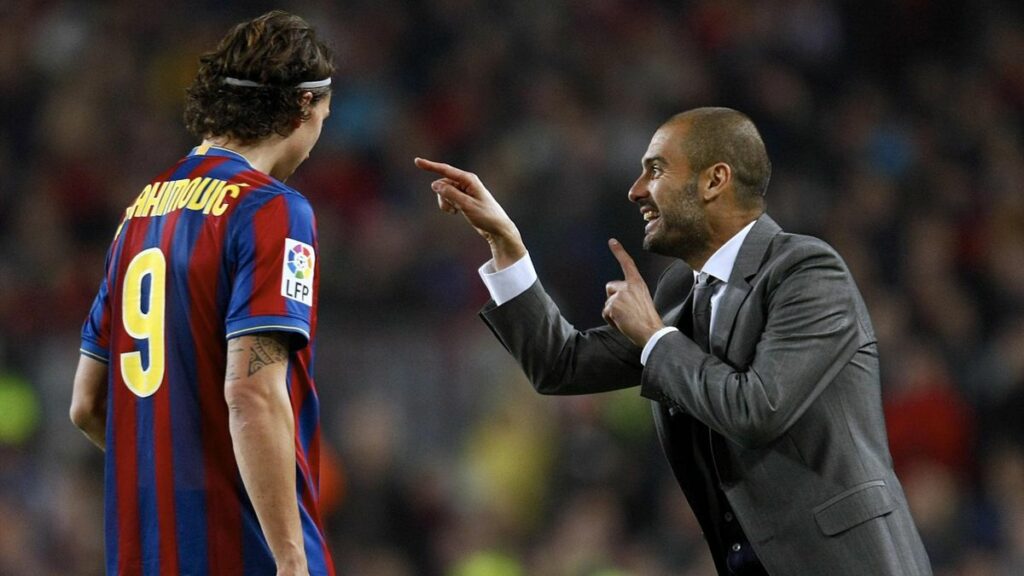 Zlatan was never on good terms with Guardiola during his very short time in Barca. He was very frequently seen questioning and arguing about Guardiola's decision. It was a heated relationship all the way along.
Zlatan also says in his interview with ESPN that it was not that Zlatan had any problem. It was the coach who had the problem and also adds that in the second half of his only season with Barca the coach didn't even talk to him.
9. "I don't believe they can change the Eiffel Tower for my statue, even the people behind the club. But if they can, I will stay here – I promise you."
This was just after the superstar's exceptional performance in his match against Troyes. He scored 4 goals in the match to give PSG a 9-0 win that secured their 4th consecutive Ligue 1 title in 2016.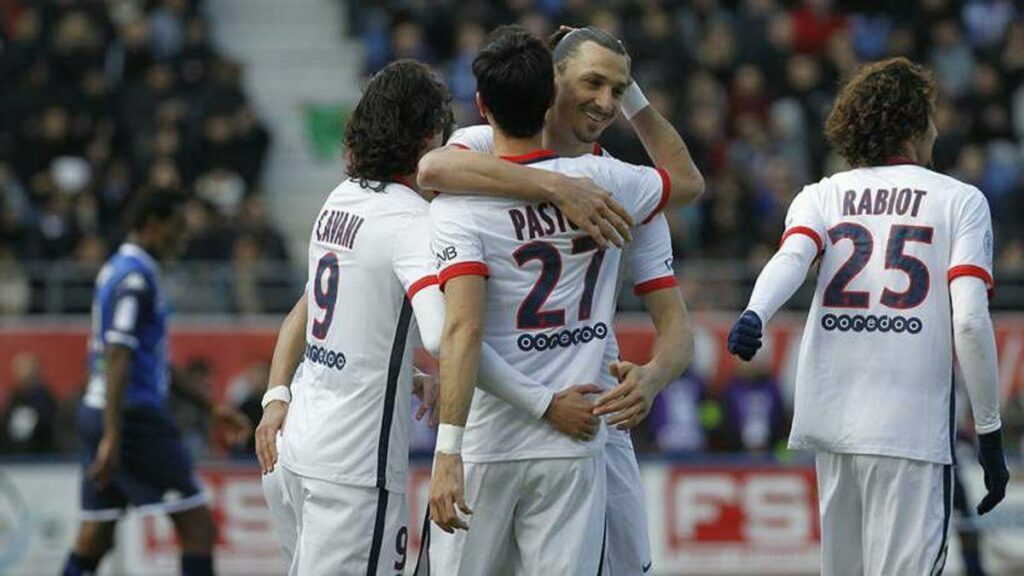 This was his final year of the 4-year contract with PSG. So when he was asked about his future plans he said the above words stating that he will definitely be moving to another club. There is nothing that can stop his move.
However, to add humor to it he also said that he might stay if the officials replace the Eiffel Tower with a statue of his. we also get a reaction from the official Eiffel tower Twitter account La tour Eiffel stating that it was funny but that is never gonna happen.
8. "What do you mean, 'present?' She got Zlatan."
We get to see yet another amazing quote from his autobiography "I am Zlatan Ibrahimovic". The player had recently moved to Dutch club AFC Ajax in Amsterdam. Zlatan was then engaged to Maria Olhage and the couple was together for a year now.
So when interviewed about what he gifted Maria as an anniversary gift, our Swedish young man to maintain his social media image said something not to be said. His response implied that Mia( called so by Zlatan in his book) doesn't need any gift, she got "the great Zlatan".
However, his relationship with Maria ended up short as he called off the engagement getting influenced by one of his friends.
7. First I went left, he did too. Then I went right, and he did too. Then I went left again, and he went to buy a hot dog."
Zlatan went on to ridicule Stephane Henchoz, the star defender of Liverpool at that time in an interview later that match where Zlatan had already humiliated Henchoz on the field with his amazing fake that left the player stunned.
In a match between Ajax and Liverpool in 2001, Zlatan had possession of the ball and was dribbling around the opponent's corner field to find a chance to pass it to his teammate or find a way for himself to score. This is when Henchoz tried to defend the ball from Zlatan. Zlatan with an absolutely inhuman control of the ball faked the defender twice and took the ball past Henchoz.
6. "A World Cup without me is nothing to watch, so it is not worth waiting for the World Cup."
These were the words that came out of the Sweden star player Zlatan, as his team lost to Portugal in the FIFA World Cup playoffs and were eliminated from the race to the top. The interviewer asked him for his predictions on the World Cup and he replied with this.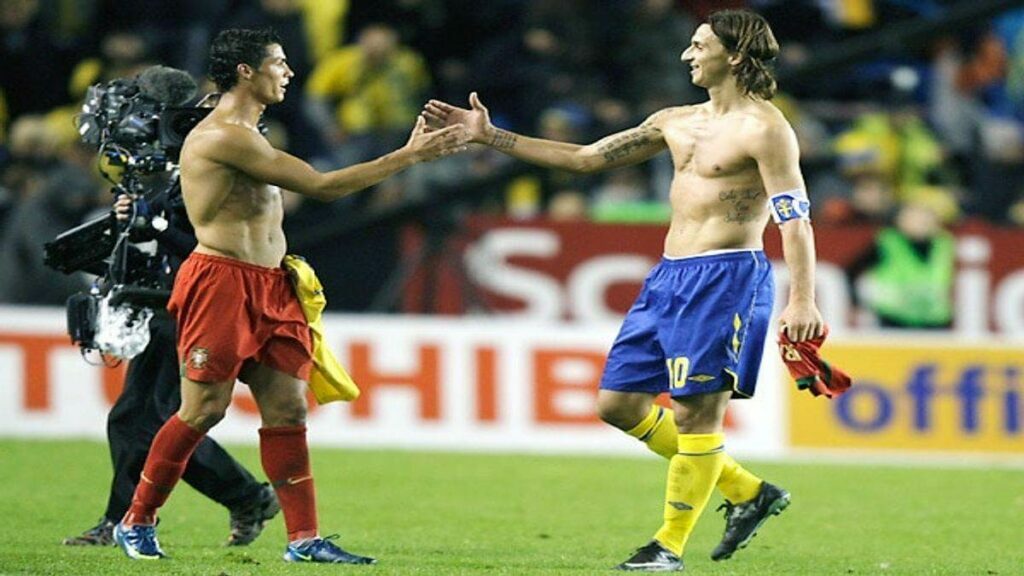 The elimination match was a result of both the teams placing second in their respective groups with good points to place them in the top 8 runner-ups. But to continue their journey they had to win this high-stakes match. Sweden lost their home leg and well as the away leg and was eliminated from the World Cup. However, it was a great sight to see Zlatan vs Ronaldo on the field.
5. "It felt like I had 11 babies around me."
Zlatan was absent at the last season's battle between PSG and Chelsea at Chelsea's home ground Stamford Bridge due to an injury. He was finally playing against the blues at their home but he couldn't do much as he was forced to leave the field for a foul that he didn't commit.
It was clear from the replays that Zlatan was trying to pull himself back and avoid the clash with Oscar. However, the referee pulled out the red card and showed Zlatan the way out.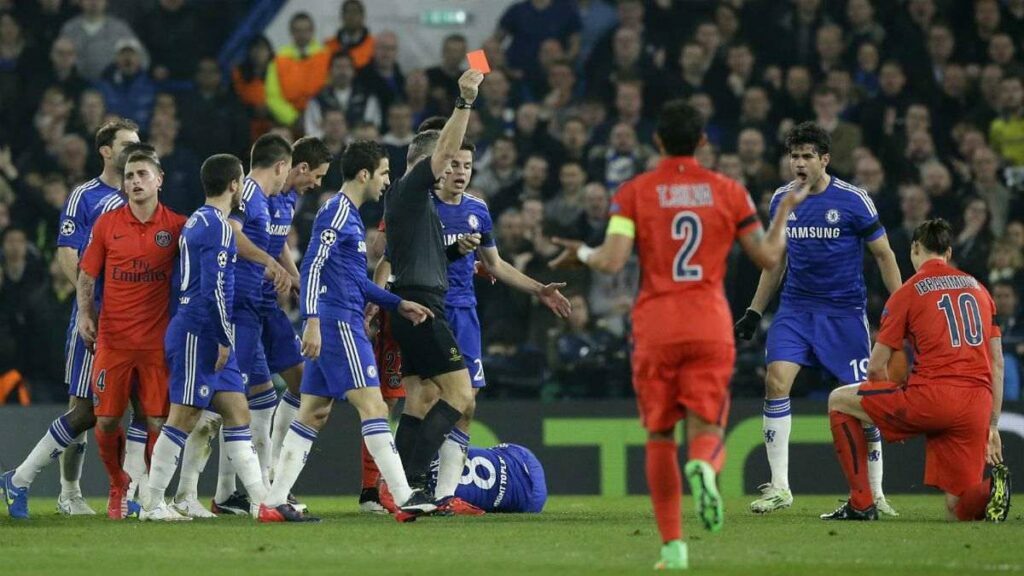 When he was asked for his views, Zlatan said that the referee didn't know what he was doing and what enraged him more was The Chelsea players surrounding him like babies. However, PSG still continued with a man disadvantage and won the match to eliminate Chelsea from the League
4. "There was the thought that this would send me into retirement. I sent their entire country into retirement."
The above words were spoken by Zlatan when he defeated Denmark to make sure that Sweden gets to play in the upcoming Euro 16 to be hosted in France.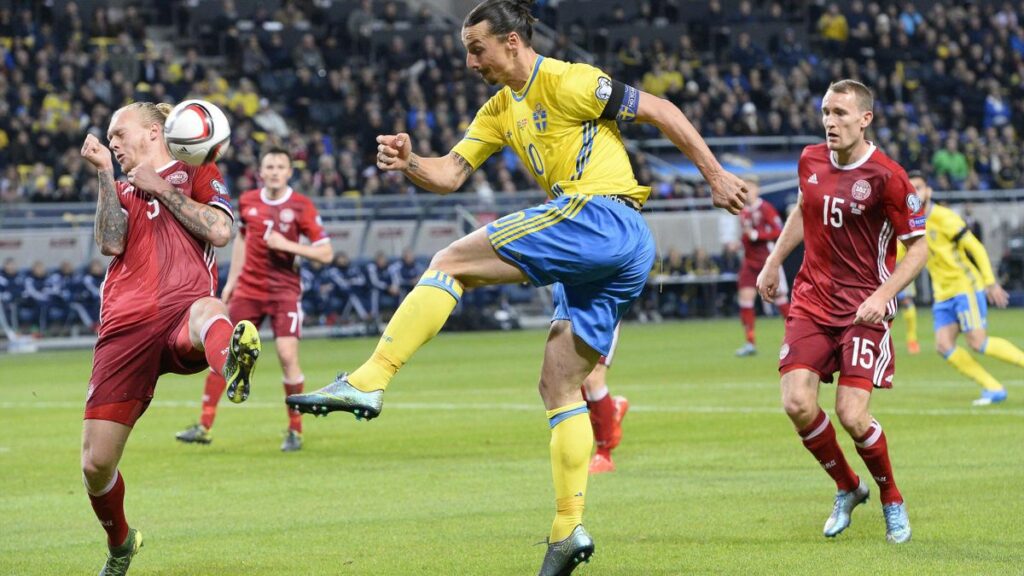 There were a lot of rumors going on about this being Zlatans last chance and if he doesn't make it he might retire. Given his age, 34 by which most athletes retire, this speculation sounded logical to many and spread like a wildfire and eventually reached our subject.
3. "Lions, they don't compare themselves with humans."
Zlatan was being interviewed after Manchester United's 4th position finished in the League. In which he said that anything other than 2nd is last in his view and remembered that the last time he placed second was in his former club AC Milan.
After some time Zlatan was asked to name the current best striker in the league. The obvious answer that the interviewer was expecting was "Zlatan Ibrahimovic". But to his surprise, Zlatan named Lukaku and Aguero.
When asked why he did not name himself, Zlatan replied that he is a Lion and he does not compare himself to other players whom he referred to as humans.
2. "Zlatan doesn't do auditions."
When Zlatan was in Malmo, he was invited by the legendary coach Arsene Wenger to London. Zlatan was given an Arsenal jersey as a welcome gift and he thought that Arsene would ask him to play for Arsenal.
On the contrary, Zlatan was asked to give a test to see if he was worthy of Arsene's 'The Gunners' or not. To which, our 17-year-old Zlatan replied with rejection and said that he does not do trials.
1. "Only God knows who will go through…You're talking to him."
When Zlatan was asked about his predictions for the results of the League he replied quite religiously. But he was hiding something that was gonna make his egoistic image even more concrete.
Add Howdy Sports to your Google News feed.