Holger Rune has gone for a strategic alliance with Boris Becker towards the end of this season. And it sure is helping him out.
Rune has made it to the quarterfinals of the Swiss Indoors in Basel and will be up against Tomas Martin Etcheverry.
Holger Rune has defeated Miomir Kecmanovic and Sebastian Baze in the first and second rounds respectively to reach the quarterfinals. This is his first tournament since he hired Boris Becker as his coach. Rune trained for a week in Monte Carlo before coming into this tournament.
Rune had an impressive run in the first half of the season. He reached the 2023 Monte Carlo Masters final and lost to Andrey Rublev. He defeated Daniil Medvedev and Janik Sinner on his way to the finals. Following the Monte Carlo finals, he reached a career-high ranking of No. 7 and became the first Danish player to do so.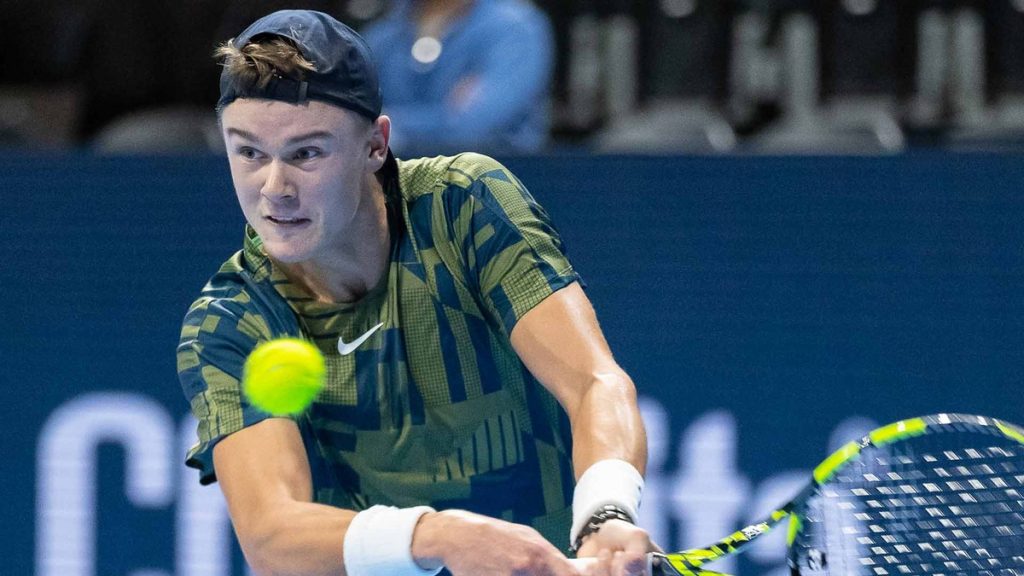 He won his first title of the season at the 2023 BMW Open. He went on to play the quarterfinals of the Wimbledon Open against Carloz Alcaraz who later won the Title. But since then he has had a poor show including a first-round exit at the US Open where he was seeded fourth. The main reason for his recent losses has been due to a back injury.
Despite these losses, it has not had much of an impact on his rankings. So, to get back to form he has hired Boris Becker to coach him for the rest of the season. He feels he will get to learn a lot from the German legend. Boris Becker has earlier coached Novak Djokovic from 2013 to 2016 and had a very successful stint. He led Djokovic to six Grand Slam Titles and fourteen Masters 1000 Titles in that period. But in 2017, Boris Becker was declared bankrupt and was later jailed by the UK Government for 2 and half years. But he was released after serving eight months in prison.
Rune was very happy to combine with Becker and said that all these things don't bother him. He is looking to gain a lot from Becker. The same goes with Becker who was equally excited to coach Rune. Becker believes that Rune is a great talent and some polishing can take him to greater heights. Rune is eager to get his form back in the upcoming tournaments and try to make a cut in the ATP Finals next month.
🎯 teamwork https://t.co/ODEIBEoBs8

— Holger Rune (@holgerrune2003) October 26, 2023
He even quoted his recent win as "Teamwork" depicting the importance of Boris Becker in his new form and winning streak.
It has so far been good for the Danish at the Swiss Open. It is his first quarterfinal in a long time and the learnings already seem to bloom. It is his ninth quarterfinal so far this season and has a very good chance of advancing to the semifinals.
Add Howdy Sports to your Google News feed.