Iga Swiatek was delighted to see some memes that depicted cats mirroring her expressions and poses. She replied to the post with: "Made my day."
Iga Swiatek had a marvelous season and couldn't have asked for a better way to end this season. She won the WTA Finals in Cancun and ended the year as the World No.1 for a second consecutive time.
Swiatek bettered her previous year's record by one and had 68 wins this season. Swiatek won six titles which is the highest by any player this season. The titles include a WTA 250 in Warsaw, two WTA 500 in Doha and Stuttgart, and one WTA 1000 in Beijing. She defended the French Open title and it marked her fourth Grand Slam.
Iga Swiatek eating freshly grown spinach straight from the earth. 😂🍃 pic.twitter.com/zcy66eWCJR

— The Tennis Letter (@TheTennisLetter) November 20, 2023
Iga Swiatek, who is enjoying her off-season after the conclusion of the WTA Finals came across a thread on X, depicting various cats mirroring her expressions and poses. Swiatek had loads of fun seeing those photos.
This thread just made my day 😅 https://t.co/HOXmccYs5u

— Iga Świątek (@iga_swiatek) November 20, 2023
---
"She is better than everybody" Martina Navratilova heaps praise on Iga Swiatek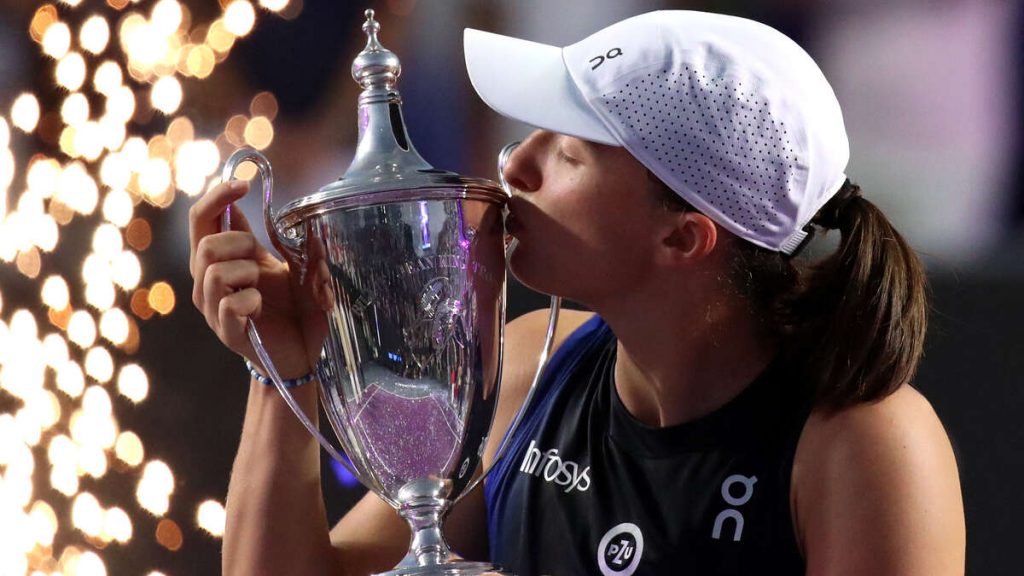 Martina Navratilova was all praise for the Polish superstar after she won the WTA Finals and ended the season as the World No.1.
Iga Swiatek entered the WTA Finals as the No.2 and the No.1 Aryna Sabalenka had all the chances to win the year-end No.1 trophy. But, Sabalenka's performance just fell short of Iga Swiatek's unbeaten run across all matches and all sets.
Seeing her performance, she made former American superstar Martina Navratilova believe that Iga Swiatek is better than everybody else when she is at her best. She also further mentioned that if she stays healthy and fresh it would be impossible for Coco Gauff and Aryna Sabalenka to overtake her.
"That was, Iga showing that, at her best, she is better than anybody. I mean, in difficult conditions, she just blew right through everybody."

– Martina Navratilova in an interview
Before Iga won the WTA Finals, Martina's favorite pick for 2024 WTA #1 was Coco Gauff who was having an incredible run earlier in the season. However, after Iga went past the tournament with her electric performance, the focus is now shifted to her.
According to the Women's legend Martina, Coco might surpass Aryna Sabalenka for the #2 rankings but will not be able to beat Iga if she stays healthy and has a good off-season.
Add Howdy Sports to your Google News feed.