After the incident of South Korean Judo athlete Lee Hye-kyeong slapping her opponent, South Korea is facing another embarrassment in the Asian games as their tennis men's tennis player Kwon Soon-woo was seen performing extremely unprofessional behavior when he smashed his racket into pieces after losing the match against the Thai player Samrej Kasidit.
This all happened after Thai tennis player Samrej Kasidit gave the final blow and won the match by 6-3,5-7,6-4 in Hangzhou. Kwon is ranked 500 places above compared to Kasidit in the world male tennis rankings at 112. After losing the match to an inferior-ranking player, Kwon was seen smashing his racket and he didn't stop there. Afterwards, he was seen walking toward the sidelines where he smashed his racket multiple times against the legs of his changeover chair.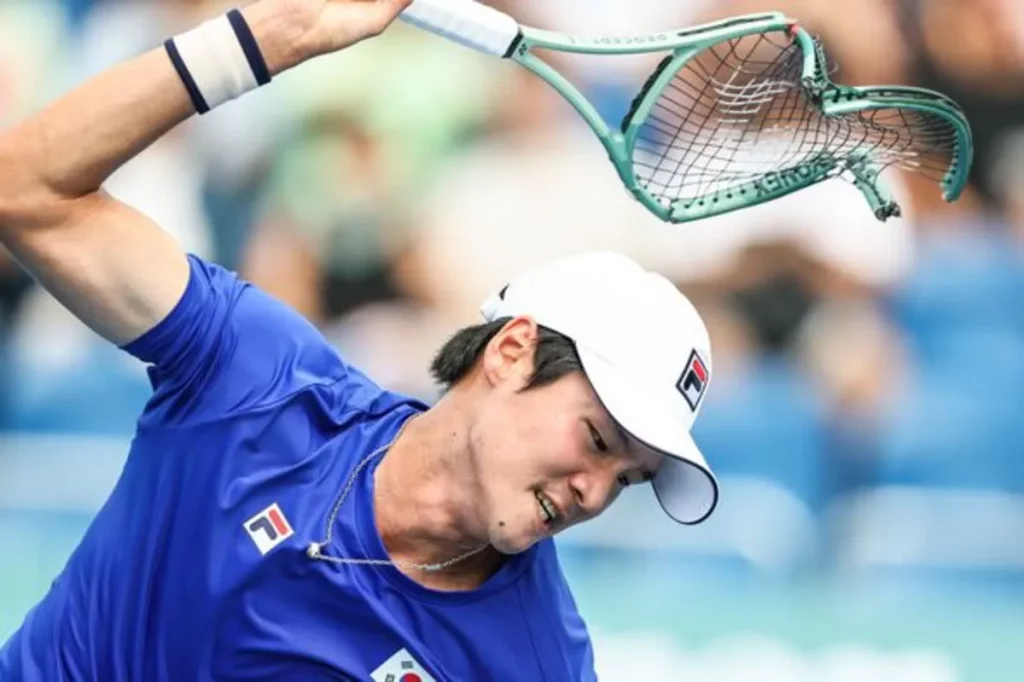 He put the racket down eventually but since that he was still angry over his loss he picked it up again and continued smashing it hard. He also ignored Kasidit when he went to shake hands with him and he didn't even look at him once. Eventually, out of self-respect, Kasidit turned around and instead bowed to the cheering tennis crowd. Kwon also didn't shake hands with the umpire. His behavior is getting a mixed reaction from the public.
However, after the incident, Kwon released an apology for his action via his social media account stating,
"Hello, this is tennis player Kwon Sunwoo. Immediately after the end of the second round of the Asian Games Tennis Fasting Match with Kasidit Samrez, he did something reckless that he should not have done as a national team player. I sincerely apologize to all the people who supported the national team's game and to the crowd at the stadium. I'm sorry," he said. (Translated from Korean)
He added that he is resentful of his actions and is willing to improve his behavior and actions while representing his country on the international stage in the future. He also apologized to his opponent, Thai tennis player Kasidit Samrez for his actions.
"Once again, I sincerely apologize to Samrej who was offended by my rude behavior. I sincerely regret and reflect on the actions that were seen after the match. As a national athlete representing the country, I will reflect on the weight of my actions carefully be a responsible athlete, and pay attention to all actions. Once again my sincere apologies to all the sports lovers," he added.
This apology was released by the South Korean player over his rude behavior in his previous Asian games' tennis match against Thailand Kasidit Samrez after losing to him he didn't shake hands with him nor with the umpire and instead went and smashed his racket. This apology from the South Korean player is getting mixed reactions from the tennis fans.
Also Read: Roger Federer's iconic 2018 Tennis outfit to break auction records
Add Howdy Sports to your Google News feed.