Is Roger Federer South African? This question has flooded the internet as he was seen supporting the South African team at the Rugby World Cup Final.
The Rugby World Cup is the most prestigious tournament of the sport and is played every four years and this year it was hosted by France. The tournament was held over a period of six weeks. The final match was played yesterday between South Africa and New Zealand. It was Roger Federer who traveled to Paris and showed up to watch the match along with his mother, wife, and kids.
His relationship with the Rainbow Nation started with his mother Lynette Du Rand, who is from a place called Gauteng in South Africa. She spent most of her childhood in South Africa and later moved to Switzerland for a job. There she met Roger Federer's father Robert Federer. It was only after they got married, that she got Swiss citizenship and her name changed to Lynette Federer. And it is no surprise why Roger Federer has South African citizenship as well.
He has played for Switzerland all his life as a professional tennis player but he has been equally fond of South Africa. He was in the South African team Springboks jersey to cheer them during the finals game.
Besides his South African citizenship, he is also close friends with Siya Kolisi, captain of the South Africa Rugby team. It was not the first time that the legend was seen supporting South Africa. He has been supporting the South Africa-Swiss charity IMBEWU to help children in sports and health since 2004. He also played an exhibition match named "Match for Africa" against Rafael Nadal to raise funds for his foundation, the Roger Federer Foundation.
South Africa defeated New Zealand 12-11 in the Rugby World Cup final to lift the trophy for the fourth time. New Zealand has also won the trophy three times.
---
Roger Federer was all support for Team Europe at Vancouver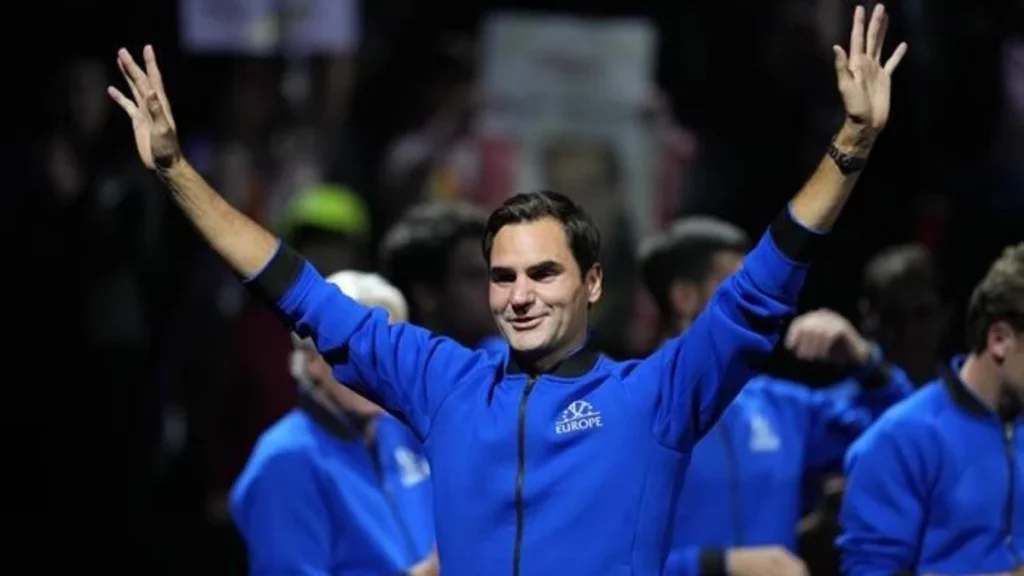 Roger Federer was in full support at this year's Laver Cup in Vancouver last month. The tournament was held between 22-24 September.
The Rogers Arena in Vancouver celebrated Roger Federer to mark his one-year anniversary since the legend last played his match in the 2022 Laver Cup.
The Laver Cup was started in honor of the Australian tennis legend Rod Laver in 2017. The inaugural edition was played in the O2 Arena in Prague. Since then it has been held every year in different cities across the world. Two teams fight against each other for three days for the Cup. Team Europe and Team World are the two teams represented by blue and red respectively. Team Europe is led by Bjorn Bjorg and Team World is led by John Mcenroe.
Federer played for the Team Europe till 2022. He has played in all the editions of the Laver Cup except in 2021. He retired from professional tennis in 2022 due to ailing injuries and the Laver Cup marked his final tournament and match of his career. He played one doubles match with Nadal but lost to the team in red. But the final winner was the team in blue.
Add Howdy Sports to your Google News feed.