Iga Swiatek was grateful for the support at Cancun in her semifinal match today.
Iga Swiatek won her semifinal match against Aryna Sabalenka to reach the final of the WTA Finals. She defeated the top seed 6-3, 6-2 in straight sets. The crowd in Cancun was in all support of the Polish tennis player.
Jessica Pegula has already qualified for the finals having won the all-American semifinal against her doubles partner Coco Gauff on Saturday. It was the second semifinal match which saw Iga Swiatek against Aryna Sabalenka. Now the final match will be between Jessica Pegula and Iga Swiatek.
It was in her post-match interview after her match against Marketa Vondrousova that Iga mentioned the empty seats. She requested her fans to come and watch her matches as they gave their hundred percent in their matches.
But she received immense support from the spectators today. There was constant cheering in the match. In the post-match interview after her semifinal win, she was grateful to her fans for supporting her.
"Thank you for cheering. I really appreciate it. You give us energy to play from December to November. I'm really grateful. I'll see you tomorrow"

– Iga Swiatek in an on-court interview with Cancum Press
It was very difficult for the players to play in Cancun due to the windy situation and rains which interrupted her semifinal match in the fourth game. Despite the rains, there was no shortage of support and she hopes for the same support in the finals.
Iga Swiatek says she never thought it would be possible for her to get to where she is today

"How do you handle being one of the most important tennis players in the world for the last few years? As a 22 year old, how do you handle that?

Iga: "I can't really tell you how I… pic.twitter.com/7VAost5pvm

— The Tennis Letter (@TheTennisLetter) November 6, 2023
---
"I never really thought it would be possible for me," Iga Swiatek on her success at the age of 22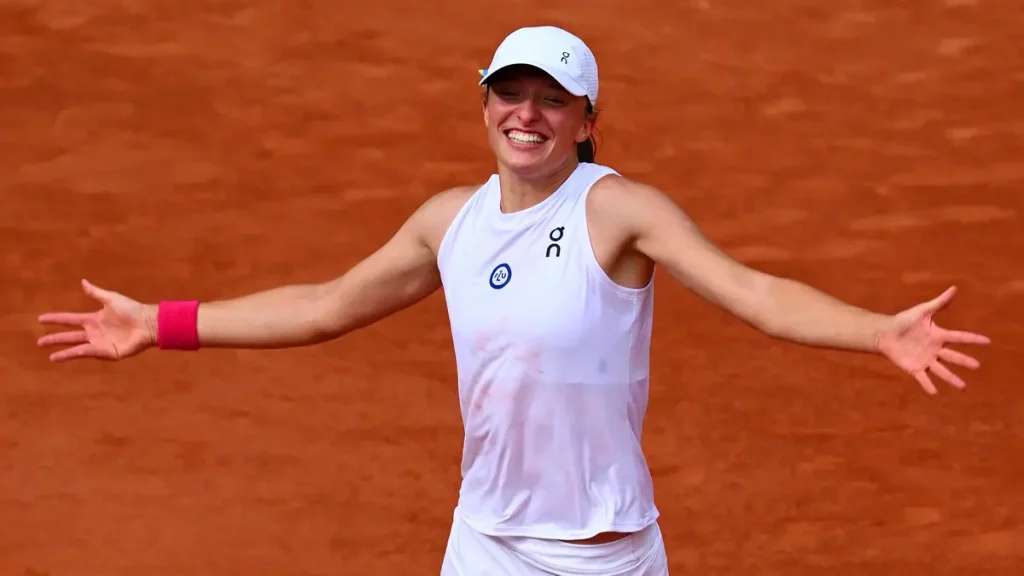 Iga Swiatek who is having a dream run in the WTA Finals said that she never thought it would be possible for her to get where she is today.
The Polish tennis player has already won four Grand Slams and has also been ranked No. 1 in the WTA rankings for 75 weeks. She has won three French Open Titles in 2020, 2022, and 2023, and the US Open Title in 2022. She has also 12 WTA Titles which includes six WTA Masters Titles.
Having achieved so much as a 22-year-old, she mentioned the kind of pressure that comes along with it. Everyone who plays tennis has a dream of winning a Grand Slam, but many of them are not able to achieve it throughout their career. But she has won not just one but 4 Grand Slams till now. It is more difficult to maintain one's form for a longer duration.
"Overall, I'm just happy I'm in that place. I never really thought it would be possible for me. I just try to really be grateful for that. It doesn't matter if I'm 22. I feel like I'm older. So I don't really think about that every day" she said.
Add Howdy Sports to your Google News feed.