It was the "Match for Africa" series in 2020, which saw Roger Federer play an exhibition match to raise funding for his charitable trust. The event attracted popular big names like Rafael Nadal and Bill Gates.
This charity event took place in Cape Town and was organized by Roger Federer to raise money for his foundation which helps in education for children in six African countries three years ago.
Roger Federer's deep association with South Africa started way before he was born. His mother Lynette Federer is a South African so he holds both Swiss and South African citizenship.
He started the Roger Federer Foundation in 2003 to help the poor and disadvantaged children. Due to his close ties with South Africa, he has been supporting the South African-Swiss charity IMBEWU since 2004. He has organized and played in several exhibition matches in which the money raised was donated to help the victims.
In 2010, Federer vs Nadal "Match for Africa" match was played in Zurich and Madrid which raised more than $ 4 million for the Roger Federer Foundation and the foundation of Rafael Nadal. It was the start of the "Match for Africa" series and since then it has been taking place in various places across the world.
Depuis sa création, la fondation a dépensé 52 millions de $ pour ses iniatives d'éducations scolaires menées dans 7000 écoles primaires. Et avec le Covid-19, cette aide s'est accentuée avec un don de 1M de $ pour permettre de fournir la nourriture à 64 000 familles en difficultés pic.twitter.com/8JLI3wNOzz

— Maxime baguette (@MaxTennnis) September 11, 2022
It was the "Match for Africa 6" when it was organized in Cape Town, South Africa in 2020. A doubles match between Roger Federer and Bill Gates vs Rafael Nadal and Trevor Noah was conducted which raised around $3.5 million.  
He turned pro in 1998 but played for the first time in South Africa much later in 2020. He said that he didn't know what took him so long to play there and he wouldn't have been able to live without not playing there.
"I don't know what took me so long to be quite honest. It's not possible that I'm on the tour for 20 years, I have become the player I am, and I've never played in South Africa. I couldn't live with myself if that happened."

-Roger Federer in an interview ahead of the Match for Africa 6
---
Roger Federer joins the South Africa Rugby team on their victory tour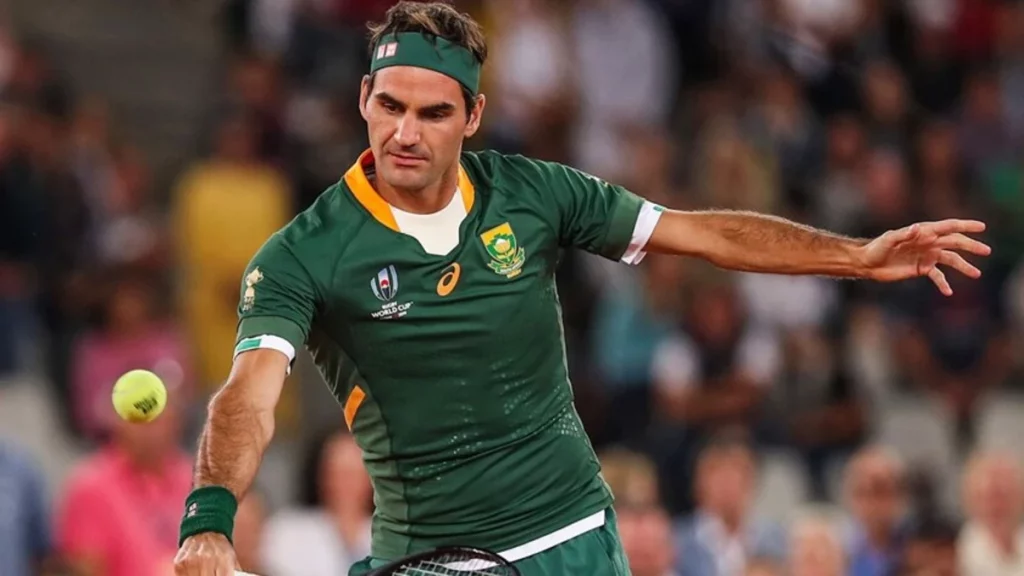 Roger Federer who was there to support the South African Rugby team at the Rugby World Cup in the finals joined them over Instagram live in their victory tour later.
South Africa emerged as the champion of the recently concluded Rugby World Cup in Paris. They defeated New Zealand 12-11 in the finals and defended their title. It was the Springboks fourth Web Ellis Cup and the first nation to achieve the feat.
Roger Federer who has a Swiss and South African citizenship and is a close friend of Siya Kolisi had travelled to France with his family to watch the finals.
Their victory was celebrated as thousands of fans took to the streets of Pretoria and Johannesburg. The South African team went live on Instagram which was later joined by Roger Federer who celebrated the victory along with them.
Roger Federer just went on IG Live with the South African Springboks Rugby team, during their victory tour 🏆

🥹🇿🇦 pic.twitter.com/CxnMLXVzsk

— Olly 🎾🇬🇧 (@Olly_Tennis_) November 3, 2023
Add Howdy Sports to your Google News feed.