Arsenal FC thrashed north London rivals Tottenham Hotspur 3-1 at the Emirates Stadium on Saturday, with goals from Thomas Partey, Gabriel Jesus, and Granit Xhaka keeping them top of the Premier League.
Tottenham's Harry Kane levelled the game, but his team self-destructed after halftime, extending their 12-year wait for a league win in the matchup. Arsenal FC, led by Mikel Arteta, have won seven of their first eight games and top the table by four points, with second-placed Manchester City hosting Manchester United on Sunday.
An enthralling derby with the top position on the line was finely matched as Partey's brilliant 20th-minute opener was cancelled out by Kane's penalty just beyond the half-hour mark – making him the first player in Premier League history to score 100 away goals.
However, Arsenal FC regained the lead in the 49th minute after a terrible mix-up between Tottenham goalie Hugo Lloris and defender Cristian Romero enabled Jesus the simplest of tap-ins. Royal was then sent off for the visitors in the 62nd minute for a clumsy boot out at Gabriel Martinelli deep in Arsenal's half, and Xhaka stroked in Arsenal's third five minutes later to leave Tottenham reeling.
After then, the crowd was in a festive atmosphere as Arsenal advanced to 21 points. Tottenham, who were previously undefeated, might have gone top with a win, but they have only secured one victory in their last 30 league visits to Arsenal. With 17 points, they are third. Tottenham may grumble about the harsh decision to dismiss Royal, but they can't complain about the outcome, as they underperformed yet again away against their bitter rivals.
Despite finishing above Arsenal FC for the last six seasons, they have lost five of their last six league matches away from home. "From the first second I think we were the better team," Xhaka said. "After we conceded we were struggling a little bit, but in the second half we were much better, and I am so happy to score my first derby goal and help the team to win.
After disobeying a warning about the North London Derby, Arsenal FC player Granit Xhaka enjoys the victory.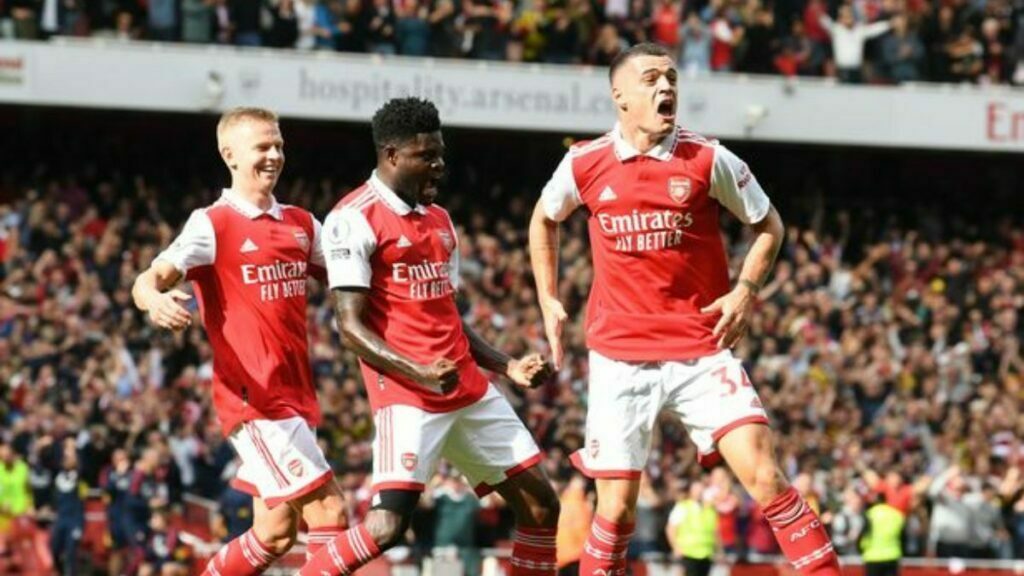 Granit Xhaka was guilty of allowing an unwelcome habit to raise its head as Arsenal FC allowed their lead to slip in the first half of the match against Tottenham – but he subsequently redeemed himself with a goal to secure North London Derby pleasure.
The midfielder was in superb form in the early games of the season, helping Arsenal to the top of the Premier League before Spurs faced their local rivals on Saturday afternoon. Xhaka was given the captain's armband in Arsenal's 3-0 win over Brentford, and he displayed the calm head that eluded him for most of his turbulent tenure at the club.
However, the Swiss were to blame when Mikel Arteta's team handed away a penalty with half an hour remaining in the derby. When Xhaka was in his own penalty area, he attempted to play a bouncing ball backwards when a clearing would have been a better choice.
Twitter Reactions
Add Howdy Sports to your Google News feed.