Erling Haaland accomplished the feat at the Etihad Stadium during the Manchester City-Manchester United7 rivalry game.
Erling Haaland of Manchester City on Sunday became the first player in the history of the Premier League to record three straight hat tricks at home.
Haaland accomplished the accomplishment during his team's game at the Etihad Stadium against Manchester United.
When he headed home a Kevin De Bruyne corner from close range in the 34th minute, the Norwegian striker got things going.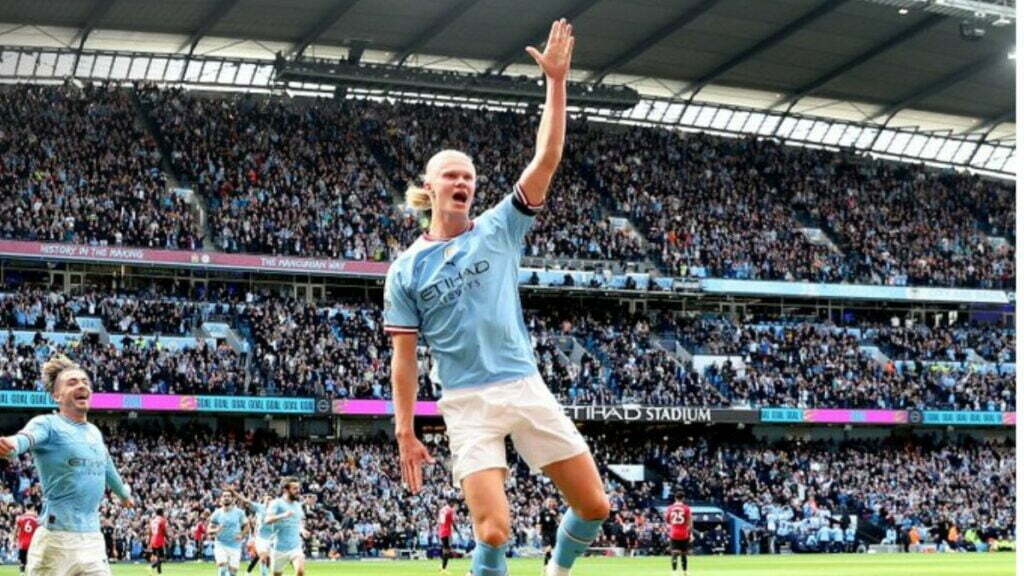 Haaland, 22, finished with his left foot after receiving another assist from De Bruyne, who curled a cross between the two Manchester United centre-backs.
In the 64th minute, Haaland broke his previous record by slamming in a cross from the left flank. With this, he also made history by being the first Manchester City player since Francis Lee in 1970 to score a hat trick against Manchester United.
In addition, Horace Barnes, who scored his hat trick in 1921, is the only other City player to have scored a treble against a rival city team.
After scoring in Manchester City's encounter against Wolverhampton Wanderers, Haaland previously surpassed Mick Quinn's record for the most Premier League goals scored in seven games while playing for Coventry City.
Gary Neville received harsh criticism online from fans for his pregame optimism before the Manchester derby, which City promptly won by destroying United in the first half.
Neville said that after examining the team rosters for both teams before the game, Pep Guardiola's team was "getting done" in a video he shared on Twitter.
However, despite the hosts' overwhelming first-half performance, Erik ten Hag's team let in four goals, and the crowd promptly called Neville out for his outrageous remarks.
"Well, I just seen the teams here at the Etihad and these bunch are getting done," Neville says in his Twitter video. They're finishing up. Micah Richards, a former City player, is captured on camera panning.
Twitter Reactions
Add Howdy Sports to your Google News feed.